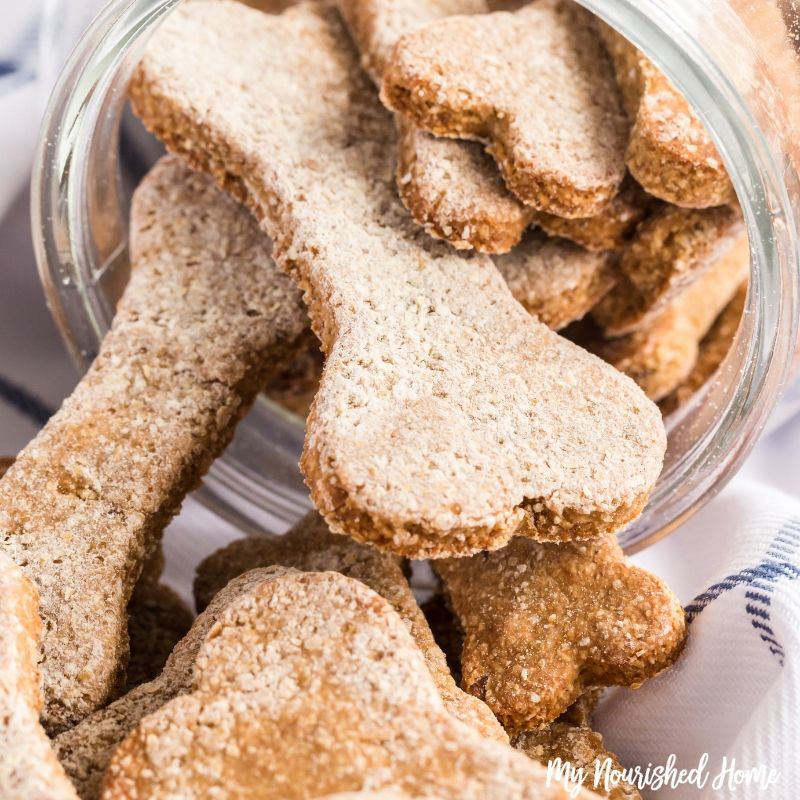 These are the best homemade peanut butter dog treats ever. Peanut butter and bananas make for a quick, healthy and fun recipe that makes my little rescue dog go nuts.
My husband used to swear he could never love a little dog (we had always been a big dog family.) But after rescuing a little mixed breed that we can only guess is part Jack Russell and part Chihuahua, he joined our family's obsession with the little fireball. Our Boslee is spunky and funny, with lots of personality. And he will also do anything for a dog cookie.
If you follow me on Instagram, then you might already know that I am a little bit in love with Boslee. What you might not know is that when we got him, he was a trainwreck.
Banana and Peanut Butter Dog Treats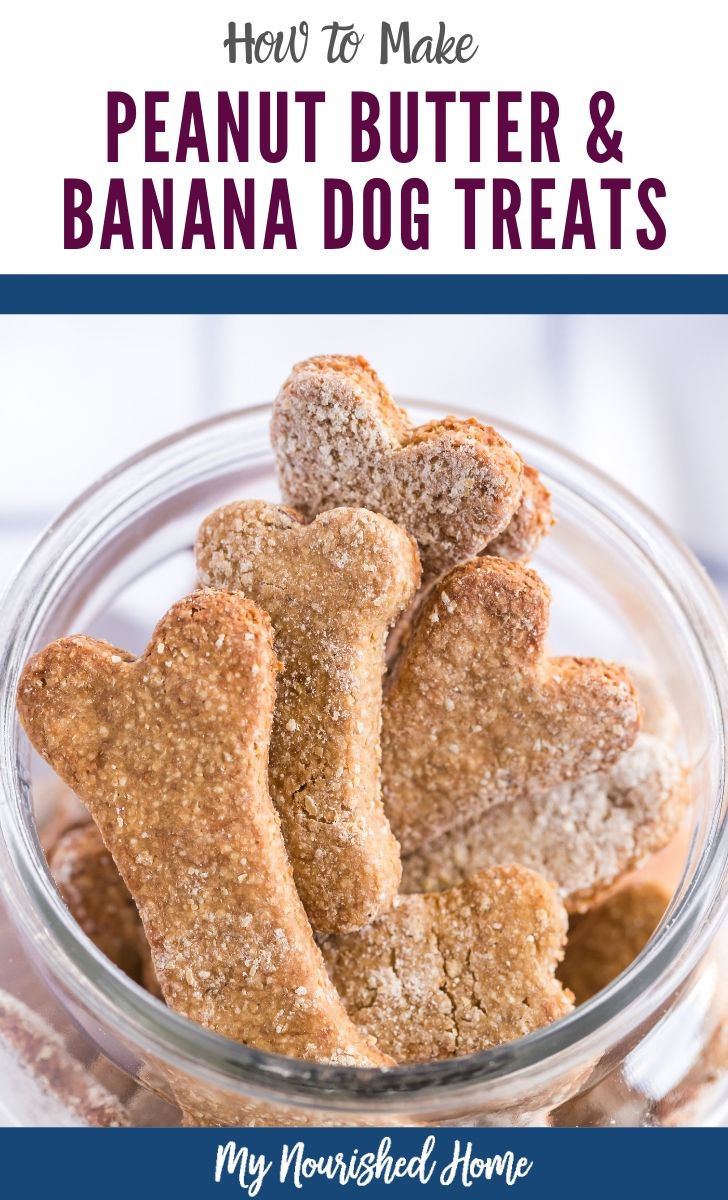 Boslee was rescued from a kill shelter by a local animal lover in Savannah, Georgia… literally the evening he was scheduled to be put to sleep. Our Boslee was a year old, 7 pounds, and all his hair was falling out. His skin was peeling and he had fleas.
But when my oldest daughter picked him up, he curled himself into a ball under her chin and won all of our hearts.
It took a couple of vet visits but we figured out he did not have the mange or a weird skin infection… he was allergic to the red dye in the cheap food he was being fed at the animal shelter. Once we cleaned up his diet and he got regular meals, a bath, and a lot of snuggles he turned into this guy —>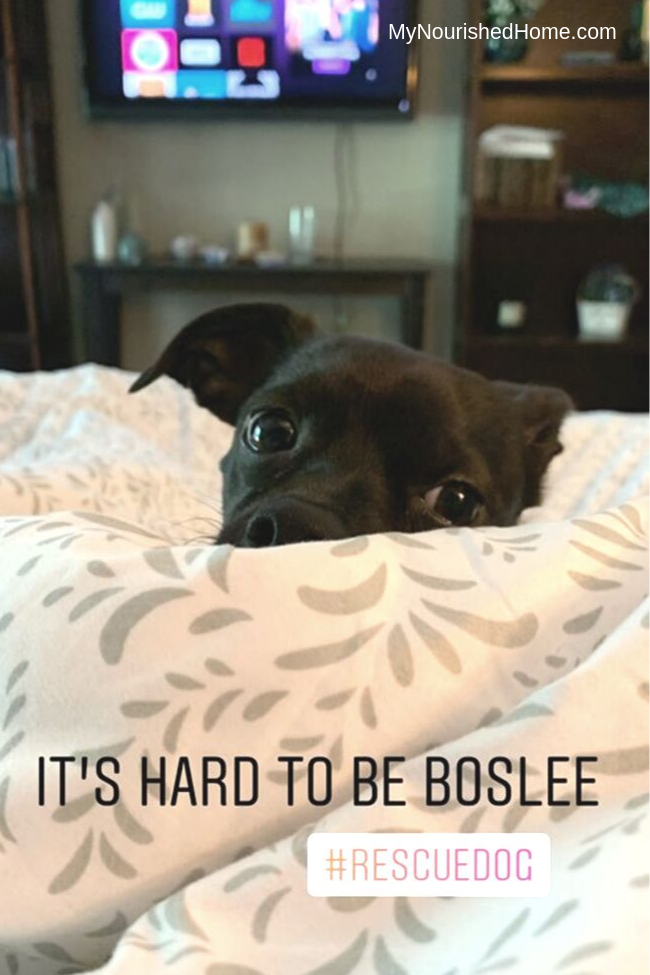 Somewhere along the way, we also figured out that he LOVES bananas. It is like he has super-powered hearing and smell. The minute you peel a banana, he is in front of you jumping like a crazy dog trying to get his piece of your banana. We now lovingly call this behavior, The Boz Tax. You must pay Boslee his share of banana to be able to eat one in our house.
So when my 6-year-old asked if we could make homemade dog treats, the answer was of course, yes, because we are all crazy about the dog. But the homemade dog treats also had to use simple ingredients with no food coloring, had to include the requisite peanut butter and bananas, and needed to be easy enough my kids could bake them with little supervision.
Homemade Dog Treats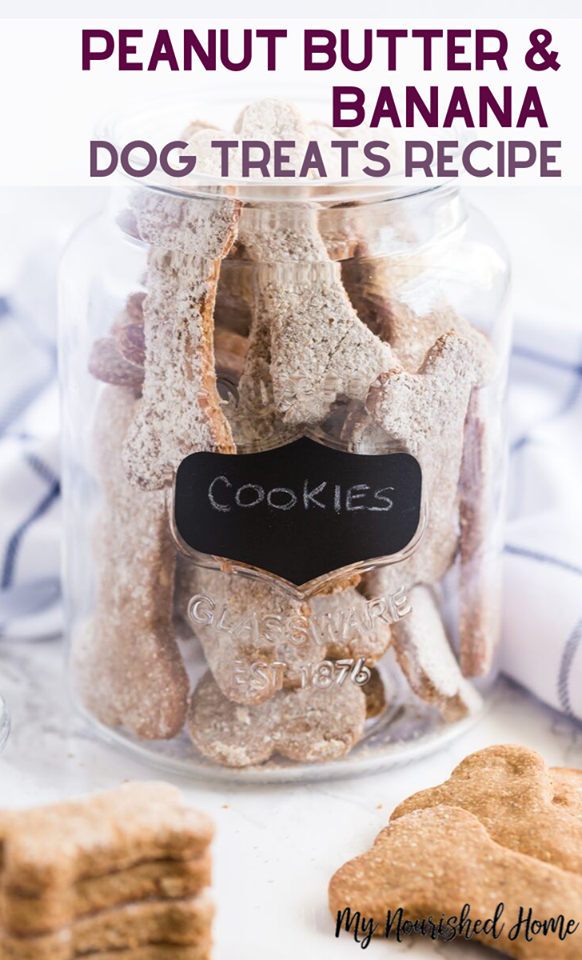 Tips for Homemade Dog Biscuits
These are so easy… You really just mix a couple of ingredients you have in your pantry already, roll them out, cut them and bake.
I always pulse my oats so that there are no big pieces in my treats. (I have a little dog!) But you can decide if that is a problem for your pet. If you want it to be finer, you can also use oat flour. The result will be the same.
We also prefer peanut butter with no added sugar. It really is personal preference. But since we generally use brands that have minimal or no added sugar, it makes it easy to use in dog biscuits with no worry for empty calories.
You can grab a little bone-shaped cookie cutter on Amazon on in any craft store or box store. But they don't have to be shaped like bones. You can turn them into unicorn cookies if you like, I promise your dog won't care. 🙂
Feel free to play with the ingredient quantities. As long as the dough is not sticky so you can roll out the dough, your dog will be happy. Dogs are very forgiving when it comes to banana and peanut butter dog treats.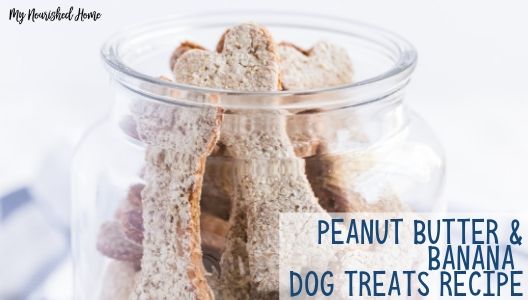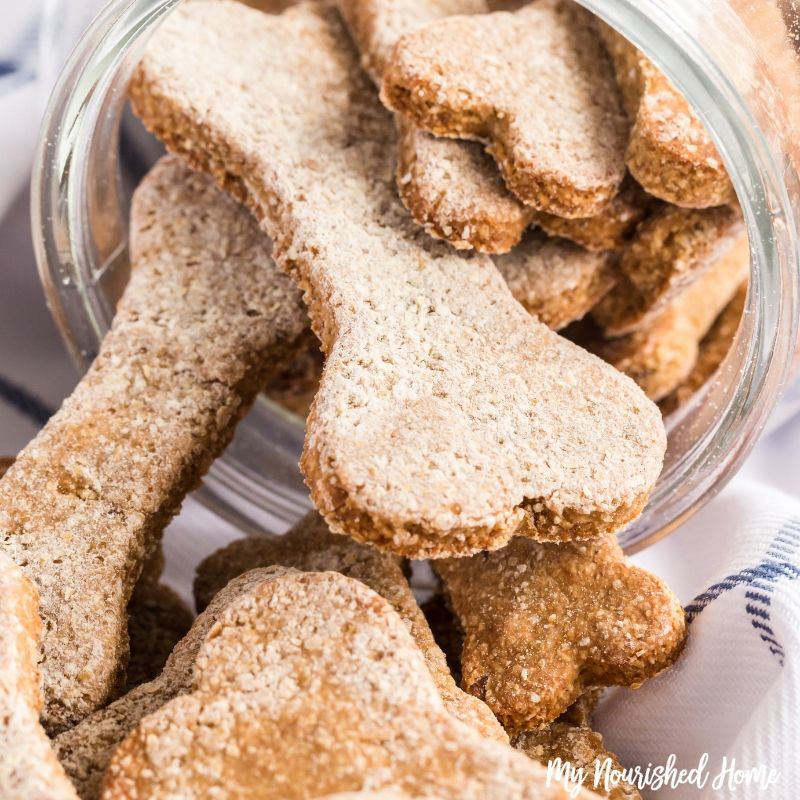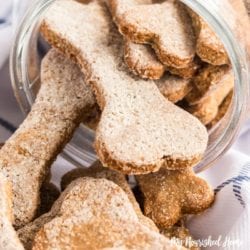 Peanut Butter Banana Dog Biscuit Recipe
Delight your four-legged friend with these easy and delicious peanut butter dog biscuits!
Ingredients
2-3

ripe bananas, totaling 1 cup mashed

1/3

cup

natural peanut butter

2

large

eggs, beaten

3.5-4

cups

ground oats
Instructions
In a large bowl, mash the banana and then add the peanut butter and eggs. Mix well.

Stir in approximately 3 and a half cups of the ground oats.  You are looking for a dough-like
consistency.  It should be firm, but not crumbly.  If the dough is too sticky, keep adding more ground oats until you can handle it without it sticking to your hands.

Place a large piece of parchment paper on the counter and sprinkle with a generous amount of remaining ground oats.  Roll out to about ¼ inch thickness and cut into shapes.  Scoop scraps together and repeat.  Don't worry about overworking the dough as there is no gluten.

Place on a parchment-lined baking sheet.  You can place these very close together as they do not spread when baked.

Bake in a 350-degree oven for approx. 40 min until cookies are dry and golden.  If your dog likes a softer cookie, you can bake a little less and if you want very crunchy cookies, you can bake a little longer.

If you have baked your cookies crisp, they will store in an airtight container at room
temperature for a couple of weeks.  For softer cookies, it is recommended to store in the refrigerator or freezer.
Nutrition Facts
Peanut Butter Banana Dog Biscuit Recipe
Amount Per Serving
Calories 163
Calories from Fat 54
% Daily Value*
Fat 6g9%
Cholesterol 35mg12%
Sodium 48mg2%
Potassium 215mg6%
Carbohydrates 22g7%
Protein 6g12%
Vitamin A 64IU1%
Vitamin C 2mg2%
Calcium 22mg2%
Iron 1mg6%
* Percent Daily Values are based on a 2000 calorie diet.