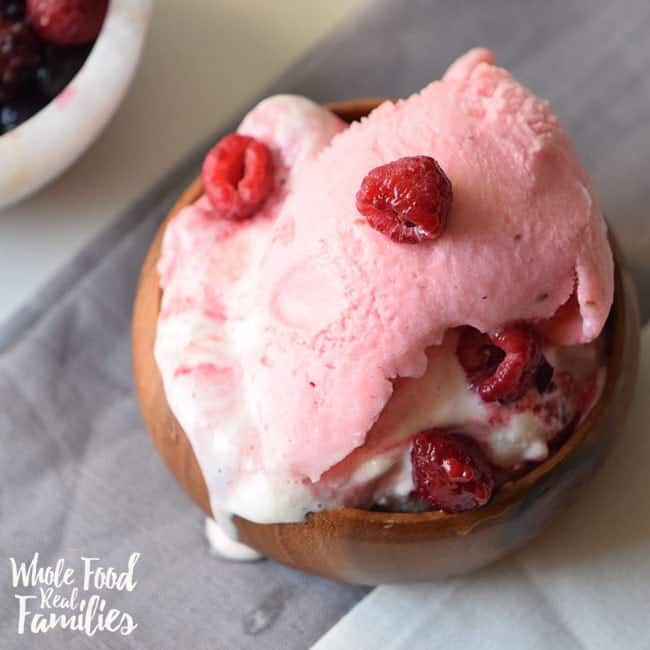 Sweetened only with fresh fruit and honey, this Healthy Raspberry Frozen Yogurt doubles as dessert and nutritious snack when it is hot outside!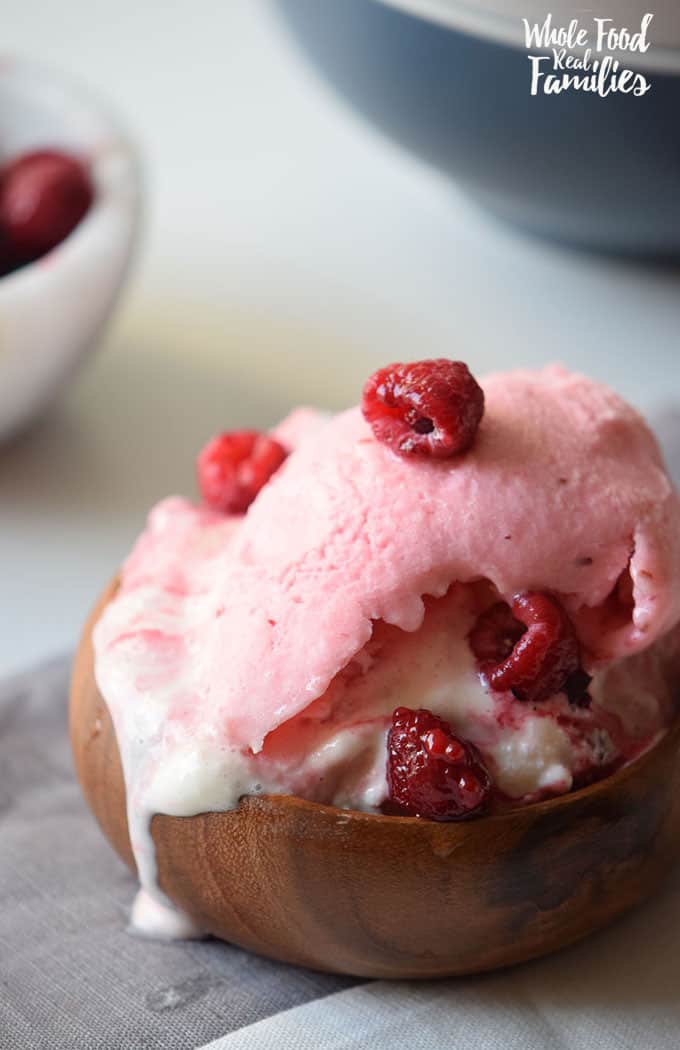 My husband and I have a long standing history with raspberries. When we were first dating, I used to make a salad that included them all the time during berry season. But every time I would go to the fridge to find the raspberries, they would be gone. I soon realized that my husband had a slight addiction. He can't open the container of berries and leave any in the box. So anytime I wanted to make the salad, I had to buy double the berries. I would leave some in the refrigerator so he could see them and hide another container in the back for my salad.
We still tease him about how much he loves them. He is totally aware that he is hoarding the raspberries, he just can't stop himself from polishing them off. So if the kids and I ever want to have raspberries we have to eat them before he finds them or hide them from him. Such was the case with our Healthy Raspberry Frozen Yogurt.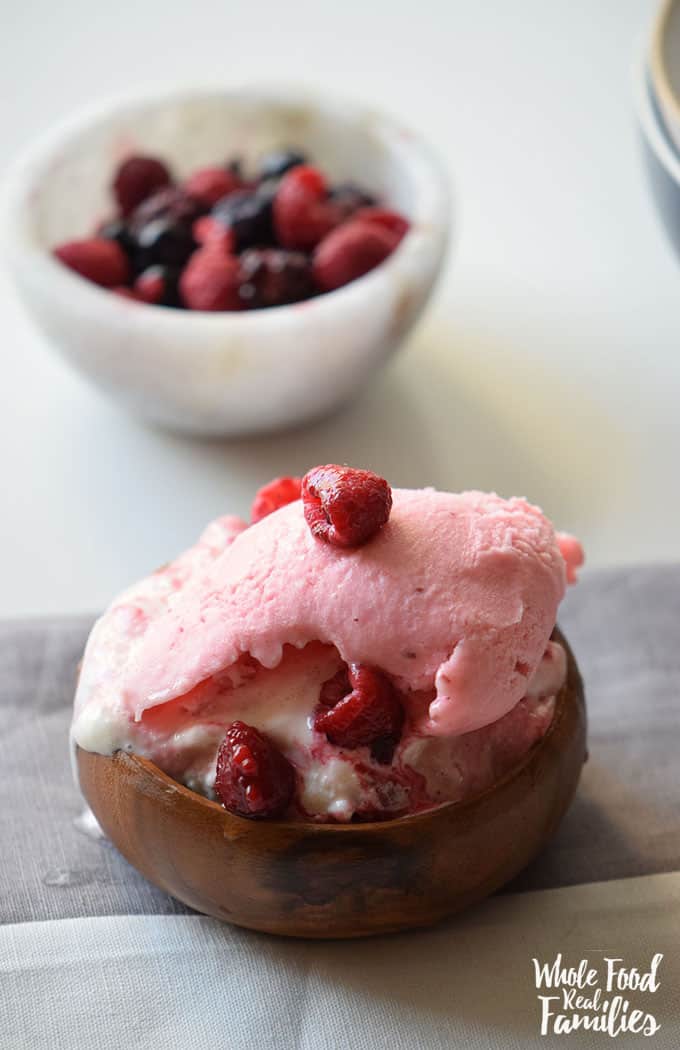 We have been doing a lot of traveling over the summer and the kids (okay… and me) are detoxing from all the extra refined sugar that snuck into our diet while we were enjoying our vacation and time with grandparents. And by snuck in, I mean magically appeared in the big bowl of ice cream we ate as often as possible. So while we are all trying to overcome our vacation sugar cravings and get ourselves back into healthy eating, we dreamed up this simple Healthy Raspberry Frozen Yogurt to help us in the struggle. Yes, there was berry hiding involved.
If you have ever been off sugar, then started eating it again, then stopped again – you know the cravings I am talking about.
Except my husband. He's nuts. He is always joyful about getting back on the wagon. The rest of us just give him what we call in the south "the hairy eyeball" when he talks about how happy he is we're all eating well again and how good he feels. We will all feel better about it the next week. But right after vacation the rest of us just tried to talk softly and not strangle each other.

A side note, I realized as we were happily scooping this into our bowls that this is healthy enough that it doesn't have to be dessert. I would be completely happy serving this to my kids as an after school snack!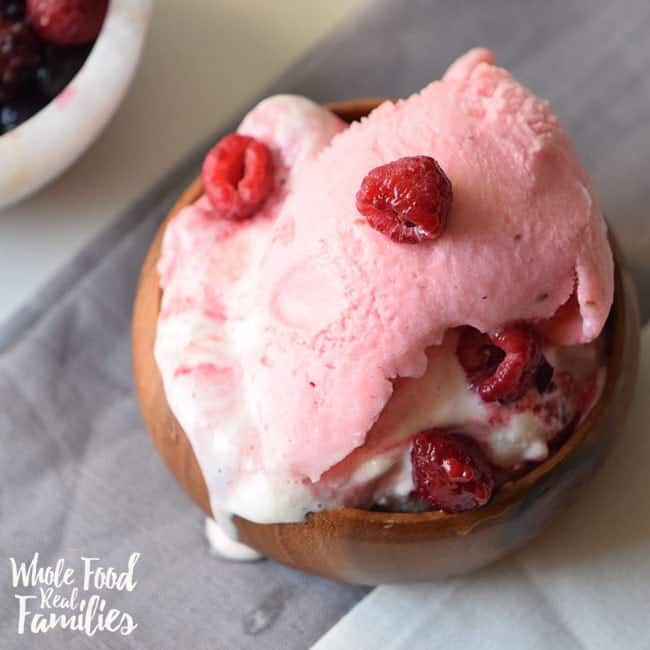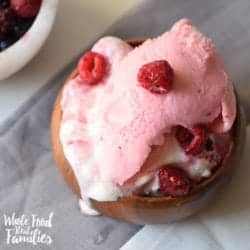 Healthy Raspberry Frozen Yogurt
Ingredients
1

Cup plain greek yogurt

12

oz. frozen raspberries

⅓ Cup fresh lemon juice

2

Tbsp lemon zest

3

Tbsp honey
Instructions
Place the ice cream maker bowl in the freezer.

In a blender add greek yogurt, berries, lemon juice, lemon zest and honey. Blend until smooth.

Place mixture in the fridge and let it cool for 1 to 2 hours.

Pour the mixture into the ice cream maker and follow the manufacturer's instructions.

Serve with fresh raspberries and enjoy!

Tips: If you don't have an ice cream maker, place the mixture in the freezer for 6-8 hours and mix it every 2 hours to avoid crystallization.