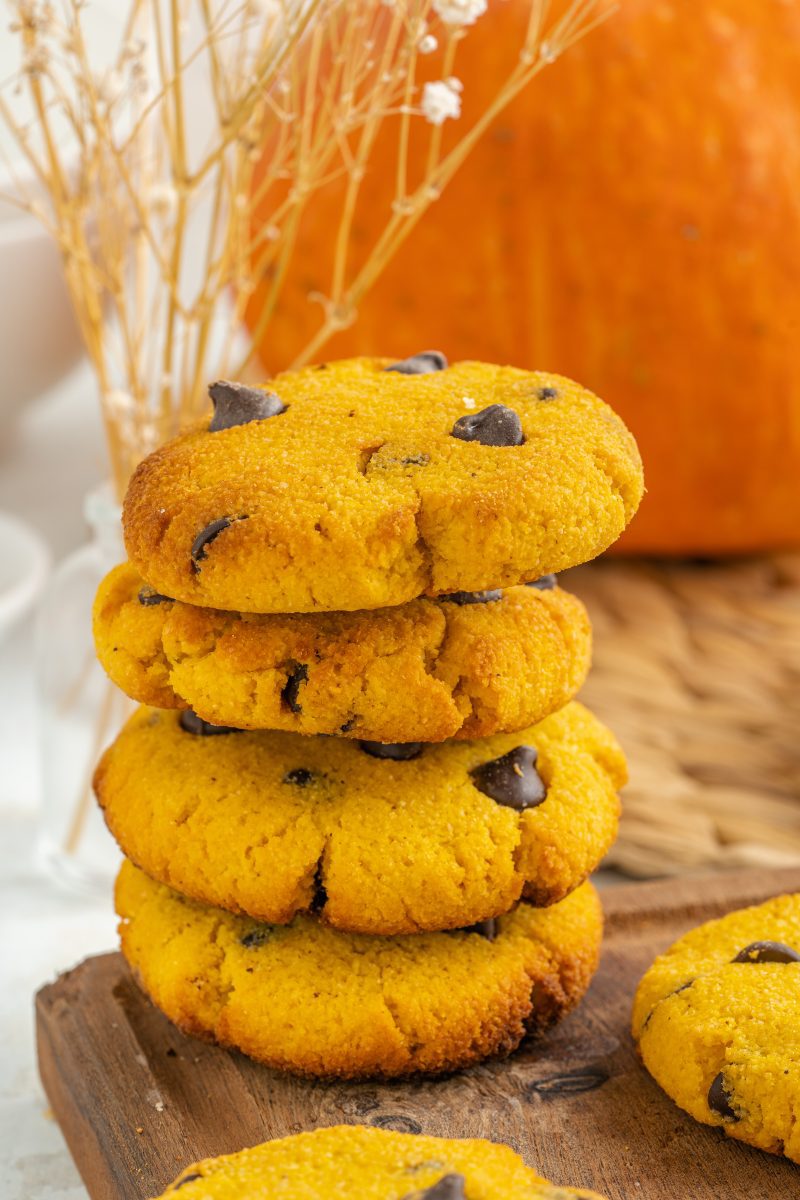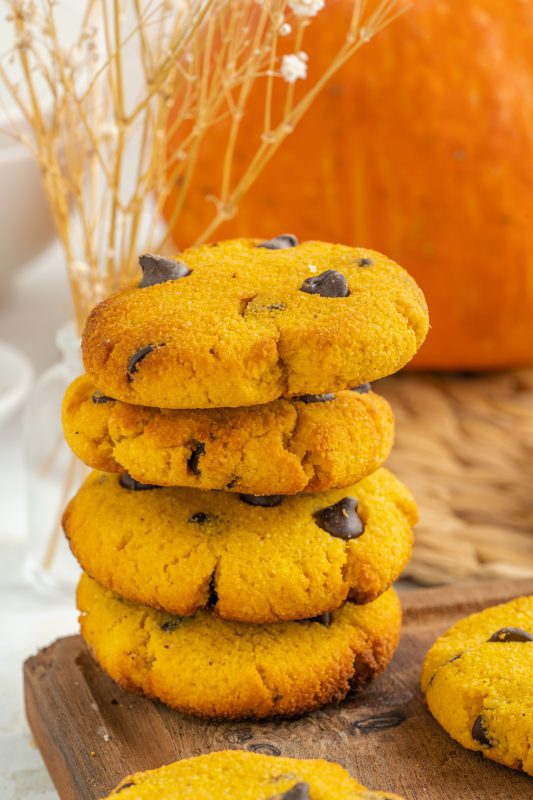 Satisfy your pumpkin craving this season with the warm, familiar flavors of my keto pumpkin cookies. Pumpkin puree, pumpkin spice, vanilla, butter, and a hint of chocolate combine for a delicious, fall-themed treat!
Keto Pumpkin Cookies
Finding keto options to curb your favorite flavor cravings can sometimes be difficult, but I'm positive that these almond flour pumpkin cookies will become your new autumn dessert go-to! Keeping the earthy tastes of pumpkin puree and pumpkin spice blend front and center was my top priority when developing this recipe, but coming in at a very close second was ensuring a cookie texture to rival any traditional non-keto dessert!
If you've become a master keto baker (good for you!) then you'll already have most of these ingredients in your pantry right now. But if you're a novice, don't worry: these ingredients can be found in just about any grocery store or market these days.
For another delicious pumpkin treat, try these sweet and keto-friendly pumpkin balls. If you're looking for a pumpkin dish that falls more on the savory side, my roasted pumpkin soup is right up your alley. This one is keto-friendly, too!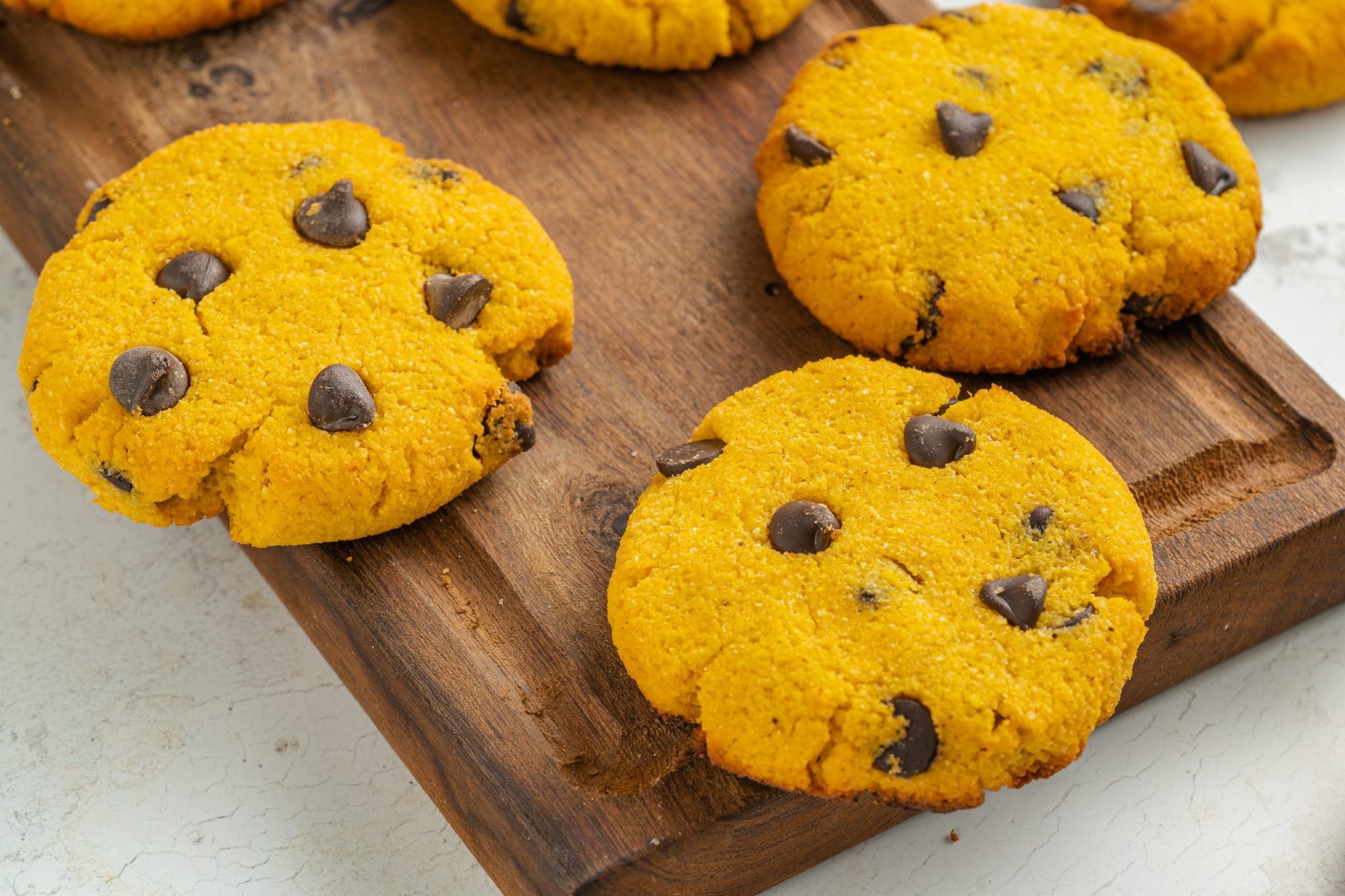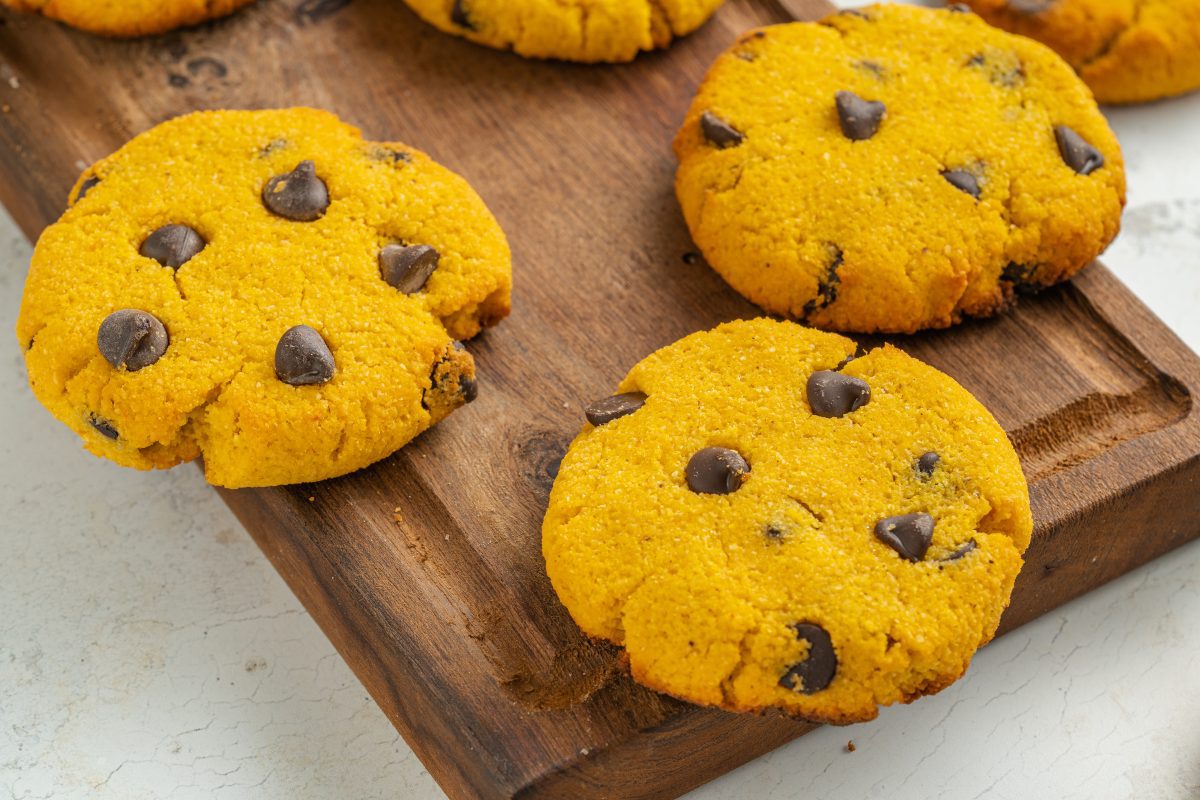 Why you will love this recipe
Low carb and full flavor: Almond flour pumpkin cookies substitute some traditional ingredients to cut down on carbs, but the flavors and textures are as strong and satisfying as any other pumpkin treat.
No special tools or processes needed: Making keto pumpkin cookies is exactly the same as making any other cookie! Mix wet with wet, dry with dry, and then carefully combine. You'll be tasting the finished product in under 40 minutes.
Sweet, fall-inspired flavors and aromas: If you need a little pumpkin spice in your life, keto pumpkin cookies are going to make your day — AND your house will smell amazing!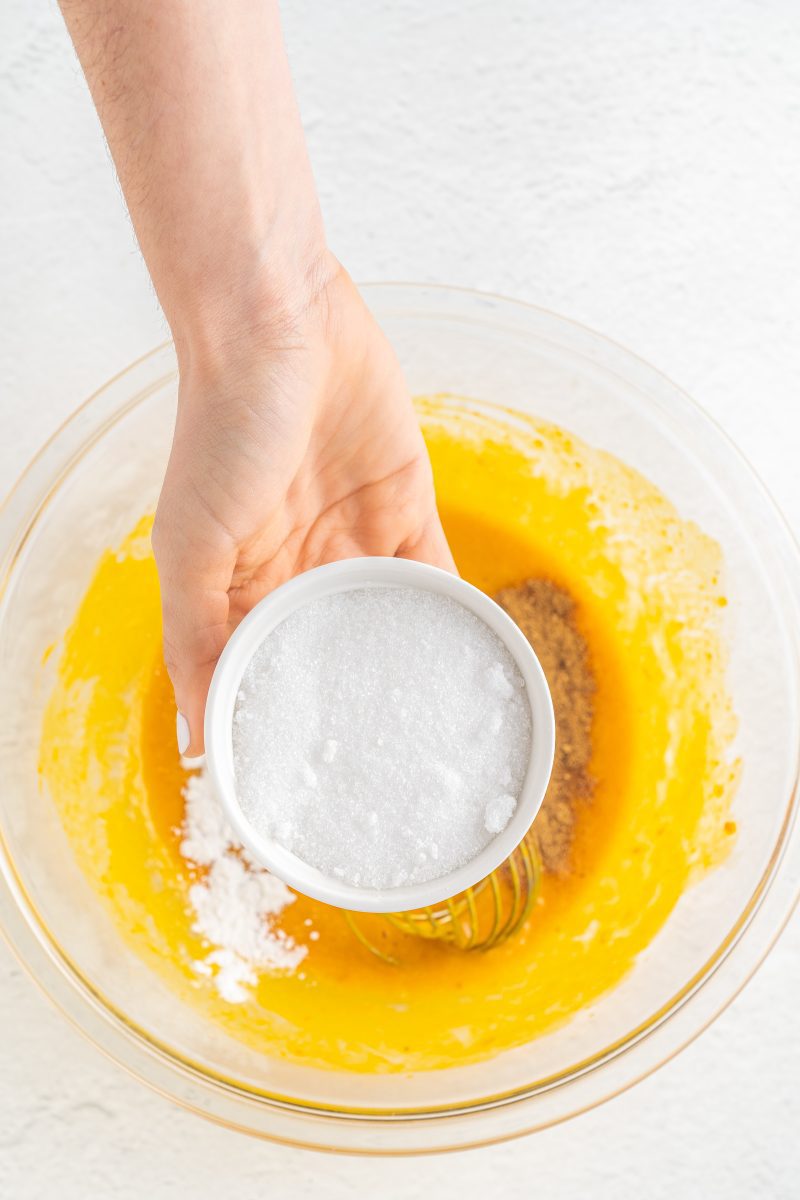 How to make perfect Keto Pumpkin Cookies
Step One: Preheat the oven to 325F and line a large baking tray with parchment paper.
Step Two: Melt the butter and let it cool slightly. In a large mixing bowl, beat the eggs. Whisk in the vanilla extract, pumpkin puree, and cooled melted butter.
Step Three: In a separate bowl, combine erythritol, baking powder, and pumpkin spice. Carefully add this to your egg mixture.
Step Four: Add almond and coconut flours, then stir in chocolate chips. Reserve some chocolate chips for topping your cookies in the next step.
Step Five: Using your hands, roll the batter into 12 equally sized balls and flatten them slightly. Space them evenly on the baking sheet, with at least 1 inch between each cookie. Top with remaining chocolate chips.
Step Six: Bake for 18 minutes, when you see the edges turning slightly golden in color. The tops of the cookies will remain soft but will firm up as they cool. Avoid allowing them to cook longer since this will result in a dry cookie.
Step Seven: Keep the cookies on the baking tray so that they can cool completely before transferring to a plate.
Chef's Tip: Keto pumpkin cookies will stay fresh in an airtight container on your countertop for up to five days.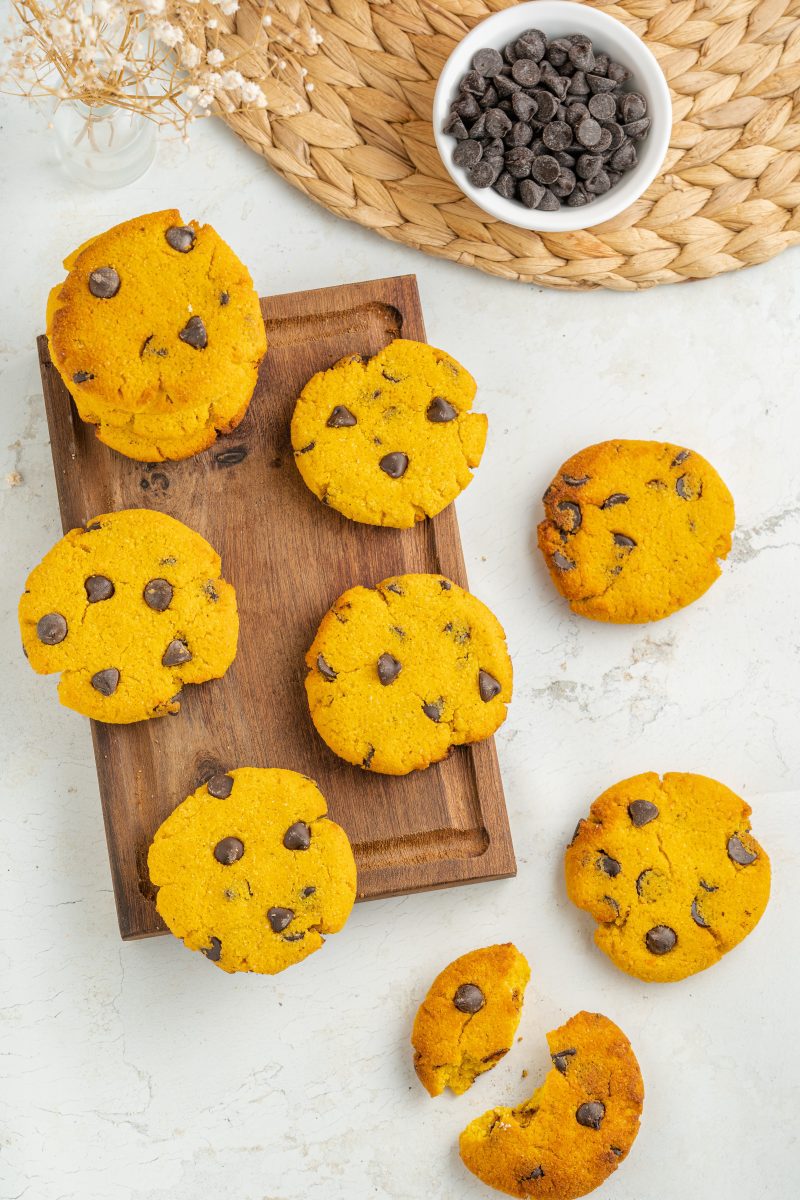 Frequently asked Questions about Almond Flour Pumpkin Cookies
What Is Pumpkin Spice Seasoning Made Of?
The spices used in a pumpkin spice seasoning mix are fairly common: cinnamon, nutmeg, ginger, allspice, and clove. Sometimes black pepper is added as well. If you have an aversion to one of these spices on its own and you have all of these ingredients on hand, you could easily mix up your own blend and store it in an airtight jar. But the truth is, there are many brands of pumpkin spice that are already mixed up and work perfectly in these keto pumpkin cookies.
What Can I Use Instead of Erythritol?
Erythritol is used in place of sugar in these low carb pumpkin cookies. Swerve is another option that contains some erythritol and can be used here. Organic stevia blends and monkfruit sweetener are other good sugar substitutes. If you have one of these on hand, it will work just as well as granulated erythritol and provide the same flavor, but a powdered sugar substitute will not produce the same texture as a granulated one.
Does Vanilla Extract Make A Difference?
Pure vanilla extract is less processed and generally has a stronger flavor than imitation vanilla extract or vanilla flavoring. As a result, vanilla extract does make a difference in the taste of your bakes but its less noticeable than it would be when used in dishes that are not baked, such as icing or creams. The higher heat used for baking will eliminate some — but not all — of the stronger flavors of vanilla extract.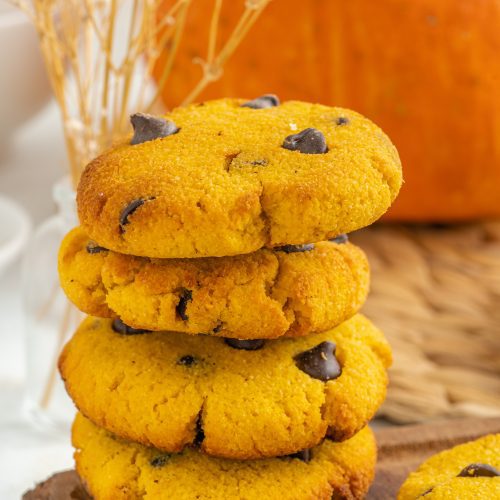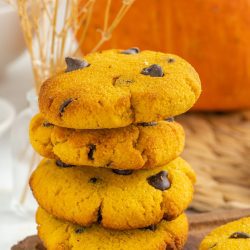 Keto Pumpkin Cookies
Satisfy your pumpkin craving this season with the warm, familiar flavors of my keto pumpkin cookies. Pumpkin puree, pumpkin spice, vanilla, butter, and a hint of chocolate combine for a delicious, fall-themed treat!
Course:
Breads & Muffins, Snacks & Dessert, Snacks & Treats
Keyword:
Cookies, keto, Keto pumpkin cookies, pumpkin
Ingredients
2

cup

almond flour

1/4

cup

coconut flour

1/2

cup

chocolate chips

2

medium

eggs

2/3

cup

granulated erythritol

3

tbsp

melted butter

1

tsp

vanilla extract

1

tsp

baking powder

1/3

cup

pumpkin puree

1/2

tsp

pumpkin spice
Instructions
Preheat the oven to 325F and prepare a large baking tray with parchment paper.

Then, beat the eggs in a large bowl. Add vanilla extract, pumpkin puree, melted butter, and whisk.

Next, add granulated erythritol, baking powder, and pumpkin spice. Stir to combine.

Add almond flour and coconut flour and combine. Then, fold in chocolate chips. You can save some to place them on top of the cookies.

Roll the batter into balls 2 inches wide, then flatten them with your hand to give them a cookie shape. Top each cookie with some chocolate chips.

Bake the cookies for 18 minutes, until lightly golden on the base. These cookies will seem soft when hot, but no worries, they'll harden at room temperature. Be careful not to overbake them, or they'll end up dry.

Let the cookies cool completely before transferring them out of the tray.
Recipe Notes
You know it is THAT time of the year when your family asks for pumpkin recipes, for that is convenient to always have a keto option like these keto pumpkin cookies. These cookies are soft and crispy on the outside, perfect when you're craving a warmly spiced cookie for fall.
Tips
These cookies will get crunchy if over-baked, so if you'd like them soft inside, you should remove them from the oven once they're set in the base but still soft on top.

Store them in a sealed bag over the counter for up to five days.
Nutrition Facts
Keto Pumpkin Cookies
Amount Per Serving
Calories 193
Calories from Fat 135
% Daily Value*
Fat 15g23%
Cholesterol 35mg12%
Sodium 74mg3%
Potassium 48mg1%
Carbohydrates 22g7%
Protein 5g10%
Vitamin A 1186IU24%
Vitamin C 0.3mg0%
Calcium 71mg7%
Iron 1mg6%
* Percent Daily Values are based on a 2000 calorie diet.