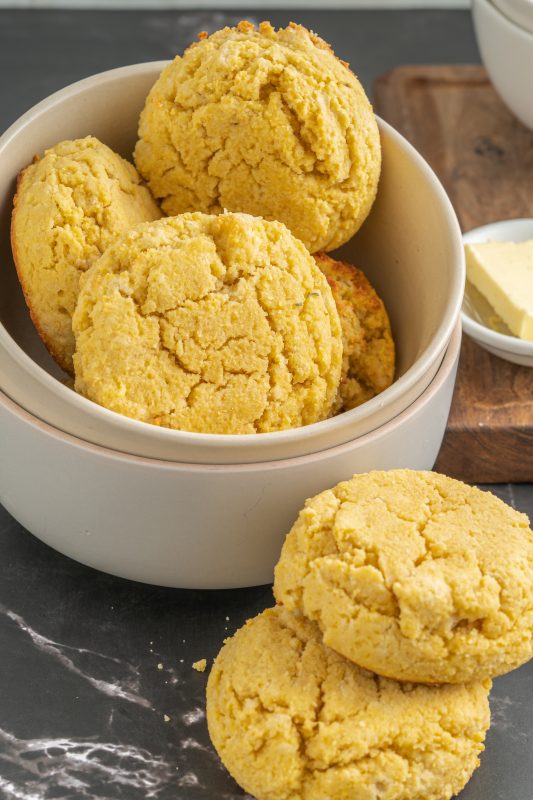 Cream cheese is the secret to keeping these Keto Biscuits incredibly soft and moist. Coconut and almond flours create a low-carb alternative that you'll swear is just as good as traditional biscuits!
Keto Biscuit
Bread is my guilty pleasure. I could eat it with absolutely any meal! But the carbs in bread keep me from eating it as much as I'd like to. That's why coming up with a low carb biscuit that has all the soft, tasty goodness of the traditional version is something I've been working on for a long time. These keto biscuits are so satisfying in taste and texture, I can easily gobble up a couple of them in one sitting without feeling guilty! 
Try these keto biscuits with my 15 minute beef and broccoli or whip them up while you're cooking this smoked whole chicken. They are the perfect complement to any meat!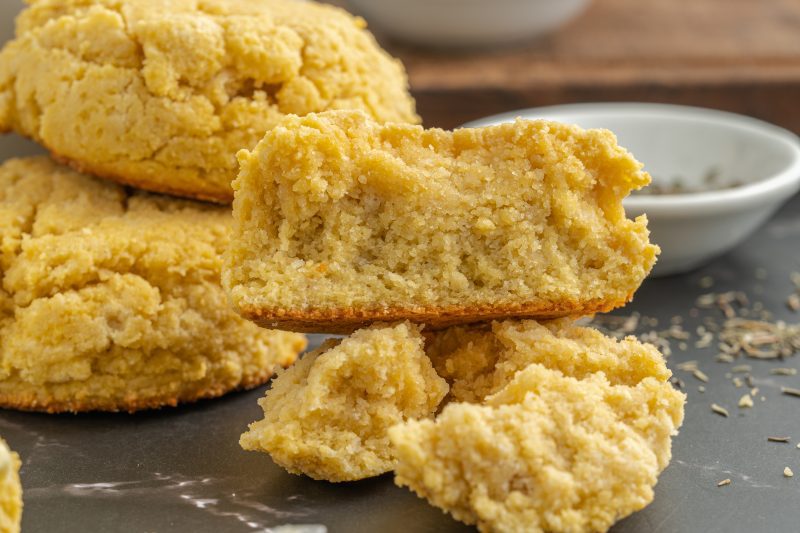 Why you will love this keto biscuit recipe
These keto biscuits are a healthy, low-carb alternative to traditional versions: either homemade or store-bought. Both coconut and almond flours are grain and gluten-free, and using cream cheese decreases the amount of butter needed while still giving you a biscuit that is soft and moist.
Ready in 20 minutes! Preparing a batch is a cinch, even on your busiest night. You don't need to let the dough rise before you pop your keto biscuits into the oven, and your refrigerated ingredients should stay chilled until you are ready to mix.
Easily adjust the size of your biscuits to accommodate the number of people you're serving. While this keto biscuit recipe is written for 6 large biscuits, you can divide the dough into smaller portions to yield a larger amount. Just keep an eye on them as they bake, since smaller biscuits won't need the full 10-12 minutes to bake.
Wrap any leftovers in a tea towel on your kitchen counter where they will stay fresh for up to 3 days. You can also refrigerate them in an airtight container for 7 days, but each almond flour biscuit is too moist to seal in a plastic bag.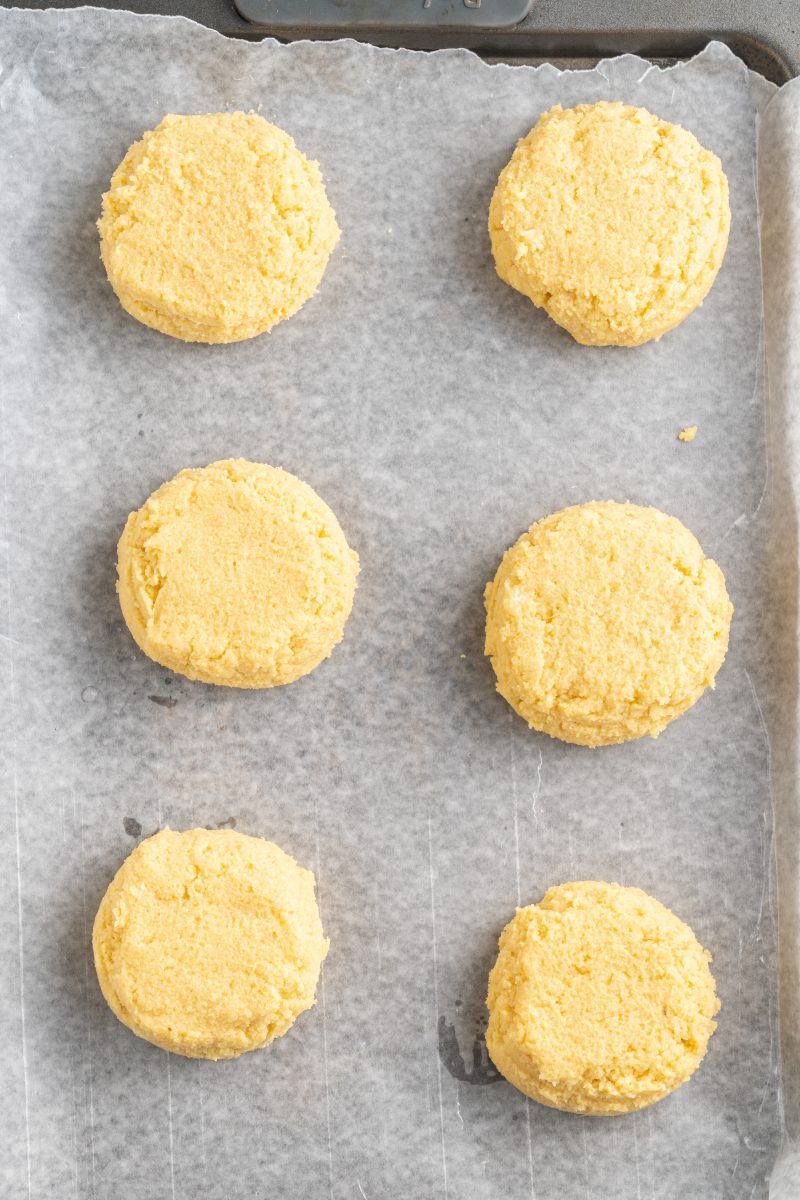 How to Make Tender Keto Biscuits
Step One: Preheat your oven to 350F. For easier cleanup (and to prevent sticking), use parchment paper to line your baking sheet.
Step Two: Whisk the cold eggs and cream cheese together in a medium sized mixing bowl. You don't need to have a perfectly smooth mixture, but be sure your eggs and cream cheese are well combined.
Step Three: Add almond flour, baking powder, baking soda, salt, and coconut flour to a food processor. Pulse briefly to blend your dry ingredients, then add the cubed butter and pulse until the butter becomes pea-sized pieces.
Step Four: Add your flour mixture to the mixing bowl with your egg mixture. Since this dough will become stiff, use a wooden spoon or your hands to combine the ingredients. Divide the dough into equal sizes of your choosing, but keep the thickness to 1-inch.
Step Five: Bake for 10-12 minutes, until the bottoms begin to turn light golden in color. The biscuits will still be soft, so be careful not to overbake.
Step Six: Allow the biscuits to cool completely on the tray to avoid them falling apart. They will firm up as they cool, but will stay soft and moist.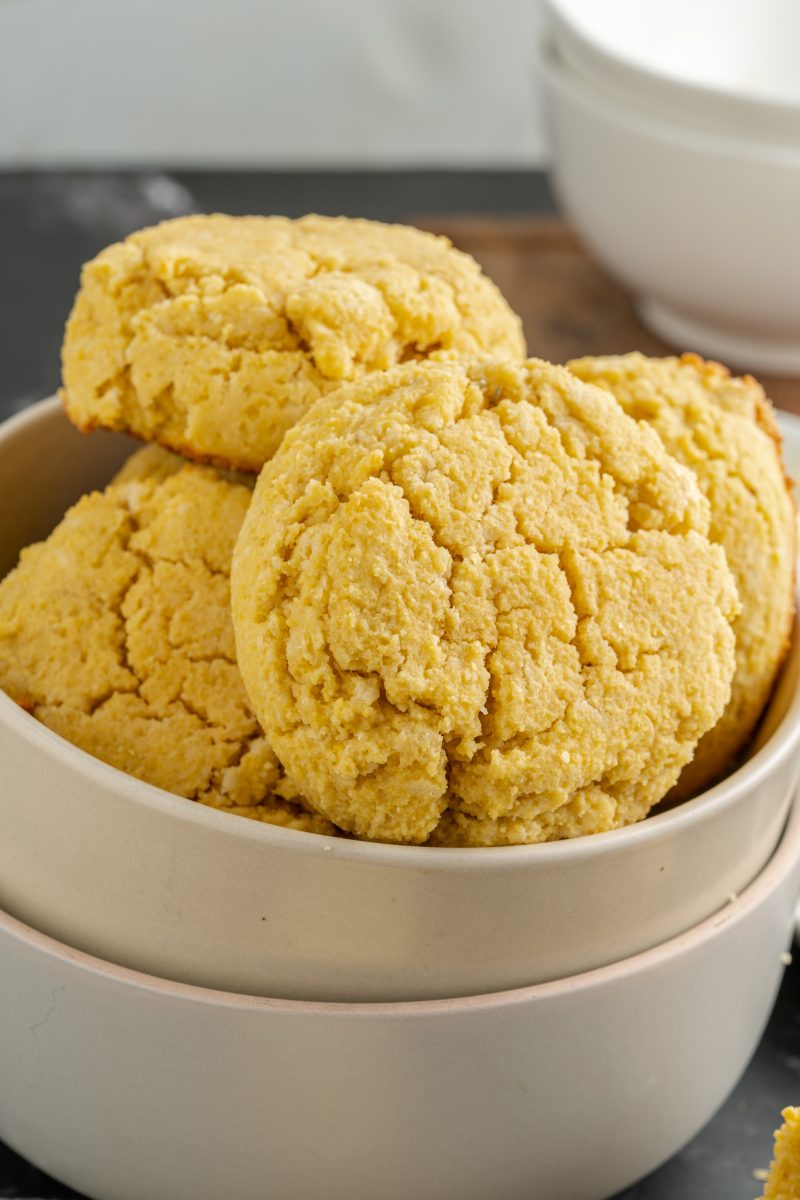 Frequently asked Questions about Keto Biscuit Recipe
How Does Cream Cheese Affect Baking?
The cream cheese in this keto biscuit recipe provides moisture and structure for the biscuits. Cream cheese is also used as a substitute for butter in many low-fat recipes, so this cuts down on the amount of butter needed for our recipe.
Does Sifting Flour Make Biscuits Better?
Sifting your flour before making your dough isn't always called for in biscuit recipes, but it can make a difference in the texture of your dough. Coconut flour and almond flour in particular can be lumpy, and sifting them will give you a more accurate measurement. This can also make it easier to mix these flours with your other ingredients.
What Can I Use Instead Of Almond Flour For Keto?
If you are baking for someone who has a tree-nut allergy, sunflower seed flour is another great keto-friendly alternative to traditional grain flours. It's also very similar to almond flour in consistency and can be substituted in equal measure, especially in this keto biscuit recipe!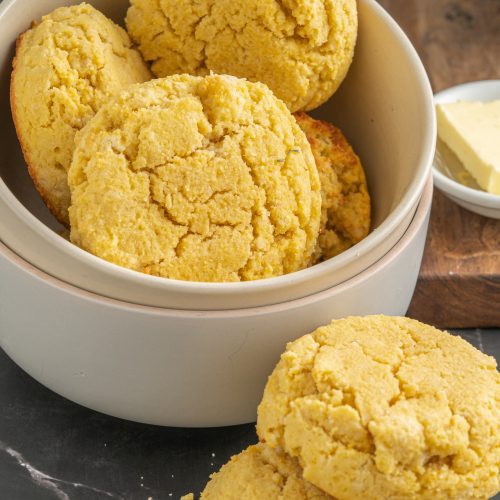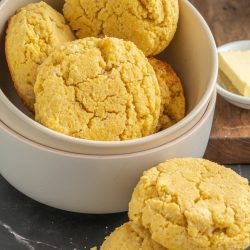 Keto Biscuits
Cream cheese is the secret to keeping these keto biscuits incredibly soft and moist. Coconut and almond flours create a low-carb alternative that you'll swear is just as good as traditional biscuits!
Course:
Appetizer, Appetizers & Sides, Breads & Muffins
Keyword:
Almond flour, Biscuits, keto, Keto Biscuits
Ingredients
3

medium

eggs

cold

1/4

cup

cream cheese

spread

1 5/6

cup

almond flour

1/2 + 1/3

1

tsp

baking powder

1/2

tsp

baking soda

1/2

tsp

salt

1/3

cup

coconut flour

4

tbsp

unsalted butter

cold
Instructions
Preheat the oven to 350F and line a baking sheet with baking paper. Set it aside.

Add the eggs and cream cheese into a large bowl, and whisk to combine.

Next, mix almond flour, coconut flour, baking soda, baking powder, and salt in a food processor. Pulse for a few seconds, and then add chilled cubed butter and process until butter turns into pea-sized pieces.

Then, combine flour with the egg mixture, resulting in a stiff batter. Divide the dough into six portions and use your hands to form biscuits, about one inch thick and 2.5-3 inches wide. You could also make 8 smaller biscuits with this amount of dough.

Bake the biscuits for 10-12 minutes or until lightly brownish in the bottom. These biscuits will remain soft on top and around the edges when freshly baked, but that's what you'll be looking for, so when the biscuits get to room temperature, they stay soft and moist in the center.

Let them cool completely before transferring them out of the tray; otherwise, they'll be fragile and could break apart.
Recipe Notes
Taste-wise, these almond flour biscuits are buttery and slightly salty. Then, texture-wise, they're soft and moist inside and crispy on the outside.  Finally, the almond flour provides a nutty flavor that makes them irresistible.
Tips
It is key for these biscuits not to overbake them, so set a timer and control the temperature of the oven to achieve soft and slightly crispy biscuits. 

How to store these biscuits: they get moist in a sealed bag. So, wrap them with a clean tea towel to keep them fresh for up to three days over the counter. Otherwise, you can store them in an airtight container in the fridge for up to seven days and reheat them in a toaster to have them crispy again.

The best way to consume them is freshly made or toasted with butter or sliced avocado. Yum!
Nutrition Facts
Keto Biscuits
Amount Per Serving
Calories 330
Calories from Fat 252
% Daily Value*
Fat 28g43%
Cholesterol 103mg34%
Sodium 468mg20%
Potassium 59mg2%
Carbohydrates 12g4%
Protein 13g26%
Vitamin A 357IU7%
Calcium 159mg16%
Iron 2mg11%
* Percent Daily Values are based on a 2000 calorie diet.