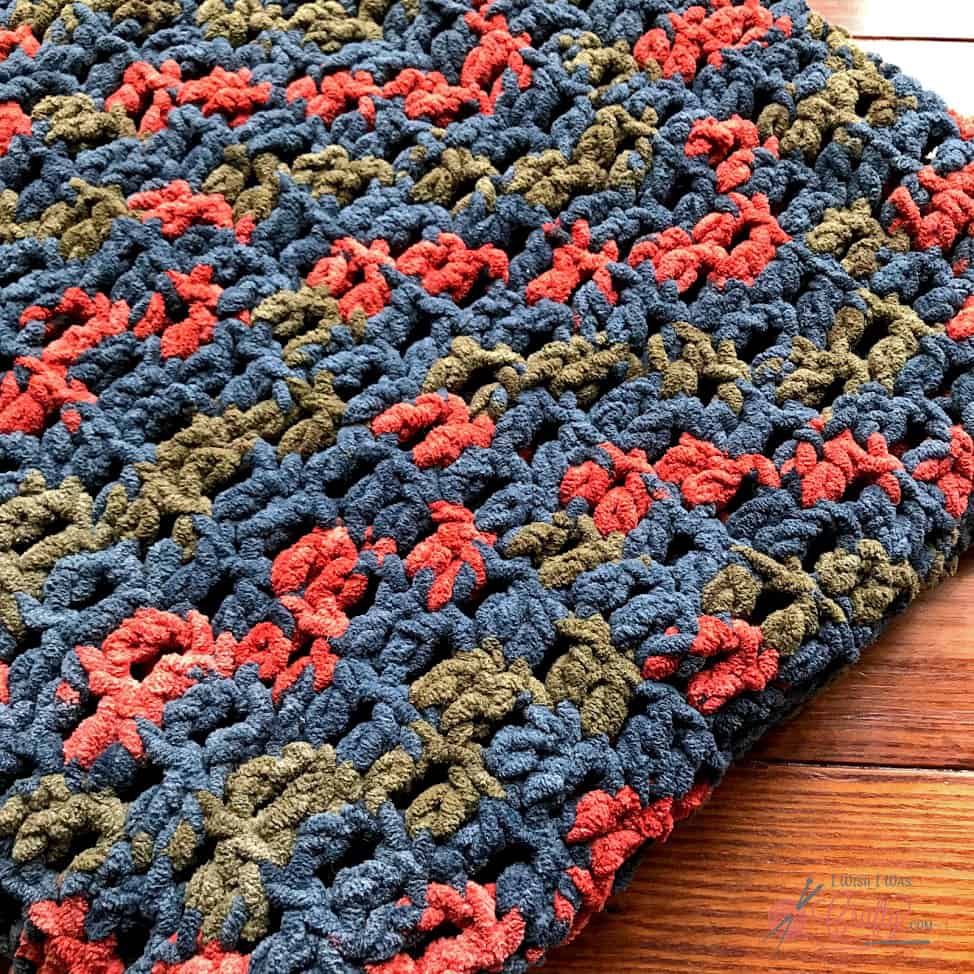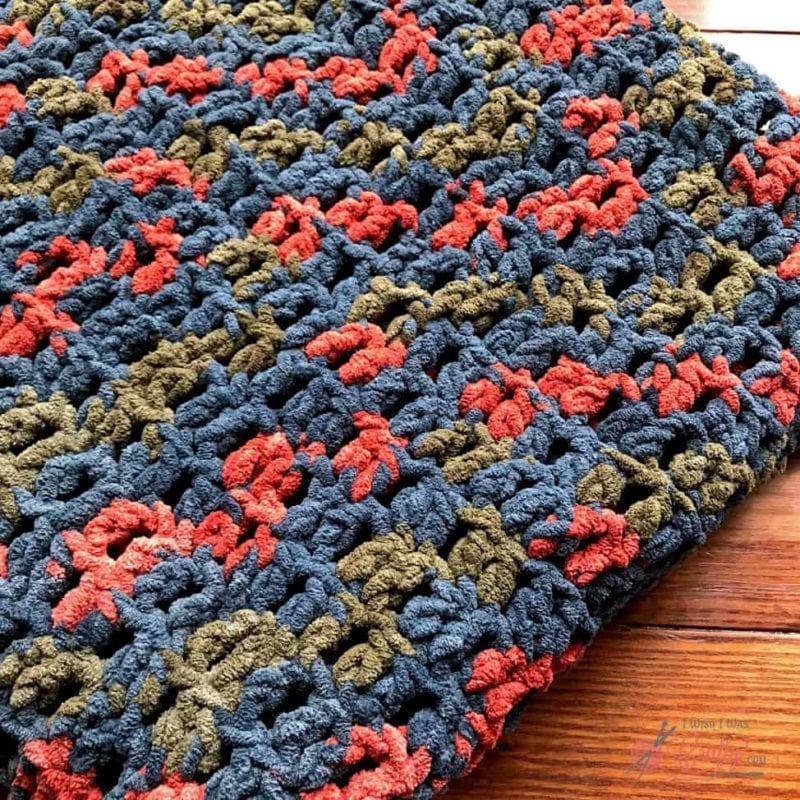 This Easy Crochet Blanket is a perfect project for beginners with simple stitches that give you lots of practice for all of your future crochet projects.
My Nanny taught me to crochet when I was about 7, the same age my middle child is now. I remember sitting beside her on the sofa when she had come for a visit and watching her hands work what looked like a magic trick with some yarn.
My Nanny has been gone a lot of years now. And I am 43 instead of 7 years old. But I can still remember those moments with her in such clear detail. She was not a snuggler, she was never going to toss me in the air or sing songs with me. I actually never remember her reading me a book. But I remember always working beside her. And that no matter what she was doing, she included me and talked to me – teaching me step-by-step while we worked.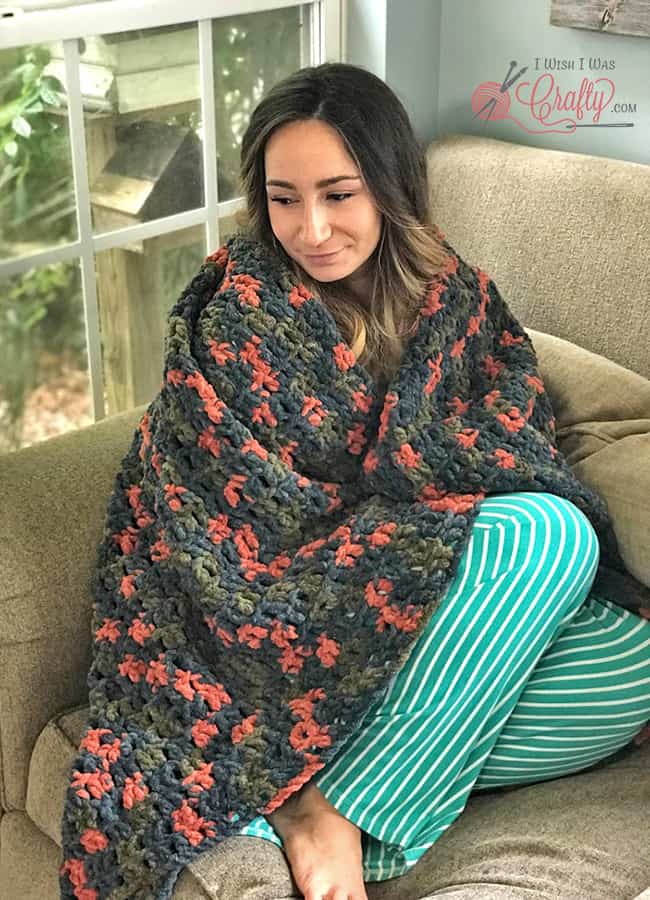 Easy Crochet Blanket for Beginners
It wasn't until I was an adult and my Nanny had passed to the next life that I began to realize how those moments with her had shaped me. She was the most productive – profoundly productive – and capable woman I've ever known. She made me feel important. And worth teaching. Every day I try to be like her.
While I try to give out snuggles more freely with my kids, it is my heartfelt desire that they learn from me what I learned from her. That work is rewarding. That children are important and worth teaching. And that they can also find joy in creating things, simple things, just like she did.
For so many years, I had forgotten the crochet stitches I learned from my grandmother. I thought about it often but could not remember the makings of a single stitch. I mentioned it on Facebook one day, and on her next visit to my home, my mother-in-law showed up with a few skeins of yarn and some crochet hooks.
It seems like a simple thing. But I was so deeply touched. My mom-in-law gave me back the feeling of connection to my grandmother from such a simple gesture. We spend the whole weekend practicing crochet stitches and picking patterns for a first project. This Beginner Crochet Blanket was the project we picked. The pattern is super simple and by the time you are done, I promise you will never say you don't know how to crochet again.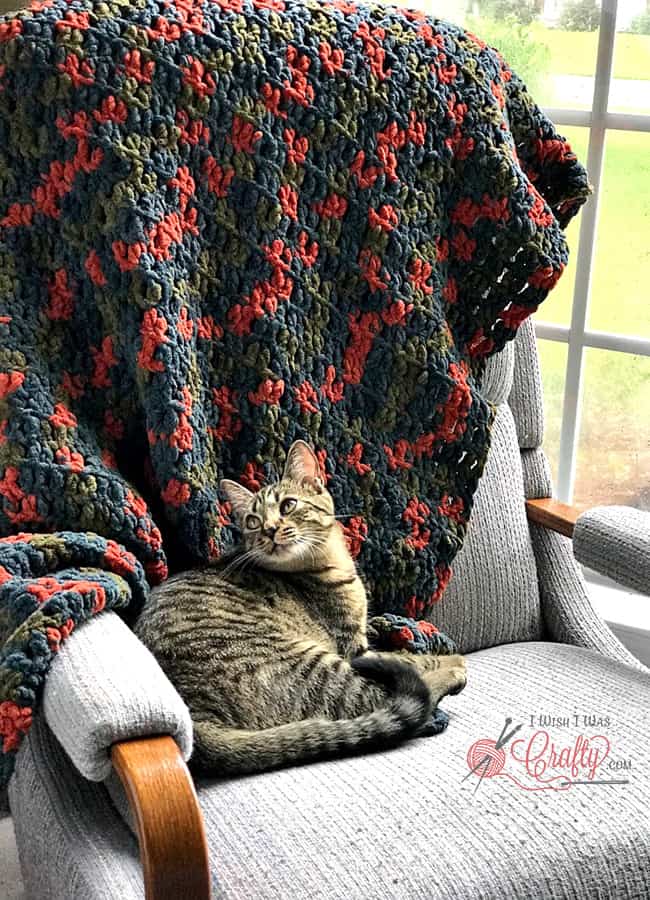 Beginner Double Crochet Blanket
By learning the Double Crochet stitch and practicing it over and over… all of the other stitches will make more sense. The half double, the triple, the single crochet – they all make more sense when you know double crochet so well.
I picked a big, bulky yarn for my first piece because it is so easy and fun to work with… but be creative. It is hard to go wrong here. Once you get the initial chain created with the right number of stitches and double crochet the pattern in the first few rows, you can stop worrying about counting and just keep the pattern going until this throw is the length you want, then finish it off and weave in the ends.
My crochet blanket ended up quite long because my husband is over six feet and wanted a blanket he could tuck under his feet and still pull up to his neck. So he was my yardstick. 🙂
What you need:
Some links are affiliate links, if you buy through these links I make a small commission with no additional cost to you.
13 skeins of super bulky yarn (64 yards per skein)
or you can use an economical big ball size like this Bernat Blanket Yarn and it will be 4ish skeins of super bulky yarn
Scissors
Tapestry Needle for weaving in ends
What to do:
Chain 91
Row 1
Double crochet in the 4th chain from the hook.
Chain 1 and skip a stitch in the foundation chain.
Double crochet in each of the next 2 stitches.
Repeat the pattern to the end of the row.
Row 2
Chain 3 and turn your work to the opposite side.
Double Crochet into the top of the stitch in Row 1.
Chain 1 and skip a stitch across the to of Row 1.
Double Crochet into the top of the next 2 double crochet stitches in Row 1.
Repeat the pattern to the end of the row.
Rows 3 and beyond
Repeat the pattern in Row 2 until the blanket reaches the length you desire.
Then finish off and weave in the ends.