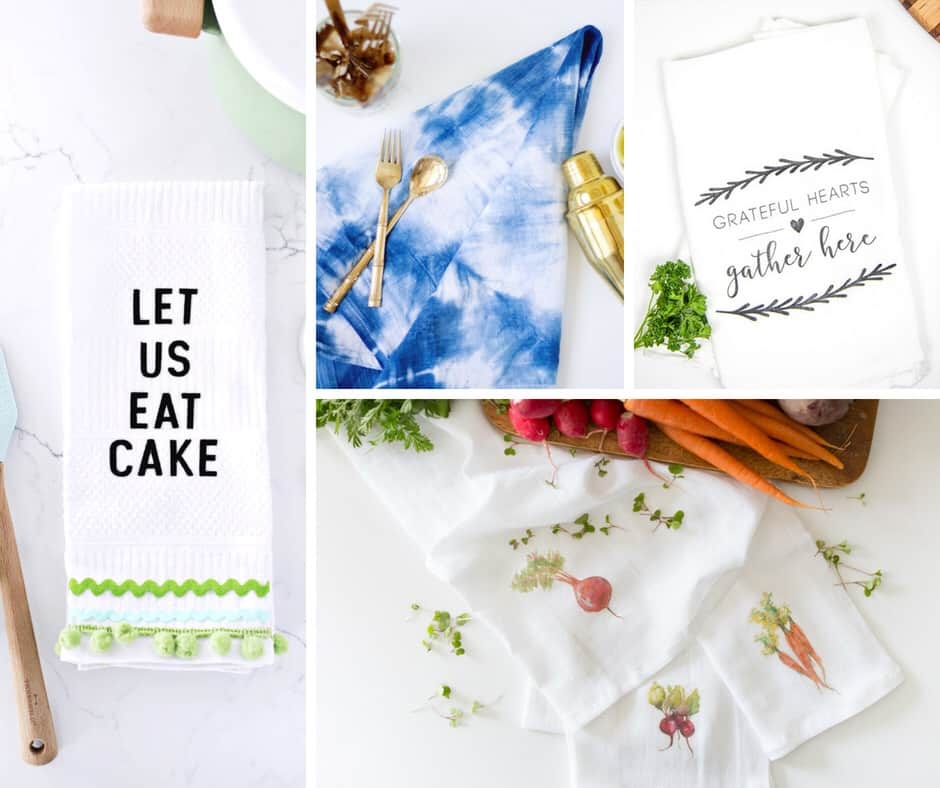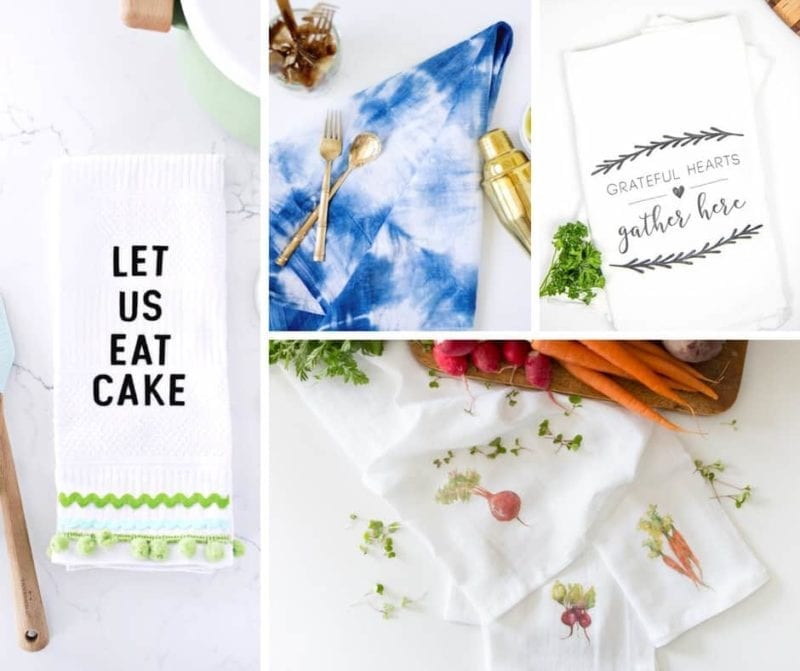 Make your kitchen pop with these DIY Tea Towels. Whether your style is classic, kitchy or cute, there is something here for everyone.
My person style has changed over the years. So has my budget for redecorating. But I have found that small touches like custom tea towels make a huge difference when your kitchen just needs a little facelift.
Instead of repainting the walls or replacing the floors (which we have also tackled!) sometimes, what the kitchen needs is just a change in energy or a pop of color – or in my case, something kitchy that makes people laugh. (We are big on puns over here. And the older my kids get, the more they are starting to understand irony — much to my delight.)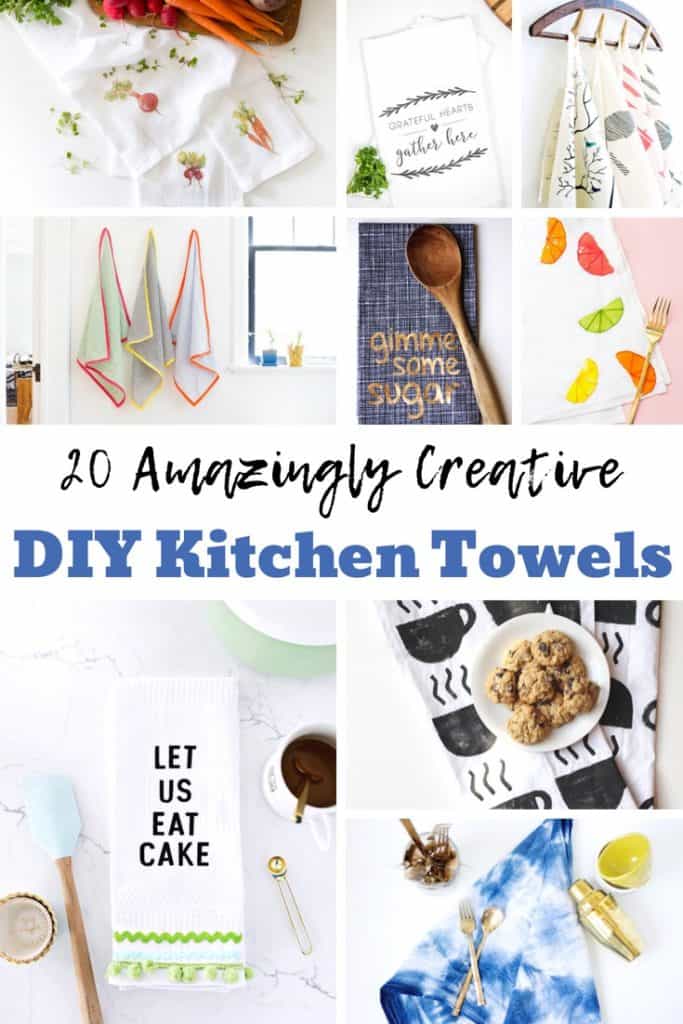 The other big change over the years has been my realization that these sorts of projects are not things I have to buy! While you can buy regular kitchen towels in bulk for pretty cheap. The sort of towels that express your personality can be really expensive.
This collection of DIY Kitchen Towels is so easy to follow – and find something that is uniquely you and something you feel comfortable doing no matter how crafty (or not crafty) you think you are!
DIY Tea Towels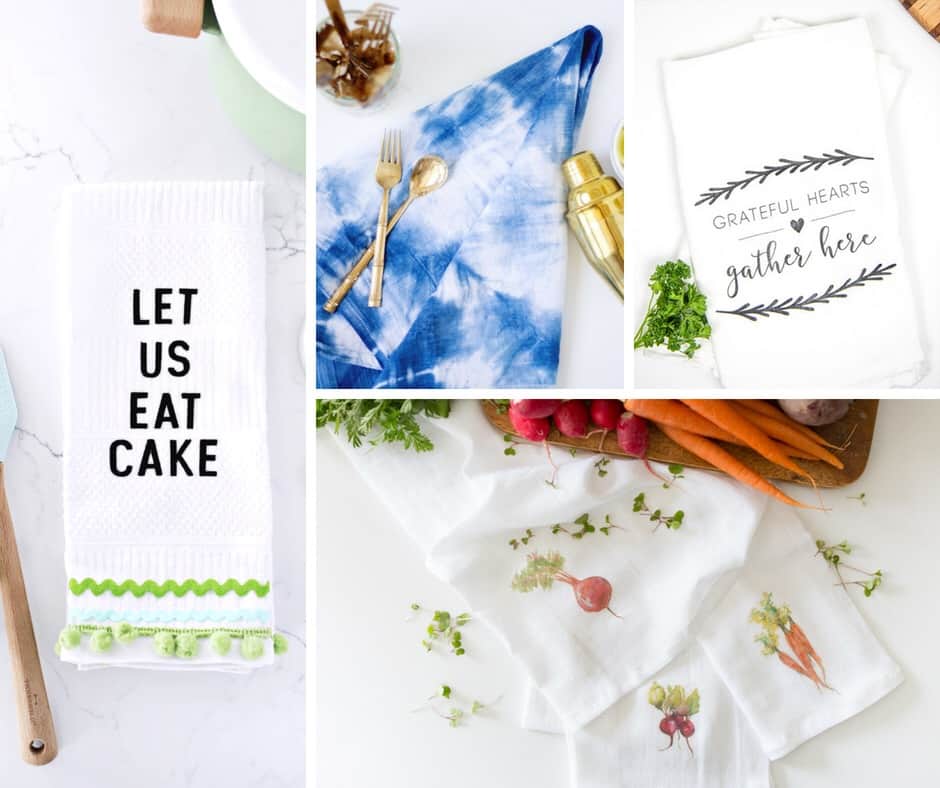 More Handmade Kitchen Towels
Fun With Puns DIY Kitchen Towels from lydioutloud.com
DIY Kitchen Towels from joyfullymad.com
Gimme Some Sugar DIY Dish Cloth Gift from persialou.com
DIY Stamped Tea Towels from damasklove.com
DIY Citrus Stamped And Embroidered Tea Towels from sarahhearts.com
DIY Tea Towels from cherishedbliss.com
Indigo Tea Towels from francoisetmoi.com
Bubble Paint Tea Towels from averageinspired.com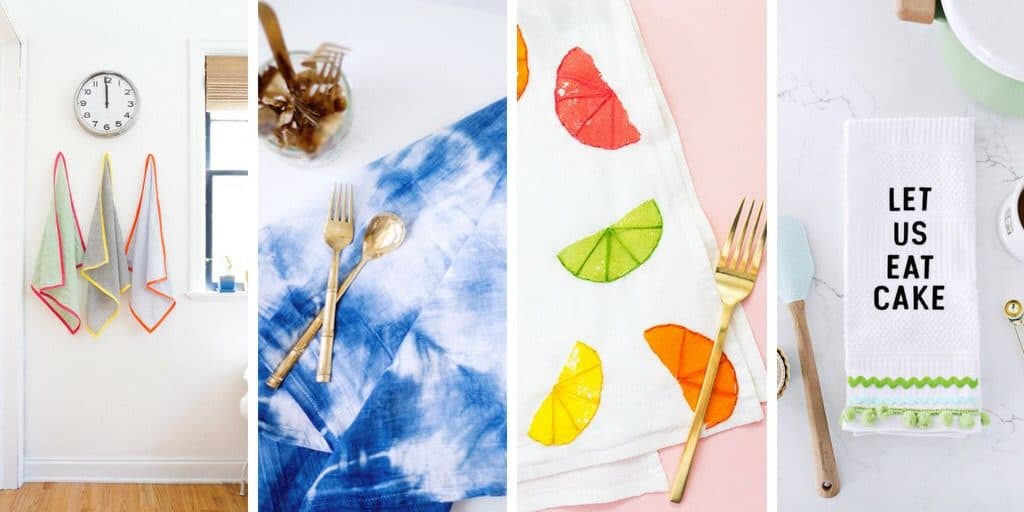 DIY Towels for Your Kitchen
Which style towels would look best in your kitchen? Bright and colorful or classic? Are you serious or punny?
I found several new styles I really like. I have tried handstamping before and love it but am looking forward to trying the marbled dish towels and making new towels with a stencil!
Have you tried making kitchen towels yourself? Tag your photos on Instagram with #mynourishedhome! I want to see your ideas!