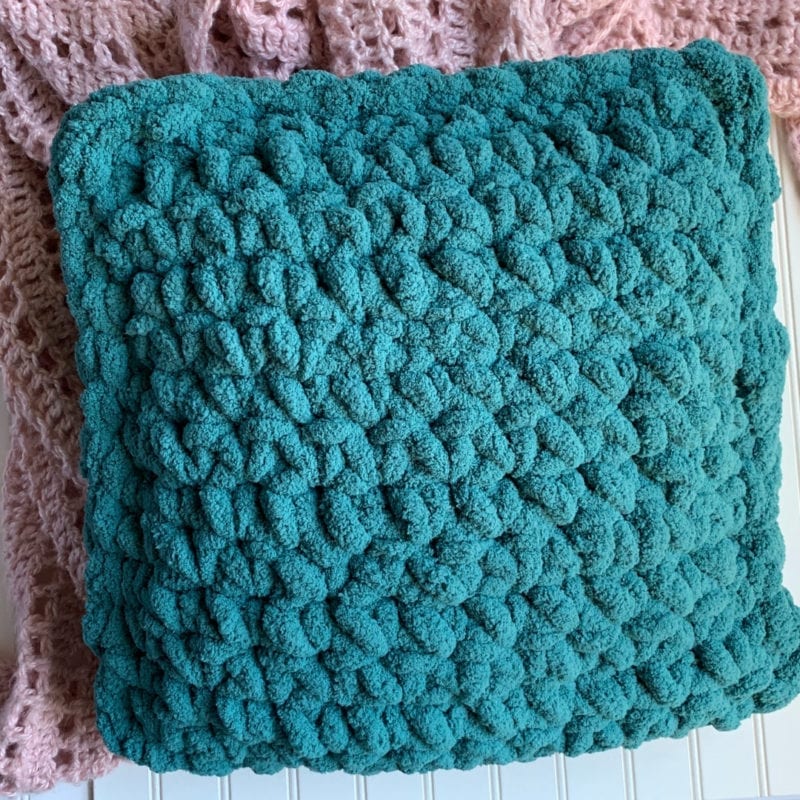 Changing up decorative pillow covers is an easy way to change up your home decor without a lot of stress or a lot of money. This post will help you learn how to make your own crochet pillow cover!
Learning to make my own pillow covers has been a fun way to add a pop of color on the sofa or in the comfy chairs in the reading nook in my kitchen.
How to Make a Pillow Cover
I have found that my tastes change over the years – even from season to season. And what makes sense in our household changes with time too. I wouldn't dream of having anything too delicate on my sofa with little kids and teenagers in our house but one day… you never know!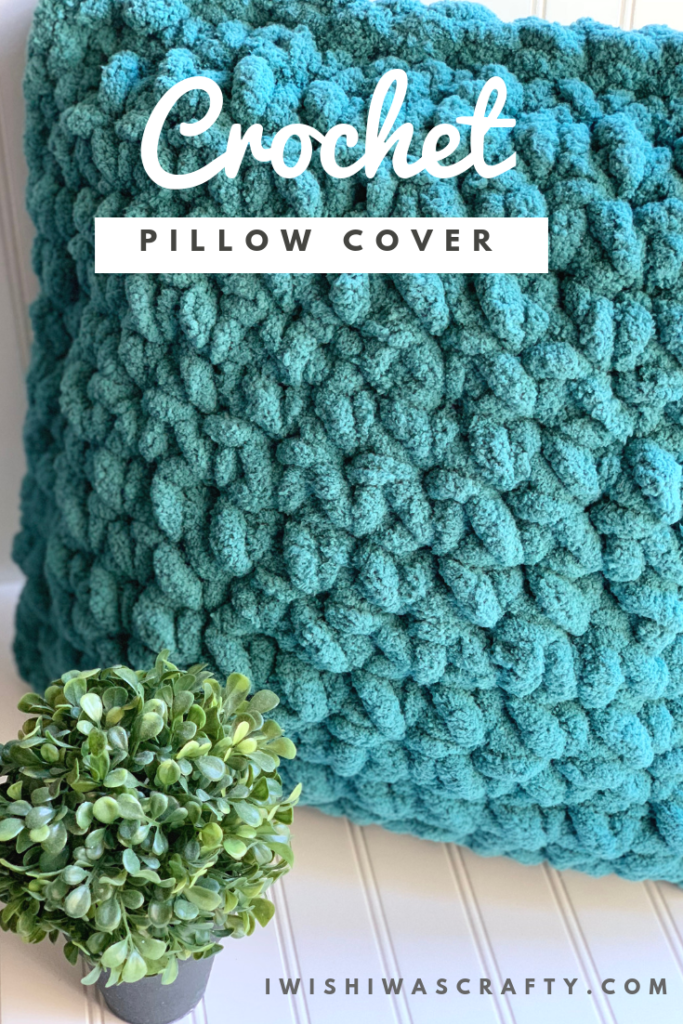 What I have figured out is that as long as there are kids piling into my living room to watch movies or hang out, cozy, squishy, soft pillows are a must. It makes me very happy in that mom way to see my kids talking and playing together pilled up on pillow covers I made. Or wrapped in blankets I crocheted for them. Something about making things for my family and friends feels like a physical expression of my love for them… especially my kids…
I love that I can crochet a pillow cover for the throw pillows they lay their heads on and make blankets they wrap around them. It feels a lot like motherhood and home – the desire to be the soft place where they land, and the warm place that comforts them.
Easy Crochet Pillow for Beginners
This is an easy pattern so it is also a great place to start your kids who are a bit older if they are interested in learning to make things themselves. One of the questions my kids always asked me was "what if I make a mistake?" Check out the article for some advice about how to put this fear to rest —> The short answer is, it is just yarn. 🙂
So far, I have made 5 of these crocheted pillow covers. Two matching throw pillow covers for my sofa. And one for each kid in a color they love – mostly so they will stop trying to call dibs on the 2 on the sofa. 🙂
When your pillow is all done, you'll want to make this easy crochet blanket to go with it!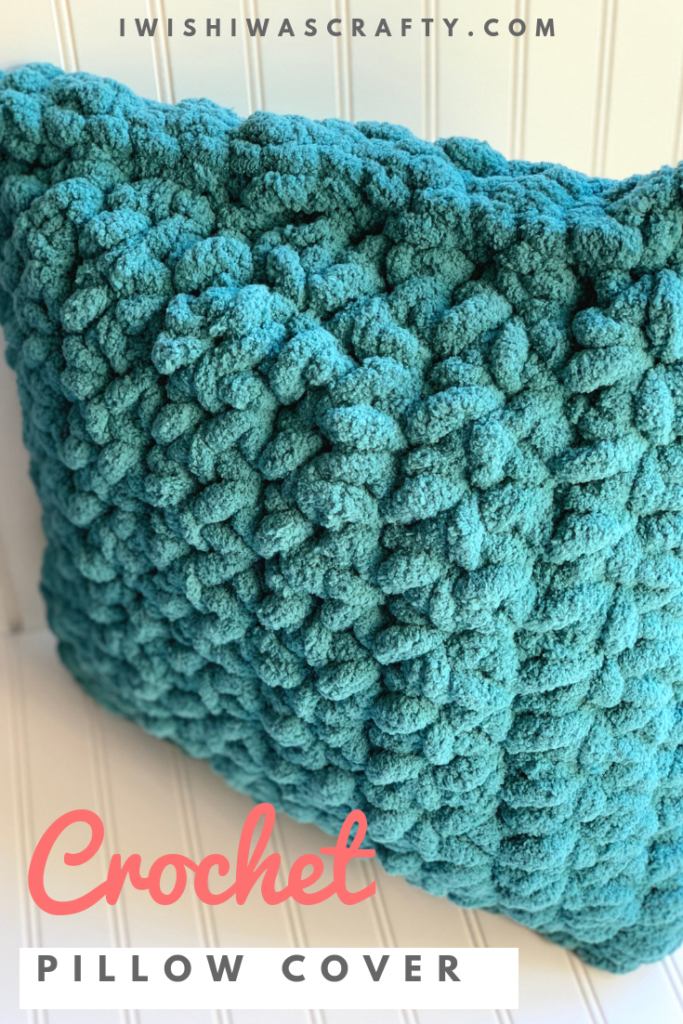 Make a Crochet Pillow Cover
If you have ever crocheted a stitch in your life, this is the EASIEST project you are ever going to make. If you have NEVER crocheted a day in your life, this is a great place to start. You only need to know how to create a starter chain, single crochet, and slip stitch the edges around an 18×18 pillow insert.
I used the Bernat Blanket Big yarn for these pillows but any chunky yarn would work. You will just have to measure your starter chain in you change the yarn (or the pillow insert size) to make sure you make it wide enough.
Below is the exact yarn I used in the photographed pillow cover. If you want to try it by clicking through think link, I make a small commission that helps me keep buying yarn for projects! 🙂
To begin your crochet pillow cover, you will need 3 skeins of Bernat Blanket Big, an 18×18 pillow insert, and either a jumbo 25mm crochet hook (or you could easily finger crochet this project). You will also need scissors but I worked in the ends with my fingers since this yarn is so thick.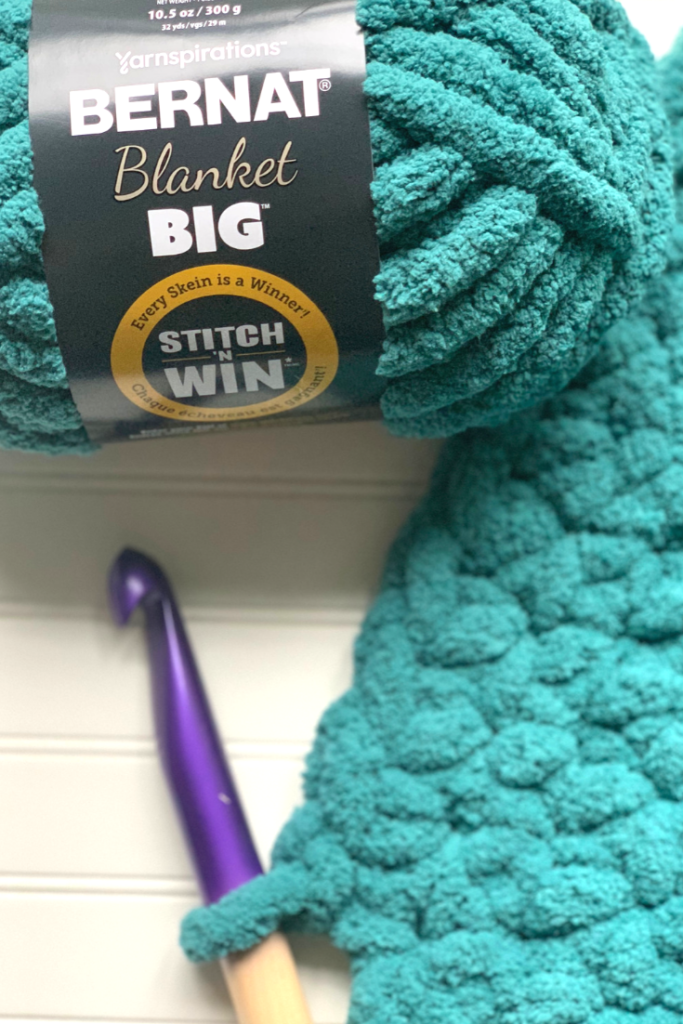 Instructions for 18×18 Crochet Pillow Cover:
Chain 16 to start.
Single crochet into the second chain from the hook. (You should be skipping a chain between the hook and the chain you are working into.)
Single crochet into all stitches across the starter chain, at the end of the row, chain one and turn.
Single crochet into the second stitch from the hook (again, you are not working into the stitch at the base of the chain.)
Repeat single crochets and turning work until you have created a length double the size of your 18×18 pillow insert. I used 28 rows for my project.
You will finish off the flat, open pillow cover and work in the ends.
Place the insert inside the pillow cover, fold it over. Slip stitch the matching yarn beginning at one edge of the pillow cover and work your way around the pillow until the pillow cover is completely closed around your pillow insert.
Work in the yarn ends. I used my fingers to work in the ends.
Start Your Project!
This is the exact yarn that I used. And it comes in lots of colors. If you purchase through this link, I make a small commission but you pay the same amount.
&
Bernat Blanket Big Ball Yarn (10734) Light Teal

25mm Bamboo Crochet Hook Knitting Sewing Needle Carbonized Weave Pin Knit Weave Yarn Craft Home DIY Knitting Tools

Acanva Hypoallergenic Pillow Insert Form Cushion, 18