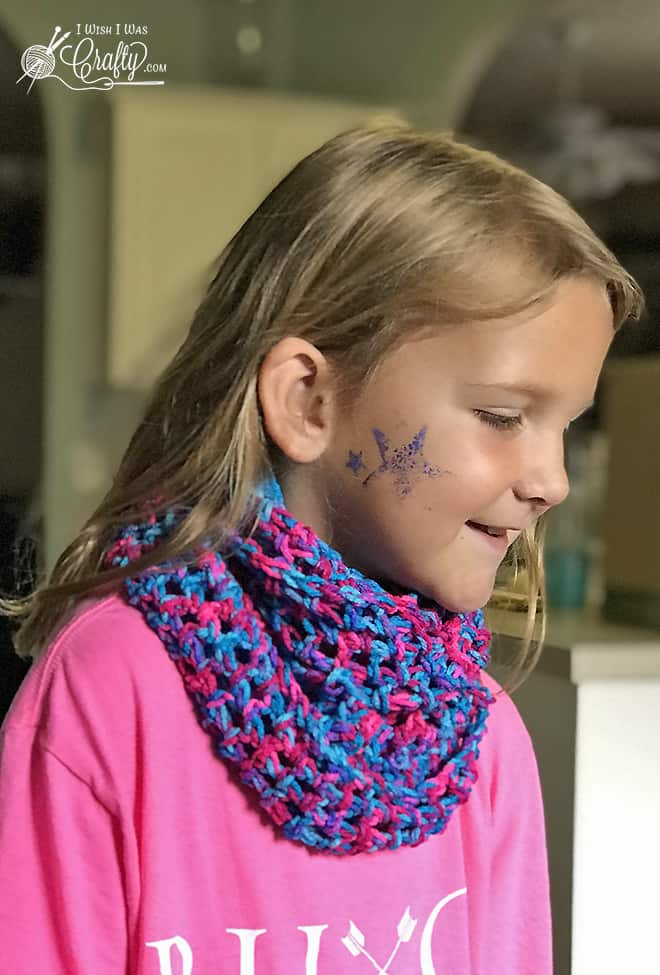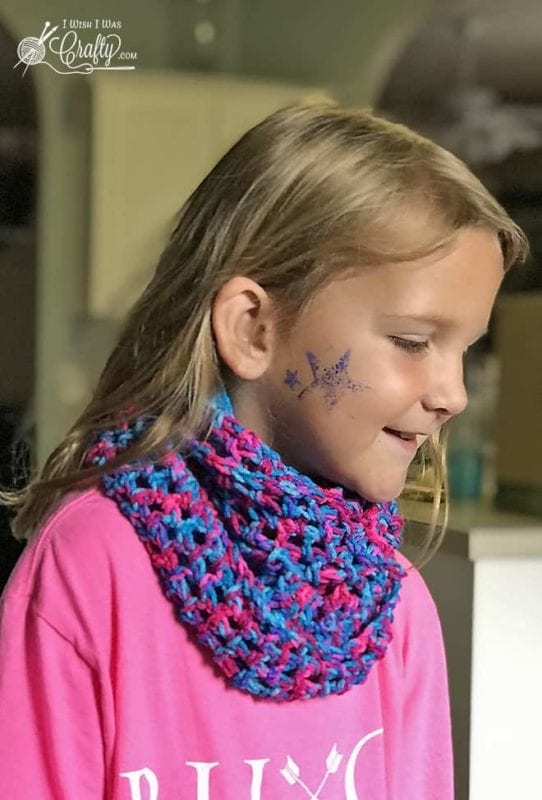 The Easiest Infinity Scarf EVER… That is what I said… You can crochet the simplest, easiest infinity scarf ever. However, the magic in this pattern is that everyone will we wowed with your crafting prowess and never know that you have only crocheted one scarf in your entire life.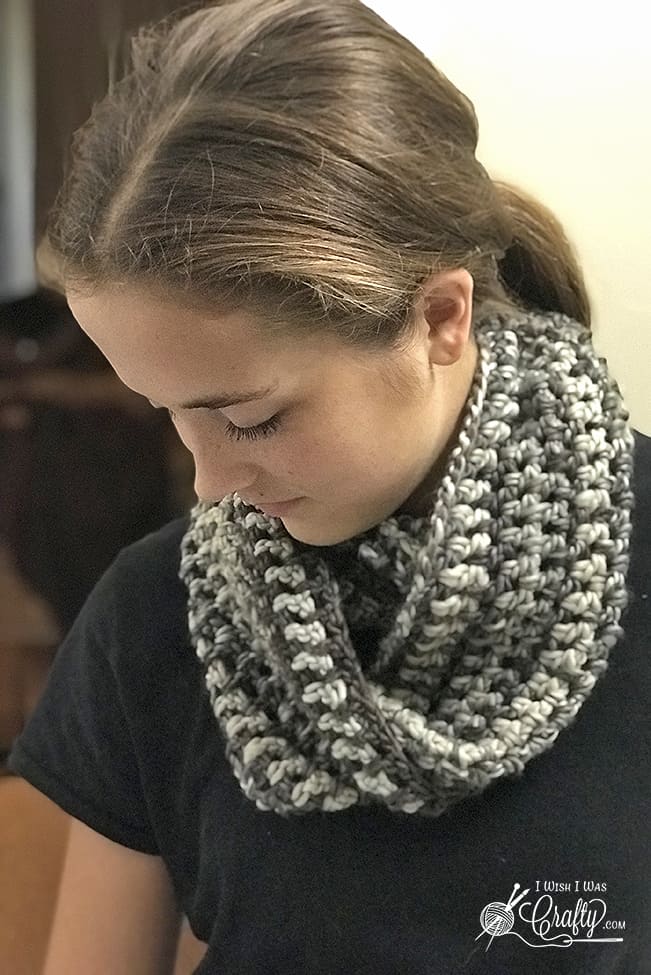 Crochet this Super Easy Infinity Scarf
When I first started to crochet again, after many years of it being a lost skill to me, I looked for some super easy projects where I could practice. And that if they turned out well, I wanted to be able to give them as Christmas gifts!
This Crocheted Infinity Scarf is the easiest project you are ever going to create. And by the time you get to the end, you will never wonder how to make a double crochet stitch again. (It is pretty much chain stitches, double crochet, and a simple two stitch reduction to tidy it up.)
In fact, I loved making this scarf so much, and the recipients loved receiving them so much that between gifts and requests from friends (and my 3 daughters!) I made this one scarf 11 times in 2 months.
It is easy to make this scarf look different by changing up the yarn. Chunky Yarn will make the infinity scarf heavy and really warm. Worsted weight yarn will make a lighter scarf with less bulk.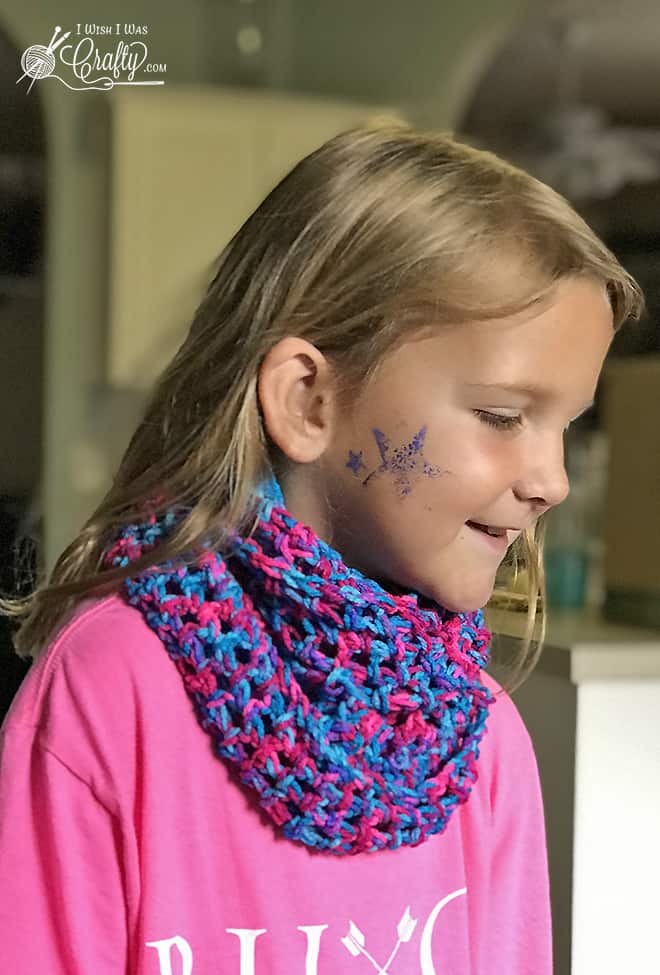 A Perfect Infinity Scarf for Beginners
Also, note the number of chains to begin your scarf is 120. If you are making it for someone larger than average or you want to be able to loop it loosely on your neck, you might want to use 146 links instead. To get a rough idea, once you chain the initial stitches, just stand up and put it over your head and see how long it is… I do this a lot when I make things for kids. I often change up adult patterns by just reducing the number of stitches.
Click here for the video where I walk you through this Easy Infinity Scarf. I promise to go step by step so you can see how to create each stitch. You Can Do This! <— Even if you have never crocheted anything before. I promise.
What You'll Need:
1 ball of yarn – anything from worsted weight to bulky will work. Play around with colors and sizes but pick something soft!
Size 10 Crochet Hook
Scissors
Tapestry Needle (for weaving in the ends)
What You'll Do:
Get Started
Create a slipknot.
Chain 120
Lay your chain flat on the table in a circle. When you are sure all stitches are flat, twist the yarn into the infinity pattern and slip stitch the end into the first stitch in your chain. This is important so you get the classic infinity twist!
Row 1
Chain 4. (counts as a double crochet stitch)
Skip one chain.
Double crochet in the following chain.
Chain one while skipping a stitch in your original base chain.
Double crochet in the following chain. Then chain one and skip a stitch in the base chain.
Repeat until you have completed the first row.
Row 2
Slip stitch into the 3rd chain you made at the beginning. Slip stitch again into the next chain.
Chain 4 (counts as a double crochet stitch).
Chain one while skipping a stitch in Row 1.
Double crochet into the next stitch.
Chain one while skipping a stitch in Row 1.
Double crochet into the next stitch.
Repeat the pattern until you have completed the second row.
Row 3-12
Chain one.
Double crochet into the square created at the beginning of row 2.
Continue the pattern of double crochet and skipping a stitch until you finish the number of rows you want for your scarf. 12 rows is a good goal. But for a heavier scarf, I have done as many as 18 rows!
Finish up
When you have about a foot of yarn left, it is time to finish your project.
Chain one. Then do a half double crochet. Chain one. Then a single crochet. (This create a reduction in stitch sizes so the end blends into the scarf.)
Finish off by pulling the yarn through the last stitch. Using your tapestry needle, weave in the extra yarn on both ends.