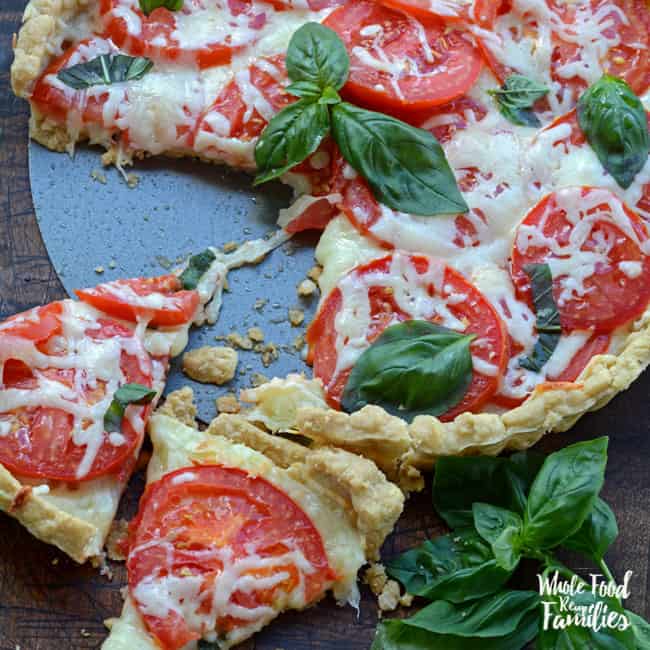 This Homemade Tomato Tart is simple but oh so delicious! This is the first recipe I make when tomatoes get ripe and red each year. And I make it right up through the end of summer.


This Tomato Tart is one of my new favorite recipes. (Any recipe that includes tomatoes, basil and mozzarella is fine by me!) The tomatoes have been so sweet this year that I am on a mission to find new and interesting ways to eat them. Once you have the pie crust made, this comes together very fast! Check here for our Whole Wheat Pie Crust recipe. I usually keep several pie crusts made and in the freezer for recipes like this one. (Make several pie crusts, freeze them, one set of dishes. See how that works!?)
Just a tip – take the time to shred your own mozzarella. You won't regret it. It tastes so much better. The pre-shredded stuff contains cellulose as an anti-caking agent. I'll take my sawdust in the garage, not in my cheese, thank you very much. It is shocking to me how much more cheesy it tastes without the sawdust. 🙂
The water content in tomatoes can vary by type. If you notice your tomatoes are watery, sprinkle some kosher salt on them and lay them on a towel or in a colander for a few minutes. The salt will help draw the moisture out of the tomatoes so that the tart crust doesn't get soggy when you cook it. Roma and Beefsteak tomatoes are meaty tomatoes with a lower water content. I used Roma tomatoes in this recipe because I think the smaller tomatoes are pretty in a tart and a little easier when cutting slices to serve. However, I love the taste of Beefsteak tomatoes – they are my absolute favorite tomato – and usually have them on hand. So I have made this tart with Beefsteak tomatoes too and it turns out great. Just cut slices carefully so you don't drag the tomato across the tart when slicing.
Of course, you probably don't have that problem because I am sure you have a sharp knife in your kitchen. We prefer to bludgeon our food into submission rather than cut it… I really need new knives…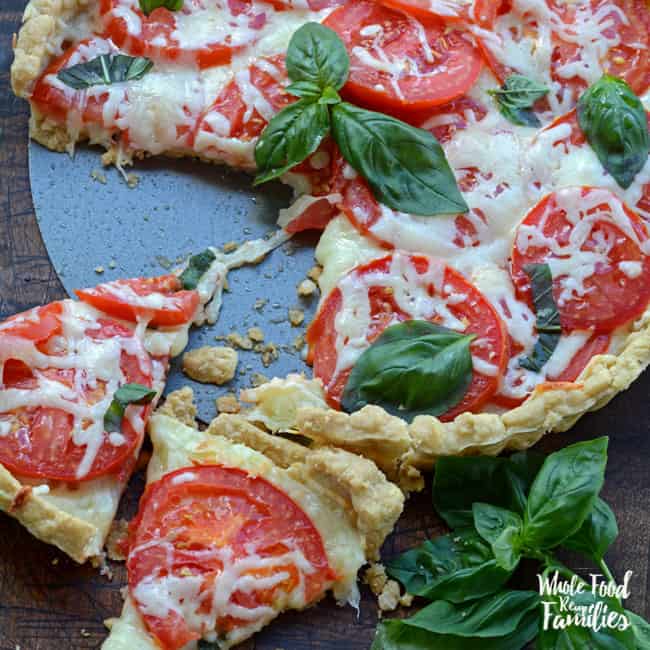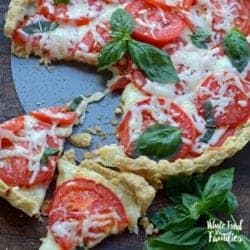 Homemade Tomato Tart
Course:
Appetizers & Sides
Ingredients
1

whole wheat pie crust

precooked

10

oz

Mozzarella Cheese

shredded

3

tbsp

fresh basil

finely chopped

3-5

Roma tomatoes

sliced about 1/4 inch thick

1/2

tsp

kosher salt

1/4

tsp

freshly ground black pepper

2

tbsp

olive oil
Instructions
Pre-cook the Whole Wheat Pie Crust then raise the oven temperature to 400 degrees.

Once you remove the crust from the oven, fill with shredded Mozzarella cheese. Sprinkle with 2 tbsp of chopped basil. Top with tomato slices. Sprinkle with salt and pepper. Drizzle with olive oil.

Bake 20-25 minutes. Make sure to pull it out of the oven as soon as the cheese starts to bubble. Top with remaining basil.

Slice into wedges and serve! Best served warm.