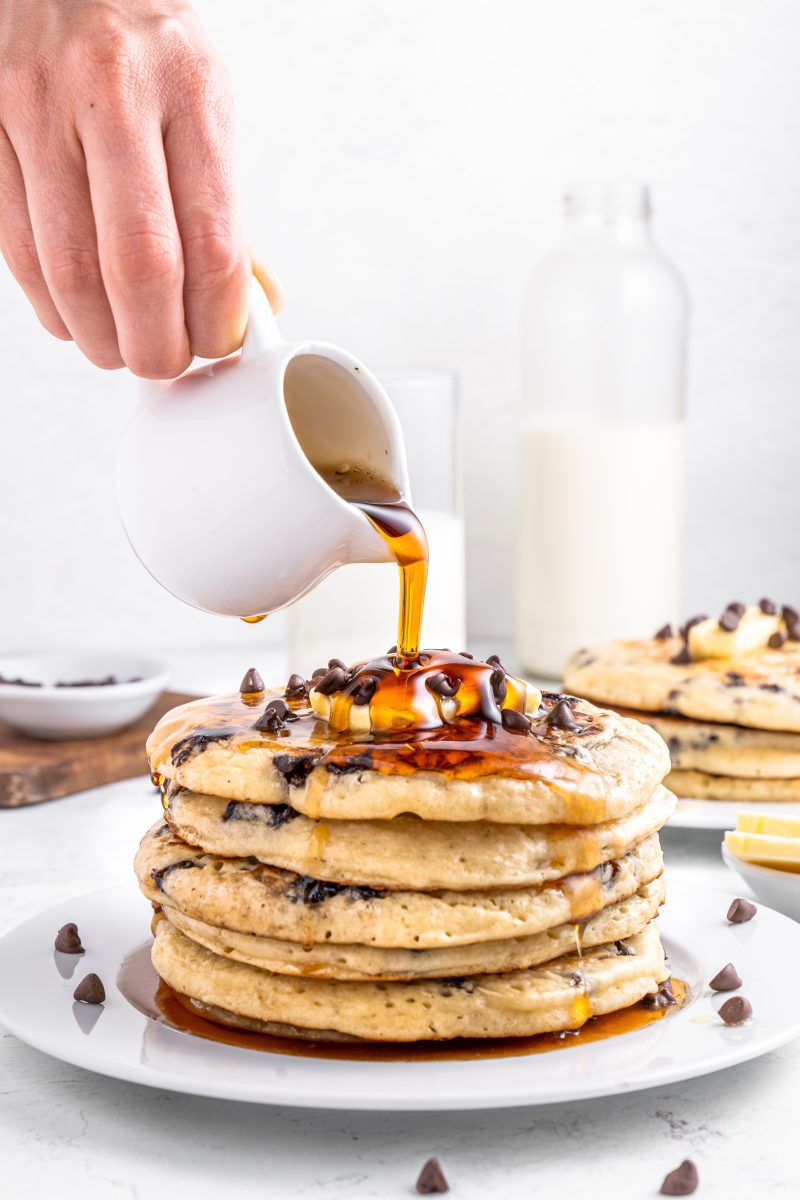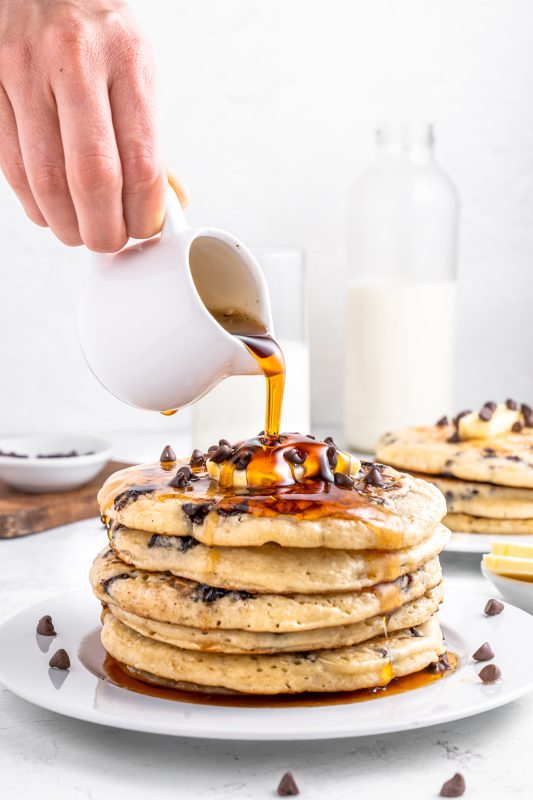 Moist, fluffy and loaded with chocolate, these chocolate chip pancakes are a dream come true. They are subtly sweet and infused with just the right amount of vanilla maple essence.
Chocolate Chip Pancakes
Fill your house with the intoxicating aroma of chocolate, vanilla, and buttery maple with this chocolate chip pancake recipe. Saturday morning has never smelled (or tasted) this good!
I like to serve chocolate chip pancakes alongside a couple of eggs and a slice or two of bacon. If the chocolate didn't have everyone rushing in, the bacon always does the trick. No dinner (or breakfast) bell needed!
For more inspired pancake recipes from My Nourished Home, check out these posts for Blueberry Ricotta Pancakes with Lemon, Whole Wheat Banana Nut Pancakes, or these simple Pumpkin Pancakes.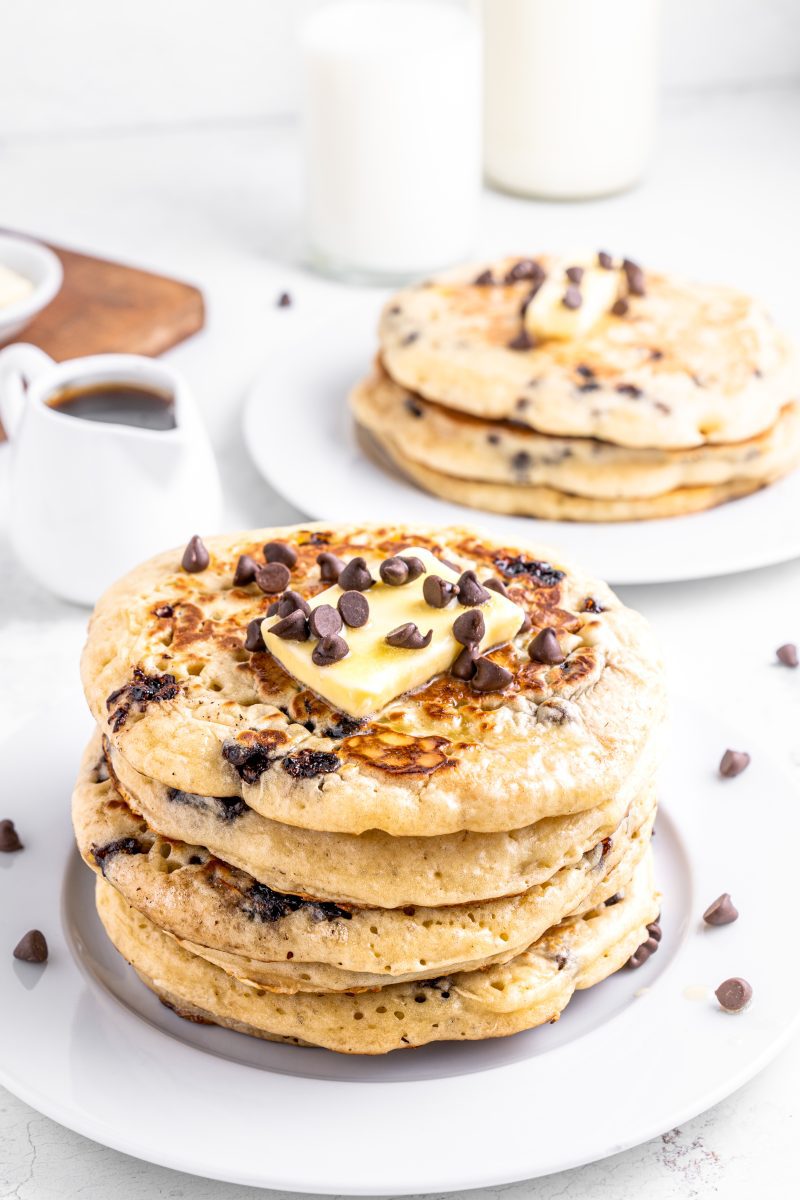 Why you will love this recipe
These chocolate chip pancakes make a quick and easy breakfast the whole family will love.
This sinfully delicious recipe is great for celebrating birthdays or other special occasions.
Chocolate chip pancakes are easy to make ahead, freeze, and enjoy later.
You can easily customize these pancakes to suit many preferences or dietary needs.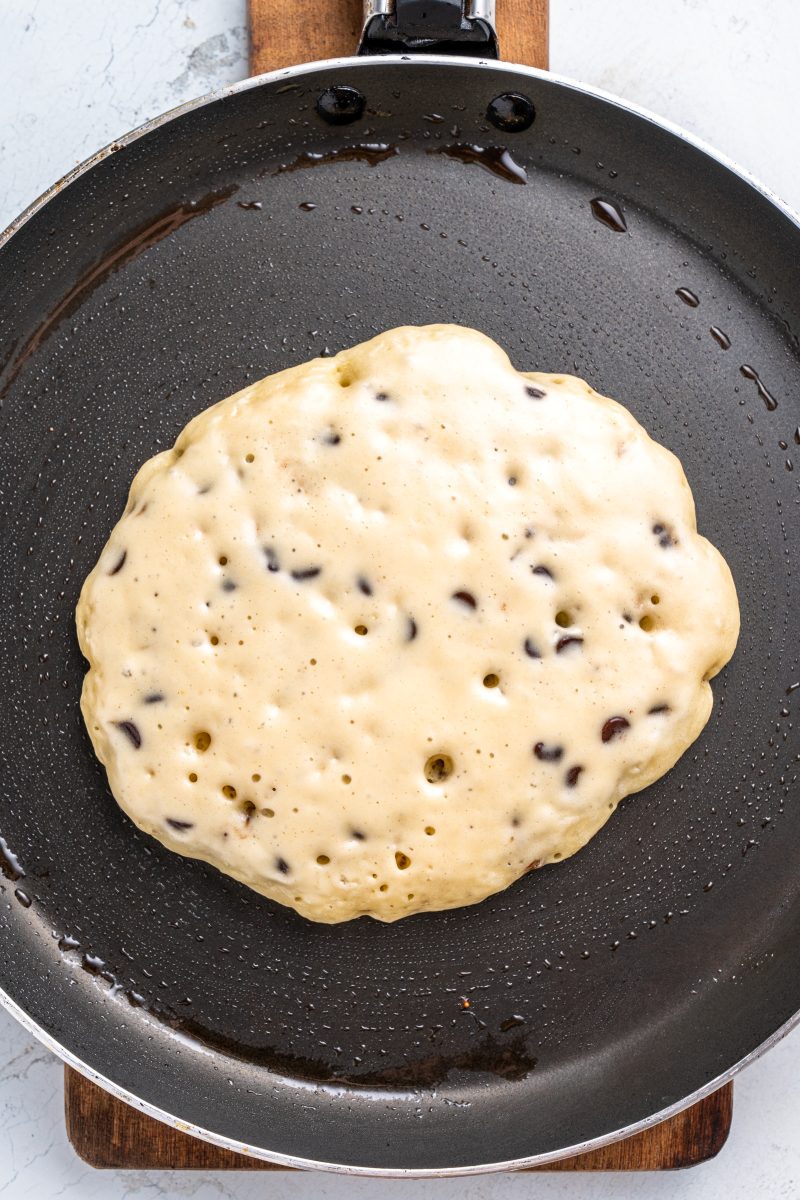 How to make perfect Chocolate Chip Pancakes
Blend dry ingredients: In a large bowl, combine the flour, baking soda, baking flour, sugar and salt. Set aside.
Blend wet ingredients: In a medium sized bowl, beat the two eggs before whisking in the buttermilk and vanilla.
Combine the bowls: Carefully add the wet mixture to the bowl with the dry mixture and stir until incorporated, being sure not to overmix.
Add the chocolate chips: Gently fold in the chocolate chips.
Butter the pan: Place a non-stick skillet or pancake pan over medium heat and add about one teaspoon of butter.
Pour the batter: Still at medium heat, pour about ⅓ of batter onto the pan for each pancake. Cook each on for about two minutes on each side.
Serve: Serve immediately with a pat of butter, a drizzle of maple syrup, or the favorite toppings of your choice!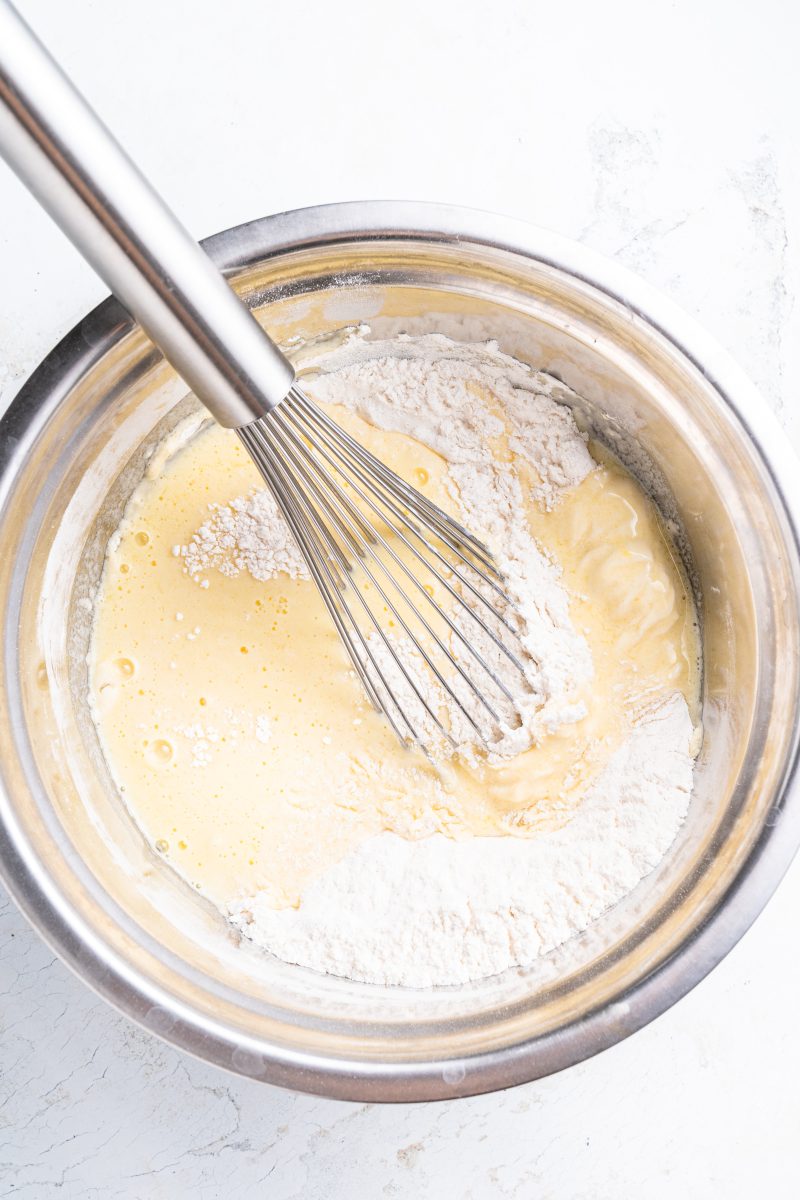 Pro Tips for Chocolate Pancakes
Keep wet and dry apart to start. Mixing powdered ingredients and wet ingredients separately before combining them prevents overmixing. This helps make the fluffiest, airiest pancakes possible.
Don't overwork the dough. You don't want any extra large lumps, but you also don't want to overmix. Excessive mixing will overdevelop the gluten and leave you with chewy, dense pancakes.
Watch for signs to flip. Don't let burnt flapjacks ruin your day! Keep an eye on the top and edges of your pancakes. They are ready to flip when bubbles start forming across the surface and the edges get dry.
Keep the griddle buttered: Have plenty of additional butter or non-stick spray on hand to oil the pan in between rounds of chocolate chip pancakes.
Key Ingredients and Substitutions for Chocolate Chip Pancakes
Flour: You can stick with regular, all-purpose flour, or make this chocolate chip pancake recipe gluten free with a 1:1 gluten free baking mix.
Eggs: Eggs bind the other ingredients together while adding richness and fluffiness. If you want to make an egg free version of this recipe, there are several substitutes including applesauce, pumpkin puree, mashed banana, and more. You can also make a vegan egg substitute using flax or chia seeds.
Buttermilk: Buttermilk adds richness, fluffiness, and a unique, subtle tanginess. The acidity of buttermilk also has an activating effect on the other leavening agents, creating a chain reaction of irresistible fluffiness. You can use regular or dairy free milk, just expect denser pancakes.
Add-ins: Stick with the mini chocolate chips or substitute in equal amounts of your favorite add-ins. You can try peanut butter, butterscotch, white, or dark chocolate chips. If you're feeling adventurous, you might even toss in a bit of fruit or nuts.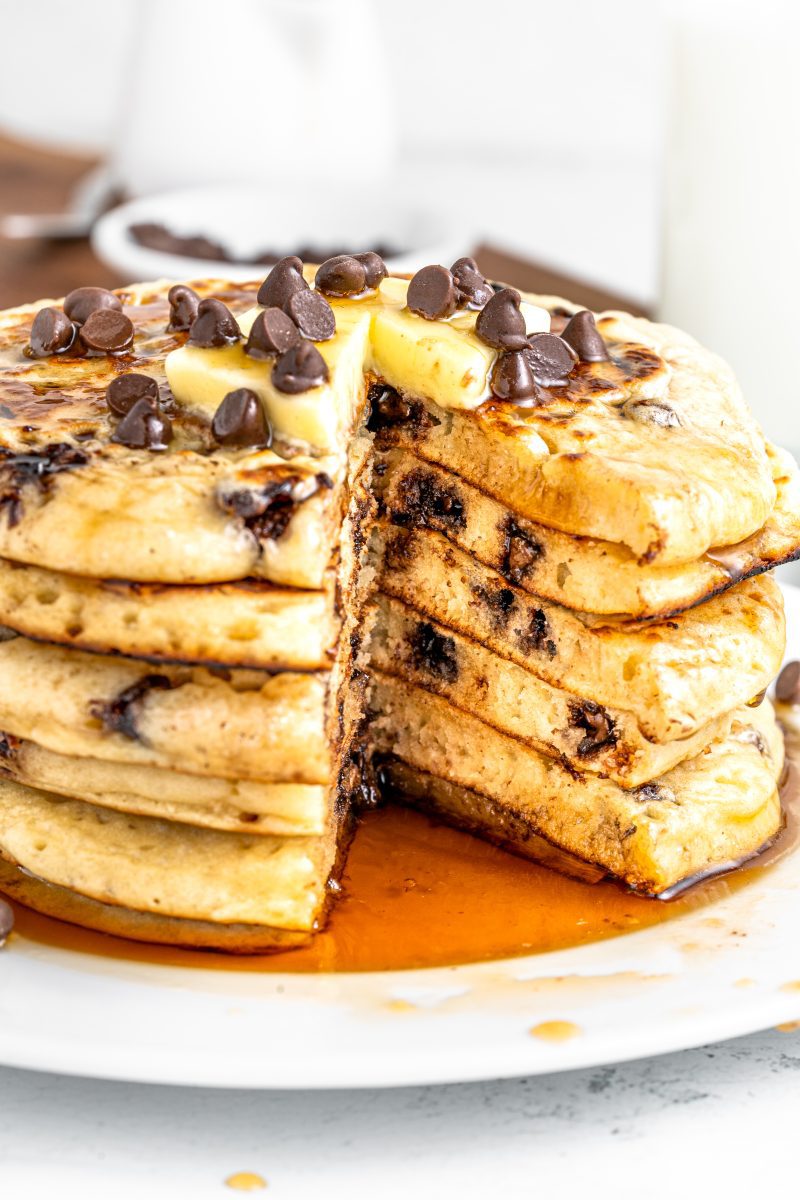 Frequently asked Questions about Chocolate Pancakes
Why Do My Chocolate Chips Burn in Pancakes?
First, check that the temperature of your pan is not too hot and that it is adequately oiled for each pancake.
Store your chocolate chips in the fridge or freezer prior to mixing to prevent excessive melting and then scorching.
Finally, you want your batter the right consistency — thin enough to pour, but not so thin that your chips sink to the bottom and immediately burn. Tossing the chips in a bit of flour first also helps.
Can You Make Chocolate Chip Pancakes Ahead of Time?
Absolutely! This is a super convenient chocolate chip pancake recipe to prepare ahead of time, freeze, and enjoy at your convenience.
Make a batch and allow them to cool to room temperature. Arrange them in a single layer on a baking sheet and flash freeze for 1-2 hours. You can then transfer them to a freezer bag, separating each with parchment paper.
To reheat, cover with foil and bake at 350 degrees F for 8-10 minutes.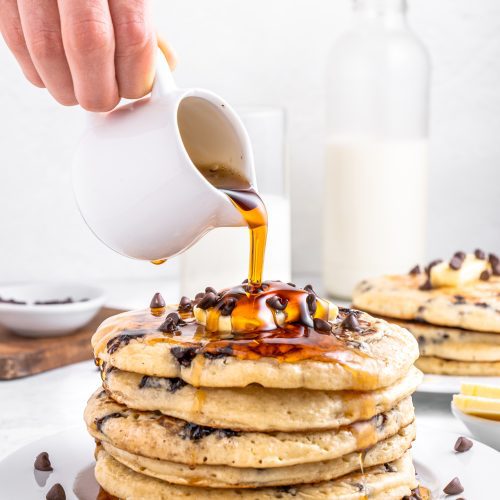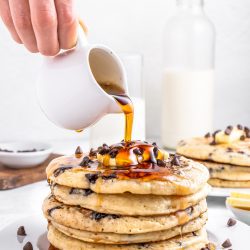 Chocolate Chip Pancakes
Moist, fluffy and loaded with chocolate, these chocolate chip pancakes are a dream come true. They are subtly sweet and infused with just the right amount of vanilla maple essence. 
Course:
Breakfast, Dessert
Keyword:
chocolate, Chocolate chip pancakes, Chocolate Chips, Pancakes
Ingredients
Chocolate Chip Pancakes
2 1/4

cup

all-purpose flour

2

tsp

baking powder

1

tsp

baking soda

1/2

tsp

salt

3

tbsp

granulated sugar

1 1/2

cup

buttermilk

2

medium

eggs

1

tsp

vanilla extract

1/2

cup

mini chocolate chips

1

tbsp

butter

for cooking
Instructions
Mix all-purpose flour, baking powder, baking soda, salt, and sugar in a large bowl. Set it aside.

Beat two eggs into a medium-sized bowl. Add buttermilk and vanilla extract, and whisk to combine.

Incorporate wet ingredients into the dry ingredients bowl. Stir to combine but don't overmix; pancake butter is always a bit lumpy. Then, fold in chocolate chips and combine.

Put 1 tsp butter into a non-stick pancake pan over medium heat. Next, add ⅓ cup of pancake batter into the pan and reduce heat to medium. Cook pancakes from both sides, about 2 minutes per side. Tip: flip the pancakes once you see bubbles on top and the edges are dry.

Serve pancakes warm with maple syrup and butter on top.
Recipe Notes
These pancakes are slightly sweet, although you can omit sugar if you prefer only maple syrup as a sweetener. Texture-wise these are soft and fluffy.
Nutrition Facts
Chocolate Chip Pancakes
Amount Per Serving
Calories 208
Calories from Fat 54
% Daily Value*
Fat 6g9%
Cholesterol 41mg14%
Sodium 377mg16%
Potassium 92mg3%
Carbohydrates 33g11%
Protein 6g12%
Vitamin A 163IU3%
Vitamin C 0.1mg0%
Calcium 108mg11%
Iron 2mg11%
* Percent Daily Values are based on a 2000 calorie diet.