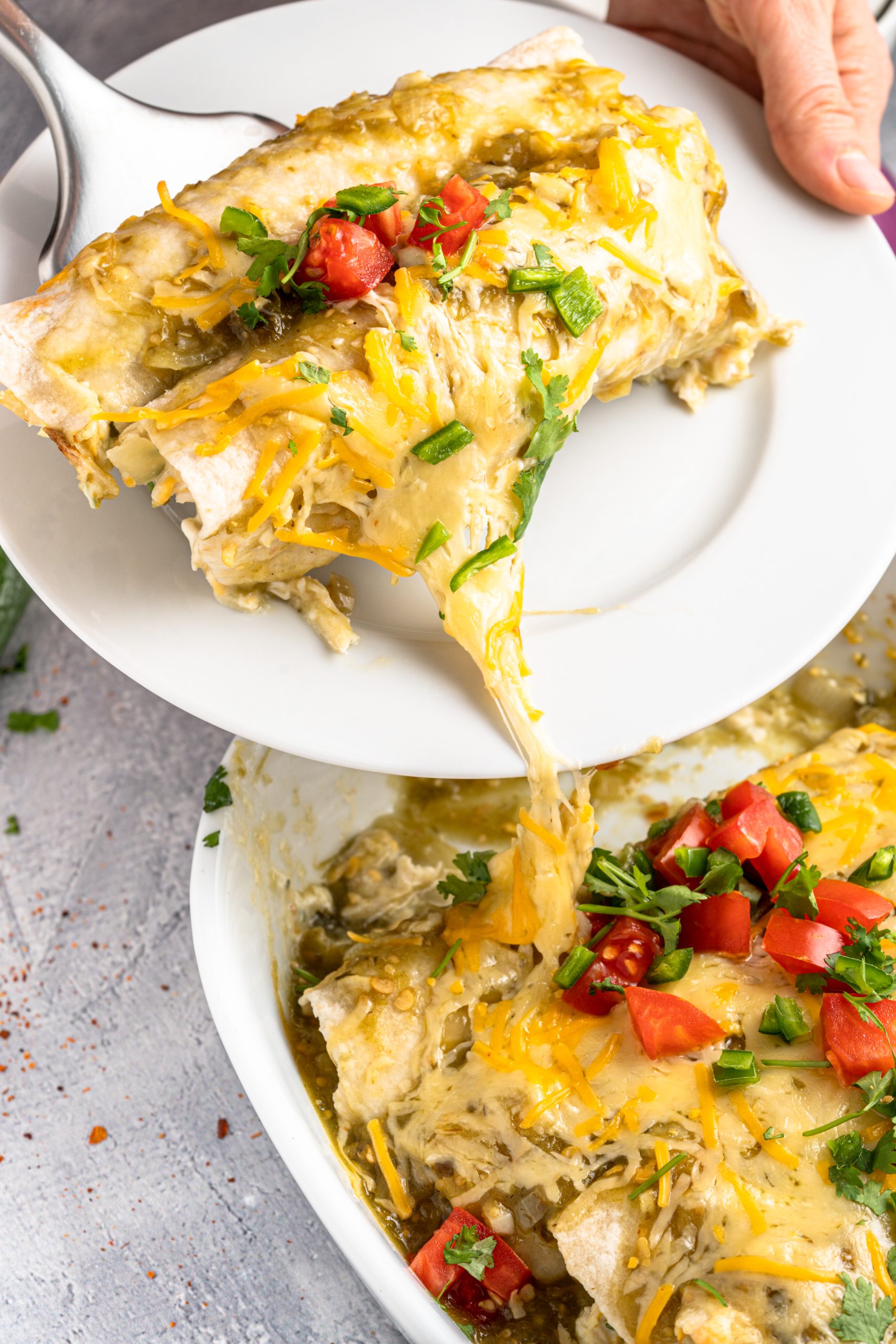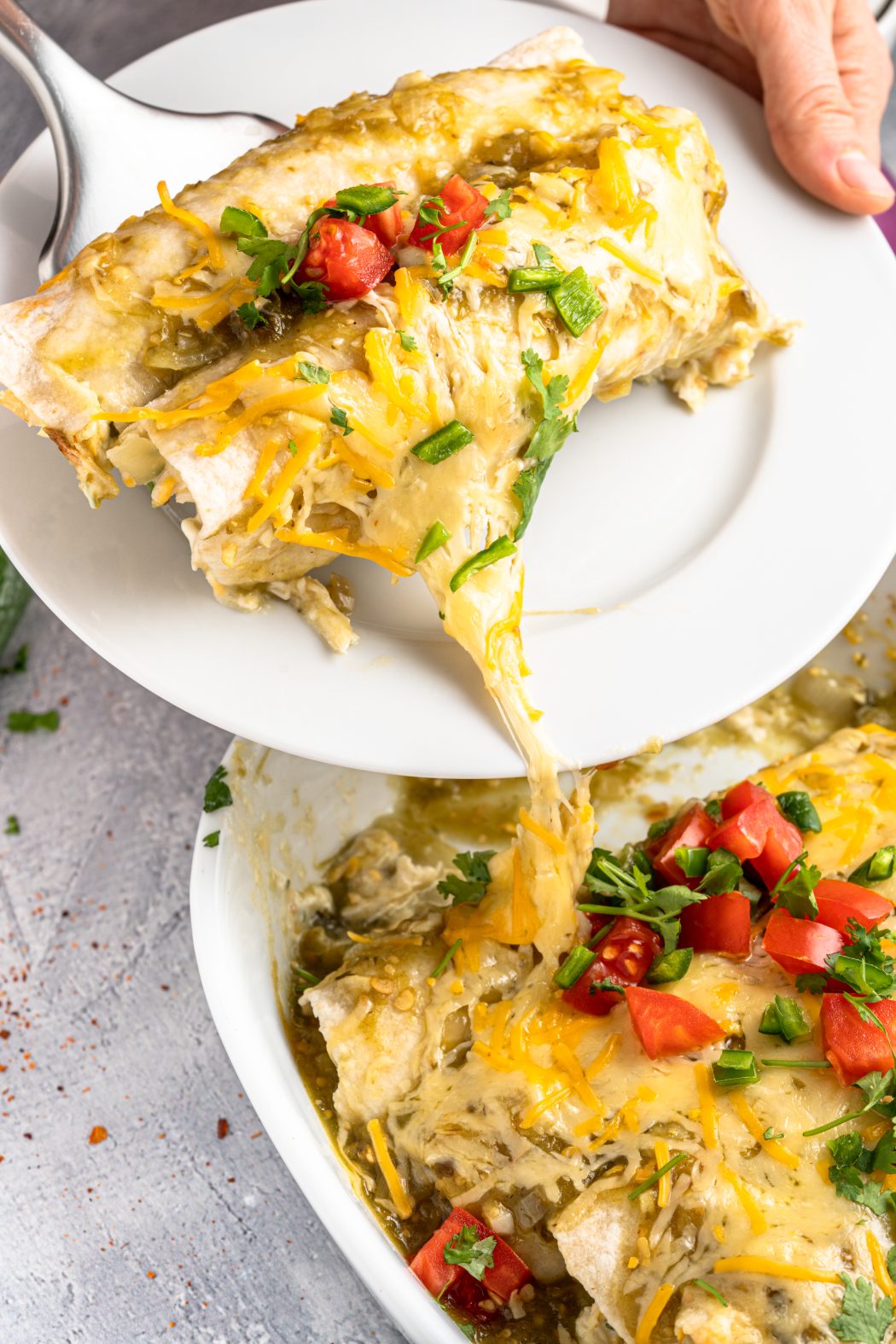 Chicken Enchiladas with Green Sauce are filled with shredded chicken wrapped in soft tortillas and topped with a spicy, fresh, and vibrant salsa verde. It's a simple recipe with a huge flavor payoff!
Spicy and Tender Chicken Enchiladas with Green Sauce
If you need any more proof that recipes don't need to be complicated to be delicious, our chicken enchiladas verde should settle it!
These enchiladas are stuffed with tender meat and a bounty of herbs, topped with juicy tomatoes and a spicy chile sauce. Overall, it takes just 40 minutes to prepare this very tasty authentic Mexican meal!
We want to give you the confidence to create colorful, flavorful Mexican dishes in your own kitchen! Don't forget to check out our recipes for Mexican casserole, slow cooker rice and beans, and sofritas.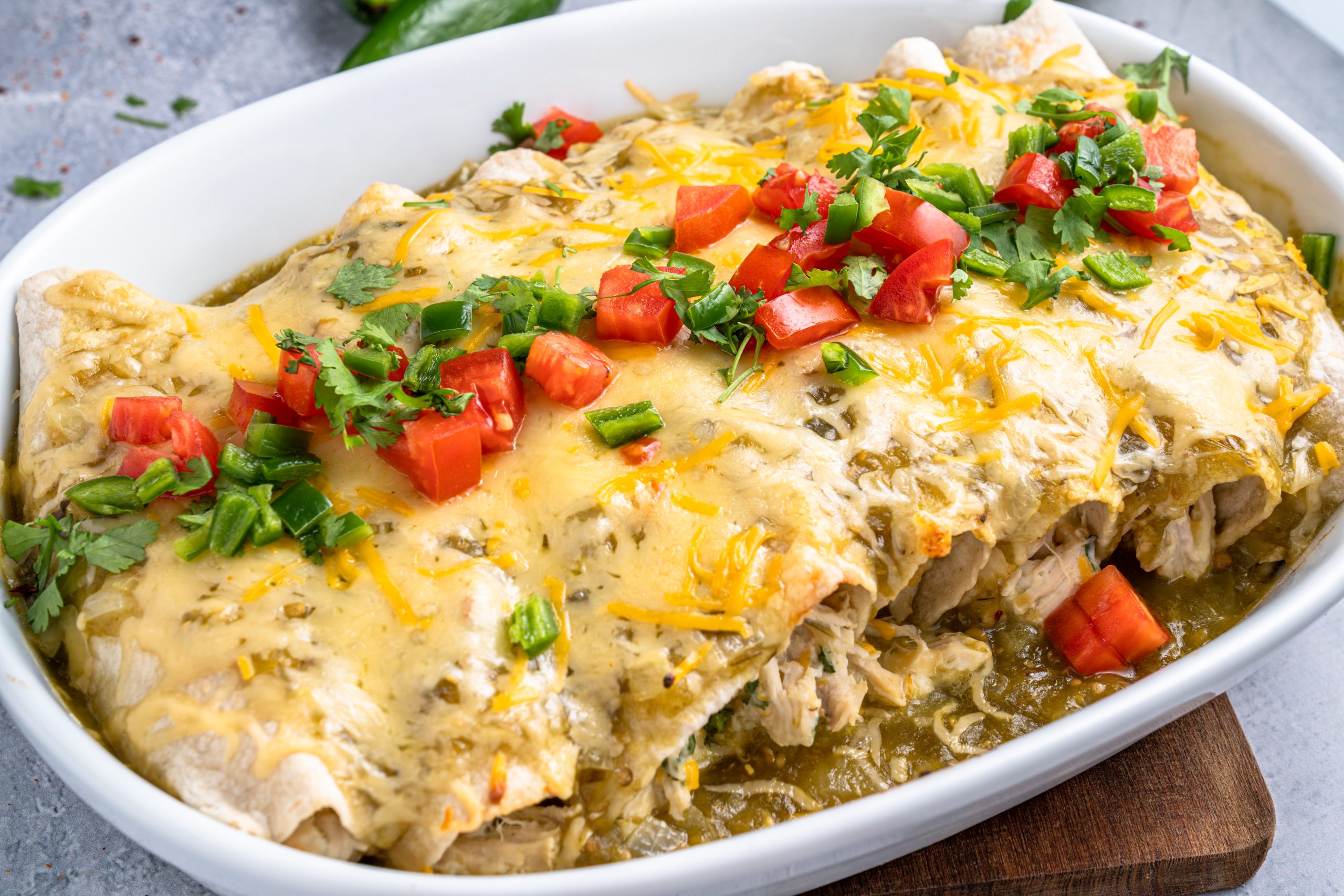 Why you will love this recipe
It takes less than an hour to prepare!
It's layered with flavor and texture, from the tangy sour cream to the soft tortillas to the spicy salsa topping!
The chiles, limes, herbs, and veggies give each bite a very vibrant, garden-fresh flavor.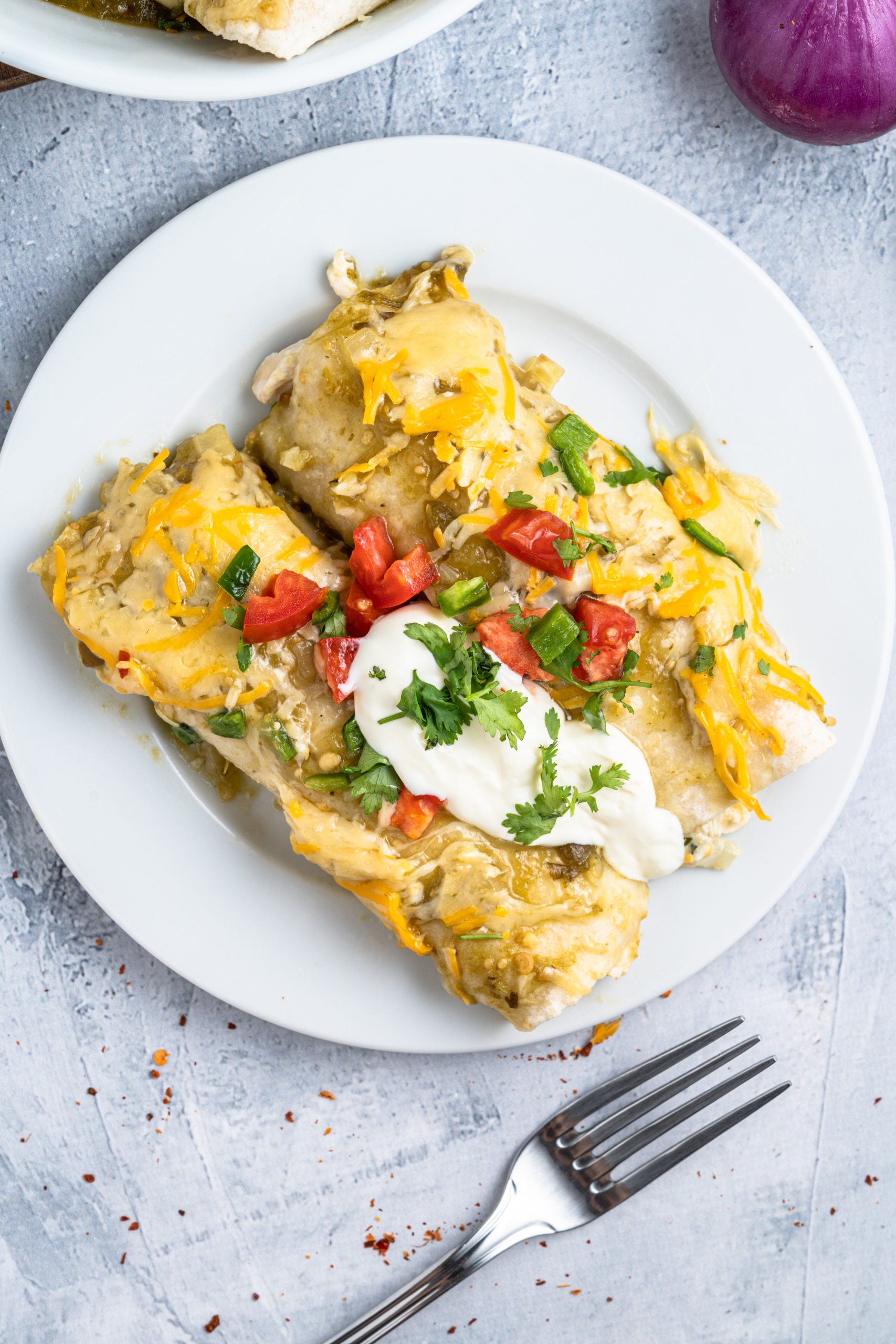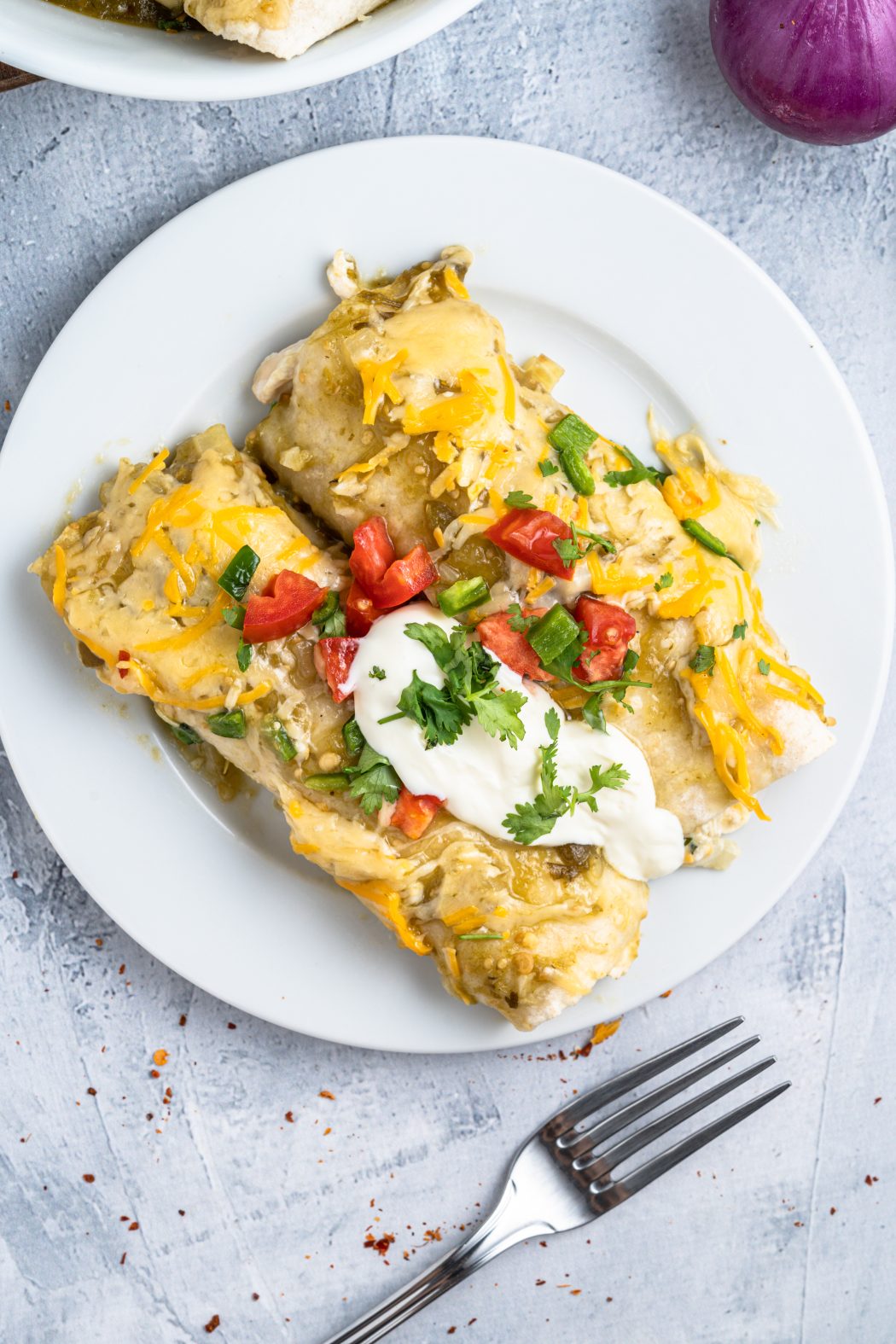 How to make perfect Chicken Enchiladas with Green Sauce
Prepare the chicken: Boil the chicken for 20-25 minutes until cooked through. Shred with two forks once cooled and safe to do so.
Make the green sauce: Heat a tablespoon of olive oil in a pan and saute the onion. Once translucent, add the garlic and stir until aromatic. Pour in the salsa verde and simmer for another two minutes. Remove from the heat.
Preheat: Preheat the oven to 400 F and lightly grease your baking tray (ideally 8"x11").
Mix the filling: Add the chicken, lime juice, salt, cream cheese, sour cream, and cilantro to a large bowl, along with ½ cup each of salsa verde, Monterey Jack, and cheddar cheese. Mix until well combined.
Fill the tortillas: Spoon 2 tablespoons of salsa verde onto the bottom of the baking tray and spread evenly. Place ⅓ cup of the chicken, cheese, and salsa mixture onto the center of a tortilla, spreading from one edge to the other. Fold the sides over the center to close the tortilla. Repeat with all tortillas and place them seam-side down in the tray.
Top, bake and serve: Pour the rest of the salsa over the enchiladas, top with the remaining cheese, and bake for 15 minutes until the cheese melts. Serve with fresh tomatoes, sour cream, and a sprinkling of cilantro.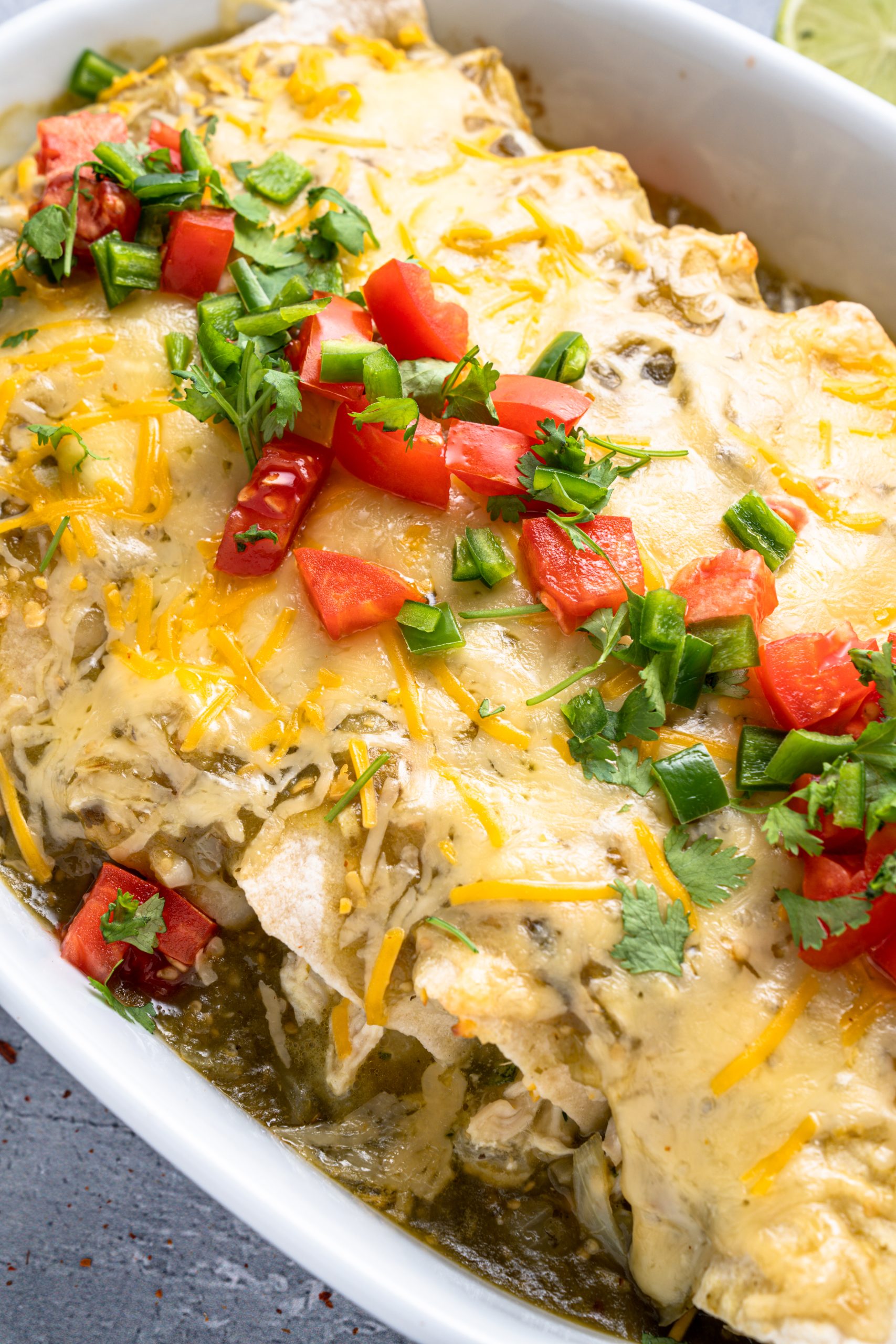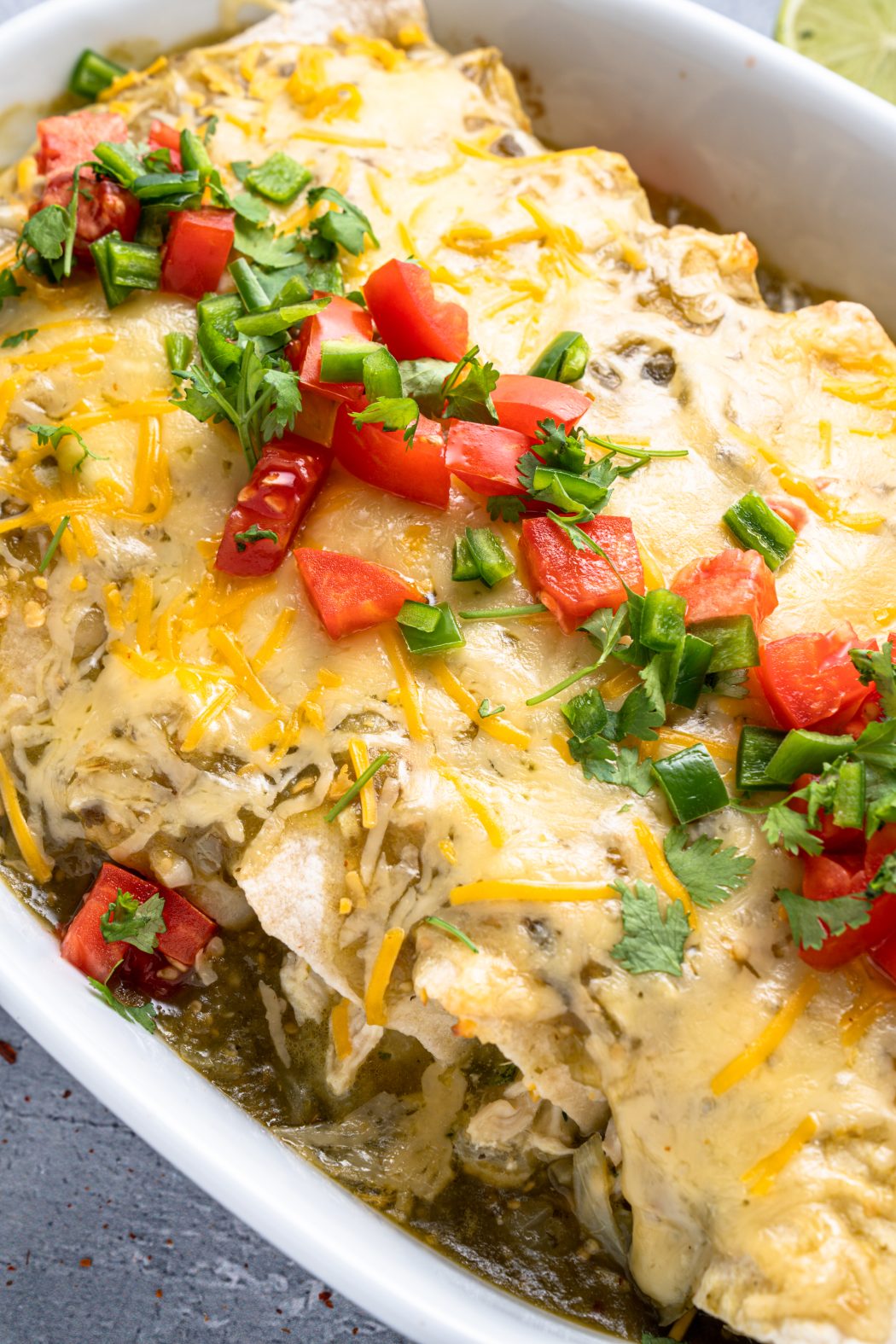 Pro Tips for Chicken Enchiladas Verde
Other proteins are great in this recipe. Pork and beef are great alternatives! While we like this recipe with tender, shredded meat, you could easily substitute ground turkey, ground chicken, or even a meatless alternative in the filling.
Save money and time with pre-made chicken. Prepare the chicken the day before – or, better yet, snag a rotisserie chicken – so that you don't need to spend any time boiling the meat or waiting for it to cool. That shaves at least 20 minutes off of the total preparation time!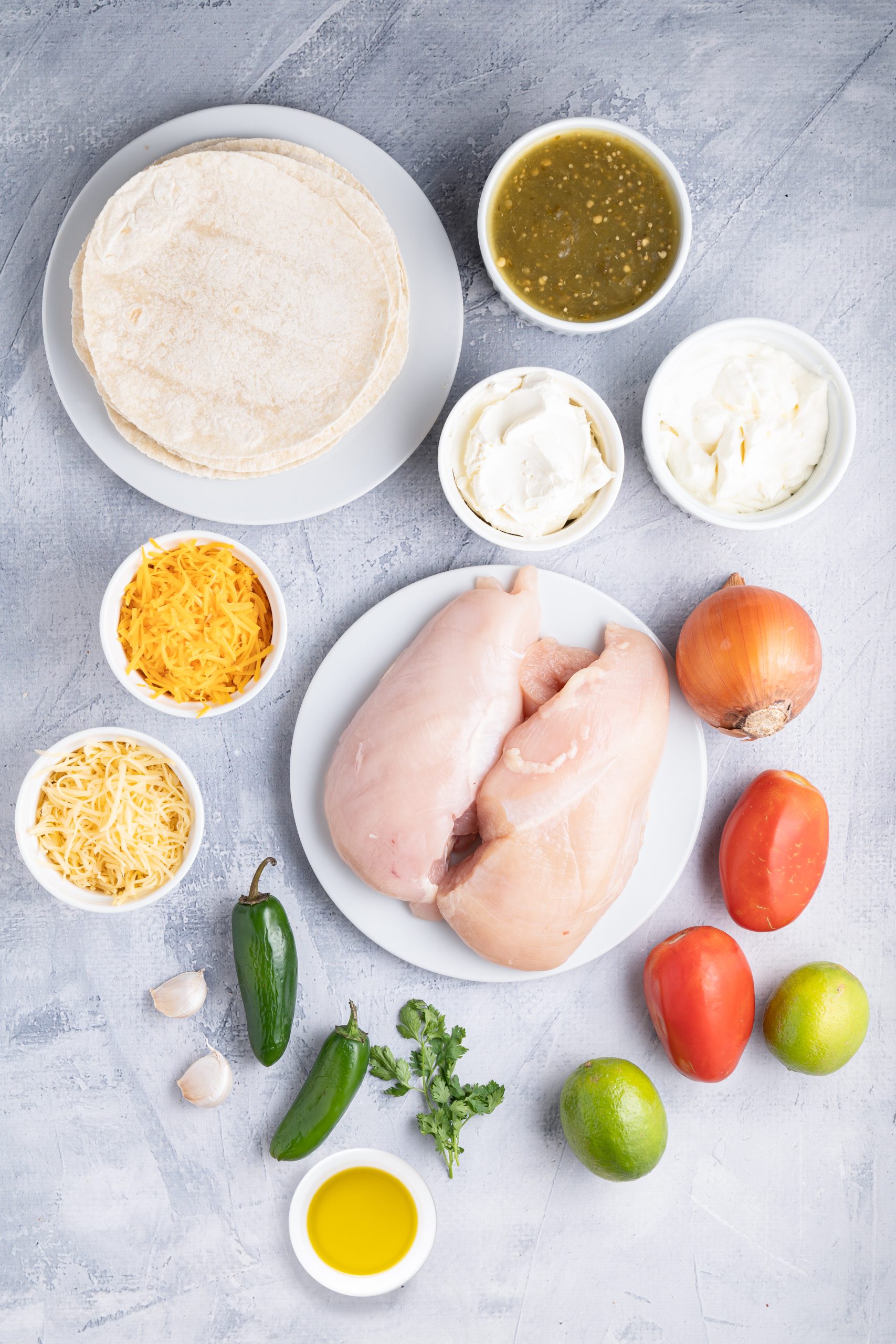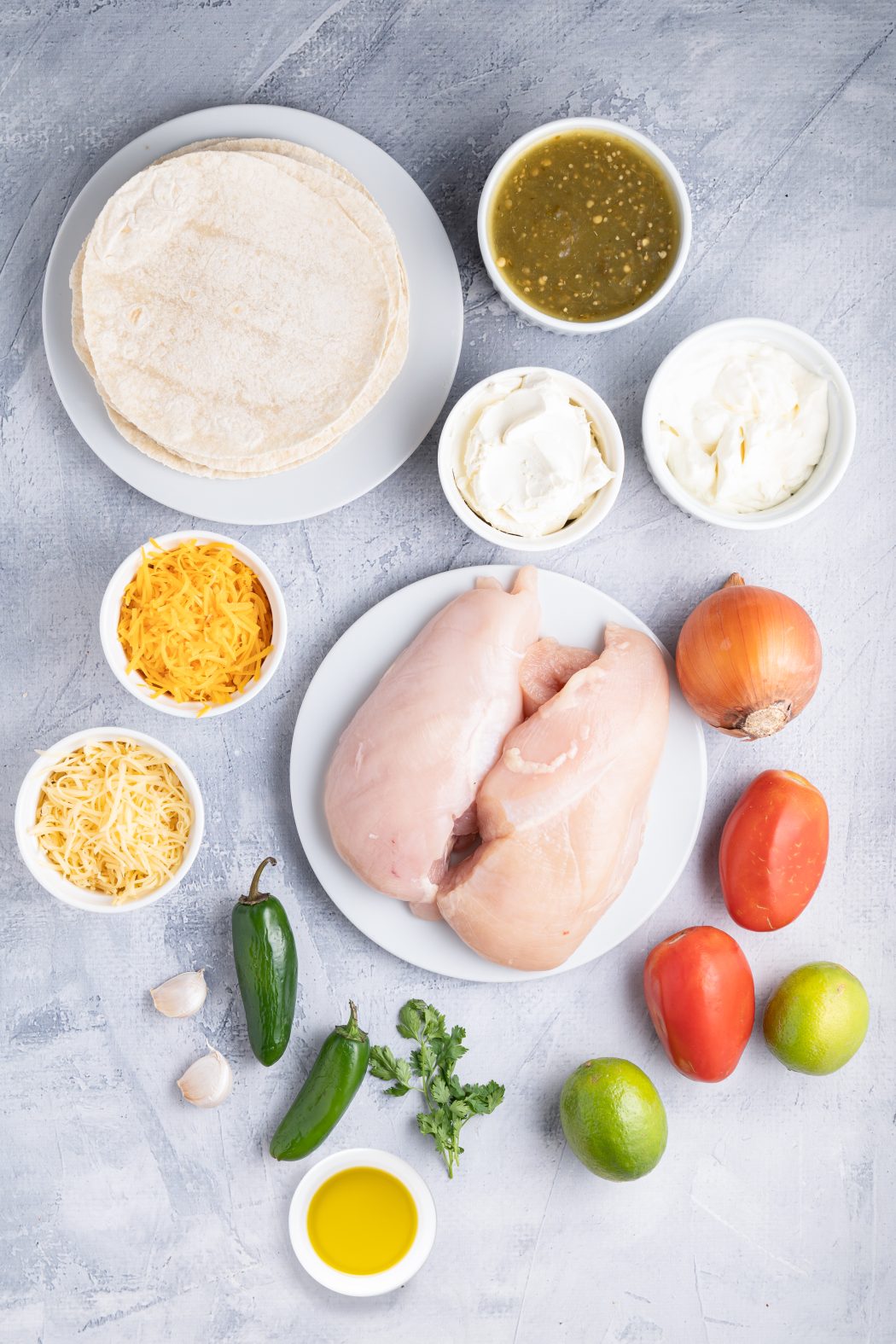 Key Ingredients and Substitutions for Chicken Enchiladas with Green Sauce
Chicken: You will need a total of 1 lb of shredded chicken – that's about two chicken breasts.
Salsa Verde: We like to use La Costeña, but certainly don't hesitate to use your own favorite brand! The heat comes from the jalapeño and color from the tomatillos. It's a bit spicy to be sure, but not at all overwhelming.
Monterey Jack and Cheddar Cheese: Pepper Jack is a good, creamy alternative. Feel free to use sharp (or even extra sharp) cheddar as well, or throw in a Colby or Gouda.
Cilantro: Fresh herbs give chicken enchiladas with green sauce a very authentic, very fresh taste. Cilantro is definitely the best herb to use, but the next best substitute would be parsley.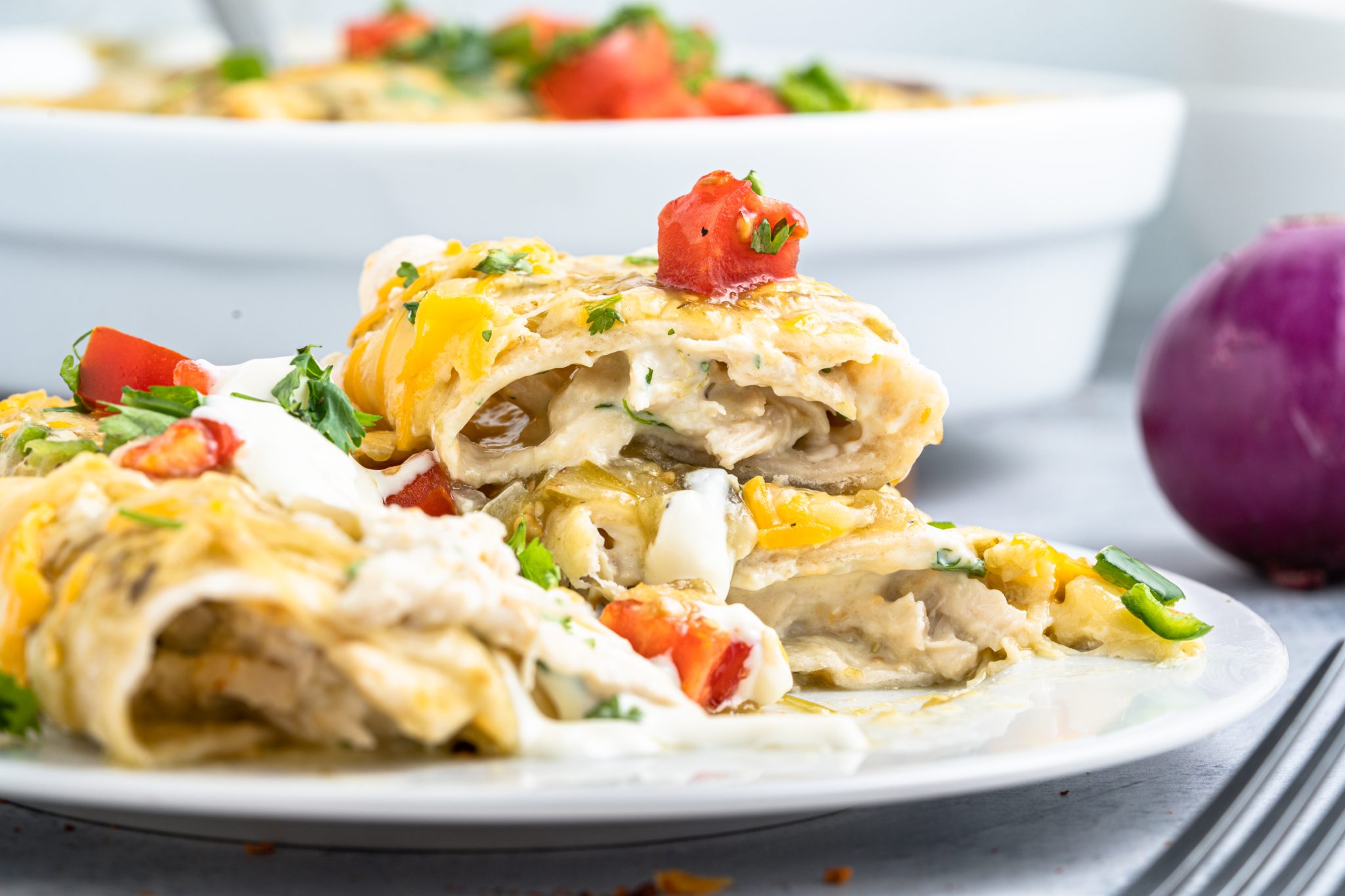 Frequently asked Questions about Chicken Enchiladas Verde
Is salsa verde the same as green enchilada sauce?
Not quite. Enchilada verde sauce is one that has been cooked down, whereas salsa is prepared and served fresh. They can be almost identical in ingredients and overall flavor, but whether or not it's cooked is what defines it.
Some other possible differences could be extra spices in enchilada sauce versus more acidity in a fresh salsa, making salsa often more tart and enchilada sauce spicier.
Which is hotter, red or green sauce?
Red sauce can vary wildly in how spicy it actually is. It all depends on the exact peppers being used, the amount of vinegar in the mix, and the sweetness of the base.
Green sauces vary as well, and some are certainly hotter than some red sauces. So you really can't judge by color – look at the ingredients!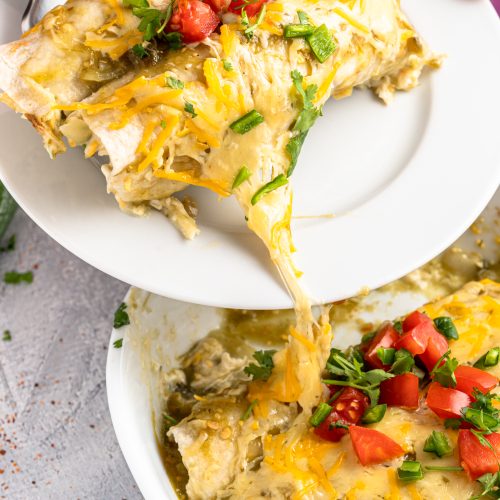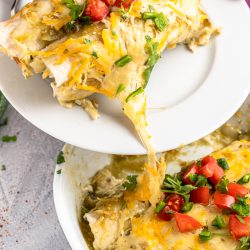 Chicken Enchiladas
Chicken Enchiladas with Green Sauce are filled with shredded chicken wrapped in soft tortillas and topped with a spicy, fresh, and vibrant salsa verde. It's a simple recipe with a huge flavor payoff!
Course:
Main Course, Main Dishes
Keyword:
chicken, Chicken Enchiladas, Enchiladas, Green Sauce
Ingredients
2

breast

Chicken Breasts

1 lb shredded chicken

1

medium

yellow onion

diced

2

clove

garlic cloves

minced

1

tbsp

olive oil

2

tbsp

lime juice

16

oz

salsa verde

divided

1/2

tsp

salt

1 1/2

cups

shredded monterey jack cheese

divided

1/2

cup

shredded cheddar cheese

divided

1/4

cup

sour cream

1/2

cup

cream cheese

softened

1

tbsp

fresh cilantro

chopped and packed

8

piece

tortillas
To serve
1

medium

Roma Tomato

diced

1

piece

jalapeno

thinly diced

extra cilantro to taste

Sour Cream
Instructions
Cook chicken breast in boiling water for 20-25 minutes or until chicken is cooked through. Then, use a fork to shred chicken meat apart into thin strips.

In the meantime, add a tbsp of olive oil and sauté onion until translucent. Next, add minced garlic and stir until fragrant. Add Salsa verde and simmer for 2 minutes. Then, remove from heat.

Preheat the oven to 400F. And prepare an 8x 11'' baking tray for the Enchilada Verde.

Combine shredded chicken, ½ cup of salsa verde, lime juice, salt, ½ cup Monterrey jack, ½ cup cheddar, ¼ cup sour cream, ½ cup of cream cheese, and 1 tbsp cilantro in a large bowl.

Coat the bottom of the prepared baking tray with 2 tbsp of the remaining salsa verde. Then, fill each tortilla with ⅓ cup of chicken mixture, and place it in the center, from one edge to the other. Then, flip the sides over to close it. Replace with all the tortillas. Arrange each enchilada, closing side down, in the prepared tray.

Finally, pour the remaining sauce over the enchiladas and top with 1 cup of Monterrey jack and 2 tbsp of cheddar.

Bake this Enchilada Verde for 15 minutes or until the cheese is melted.

Serve with fresh tomato, sour cream, and cilantro.
Recipe Notes
This is a straightforward recipe, and you can save time cooking chicken in advance or buying a rotisserie chicken. This Enchilada Verde is medium spicy and so fresh and flavorful. Texture-wise, these are soft and cheese while tomato on top adds juiciness.
Tips
Other optional toppings include chopped red onion, diced avocado, and jalapenos.
Nutrition Facts
Chicken Enchiladas
Amount Per Serving
Calories 702
Calories from Fat 306
% Daily Value*
Fat 34g52%
Cholesterol 137mg46%
Sodium 2163mg90%
Potassium 768mg22%
Carbohydrates 45g15%
Protein 51g102%
Vitamin A 1477IU30%
Vitamin C 15mg18%
Calcium 642mg64%
Iron 4mg22%
* Percent Daily Values are based on a 2000 calorie diet.