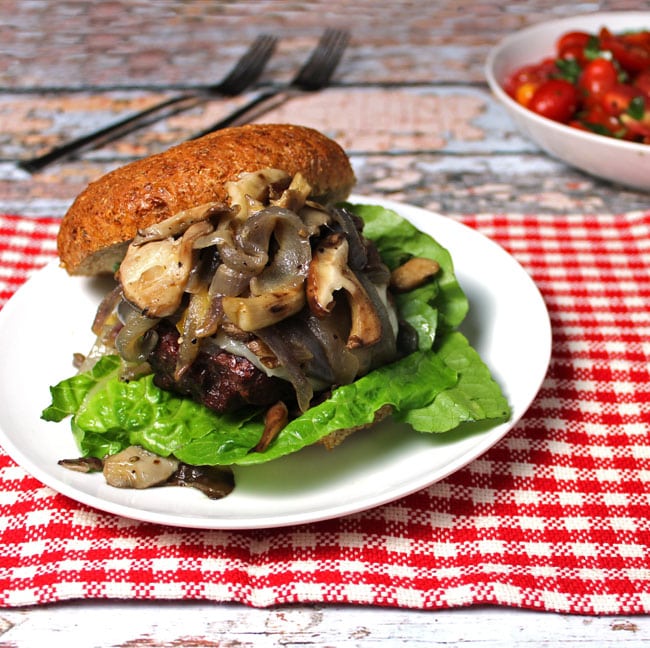 You will open your mouth wide for this Burger with Caramelized Onions and Mushrooms! It is SOOOO good!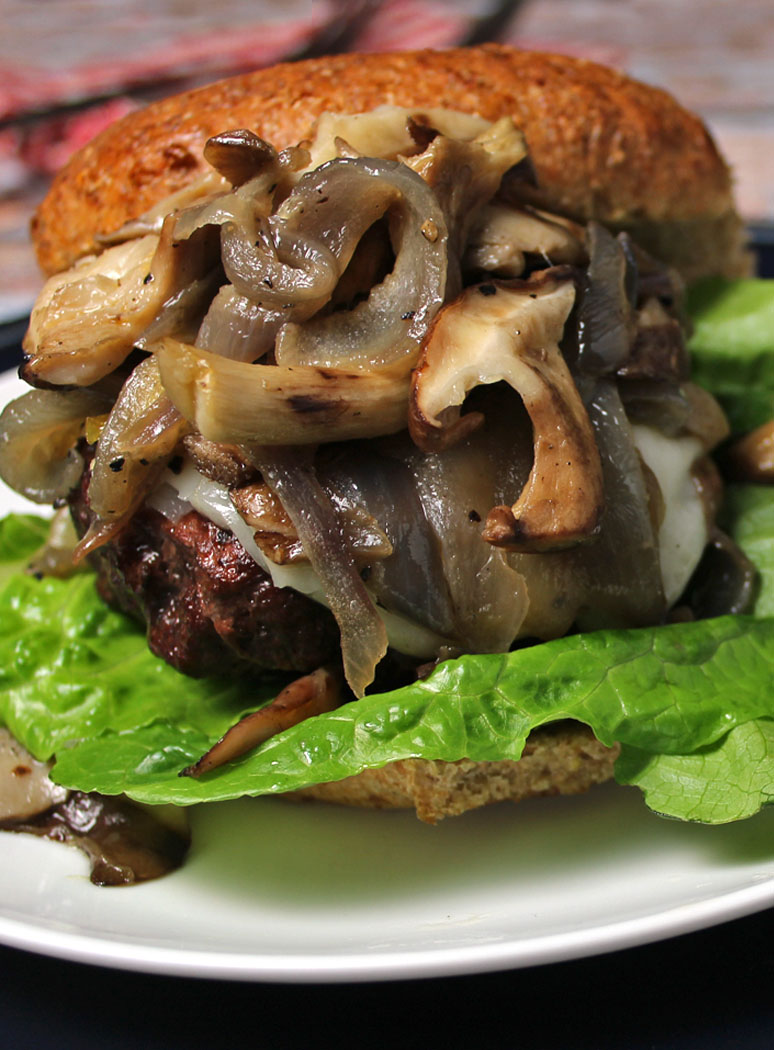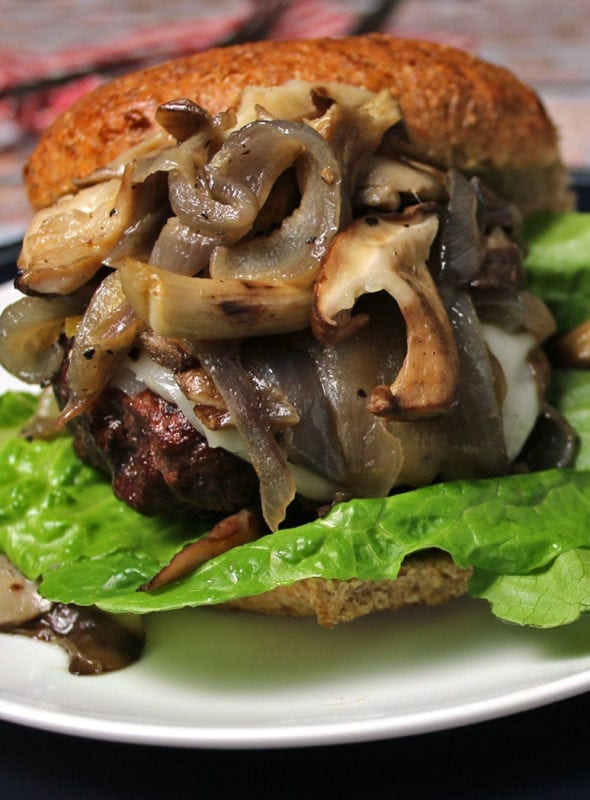 Sometimes you just need a burger. At least, sometimes I just need a burger. This Burger with Caramelized Onions and Mushrooms is my favorite. The trick is to caramelize the onions over low heat with a little butter and oil for at least 30 mintues (more is good, but it is hard for me to wait that long to eat!) If you properly caramelize the onions, they completely loose their pungent smell and taste and you are left with only the sweetness. Mixed with plump juicy mushrooms and piled over a mild, easy melting cheese… there is no better burger in the world – or at least at my house.
You will notice in the picture that we are not shy about piling the toppings on our burgers – and we usually need a fork for catch them all when the toppings fall. We also have found Goat Gouda… yes, I will say that again. Goat Gouda. It is AMAZING!! And is wonderful with these burgers if you can find it!
Serve your burgers with turnip fries and ketchup and a side of Simple Tomato Salad. It will make grill night your favorite night of the week.
Pin it for Later!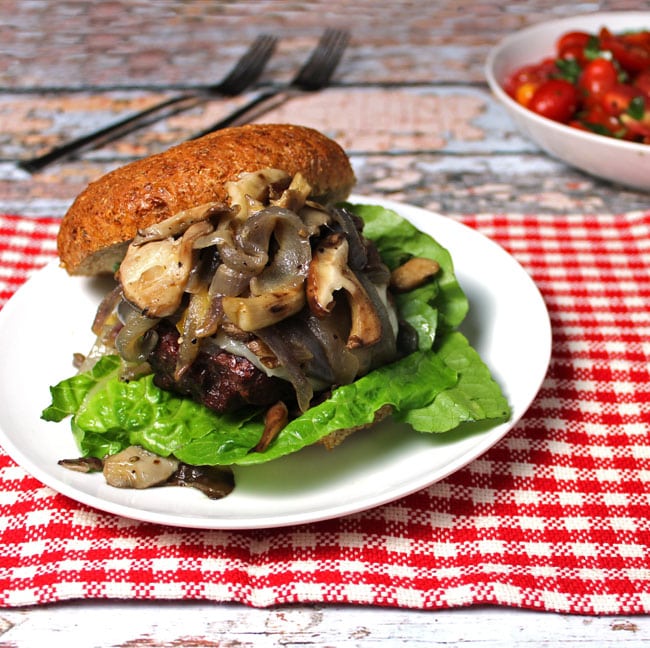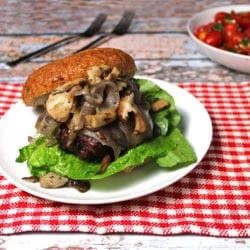 Burger with Caramelized Onions and Mushrooms
Ingredients
2

lbs

ground chuck

1/4

cup

Worcestershire sauce

2

large

Red Onions, or other sweet variety onion

16

oz

Mixed Variety Mushrooms (shitake, oyster, baby bella)

12

oz

Gouda or other mild variety cheese that melts well

Kosher Salt and Fresh Black Pepper

2-3

tbsp

olive oil

3

tbsp

butter

6

whole wheat hamburger buns

lettuce for building burgers!
Instructions
Warm olive oil and butter in a large saute pan on medium low heat. Peel and slice onions into long, thin slices. Drop all of the onions into the pan, add salt and pepper to taste and toss to coat all of the onions in the oil and butter. Leave them alone to caramelize, only stirring occasionally for at least 30 minutes.

Preheat your grill. Mix ground beef and Worcestershire Sauce together in a large bowl. Shape the beef into hamburger patties. I generally make burgers that are 1/3 pound each but do whatever your family prefers. Rub the outsides of the burgers with a thin layer of olive oil, salt and pepper the outsides. Move the burgers to the grill and cook them to your desired temperature. Heat hamburger buns quickly on the grill or in the oven.

Ten minutes before you are ready to build your burgers, add mushrooms to the caramelized onions and toss them to mix and to coat them with oil. Continue to cook them over medium low. The mushrooms will become soft but at the low temperature will not lose all of their moisture and will be juicy and delicious! The onions should have lost all of their punch and only be sweet and soft now - and completely browned.

Build burgers with lettuce, burger, sliced Gouda, caramelized onions and mushrooms.

Eat hot and ENJOY!!