One of the best essential oils for your home is lemon essential oil. There are so many great ways you can use this essential oil that you will not know where to begin. You can use it in cleaning, in mood enhancement, and much more. Lemon essential oil comes from the cold-pressed lemon rinds. It has a very strong, purifying citrus scent that many people find uplifting. It is also a powerful antioxidant. It's been used to clean with, to enhance the flavor of food, and even for use on the skin. Let's take a look at some great uses for this oil.
5 Best Uses for Lemon Essential Oil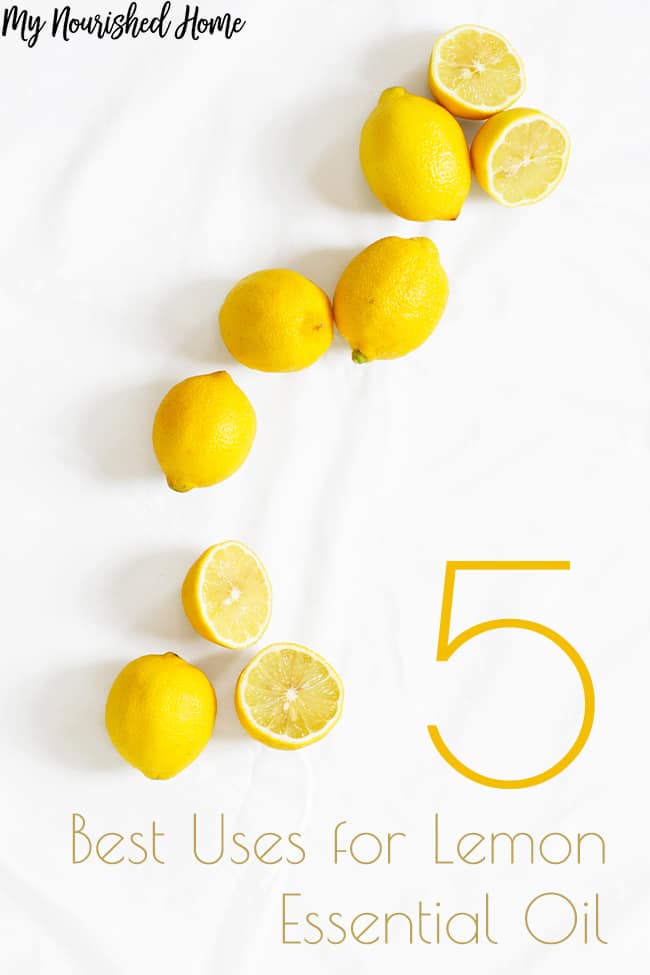 Household Cleaning
Lemon essential oil is naturally antimicrobial. Want to clean your home naturally and reduce the chemicals in your home? Add 40 drops of Lemon Oil and 20 drops of Tea Tree oil with a little white vinegar to a 16 spray bottle and fill it up with water. This solution is a cleaning favorite.
Reduce stomach aches
If you or someone you love has frequent tummy aches and digestive issues, such as IBD (irritable bowel syndrome), you can greatly benefit from lemon essential oils. 1-2 drops a day will do the trick. (Peppermint Essential Oil is also great for tummies!)
To improve mental focus
Do you struggle to concentrate during the day? Do you have ADHD or other conditions that make it hard to stay on task? Lemon essential oil is great for this and can help improve mental focus and provide clarity and improved concentration. Some people like to use 2-3 drops in a spray bottle with water to help sanitize surfaces and to spray around the room while they are working to help with concentration.
Help relieve headaches
Many people with headaches and migraines find that lemon oil is helpful in reducing and preventing their symptoms. It's especially helpful if you catch it at the first signs of a headache or a migraine to prevent it from getting worse. Many people like to use it in a diffuser to help with headaches.
To boost your energy
There's just something about the sweet smell of lemon that gets you ready to go. Lemon oil is great for boosting your energy so you might start your day with it, or turn to it later in the afternoon when you're starting to slump. Use it in place of caffeine to keep you alert until the day is done.
Now that you know these great uses for lemon essential oil, you can begin adding this to your daily routine. It's really very simple. As always, take the time to do your homework and ensure you're using the oils safely and accurately. Apart from that, you should have fun experimenting with the ways lemon essential oil can help improve your life and boost your well-being.
Do you know how to clean your essential oil diffuser? Find out here!