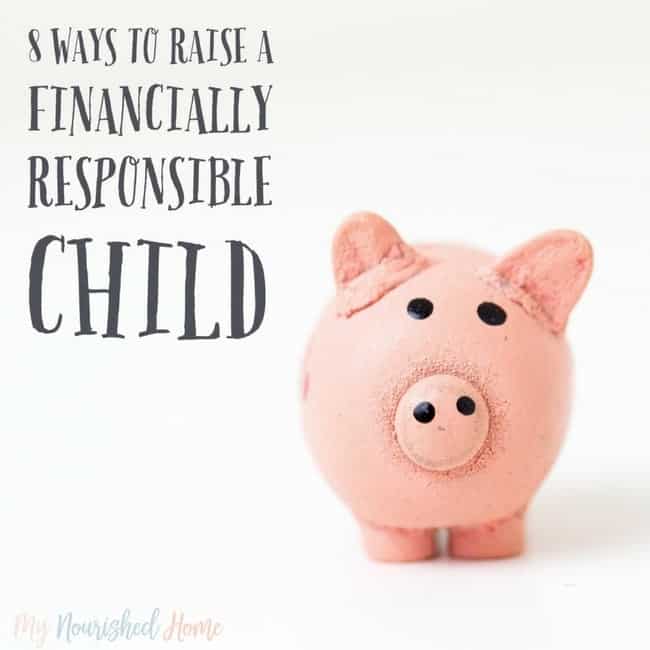 Raising a financially responsible child is golden on so many levels. In addition to that obvious practical application of understanding how to use, save and invest money, consider the benefits of debt avoidance, personal responsibility, and added confidence.
It is a beautiful thing to help you child that way!
As in all other aspects of parenting, the rule of thumb if you want to teach your children anything is to model the behavior you want them to learn! How comfortable are you with money!? What lessons have you learned?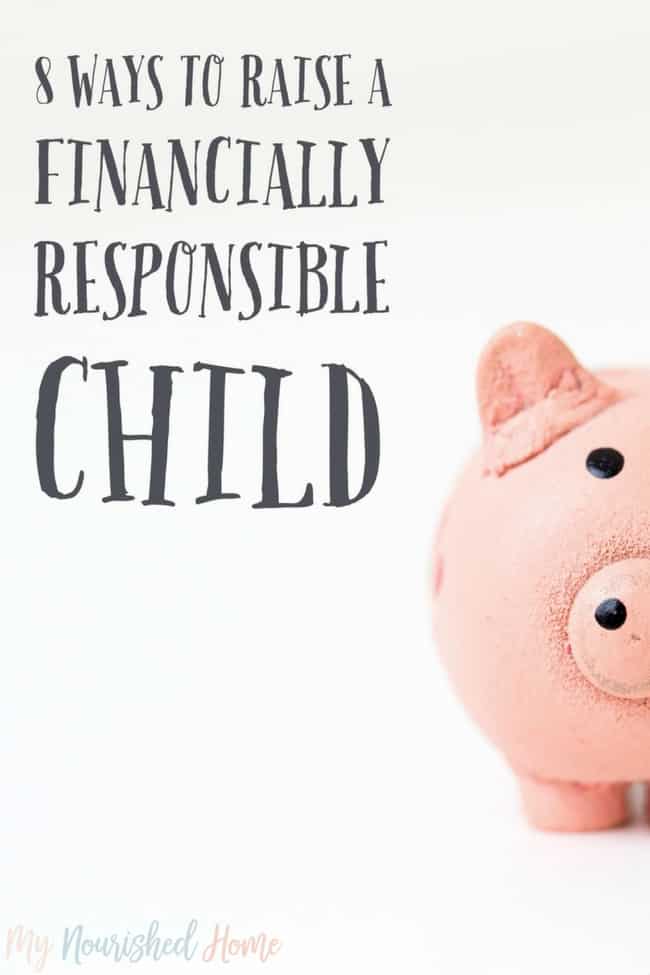 How to Raise a Financially Responsible Child
Talk Money with Your Child
While I don't personally advocate passing off adult stress on kids (they have plenty of time for that later!) I think it is a smart to chat with our kids about how we budget for the month. The more we chat about things like saving for retirement and paying bills before we spend the money we earn on non-essentials, the more opportunity we have to give our kids a basic understanding of the cost of living.
When our kids express an interest about family bills, we answer their questions in a non-emotional way. We don't want them to learn to be scared of money or stressed about money before they are old enough to even understand it. But we teach that:
we pay the bills first – that includes saving because we treat saving money like a bill
then we buy groceries – because grocery budgets can flex up or down based on how much money we have to spend
then we get to use what is left for extras like doing fun things – because fun things don't actually have to cost anything
It is overly simplified – but for our kids, this is a conversation they can really understand. If you want money left at the bottom, you have to save money on the top. And that the "value" of money is in the security it can provide you and the people around you. Not in how much stuff you can collect.
I am always careful never to place the responsibility of our family finances on little shoulders. But if I am calm and confident when talking about our family budget, my hope is it will teach our kids to approach money in the same practical way in the future.
Value of Money and Values Around Money
One thing has been the same as we have started talking money with each of our kids (okay, 2 out of 3. The youngest couldn't care less yet.) Money does not go as far as they think it does.
I have a teenager who is beginning to look at things like colleges and possible careers. It has been a real eye-opener for her to consider what she will need to earn to support herself. And that she will likely not have the standard of living she currently enjoys at home with her dad and me who have been working for many years.
We are working now to make sure she knows how to do thinks like budget, manage bank accounts, and save – and how important planning for the financial future is, even if you are at the beginning of your career.
I am sure she will be fine because while she is polishing up her practical skills, we have spent many years teaching her core values around money. Money is great! Money is awesome! Money is also just a tool. It can be used to do good things or bad but the result is a reflection of the person making the decisions, not money itself.
When I was a kid, I remember my dad trying to teach me this lesson. He said money is like a hammer… just a tool. If you give a hammer to a carpenter he will build a beautiful house. If you give the hammer to a kid and send him to the playground, you might have a problem. In either case, it was the same hammer. It took me a while to really understand that… But my dad, he's a smart guy. We are trying to impress upon our kids that money doesn't make you good or bad – it is what you choose to do with it that matters.

Ways to Teach Kids Financial Responsibility
Take your child grocery shopping. This is one of my favorites. Take your kids to the grocery store and work the budget with their input. We do this with smaller choices with our small kids and in a bigger way with our older child.

Give them real money to manage. Nothing beats real life lessons. Start with simple activities and shopping trips. Make your kids handle cash and count change. Not only so they know how – but also so they look and feel confident doing it. An example:

holiday shopping for relatives. Set the amount and see how they work it out. It is okay to make suggestions but allow them to make choices.

Teach the Save, Spend, Give model. This is the basic choice we all make with every dollar we earn. In older kids, it is appropriate to do this in bank accounts and with budgets. In small children, we like having 3 labeled, visible jars where each child can make a decision with the money they earn and see the result. Make sure to teach all kids to save for a reach goal – a special toy or a car, teach them to save for a goal that feels far away.

Matching their savings and explain why you are doing it and how you are able. If you are in a position to do so consider matching what the money your kids have worked hard to save for school, prom, a car etc… Explain to them why you are matching their savings and that you are able to do so because…

Teach them the benefits and rewards of paying the bills on time. This is a golden guideline. This practice can present the opportunity to talk good credit and bad credit. This is an important lesson for older kids especially.

Teach them about giving financially to an organization or cause. Yes, teach them the element of financial responsibility that is giving back.

Create and encourage a young entrepreneur. Succeeding and failing in small ways with money will help kids understand how to apply those lessons on a larger scale.
What other ways can you think of for raising a financially responsible child?