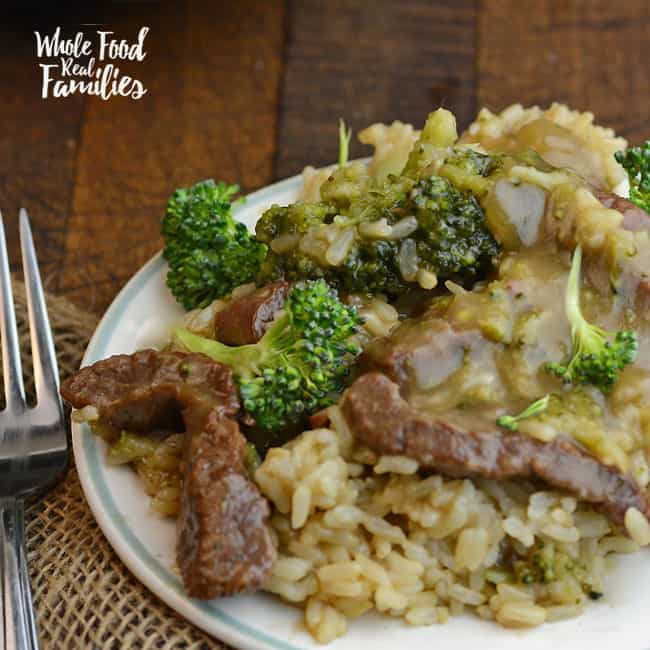 Slow Cooker Beef and Broccoli is a miracle of modern cooking. This version is tastier than takeout and as easy as piling stuff in the slow cooker and turning on the power.
Beef and Broccoli is an Asian food staple as far as I'm concerned. But the more I read about the goop restaurants and delivery places put in my favorite Asian dish, the less often I eat it. This recipe is easy, tasty, and much more healthy.


As with most recipes, just how healthy is directly related to the quality of the ingredients you put into it. I prefer local food and unrefined ingredients. I even opt for organic when I can and the budget allows. For example, I have not been able to find a suitable organic substitute for the traditional oyster sauce (have you ever read the back of one of those bottles – very few recognizable things on the ingredient list!) so I substitute organic fish sauce. The broccoli comes from our local farmer's market and we substitute honey instead of highly-processed brown sugar or high fructose corn syrup. This version is also free of restaurant staples like MSG, trans Fats, food coloring, and GMOs.
We are also lucky enough to have grass-fed beef available. The decision to move to grass-fed beef was a tough one for me. The price point can be really inhibiting. However, I only buy in bulk from my butcher, so he helps me figure out how to keep my prices down. In my very humble opinion, the quality and health of the beef we eat lives on a spectrum with conventionally-raised, industrialized meat production on one end and organic, grass-fed local farms on the other end with stops in between. Every time you take a step away from industrialized meat towards the good stuff you do something good for yourself. So you can do better, even if you can't always afford perfect.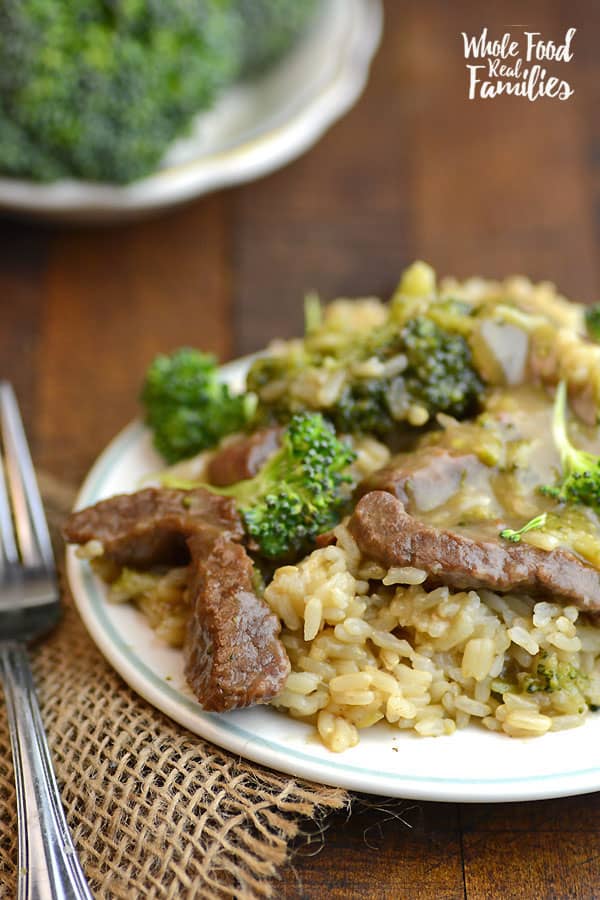 Perhaps just as fabulous as a healthy Slow Cooker Beef and Broccoli recipe, is the fact that this one creates almost no dishes to wash! I don't even bother to get a bowl to mix the sauce, I do it in the slow cooker before I toss in the meat. I always have cubed beef in my freezer because it is so quick and easy to use – so no need to cut up the meat. And when it is time to toss in the broccoli, I literally trim the broccoli into florets with my kitchen shears over the pot. How lazy is that?!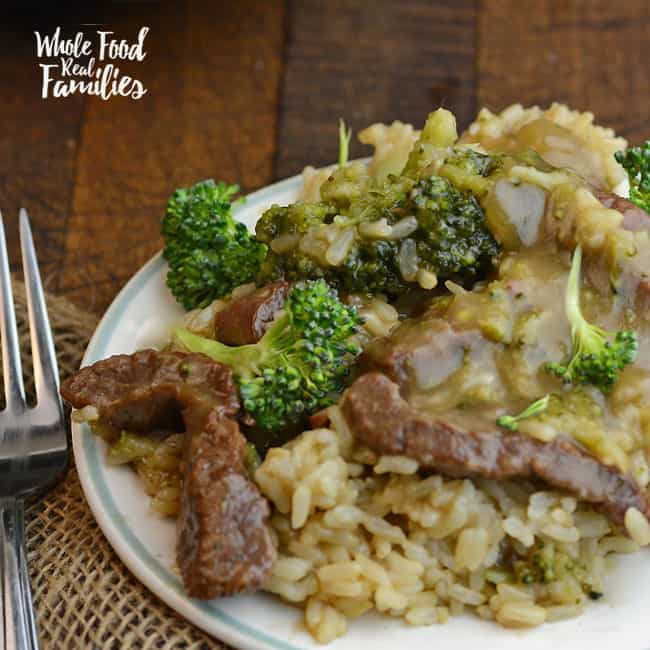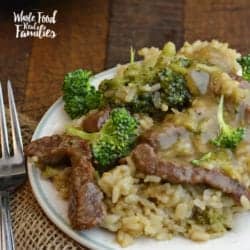 Beef and Broccoli, in the Slow Cooker
serve over brown rice
Ingredients
1

cup

beef broth

1/4

cup

soy sauce

1/4

cup

fish sauce

1/4

cup

honey

1

tbsp

sesame oil

3

cloves

garlic

minced

2

lbs

boneless beef chuck roast

cubed or sliced thin

1/4

cup

warm water

2

tbsp

corn starch

2

heads

fresh broccoli florets
Instructions
Turn slow cooker on low and allow it to begin warming. Add beef broth, soy sauce, fish sauce, honey, sesame oil, and garlic directly to the slow cooker. Whisk until the honey is completely incorporated. The warm slow cooker will make this very easy.

Add cubed chuck roast directly to sauce. Stir to combine. Cover and cook on low for 6 hours. (The longer you cook your meat the more it will fall apart. Adjust your cooking time to your preference for tenderness.)

In a measuring cup combine warm water with cornstarch until the cornstarch is dissolved. Pour directly into the slow cooker, stir to incorporate. Also add broccoli florets (I just use my kitchen shears to trim my heads into florets over the pot because I am lazy and hate washing dishes). Mix well and recover slow cooker.

Cook for an additional 30 minutes. Then serve over brown rice.