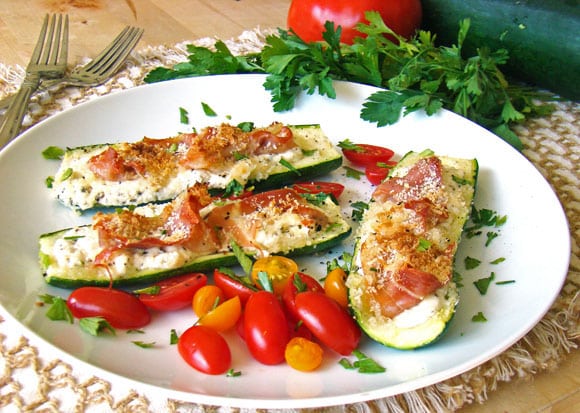 Zucchini with Goat Cheese and Prosciutto is a winner on two counts. One – I have somehow convinced my children that it is a variation of ham and cheese. Somehow they bought that without noticing the gigantic green vegetable connected to the bottom of it. Maybe because their older sister was eating it. Who knows? Two – it has goat cheese.
These make a wonderful side. But they also make a wonderful lunch all by themselves. Ask my teenager – I busted her eating one out of the fridge like a taco rather than getting a plate and a fork.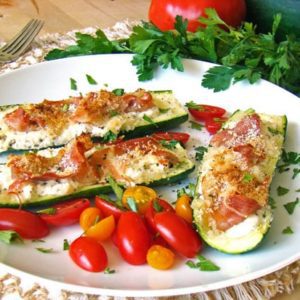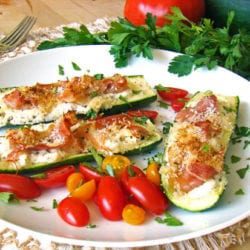 Zucchini with Goat Cheese and Prosciutto
Course:
Appetizers & Sides
Ingredients
3-4

medium

zucchini, halved, ends trimmed, seeds removed

6

oz

cream cheese, softened

6

oz

goat cheese, softened

1

tbsp

dried Italian Seasoning

kosher salt and black pepper to taste

3

oz

Prosciutto, torn into pieces

1/2

cup

whole wheat breadcrumbs

make your own!

1/2

pint

small variety tomatoes, sliced in half
Instructions
Preheat oven to 350 degrees. Split zucchini in half lengthwise, removed the ends and remove seeds with a teaspoon, making a well down the center. Sprinkle zucchini with salt and pepper, place on a baking sheet and cook for 10 minutes.

While zucchini is cooking, mix softened cream cheese, goat cheese, Italian Seasoning, salt and pepper in a bowl until well blended. When zucchini comes out of the oven, fill the wells with the cheese mixture.

Place torn Prosciutto on top of the cheese mixture, pressing lightly so it doesn't fall off. Sprinkle breadcrumbs across all of the zucchini and place back in the oven for 10 minutes.

If you would like the bread crumbs to be toasted, set the oven to broil and cook an additional 2 minutes.

Garnish with fresh tomatoes and Enjoy!