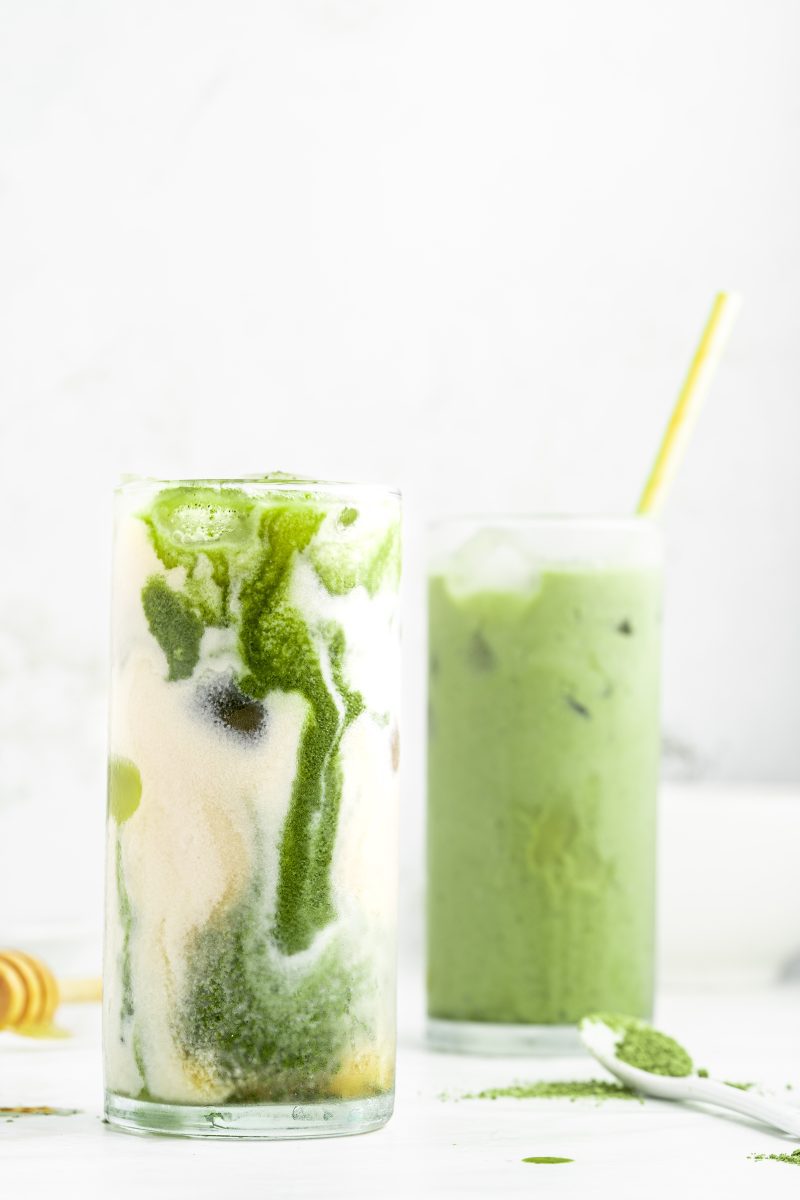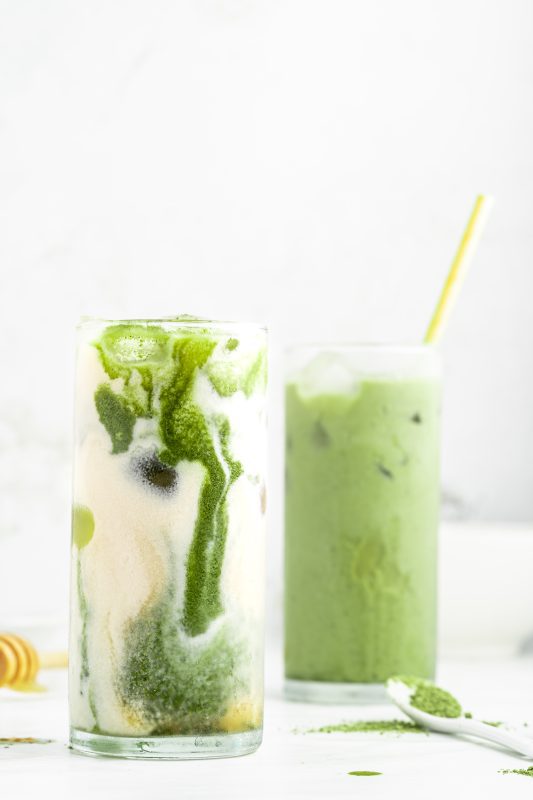 Healthy, trendy, and gorgeous- this Vanilla Matcha Latte tastes like a creamy sweet tea, and it is packed with vitamins and antioxidants.
Vanilla Matcha Latte
Vanilla Matcha Latte has taken a starring role on breakfast menus and especially in the Starbucks line. If you love this green tea derivative, and you are dying for the healthy power of matcha: Don't go to Starbucks! This little drink at Starbucks clocks in at a whopping 240 calories and 32 grams of sugar for just 16 ounces. You can cut that number by 80% simply by making your own. Plus it's cheaper and very easy!
For more of our favorite beverages, check out Smart Coffee, Mango Pineapple Smoothie, and Chocolate Avocado Smoothie.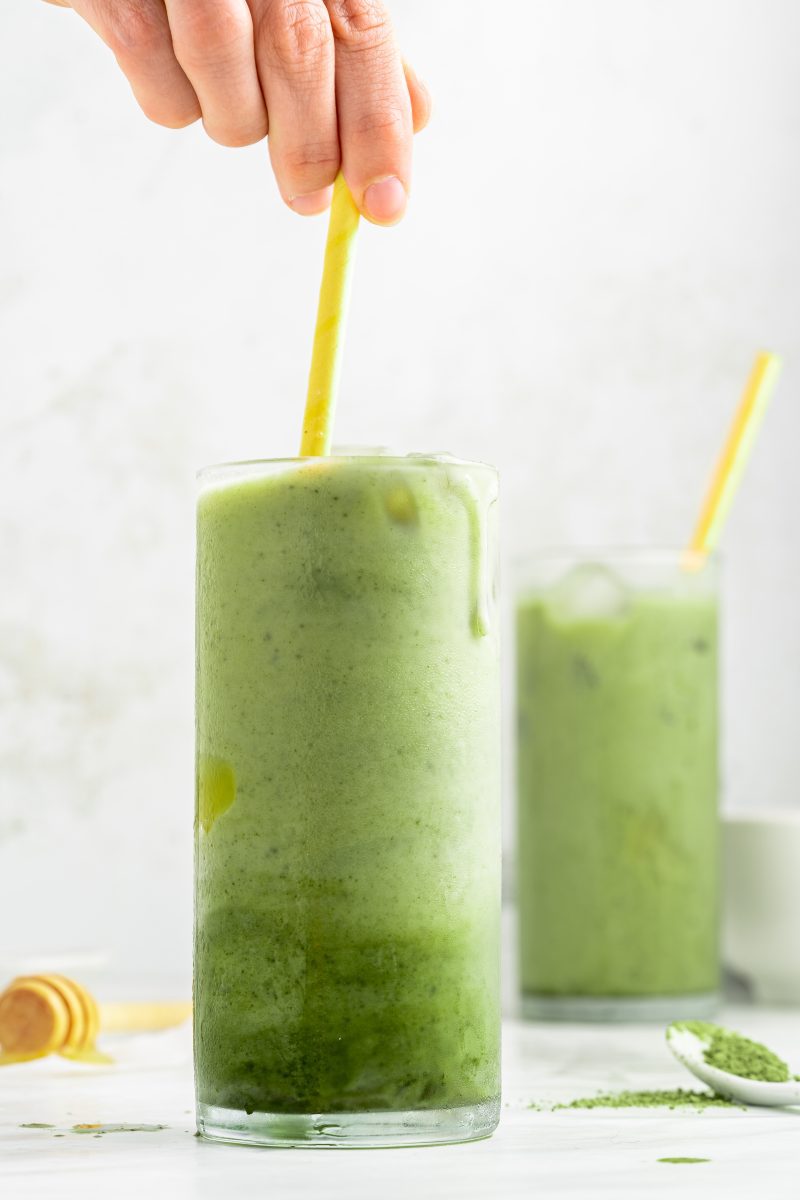 Why you will love this recipe
Healthy! This tea will literally have every cell in your body thanking you for the antioxidants.
Switch out ingredients to easily accommodate diets needs.
Four ingredients. It's easy to make and much cheaper than a calorie loaded cup at Starbucks.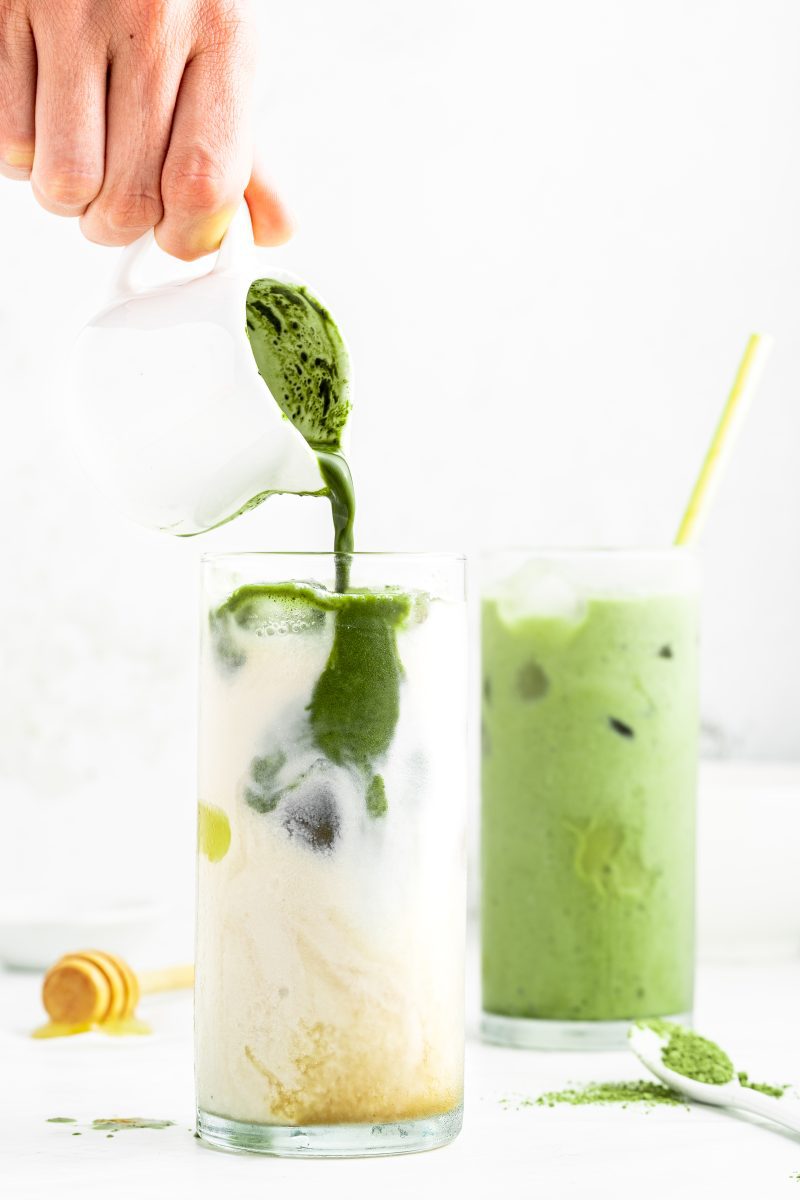 How to make perfect Vanilla Matcha Latte
Mix with hot water. Whether you're drinking this tea hot or cold, you should always mix the matcha powder with hot water. If you don't, it will clump together. No one wants surprise powdered clumps in their drink! Even though this recipe is for iced vanilla latte. Don't skip the hot water!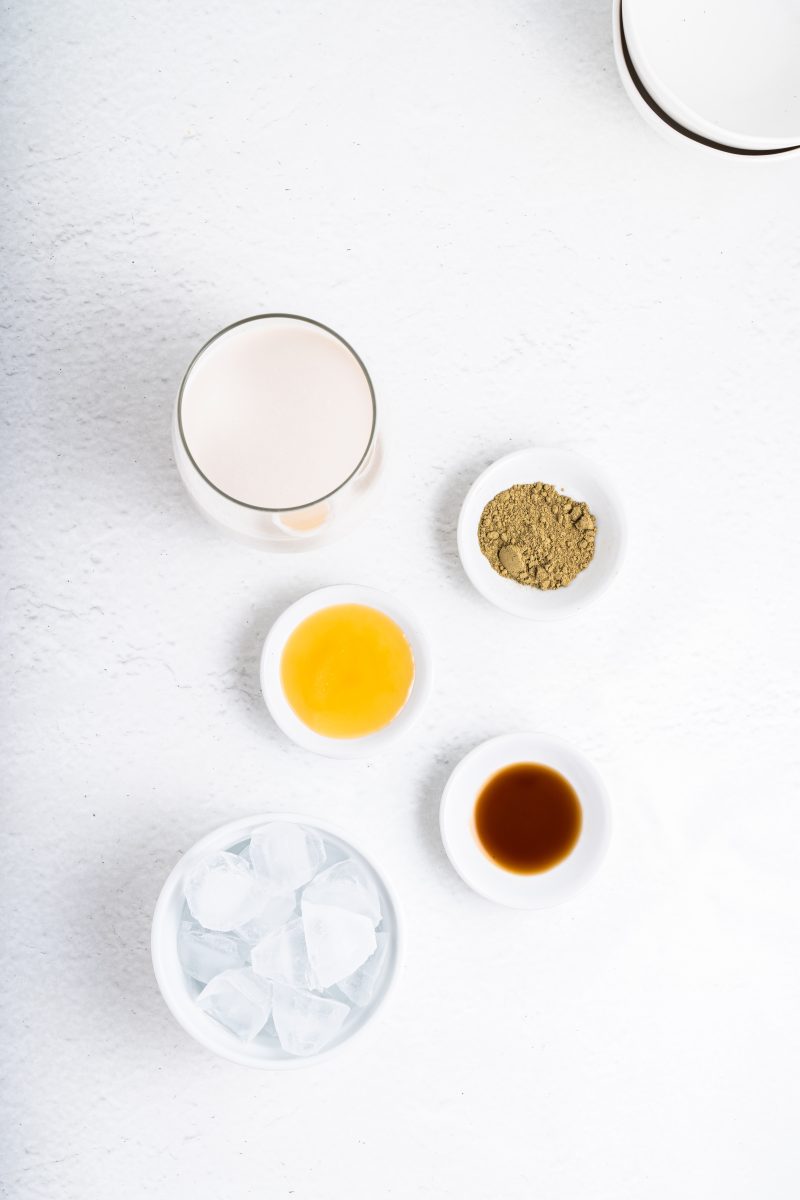 Ingredients and Substitutions for Matcha Latte
Find your best creamy! Matcha tea lends itself to any milk or milk substitutes out there. So if you're going for lower calories, pick an almond or soy milk. If you're going for flavor, regular milk, coconut, or oat milk may be your best option.
Sweetener Options. In this recipe, I used honey, but you can use stevia, agave, or eliminate the sweetener altogether.
Vanilla options. I like to use vanilla extract because it is low calorie. However, Some milks like almond or oat milk have vanilla in them already. Another way to get your vanilla is to use a vanilla syrup. I don't necessarily recommend this though because they are often processed and have lots of sugars in them.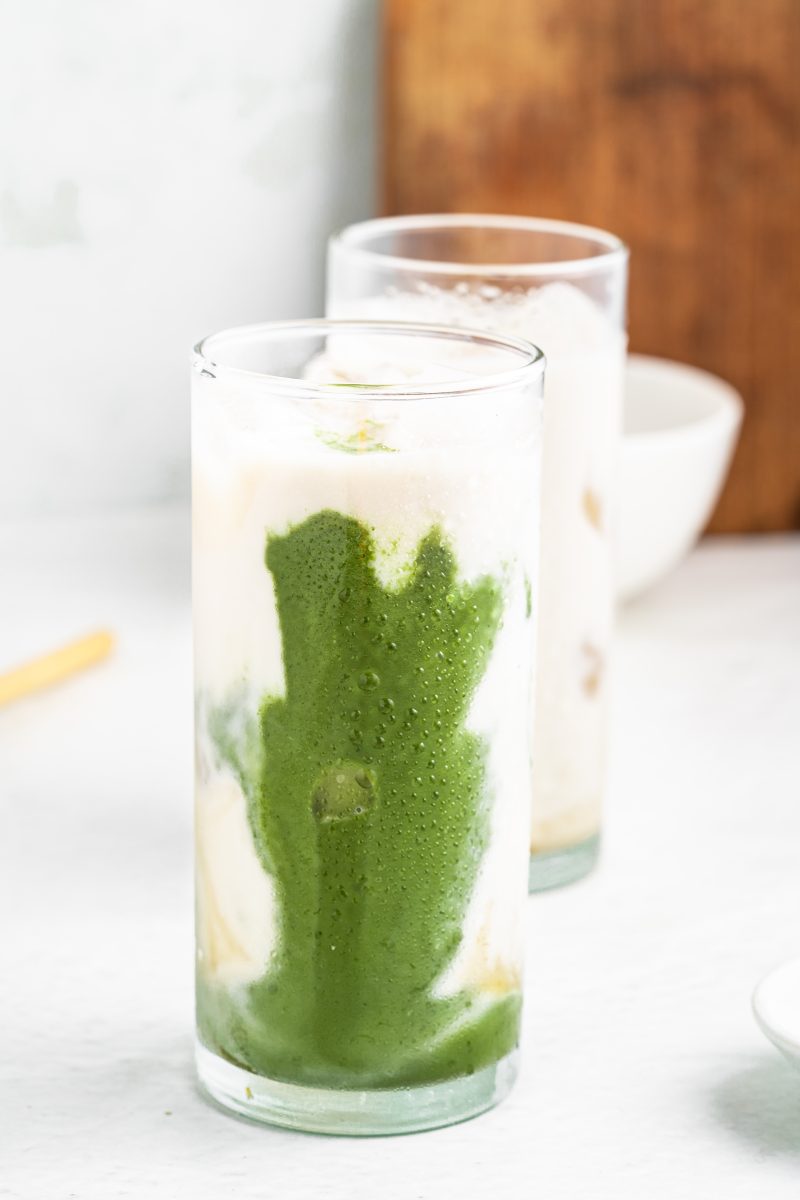 Frequently asked Questions about Matcha
What is matcha?
Matcha comes from the plant, Camellia Sinensis. This is the same plant that is used for green tea. To get matcha powder, farmers grow the Camellia Sinensis in the shade so that the leaves retain more water and produce a vibrant green leaf. This leaf is then dried and crushed into a powder that is full of antioxidants and other nutrients.
What does a matcha latte taste like?
Matcha has a more intense flavor than its sister green tea. Because it is a powder, more of the leaf makes it into your cup. This leaf tastes earthy and grass-like. It's definitely more bitter on its own. This is why matcha lattes are so popular. When you add the milk and sweetener, it tastes a lot like a creamy Southern sweet tea- only this tea has more health benefits.
Is matcha healthy?
Green Tea has been used in China medicinally for hundreds of years because of the high amounts of antioxidants and other nutrients in the leaf. Matcha, which is cultivated in Japan, has been used to help Sumo wrestlers before tournaments. It's been studied to have more nutrients than its tea counterpart because the whole leaf is crushed and used in the powder. If you don't add too much sugar to this leafy green powder, then it is reported to be very healthy for you.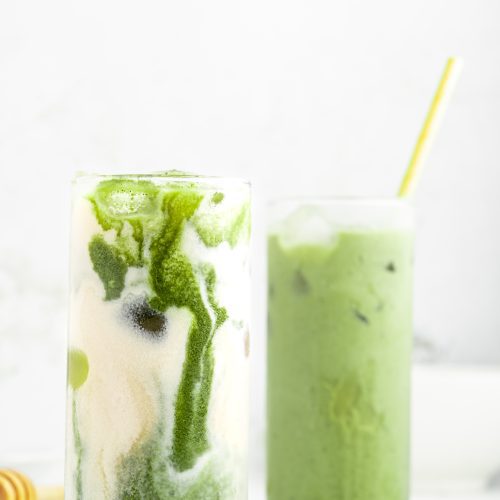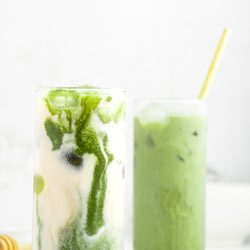 Vanilla Matcha Latte
Healthy, trendy, and gorgeous- this Vanilla Matcha Latte tastes like a creamy sweet tea, and it is packed with vitamins and antioxidants.
Course:
Appetizer, Smoothies & Drinks
Keyword:
Latte, Matcha latte, Starbucks, Vanilla
Ingredients
Iced Matcha Latte
2

tbsp

water

hot

1

tsp

matcha powder

1

cup

ice cubes

1

cup

milk

of choice

1/2

tsp

vanilla extract

1

tbsp

honey
Instructions
Mix hot water with matcha powder.

Add ice cubes to a glass, and vanilla extract, honey, and almond milk. Continue with infused matcha powder.
Recipe Notes
This iced matcha is so refreshing. Taste wise is slightly sweet, and you can avoid honey if desired. Or even replace it with a low-carb sweetener like liquid stevia.
Tips
To avoid a lumpy latte is key that you mix the powder with hot water, so don't skip it.
Nutrition Facts
Vanilla Matcha Latte
Amount Per Serving
Calories 228
Calories from Fat 72
% Daily Value*
Fat 8g12%
Cholesterol 29mg10%
Sodium 99mg4%
Potassium 380mg11%
Carbohydrates 29g10%
Protein 10g20%
Vitamin A 595IU12%
Vitamin C 0.1mg0%
Calcium 305mg31%
Iron 1mg6%
* Percent Daily Values are based on a 2000 calorie diet.