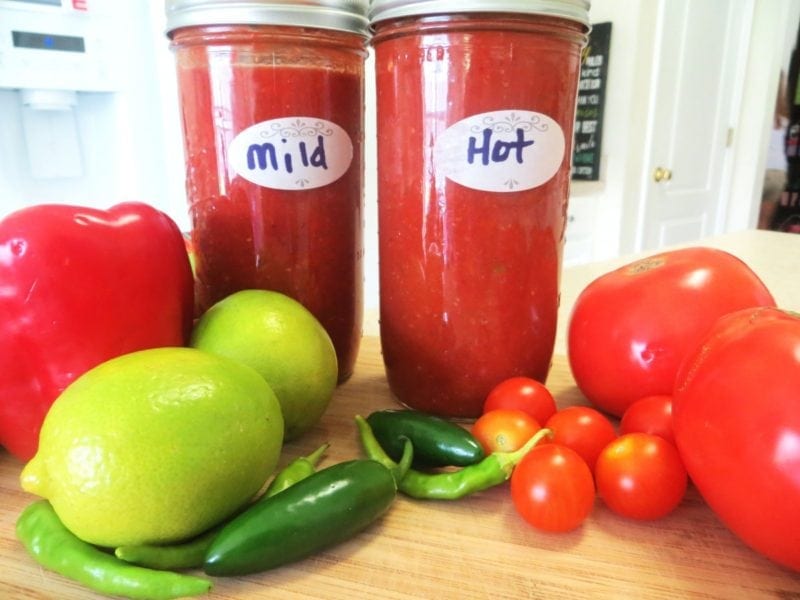 Salsa is a staple at our house. And if you are anywhere near the beautiful tomatoes that are ripening this season, I suggest it become a staple at your house too. Friends of ours recently went on vacation and offered that we should come by their garden while they were away. My kids love playing in the dirt so we took them up on their offer a few times. The result was a big beautiful basket of tomatoes and a couple of jalapeno peppers. Once I recognized that there was no way we could eat that many tomatoes before they went bad, I looked around my kitchen and realized I had everything I needed to make homemade salsa. I combined the tomatoes and peppers I looted from my friends garden with herbs and the hotter variety peppers that I grow. Threw in some onions, garlic, and lime juice left over from my latest foray to the Savannah Food Co-op and voila! Salsa!
I did make two batches, one for the kids that was not hot. And one for me and Mr. Whole Foods | Real Families that is quite a bit hotter. The heat of your salsa is determined by the types and volume of peppers you include – and whether or not you include the seeds. So add peppers slowly, you can always add more. But once they are in there, you are committed.
Note: I have a significant reaction to the capsaicin in chili peppers. I did not always have this issue. Then one day, I was seeding peppers with my bare hands like I had a hundred times before and suddenly my hands started to burn. Then I started to worry. Then I started to beg someone to help me. It was awful. And very painful.
The moral of this story: Use gloves when handling hot peppers.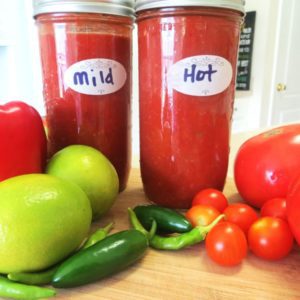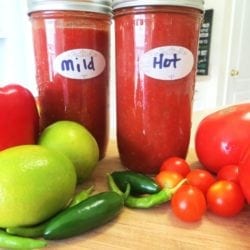 Salsa
I use 2-3 seeded chili peppers for mild salsa. And use 3-4 seeded chili peppers plus as many as 4 additional peppers with the seeds intact for hot salsa. If using chili peppers with the seeds intact, only add one at a time. The heat from peppers can vary widely!
Course:
Appetizers & Sides, Snacks & Treats
Ingredients
5-6

medium ripe tomatoes, cored and quartered

1

Vidalia Onion

or other sweet onion

3

cloves

garlic, roughly chopped

1

red bell pepper, seeded and roughly chopped

1/2

cup

parsley or cilantro, or combination of both

2

limes, for juicing

1

tbsp

kosher salt

2-8

hot chili peppers

based on desired heat
Instructions
Sprinkle tomatoes with 1 tsp salt and put them in a colander over the sink for 5-10 minutes to drain some of the water from the tomatoes. Add all ingredients, including the remainder of the salt and the juice from the limes, to the food processor.

Pulse ingredients in the food processor, including seeded hot peppers, until desired texture and consistency is reached. If you are using hot chili peppers with the seeds intact, add them one at a time and test for heat. Adjust salt to taste.