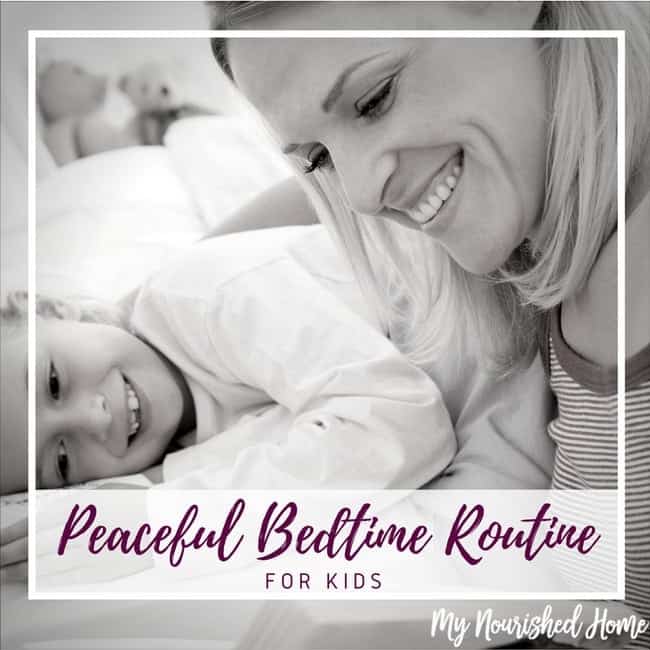 One of the most important lessons I have learned as a parent is that a routine makes living with children a lot easier. Having a peaceful bedtime routine for kids helps little minds find calm after a stimulating day. It can also create an amazing opportunity for parents to bond with their kids.
Peaceful Bedtime Routine for Kids
Every time we have added a new child to our mix, our bedtime routine has shifted a bit. With 3 kids at home, there are always new challenges. But we've learned that creating a peaceful bedtime routine helps everyone – the kids and the adults.
Like most parents, we struggle to get it all done during the day – and for a long time, that bled into our nightly routine. There were a lot of "just one more minute" comments and "just for tonight" exceptions. But the more we created exceptions, we found that our kids got crankier and we got more short-tempered. So the more we tried to stretch the day to get one last thing done, the more likely it was for everyone to go to bed feeling frustrated, guilty, or downright sad.

Bedtime Routine for Kids
There are times it feels a little strange to start thinking about bedtime while making dinner – but the truth is, if we don't get dinner on the table on time, the whole night gets harder. For us, that means dinner is promptly at 6 pm. To help the kids transition to what is our nightly family time, we ask them to turn off the television or put away toys, we turn on some music and everyone gets a chore in the kitchen.
My teenager is a pro at helping in the kitchen and that includes helping her little sisters with their kitchen duties. Even though the little kids are 4 and 6 years old, they are able to set the table, fill cups with ice, and carry things to the table. This is our first transition of the night… We are all together. We are working together. We are talking to each other. And distractions like the television are gone for the night.
If we manage to get dinner on the table on time, we have 15-20 minutes to play games at the table after we are finished eating. We are huge fans of charades (and other board games). We have a good time goofing with the dog who is always begging for food at the table and laughing with the kids (or my husband who is the absolute silliest in the 20 minutes after dinner.)
I will admit that I have always thought "family game night" was a little corny. But the truth is, this small element of our nightly routine has helped us laugh more together as a family than probably anything else. So embrace the corny… You'll be shocked.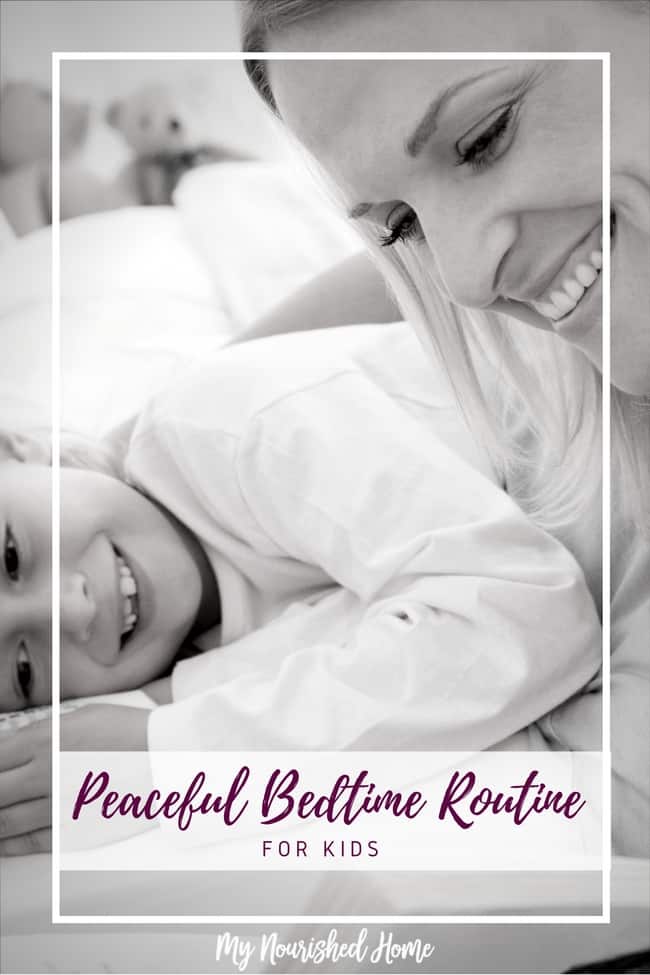 Bath, Books, and Bed!
After dinner, we divide duties between clearing dishes and cleaning up the kitchen and giving little kids a bath. I always make a point to find pajamas and begin diffusing lavender essential oil in the kids' bedrooms while they finish up their baths.
Lots of people love lavender essential oil for nights but we prefer diffusing Young Living Peace & Calming essential oil blend at night. It has a wonderful effect on our kids in helping them find a peaceful state of mind – even if they don't feel quite tired yet. If I don't have any Peace & Calming (I use it a lot!) then I will diffuse cedarwood essential oil instead which has the same effect! That peaceful state of mind is a much gentler transition to bed than the rushing around we used to do.
The best part of our night is reading with the kids while they are in this peaceful, calm state of mind. Each of our young kids gets to pick a book. And our oldest often makes an appearance to read to her sisters before they go to sleep. This is also a really special time for the girls to have with their daddy who doesn't get to be home as often as I do. That quiet time together lets them chat about their day, make big plans for the weekend, and tell silly stories.
Bedtime Routine for Kids – Progress Not Perfection
The most important aspect of bedtime each night as a parent…
Is to give yourself, your spouse, and your kids a little grace.
Every night is not going to be perfect. Kids will get cranky. Moms will get cranky. School and extracurricular activities will interfere. But focusing on a peaceful state of mind as you transition to bed and then a peaceful bedtime routine for your kids will help everyone feel calmer and more connected as a family each day.