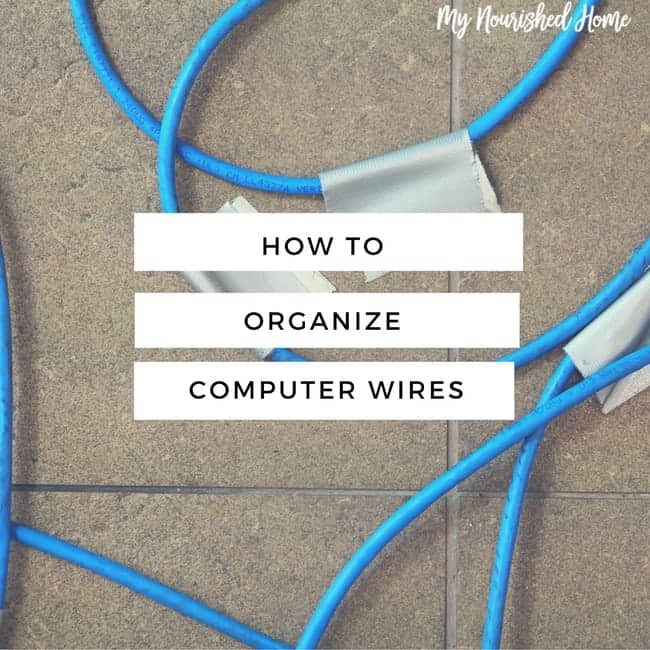 If you are looking for sleek lines and tidy rooms, there is nothing worse than a pile of cables that you need, but look extremely unorganized and sometimes they look a mess!
Don't worry, there are some simple solutions that you can try to tackle those unsightly cables!
You can Organize the Wires around Your Computer!
I have to be honest, nothing makes me crazier than working in my home office and having a tangle of cables around my desk! Recently I was sliding my chair back from my desk and realized my foot had caught a wire in the massive web of computer wires I had shoved where nobody (me!) could see them – and I managed to violently unplug things. I spend two hours untangling the mess so it never happened gain.
So this is a post that HAD to be written and shared.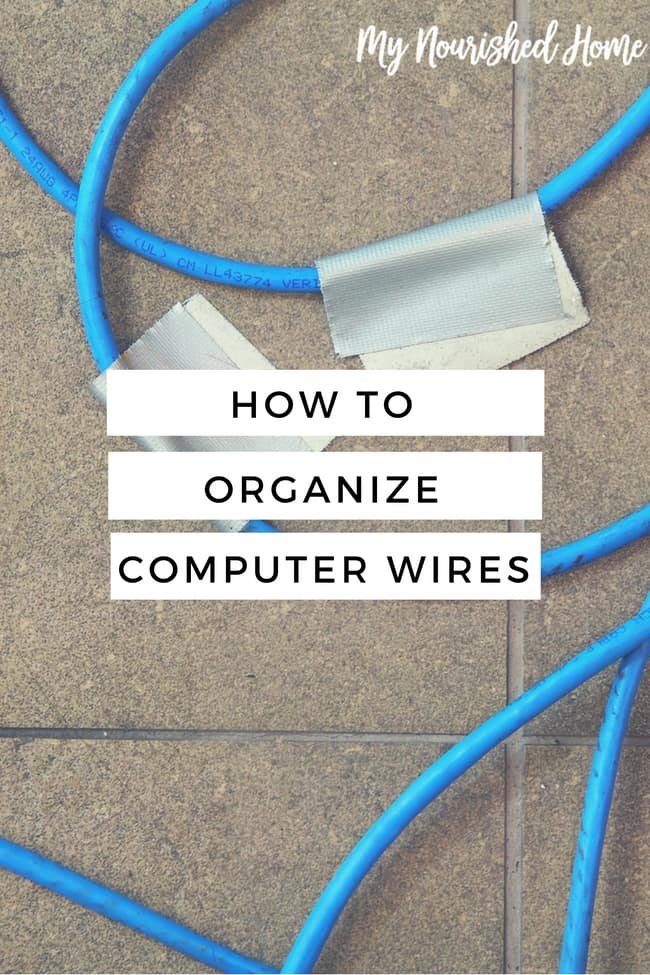 Controlling the Cable Clutter
Don't think that having a pile of cables is something you have to live with, you can contain the wires and make the space under your desk an organized and cable free space!
Before you Start Unplugging Cables
Label those cables!!!!!!!!!!!!!
Don't wait until you are trying to put them back, label them before you unplug them!!!!
This will help reduce the stress when you are trying to work out which cable goes where!
Reduce the Cable Clutter
The simplest way to reduce the cables you have is to invest in a wireless keyboard and mouse!
This can reduce the cables that you see on your desk, the ones that get caught and can restrict your movement! Removing these and going wireless will remove two cables, but these are the most annoying cables!
Reduce the Cables you can see
If you have a pile of cables under your desk, one for your computer, printer and any other gadget that you use, it can look untidy.
Remove any unnecessary plugs and equipment that you don't need or use, this will save power too!
If your printer is Wi-Fi, then relocating this to another area is a great idea especially if you are limited on space around your computer.
The easiest way to organize your cables is with cable ties, looping the excess cable so it is out of the way and securing the cable.
However, you will still see the cables.
Moving the Location of the Socket
This sounds drastic, don't move your socket in the wall but your extension lead.
Locating the extension lead onto the back of your desk will hide the visible cables.
Make sure that you fix it carefully to the back of your desk, you don't want it to fall off!

Heading Inside your Desk
If you have space inside your desk, converting a cabinet with lots of air flow or a small shelf to hold your power supply and any cables is a great idea.
Just don't overfill the space as you need to ensure that you don't cover the power sockets, some connections can get hot and we don't want any fire hazards!
Following the Line of the Desk
If you want a sleek look and you never intend to move the cables, sticking them to the back of your desk, following the shape of your desk so no cable is visible, is an option.
This is a risk if you ever want to move an item.
A less permeant method would be using Velcro, or a hook, this method would allow you to move the wires if you needed to in the future!
What is your best tip for organizing wires around your computer?