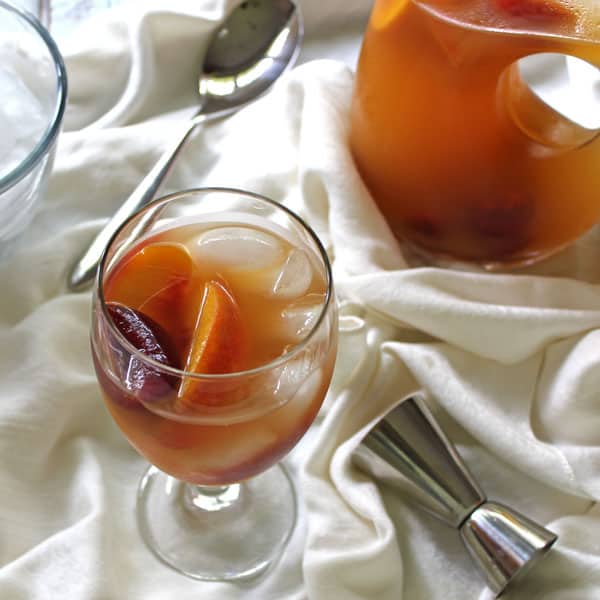 Ginger Peach Sangria with Plums is our favorite party drink in the summer. Nothing says August in Georgia like cooling off with a spicy, sweet drink.
It is August. And while many of us are thinking back to school, those of us that live in the South are also bracing ourselves for the hottest month of the year. August in my hometown of Savannah, Georgia is the hottest, most humid month of all. So hot that the community pool becomes a daily routine. Now the pool water is almost too warm – feeling like bath water instead of crisp and cool. But splashing in the pool is a welcome change from the humidity that settles over you like a hot blanket as soon as you walk outdoors. In the immortal words of my teenage daughter: "at least it washes the sweat off."
Peach Sangria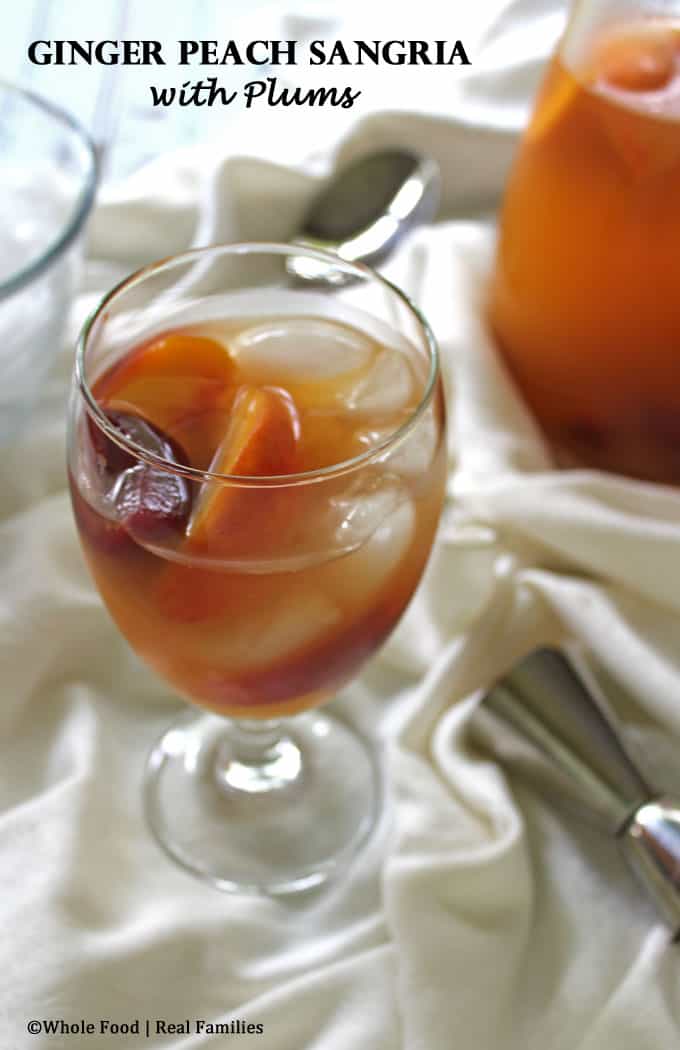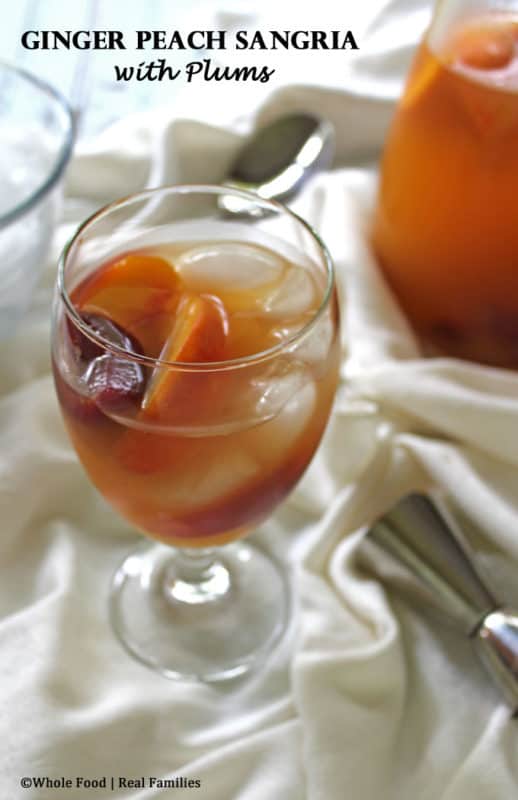 Yep, Savannah is that hot in August.
When the Sunday Supper Movement set a theme for Pool Parties this week, I immediately started thinking about how to stay cool at the pool… so I don't roast the most! (Okay that one was a stretch, I know.)
Every Friday night, lots of the families in our neighborhood head to the pool with all their kids and their coolers. It is a lot of fun to sit around chatting with neighbors and letting our kids all play together. This Ginger Peach Sangria with Plums is perfect for that kind of neighborhood impromptu party. Easy to put together. Enough to share. Delicious. And one of my favorite parts, is spooning out all of the fruit and picking out pieces to eat when the Sangria is all gone.
Ginger and Peaches are two of my favorite flavors. I spoon Ginger Peach Compote over my yogurt and ice cream. I put Ginger in my Peach Muffins.
It only follows reason that when I throw sweet Georgia Peaches in my Sangria, Ginger Liqueur will follow. Sweet, in season plums make a nice addition with beautiful color and flavor. They are also incredibly tasty when they soak up the ginger and peach flavor!
So go whip up some Ginger Peach Sangria with Plums and enjoy your pool party! I promise your neighbors will want some – but you are not going to want to share.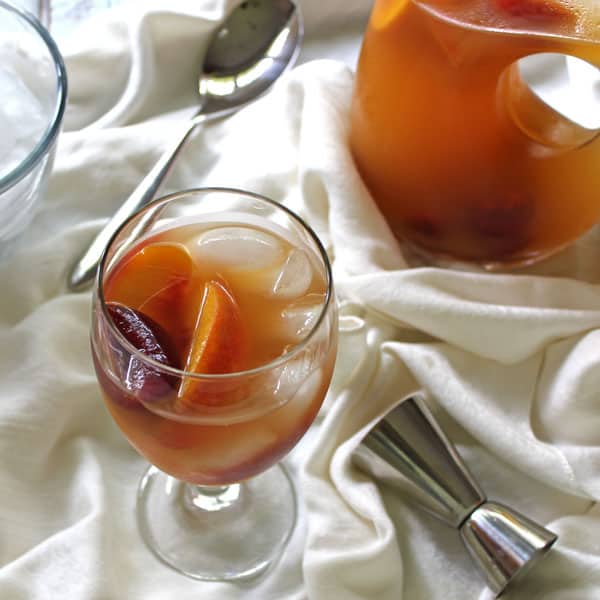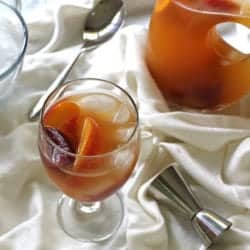 Ginger Peach Sangria with Plums
Sangria is generally better if you let it sit in the refrigerator overnight so that the flavors mingle and the fruit soaks up the good stuff. But in a pinch, a few hours will do!
Course:
Smoothies & Drinks
Ingredients
2

cups

white wine

we like Sauvignon Blanc

1

cup

peach nectar

You can also use a juice blend if you can't find peach nectar

3/4

cup

ginger liqueur

more or less to taste

3-4

sliced

ripe peaches

skin on

5-6

quartered

ripe plums
Instructions
Combine white wine, peach nectar and ginger liqueur in a large pitcher. Add sliced fruit and stir gently. Allow the sangria to sit in the refrigerator overnight (or at least a few hours).

Serve over ice with a little fruit in each glass. When the sangria is gone, enjoy all the yummy fruit! Enjoy!