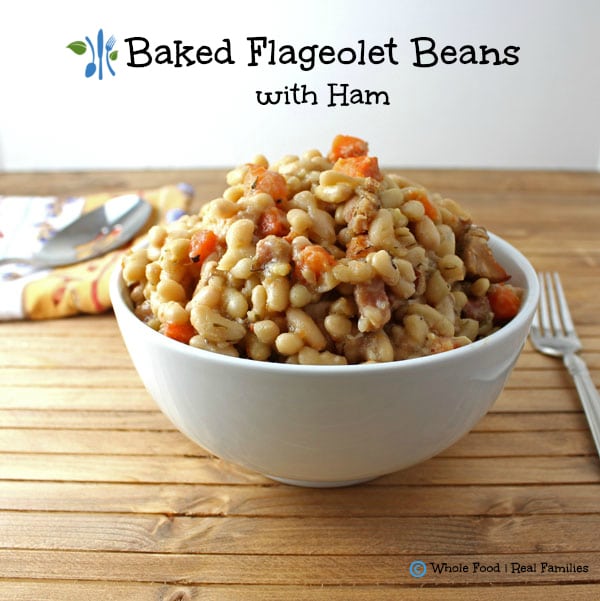 Flageolet Beans are used most often in French cooking. You can find them dried at most health food stores. I actually purchase mine from the bulk bins at Whole Foods. I am usually careful not to require persnickety ingredients on this website because we're all just home cooks trying to find a way to feed our families more nutritious food – but I do love these. I mostly blame Ina Garten because she made them look so good here. If you are not feeling my persnickety flageolets, feel free to substitute any tender white bean. Cannellini beans work well too.
Does anyone remember bean and bacon soup from their childhood? I do. I also remember that it came with a grilled cheese sandwich made with slices of white bread and a plastic wrapped single of american cheese. Needless to say we've moved on from some of the less healthy options in that meal. However this dish reminds me a little of that. It is not soup – but it has the savory warmth that I associated with soup as a child. It is a wonderful side to nearly any meal. But I really love to make it a meal by itself. So good.
This year, I saved my Christmas ham remnants in the freezer just so I could make these with Sauteed Kale for my family on New Year's Day. You know… beans and greens. Apparently it is a southern thing.
Double it and serve it tonight and freeze the rest for another meal.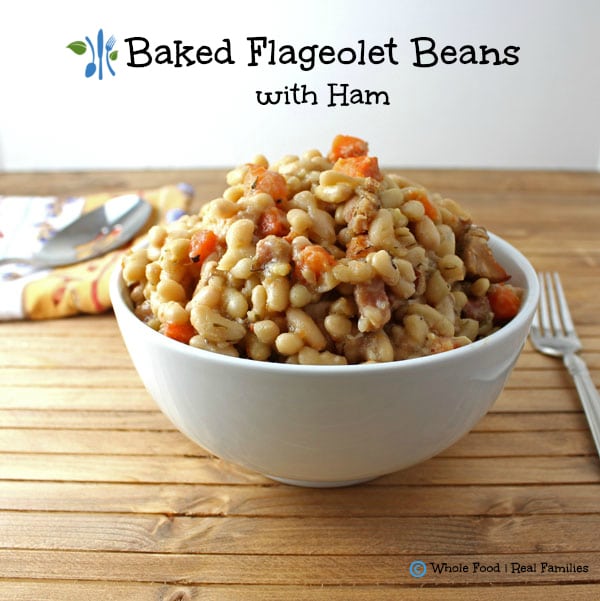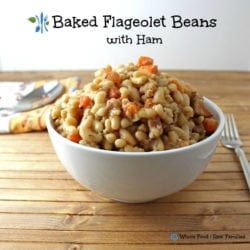 Baked Flageolet Beans with Ham
Course:
Appetizers & Sides
Ingredients
2

cups

flageolet beans, dried

cannellini beans make a good substitute

2-3

tbsp

olive oil

may need additional if your ham is very lean

1

cup

ham, diced

2

cups

onion, diced

3

medium-sized

carrots, diced

4

cloves

garlic, minced

4

cups

chicken or vegetable broth

2

bay leaves

2

tbsp

fresh thyme

or 1 tbsp dried thyme

2

cups

water

salt and pepper to taste
Instructions
Cover dried beans with water, cover bowl and refrigerate overnight. Water should be about an inch above the beans.

The next day, preheat the oven to 300 degrees. Drain and rinse the beans.

In a large ovenproof pot (I use my Dutch Oven), heat olive oil over medium heat. Add the diced ham, carrots and onions. Cook for 7-8 minutes, vegetables should be soft but not browned. Add garlic and saute for 1 minute. (Careful not to overcook the garlic.)

Add the beans, broth, bay leaves and thyme to the pot. Cover the and bake in the oven for 45 minutes.

Remove from the oven and uncover. Add in salt and pepper to taste. Raise the temperature to 350 degrees and cook an additional 45-60 minutes in the oven. If at any point the beans seem dry, add more water or broth - up to 2 cups - stir and allow them to continue cooking until tender.

Beans should be tender and there will be a small amount of liquid in the pan. Remove bay leaves and serve hot!