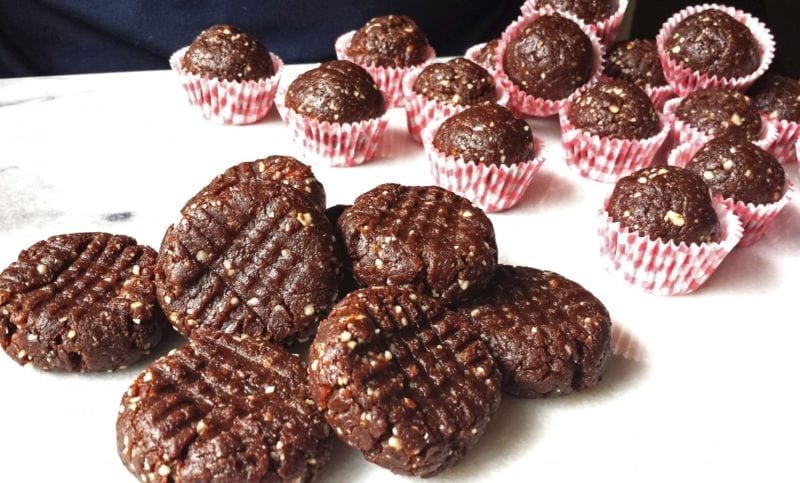 I love brownies. My kids love brownies. My uber-healthy husband even likes a brownie every once in a while. (He's weird, I know. Who only likes brownies every once in a while?!) But since they are terrible for us, we try to avoid them. But never let it be said that because we're a healthy-ish, bloggy-type family that we don't like junk food. We so do. In order not to eat it as often as we would really like to – daily, at every meal – we have developed a new food group. It is called faux-junk. (Named by my teenage daughter, of course.) These Brownie Bites fall into the faux-junk category. Made with real food, and little effort by mom. These are a go to snack when we just can't take it any more!
So Medjool dates are super good. I love me some Medjool dates. I had a friend in college that taught me to eat them with a little peanut butter smeared on them as a snack. Wow! So good. That being said, I don't really worry about the extra expense if I plan to mix them with a lot of extra stuff. I also don't worry about it if it is cheaper to buy the ones with the pits in rather than already pitted. It takes about 60 seconds to pit a pound of dates. (It actually takes me zero seconds, because my 3 year old like to help me cook and smooshing dates and pulling out the seed is totally fun for a 3 year old sous chef.)  So if you are date-picky, Medjool all the way. If you could care less, buy the cheaper ones. Just make sure they are not dried out.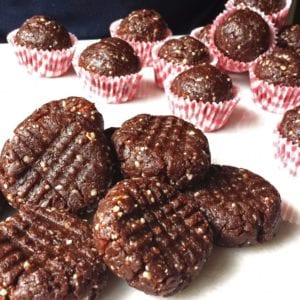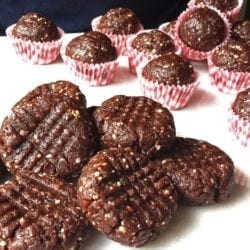 No Bake Brownie Bites
Course:
Dessert, Snacks & Treats
Ingredients
1 1/2

lb

dates, pitted

1/2

cup

walnuts, almonds or pecans

1/4

cup

single ingredient peanut or almond butter

if you have the type that includes nuts and salt, omit salt below

1/3

cup

unsweetened cocoa powder

1/2

tsp

kosher salt
Instructions
Add nuts to food processor and pulse until they are chopped well. Add all other ingredients and pulse until well combined. If the mixture is a little dry, add a teaspoon of water at a time, while the food processor is running until the mixture sticks together like dough.

Roll out dough into small balls with your hands. You can leave them in small balls, use a fork to make a criss-cross design (like cookies), or press them into a dish and cut them like bars. All should be stored in an airtight container.

Though you don't have to store them in the refrigerator, we prefer ours there. It helps keep their shape a little more than in a warm room.