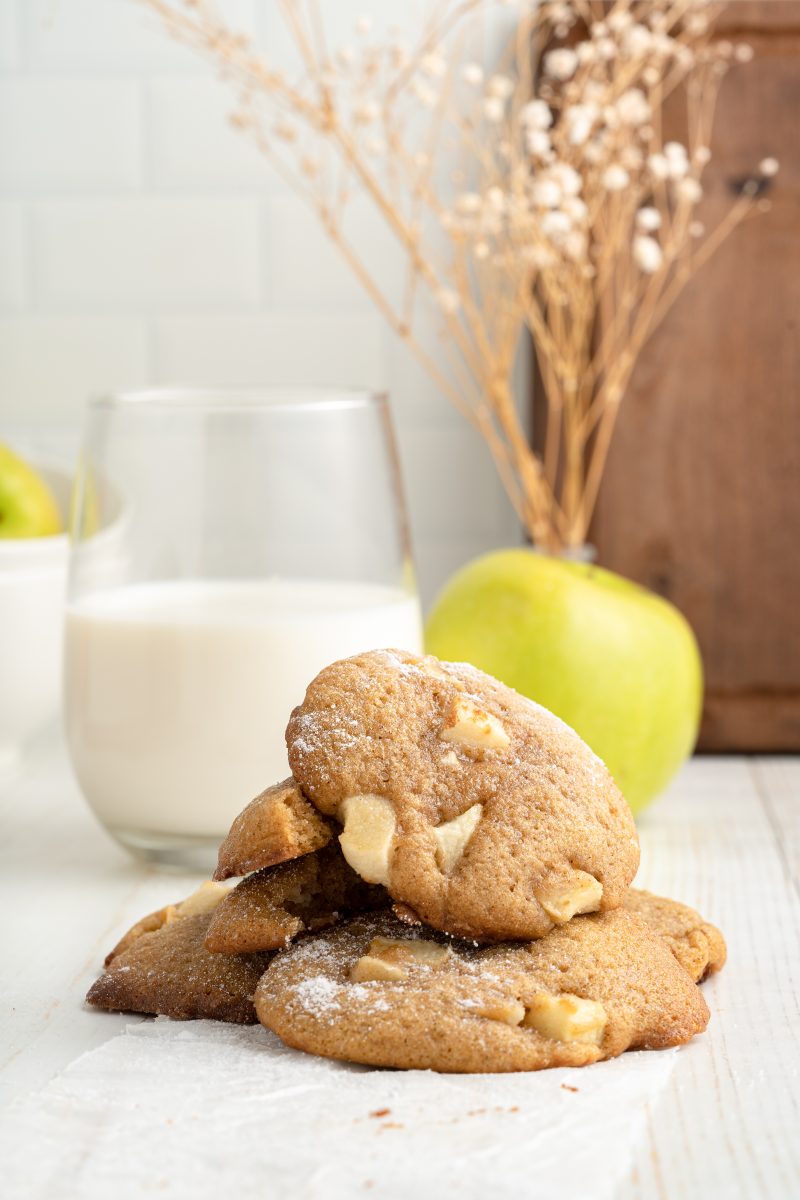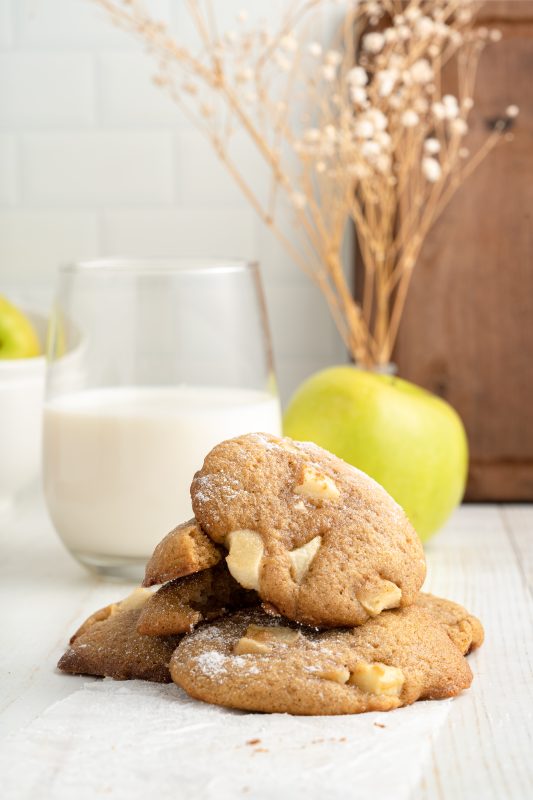 Packed with warm flavors, the apple, cinnamon, vanilla, and buttery goodness of these apple pie cookies tastes just like home! When the weather turns colder, this dessert will warm you up!
Apple Pie Cookies
In my opinion, warm and spice-filled fruit pie is one of the best parts of colder weather! In the past, I've happily devoted a whole morning to baking fruit pies. The process has become a tradition for me… until life got in the way, and I realized that this year, I don't have the time I need to make my favorite fall dessert.
Since there's no way I'm giving up on pie completely, I decided to improvise! This apple pie cookie recipe has all the flavors and even a lot of the textures in my favorite apple pie. Cinnamon, vanilla, and apple with a chewy center and buttery, crispy edges satisfies my pie needs in much less time.
A hot coffee is the perfect accompaniment to my apple pie cookies, but if you're enjoying these in warmer weather, definitely eat them with some Irish cream coffee ice pops. Brunch is also a great way to enjoy these cookies — try serving them up with lemon poppy seed pound cake.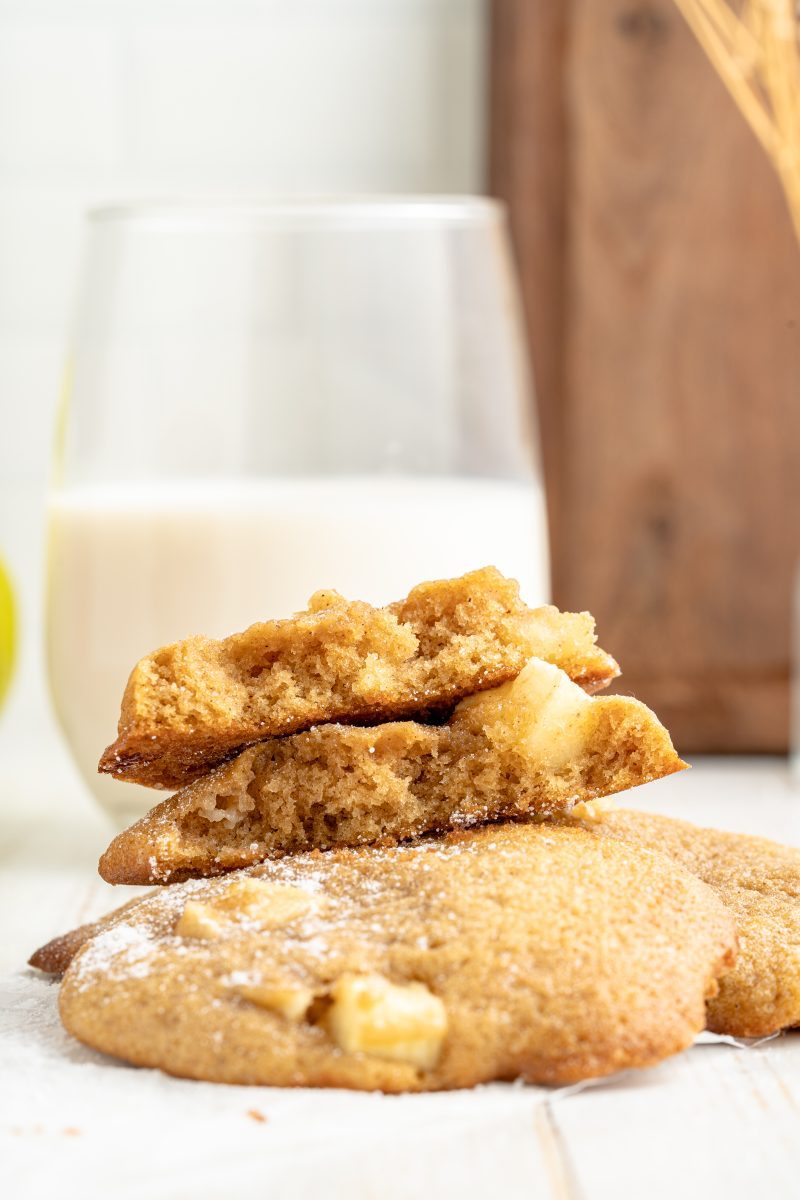 Why you will love apple pie cookies
Get all the taste of apple pie in a cookie: Apple pie is one of my favorites, but anything in cookie form is easier to pack, store, eat… and share! This treat is a great addition for the pie-lover in your life.
Easy to prepare: Don't let the apple in this recipe intimidate you! All you have to do is peel it and dice it. No pre-cooking, soaking, or slicing required. Once your eggs and butter have reached room temperature, everything can be mixed up in less than 10 minutes.
Chewy and crispy: Refrigerating the dough overnight will set you up for an amazing combination of textures when you're ready to bake. Chewy on the inside and crispy on the edges makes these treats irresistible!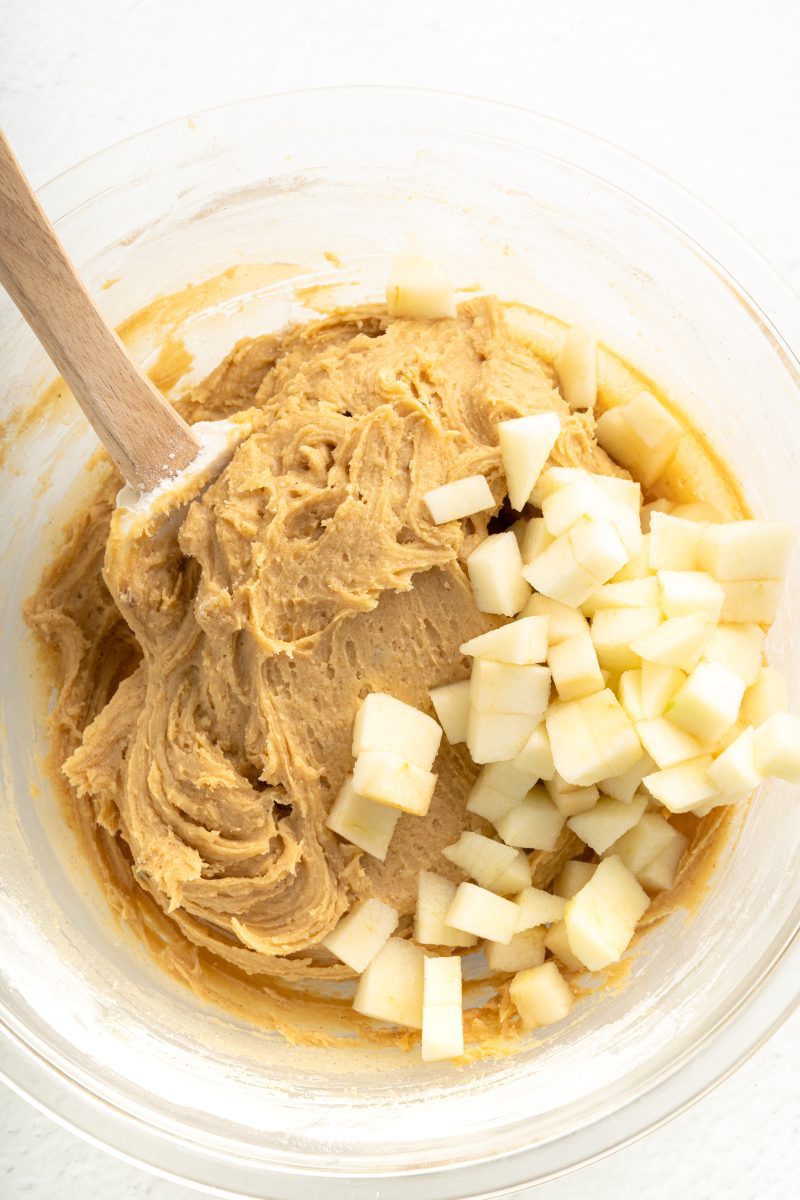 How to Make Perfect Apple Pie Cookies
Step One: Cream the butter with an electric mixer, then add brown sugar and white sugar. Take the time to mix this until it is smooth and creamy.
Step Two: Add room temperature eggs one at a time, mixing well after each one is added. Room temperature eggs are essential to ensure the butter mixture remains stable. Mix in vanilla.
Step Three: Mix flour, salt, baking soda, and cinnamon in a small, separate bowl. Slowly add this dry mixture to your wet mixture, using a spatula. A stiff batter should form once the dry ingredients are fully incorporated. Fold in apple pieces.
Step Four: Cover the mixing bowl with plastic wrap and refrigerate for at least 2 hours. Letting the dough chill overnight is ideal since this will also affect the flavors and texture of the finished product.
Step Five: Preheat the oven to 350F and line two baking sheets with parchment paper. Scoop a heaping tablespoon of dough onto the baking tray, leaving 2 inches between cookies. Use the bottom of a glass to gently flatten the top of the dough.
Step Six: For chewier cookies, bake for 13-14 minutes. For crispier cookies, bake for a couple minutes longer. Carefully watch the while these bake — the edges may become crispy while the center remains chewy. When removed from the oven, keep the cookies on a cooling rack.
Chef's Tip: Rotating your baking trays halfway through the baking time will result in consistent textures in all of your cookies!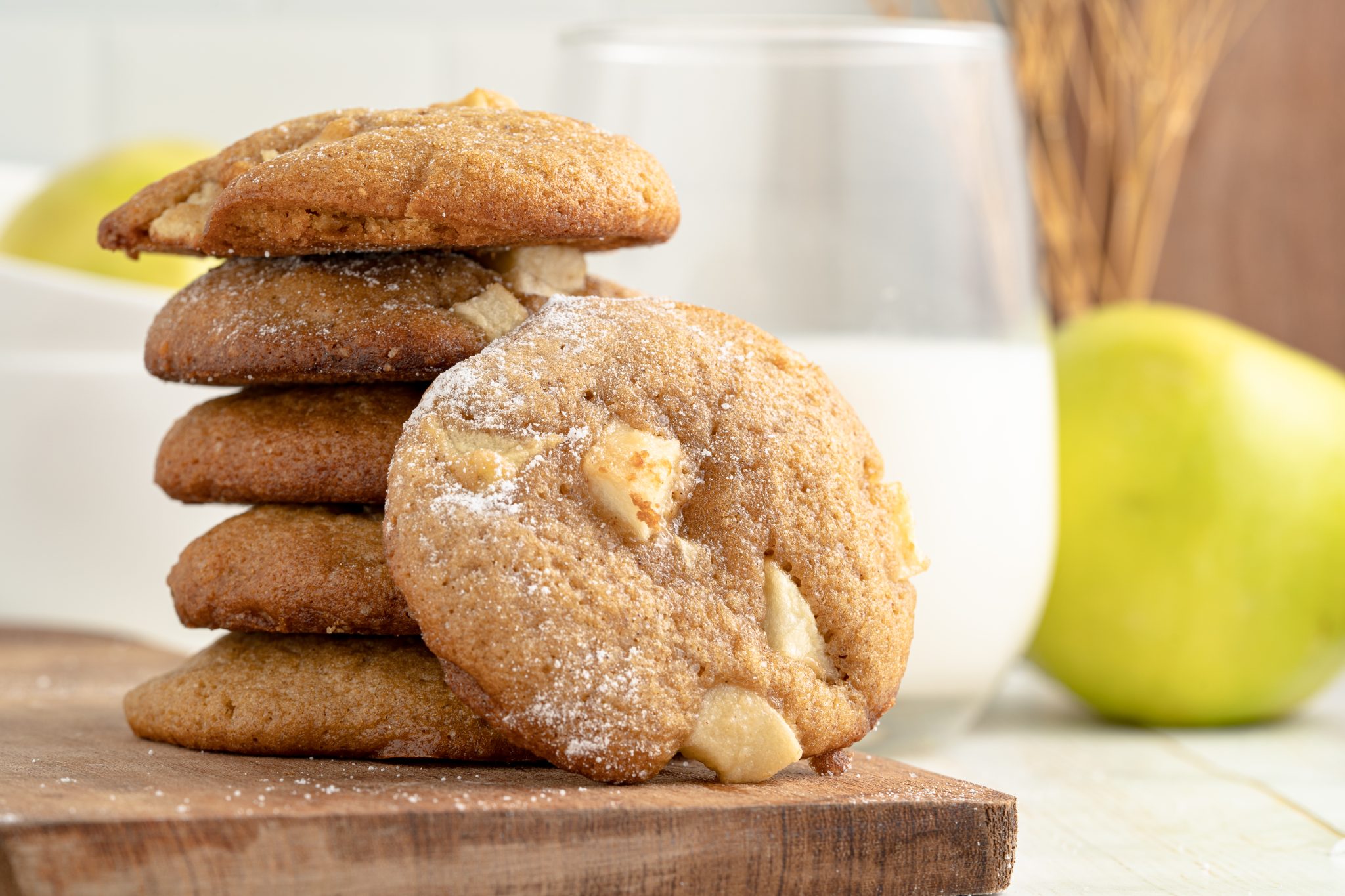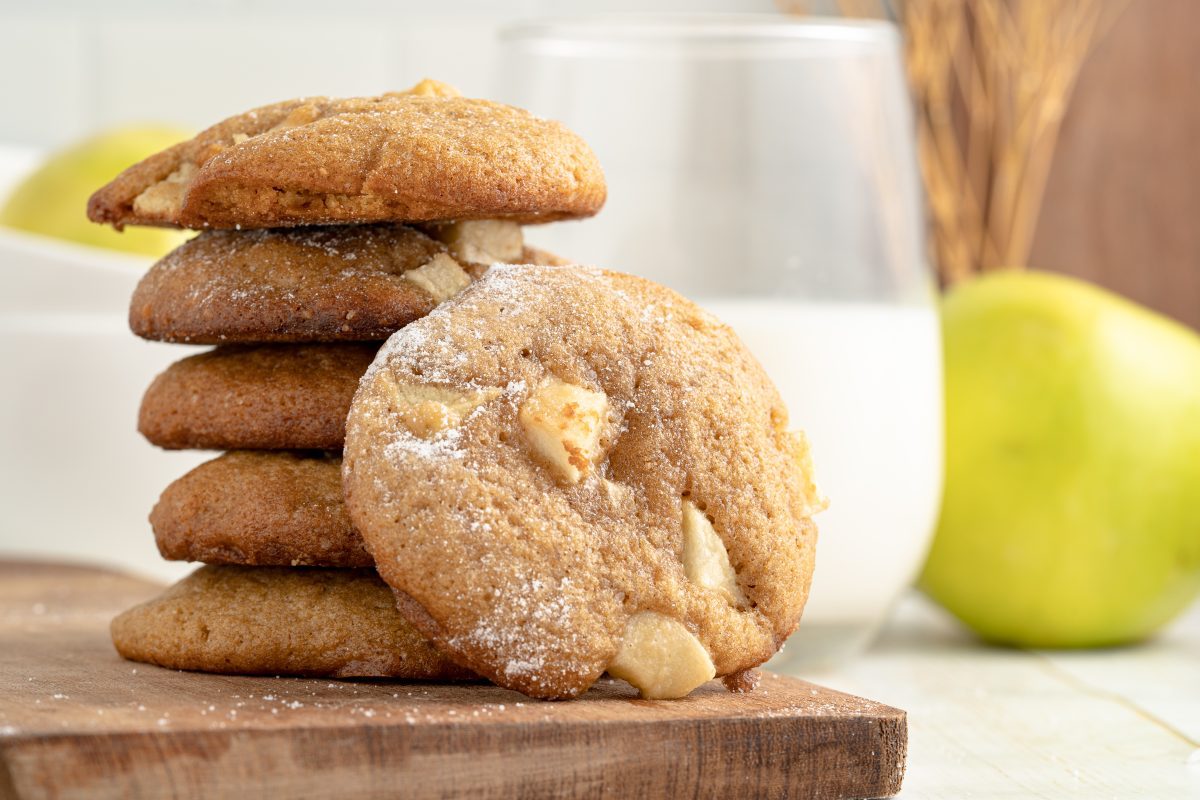 Frequently asked Questions about Apple Cookies
What Are The Best Apples For Cookies?
My apple pie cookies are delicious with a tart apple, like Granny Smith. Not only does the flavor of this particular apple work in this recipe, but Granny Smith apples also hold up really well in heat. Not all apples can say the same — oftentimes sweeter apples result in a watery or mushy texture when used in baking.
How Long Can Homemade Cookies Last Unrefrigerated?
Homemade baked goods can stay sealed on the counter for 3 days, but after that, certain ingredients may require refrigeration for a longer life. Because of the fruit in these apple cookies, I would recommend moving them into the fridge after 3 days on the counter. They can safely stay refrigerated for an additional 5-7 days.
How Can I Make My Cookies Better?
Molasses or ginger are great additions to this apple pie cookie recipe — try a tablespoon of molasses or a teaspoon of ground ginger, or both! The molasses will add a touch of color and some more sweetness to the batter, without significantly increasing the moisture of the dough. And ginger goes perfectly with the spicy flavor combination of cinnamon and apples.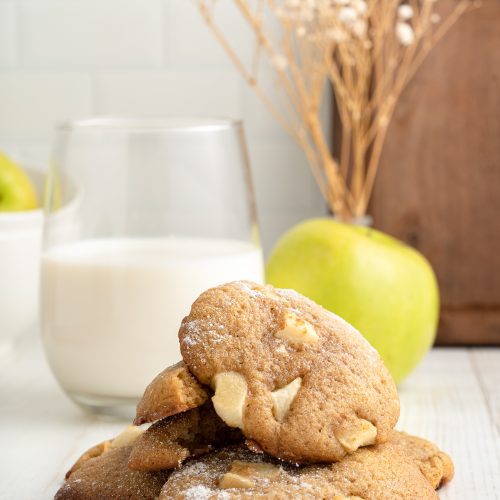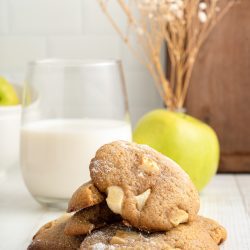 Apple Pie Cookies
Packed with warm flavors, the apple, cinnamon, vanilla, and buttery goodness of these apple pie cookies tastes just like home! When the weather turns colder, this dessert will warm you up!
Course:
Dessert, Snacks & Dessert, Snacks & Treats
Keyword:
Apple pie, Apple Pie Cookies, Cookies
Ingredients
2 1/2

cup

all purpose flour

1

tsp

salt

1

tsp

baking soda

3/4

cup

white sugar

1/2

cup

brown sugar

1

cup

butter

at room temperature

1 1/2

tsp

vanilla extract

1

tsp

ground cinnamon

2

medium

eggs

room temperature

1

large

tart apple

or 2 small ones, peeled and diced
Instructions
Use an electric mixer to cream the butter, add white and brown sugar, and mix until smooth and creamy. It is essential to achieve a soft cream before following the next step.

Add both eggs, one at a time, mixing very well after each addition. Eggs should be at room temperature; otherwise, they will break the butter emulsion, resulting in crispy and hard cookies. Next, add vanilla extract and mix to combine.

Mix the dry ingredients (flour, salt, baking soda, and ground cinnamon) in a different bowl. Then add them to the creamy batter. Use a spatula to combine; the result should be a stiff batter. Finally, fold in diced apple and mix.

Cover the bowl in film paper and let it chill in the fridge for at least 2 hours. The chilling process is key to the flavor and chewiness of the cookies. If possible, refrigerate it overnight.

Before baking the cookies, preheat the oven to 350F and prepare at least two baking trays with baking paper. Scoop cookie batter into the prepared baking tray, leaving 2 inches between them. Lightly flatten the top with the bottom of a glass.

Bake the cookies for 13 to 16 minutes or until the edges are set and lightly golden. More cooking time will result in crispy cookies, less cooking time more chewy cookies. For example, I baked them for 16 minutes, rotating the trays to get even baking in every cookie, and the result was chewy cookies in the center while crispy in the edges.

After baking, let the cookies cool on a cooling rack. They will slightly harden when cool.
Recipe Notes
Who can say no to buttery-chewy cookies? This time we´ve baked these apple-fallish-flavored cookies, which are way too good.
Taste-wise, they're sweet, packed with a good amount of diced apples (you'll get one piece in every bite!), and flavored with cinnamon and vanilla extract.
Texture-wise they're chewy, with a soft center and a slightly crispy base.
Tips
If you can make this cookie batter in advance to chill it overnight, you won't regret it. Refrigerating the cookie batter allows the flour to hydrate and absorb all the butter and ground ginger flavors.
Nutrition Facts
Apple Pie Cookies
Amount Per Serving
Calories 155
Calories from Fat 72
% Daily Value*
Fat 8g12%
Cholesterol 31mg10%
Sodium 194mg8%
Potassium 35mg1%
Carbohydrates 20g7%
Protein 2g4%
Vitamin A 242IU5%
Vitamin C 0.4mg0%
Calcium 11mg1%
Iron 1mg6%
* Percent Daily Values are based on a 2000 calorie diet.