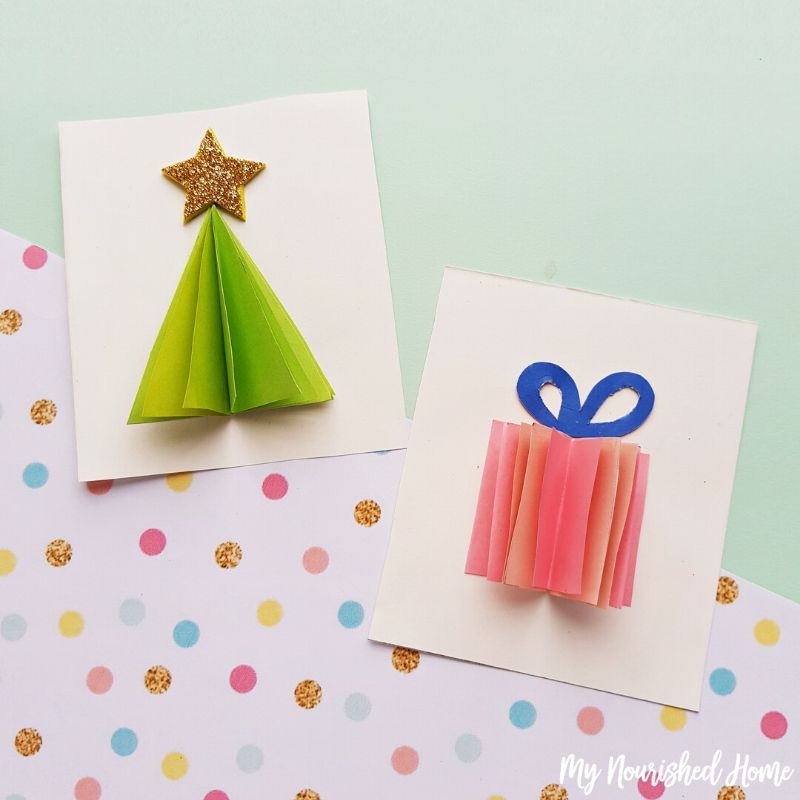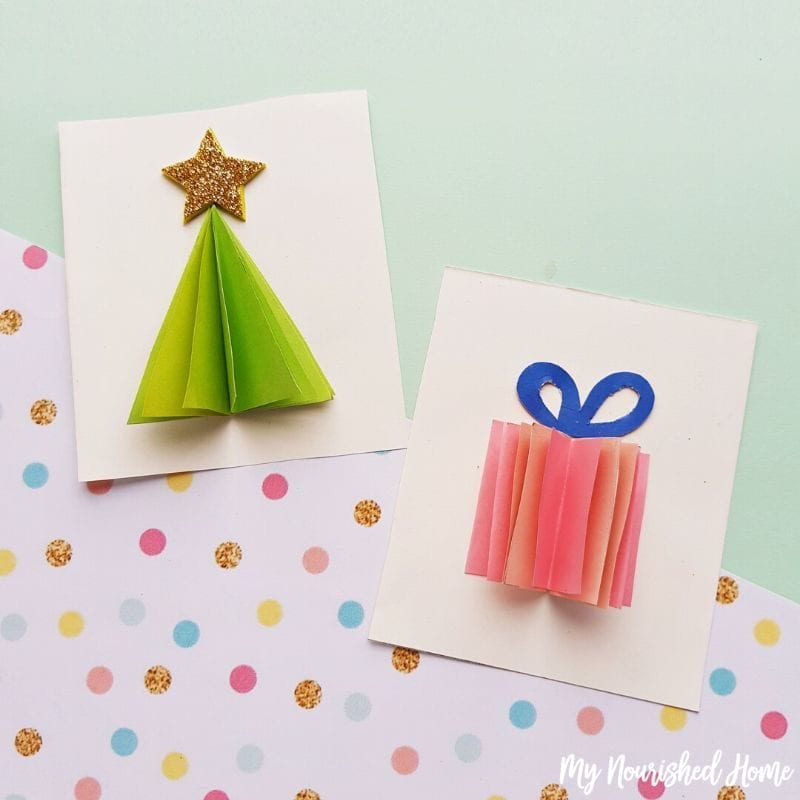 Make these 3D Christmas Cards this year for your friends and family. They are polished and elegant to give but simple enough to enjoy making with kids and grandkids.
Did you ever make pop-up greeting cards in school? I remember making basic pop-up cards using construction paper when I was in elementary school. This 3D Christmas card craft reminded me of that experience and I am excited to share it with you.
Looking for more fun homemade Christmas cards? Check out these beginner Quilled Christmas Cards.
3D Christmas Cards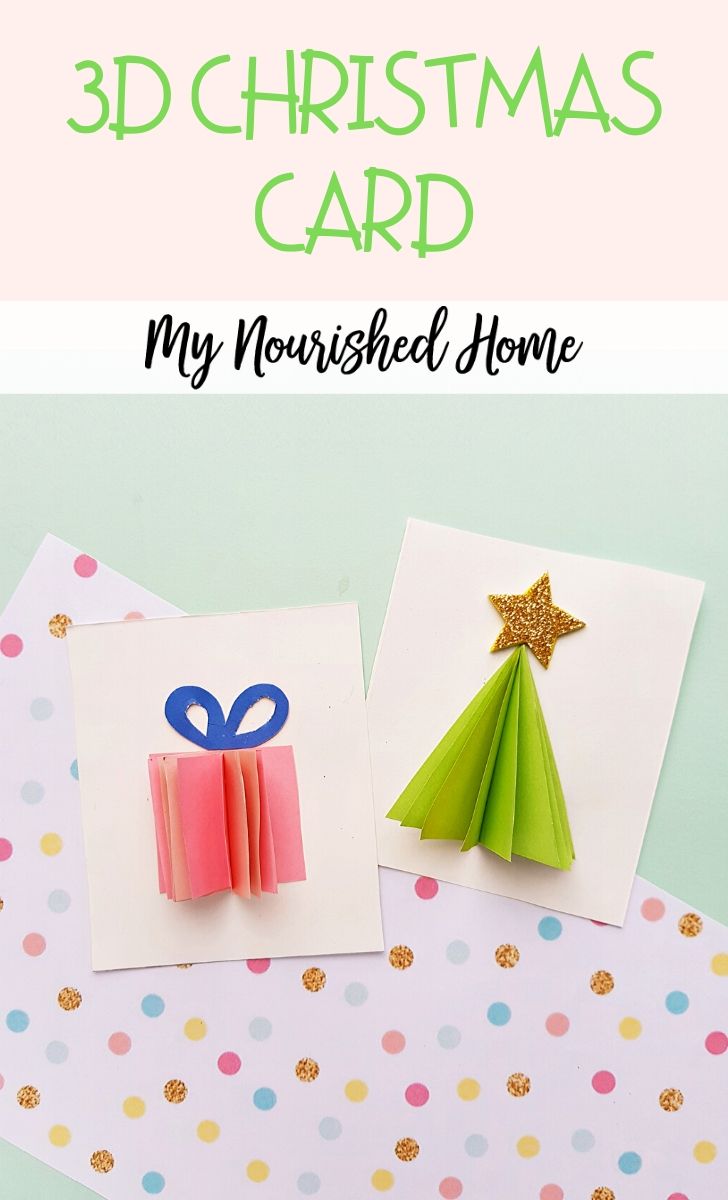 How do you make 3-dimensional greeting cards?
It's relatively easy to make these 3D greeting cards. This fun Christmas craft requires minimal supplies and this free shape template and you will be on your way to homemade Christmas cards. Gather your craft paper, cut out your template, and follow the photo tutorial and written instructions below.
The free template provides you with a means to make a variety of pop up card designs. The template features one triangle, one square, and 2 teardrop shapes. You could easily use these shapes to make an angel pop up card if you desire.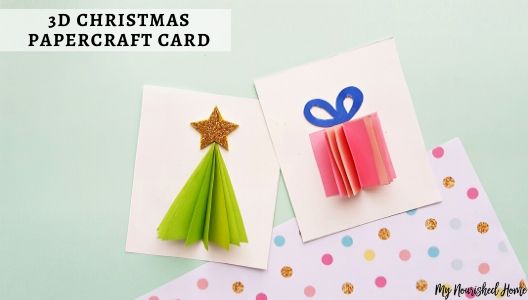 Christmas Card Messages
Don't forget to include a holiday message to complete your Christmas card. If you need some inspiration, here are some ideas:
Merry Christmas and Happy New Year!
May all your wishes come true.
Have a holly, jolly Christmas!
Seasons greetings.
Wishing you everything good this holiday season.
We love you very much.
May you enjoy every moment with family this holiday season!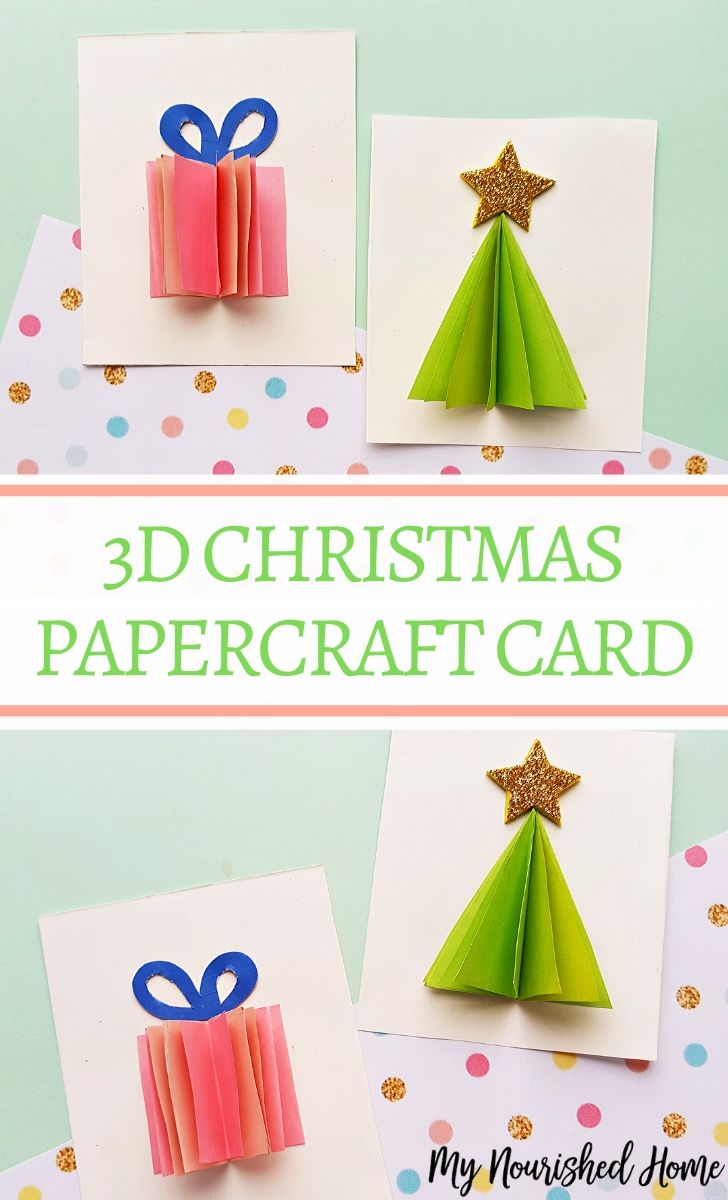 This colorful papercraft for kids and adults can be used to give Christmas cards to family and friends. Your loved ones will be inspired and amazed at the gorgeous designs that you can make with these 3D Christmas cards!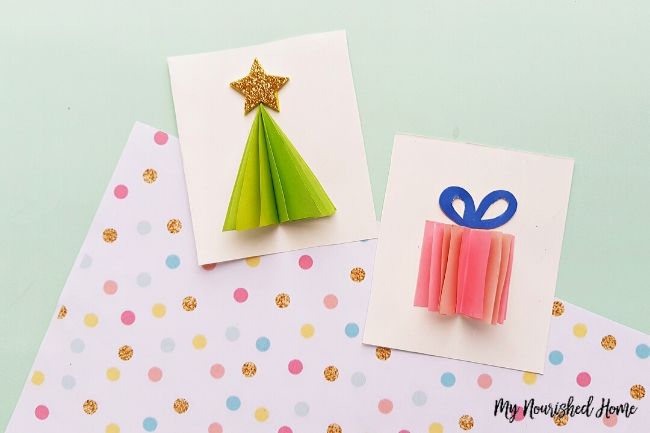 If you're ready to try your hand at this papercraft for kids and adults, then continue reading below for a step by step tutorial as well as a supply list for what you need to make your own 3D Christmas cards this holiday season.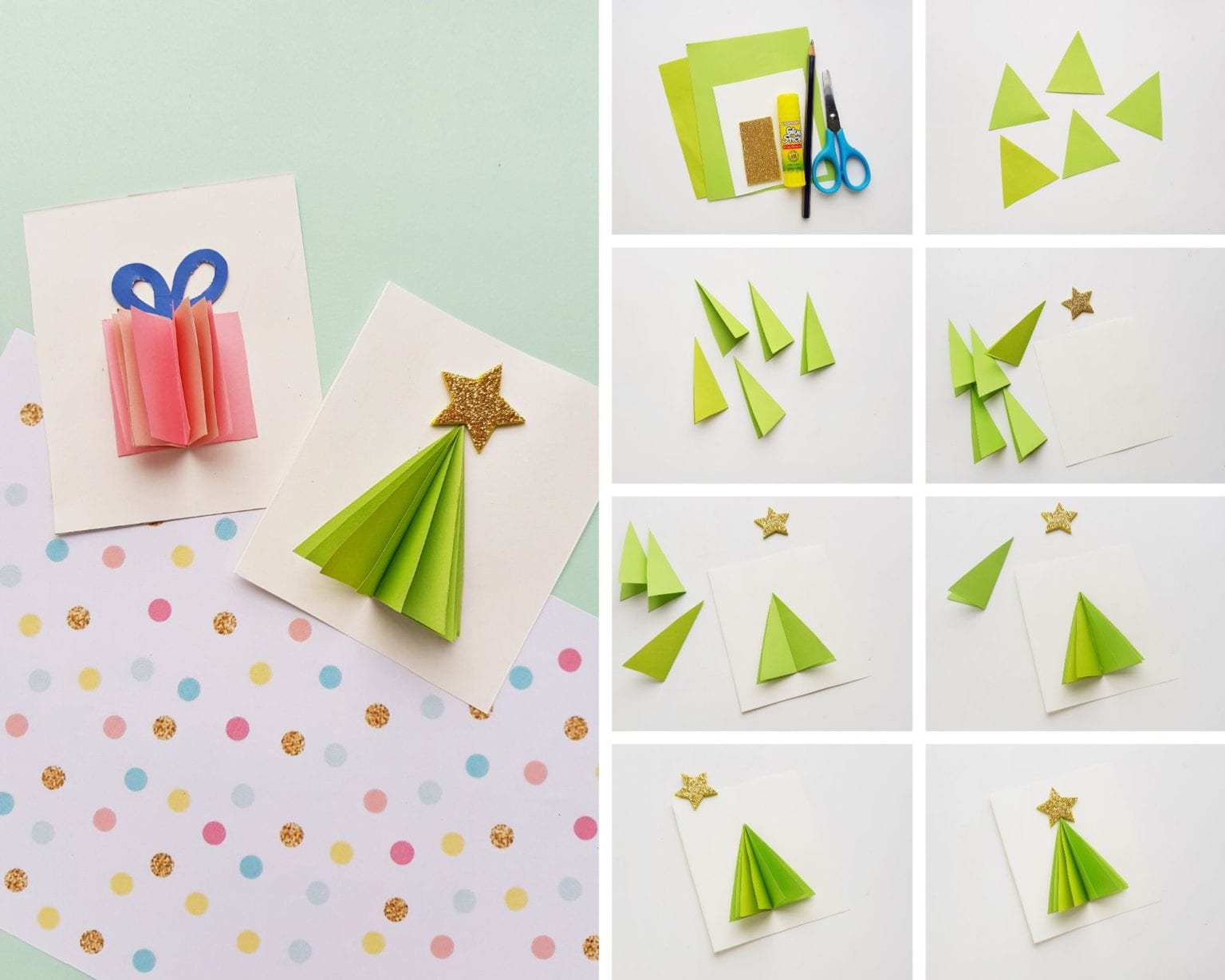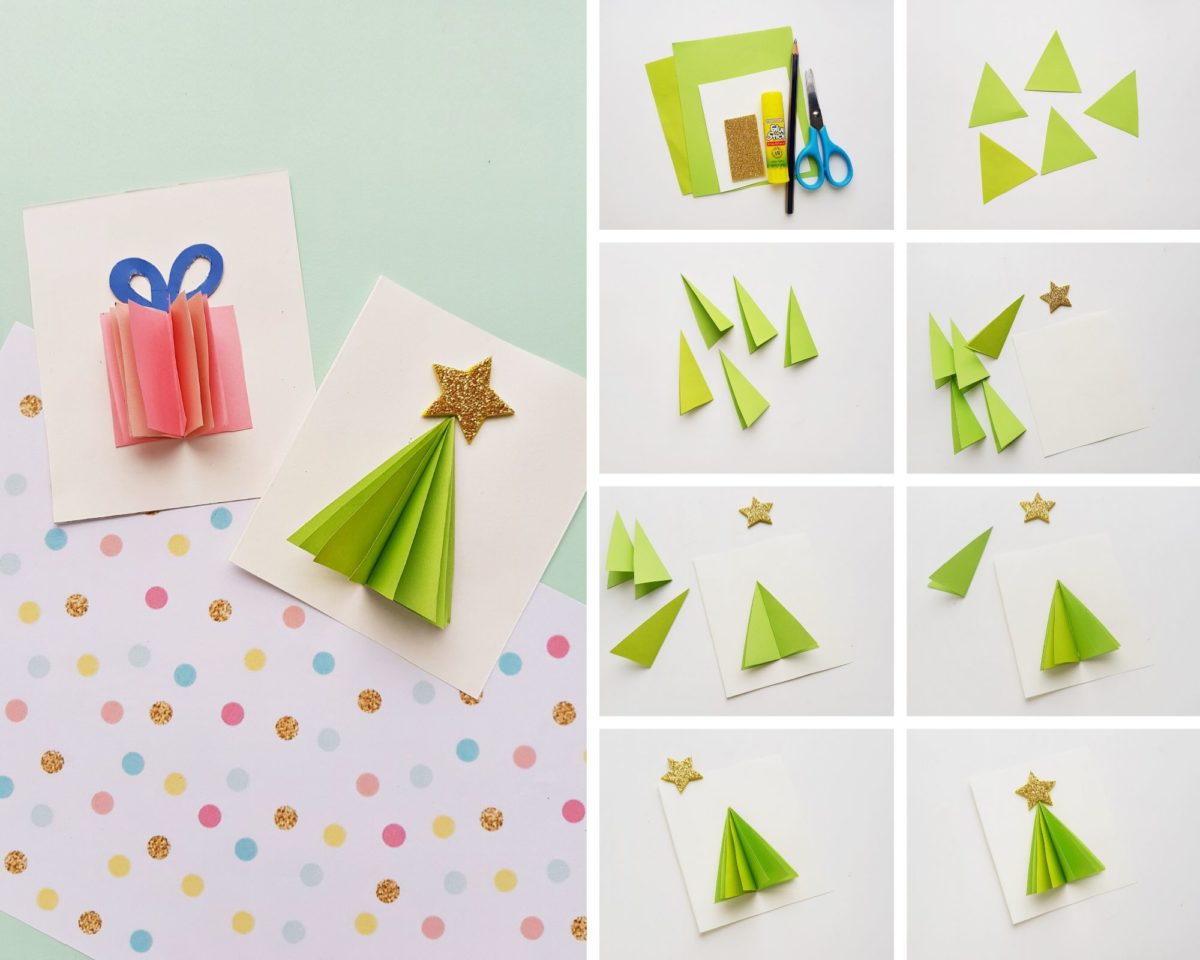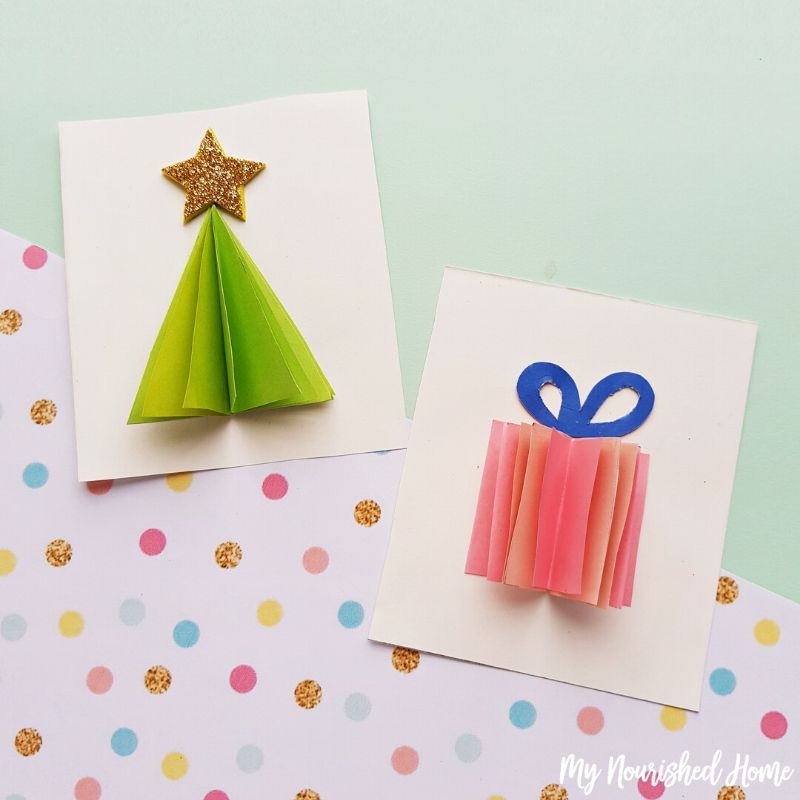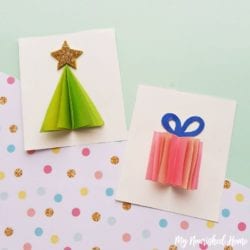 3-Dimensional Christmas Card Papercraft
This 3D card is so much easier than it looks but will make everyone so excited to make and receive.
Ingredients
Colored craft papers

Glitter craft sheet

Pencil

Scissors

Craft glue
Instructions
Select colored craft papers for this craft. The template includes triangle, square, circle and 2 different sizes of teardrop shapes. We'll be using the triangle shape to make the 3d Christmas tree; the square shape is for making the gift box; the circle shape is for making the ornament and the teardrop shapes are for making the 3d angel. You can select any shape you want. Let's get started with the triangle shape. Use a pencil to trace the triangle shape on a green colored craft paper and cut out the traced shapes using scissors. I'm using 5 pieces of triangle cutouts to make the 3d Christmas tree.

Grab a triangle paper cutout and fold the triangle into half vertically. Similarly, fold the rest of the triangle paper cutouts.

Trace a small 5 point star pattern on a glitter craft sheet and cut it out nicely. Also, prepare a piece of white or cream paper for the card. The size of the card should be enough to fit the 3d craft on it.

Grab 2 folded triangles and attach them on the card side by side, by keeping their closed (straight side) adjacent to each other. Try to place the triangles on the middle of the card.

Take another folded triangle and apply glue along the closed end. Place the glued side along the middle line of the previously attached folded triangles.

Continue to attach the rest of the folded triangles similarly.

Once you are satisfied with the amount of folded triangles and the 3d paper Christmas tree pattern, you can stop adding folded triangles to the card. Attach the star cutout on the top end of the 3d tree. And done!

Similarly, create the other 3d paper patterns.