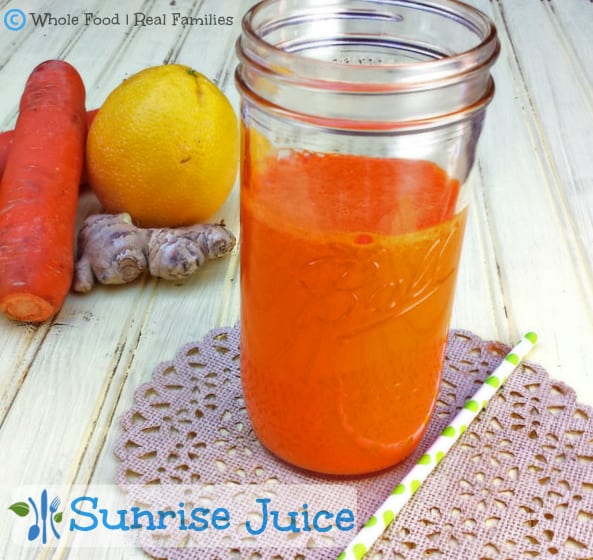 Dust off that juicer you just had to have for Christmas last year! Sunrise Juice is my favorite juice recipe of all. Because it is the happiest color in the world and looks like morning. And because I am currently getting a cold and am hoping the extra nutritional kick from oranges, carrots, ginger and limes will help fight off the rattling currently making its home in my lungs. Boo germs.
My husband and I used to juice constantly. We burned through our first (cheap) juicer and had to buy a second one. But juicing is (a) expensive and (b) time consuming. And perhaps not so relevant to you, Jeff gets up around 5am – so every time he flipped on the very loud (cheap) juicer that early, I worried that our 3 daughters might stage a coup. Eventually, we succumbed to juicing occasionally and during normal business hours.
I do love the idea of extra nutrition in a glass – and I loved the way juicing makes me feel. I have never been a fan of juice fasting because… well, I  like to eat. But I don't know anyone who actually eats so many fruits and veggies in a day that they should turn down a glass of extra goodness. But this is the one juice that I will always get out of bed for – normally that requires coffee. It is delicious and beautiful. And makes me think of peaceful mornings – which are never at my house because then my kids wake up.
Note: I love me some ginger. Feel free to turn up the kick with more ginger or turn in down with less!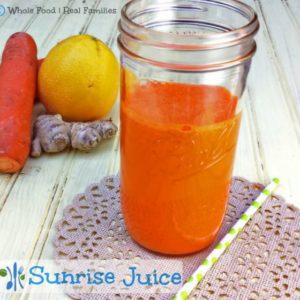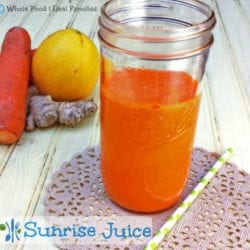 Sunrise Juice - Oranges, Carrots, Ginger, Lime
Use more or less ginger to taste! Serving sizes are based on greedy people like me.
Course:
Smoothies & Drinks
Ingredients
4

oranges

6

carrots

1

finger

ginger

2

limes

lemons are good too!
Instructions
Wash all of your produce. Remember that if you are not using organic produce, you need to peel it! Shove it all in your juicer and drink up!