Curious about how to care for air plants? Do they actually live on air?
The short answer is no, they do not live on air. Like other plants, they need sunlight, food, and water. But they have no roots, so they live free in the air, as opposed to being rooted in the ground <— see what I did there. 😊
Air plants are so much fun to play with! They can thrive indoors, easy to move around from place to place, and require very little care for the life they give any room.
I love having live plants around my house. Green things seem to relieve the cloistered feeling that sometimes invades since I both live and work at home. (Cloistered… that is my nice way of saying I'm a hermit.)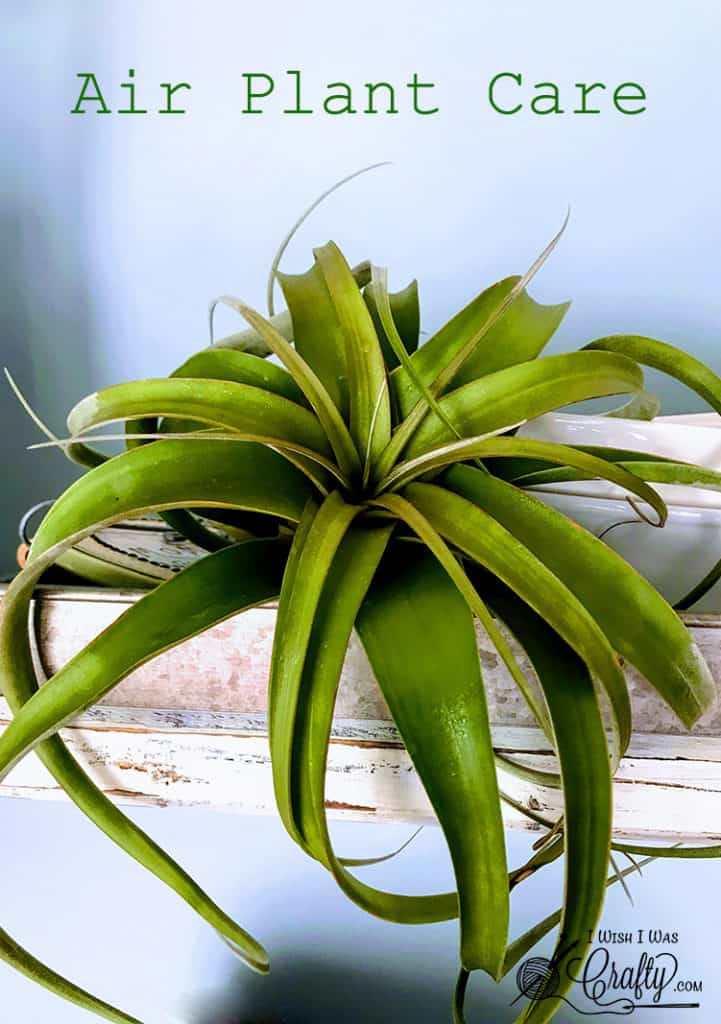 But having lots of living things around also creates a few restrictions. Like vacations… how many days can my plants go without being watered before they die?? And when things are crazy busy, something has to give. And my kids (and pets!) take precedence over the plants! (Who knew?!) This is the foundation of my love for air plants and succulents.
I love to garden for the same reason I love to crochet. Busy hands make for a calm mind. It is hard to worry about things I can't control when I am busy using my hands.
Air Plants are an amazing gardening project for anyone who really loves plants, wants to love plants but tends to kill them by ignoring them, or someone who wants to introduce gardening to their kids. (Check out this air plants for kids article I wrote for KidsActivities.com)
(The links in this article are Amazon affiliate links from a source I have used personally with fabulous results. If you buy through these links, you don't pay any more but we make a little money so we can keep publishing awesome free content!)
Simple Care for Air Plants
The first rule of air plant care is that like other plants, even air plants need food, water, and sunlight. But air plants have no roots, so they need no soil.
If you order your air plants online, at a source like Amazon, make sure and open the box as soon as you get them, they will have been without water and sunlight for a few days.
If you purchase your air plants at a nursery, they will likely have been cared for but you will want to feel if the leaves are brittle and dry.
Every 2 weeks or so, you will want to give your air plants a good soak in a water bath. I just do this in my kitchen sink. Make sure you wash any chemicals out of your sink if you have scrubbed the sink recently. And fill the sink with tepid water. Drop in your plants and leave them in the water for 20-30 minutes.
When you take the plants out of the water, you'll want to give them a gentle, upside down shake so that no water is left sitting in the leaves. Then leave them somewhere they will dry within about 4 hours. I just set them on a kitchen towel in front of a window.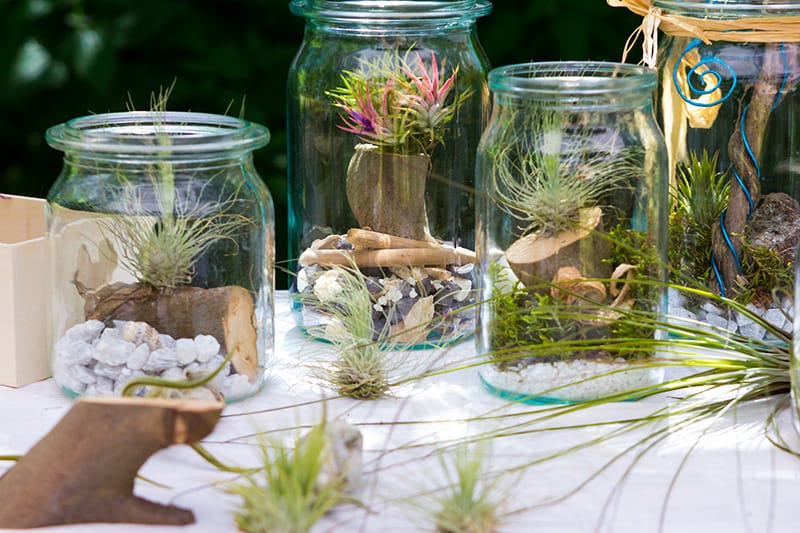 The 4-Hour Rule for Air Plants
I learned the hard way (like many other things in my life) why this 4-hour rule is important. I was in a rush to leave for an extended weekend and didn't dry my favorite air plant properly. I thought I shook all the water off the plant before I put it back on the shelf… I did not. So while I was away, the excess water drained into the bottom of the plant (remember, no roots!) and rotted the base. ☹
Your plants will need watering a couple of times a week, with the frequency depending on your climate. But you can do in between waterings by just spritzing them with a spray bottle. You will be able to tell when they need water by feeling their leaves. When they feel dry and begin to feel more brittle, you'll need to spray them.
Don't love them to death. Just a little spritz and move along. 😊
Air Plant Terrarium
From there you can use them to create cute centerpieces or add greenery to places that other plants will not thrive. Air plants do need light. But diffused light from a window or overhead fluorescent lights work just fine. Direct sunlight is fine for a few hours but it will dry them out more quickly.
Do not put air plants in a closed terrarium. Too much moisture will make them rot. But you can add them to open terrariums or jars. The humidity in the jar will keep them moist without cutting off the air circulations around them.
Air plants also need food. The simplest way to do that is to spritz them with a liquid air plant fertilizer once a month.
Air Plant Care Schedule
So that I don't forget my plants care, I keep them on a simple calendar schedule.
Soak your air plants on the 1st of every month and spritz them with liquid fertilizer after they dry. Make sure to sit them where they will dry within 4 hours!
Soak them again on the 15th of the month. Sit to dry within 4 hours.
Spray them with a water bottle a few times a week as needed.
Once they are dry, just drop them back into their places in your home!
​