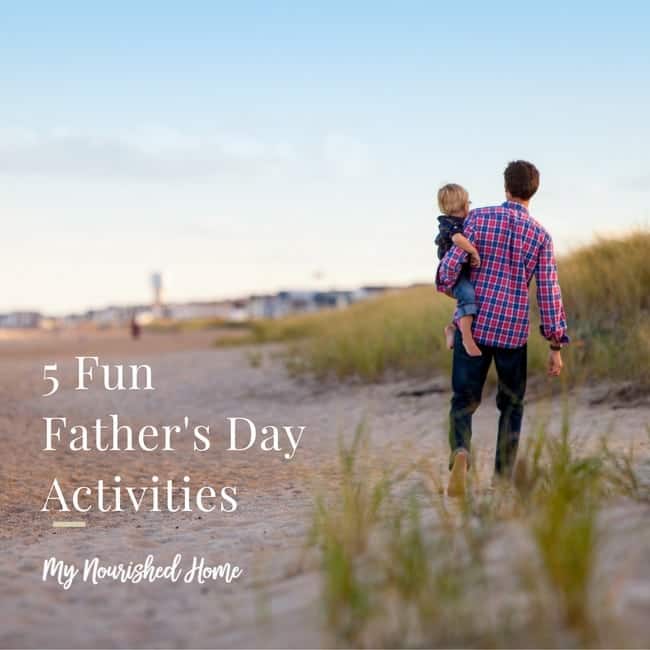 I love helping our kids celebrate their dad for Father's Day! They're always excited about what to get him and how we can make him feel special.
In fact, they're often so excited that we start planning things right after Mother's Day. While there's a lot of things that can be done, the ideas below are the Fun Father's Day Activities that we've tried over the years that he's loved the most.
In addition to putting the kids in charge of planning a fun day for their dad, we also make him homemade Father's Day cards each year. Both this Rocket Father's Day Card and this Homemade Father's Day Card have been big hits at our house!
Fun Father's Day Activities the Kids Can Help Plan!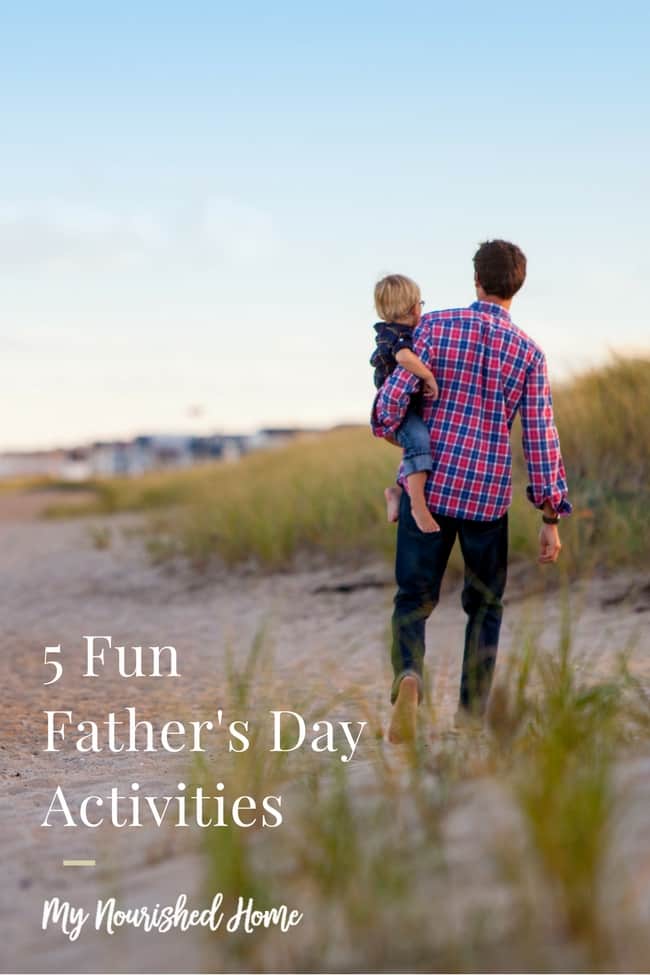 Breakfast al Fresco
We've tried breakfast in bed, but it hasn't quite gone over the way we hoped. Well, the juice has gone all over the bed and the coffee has certainly splashed onto the duvet, but that's not the kind of thing one hopes for when starting a day of celebration. So, we now dine outside on the patio. It's a great way to start the day and much less messy. The girls set the table and take turns carrying plates and cups out to their dad. He likes it because he gets a little spoiled and gets to eat without worrying about wearing his food. We also love to play games as a family – so a lazy breakfast followed by fun together is the perfect formula for Father's Day. If you are looking for games for your family to try, you will love this list.
Baseball Game (Who am I kidding?! Any kind of sports will do!)
If your husband loves baseball, check to see if there's a major or minor league game happening on Father's Day. If there is, surprise him with tickets for the whole family. We've often found that there's usually a special giveaway or fireworks on Father's Day too. It's a great way to spend Father's Day together watching a sport that dad loves! (By the way, we even love going to the local high school games! Be creative!)
Head for the Water
My husband loves the water, so spending Father's Day by the lake or the beach has become a family tradition. We are lucky enough to be 45 minutes away from several beaches. So packing a cooler and heading to the beach is a great day trip for us. Depending on where you live, there might even be fireworks and special Father's Day activities planned. Even without a lot of fanfare, it's always a fun, relaxing Father's Day.
Even if we didn't live near a beach, we all love hanging at the pool and a BBQ by the community pool is heaven for the dad in our family.
Backyard Golf Course
If your husband is a golfer, this activity is a must-do! We take golf tees and put them through the sides of plastic cups to anchor them to the ground. Then the kids make flags to number the "holes" in our backyard mini-golf course. Sometimes, we make the course a bit more challenging by strategically placing lawn ornaments from the dollar store near the cups. The rules usually go out the window in a matter of minutes but it's always a lot of fun!
Scavenger Hunt
One year we did a "Dad's Favorite Things Scavenger Hunt". We created clue cards to five of his favorite places around town and hopped in the car to see if he could figure out where we should go. There was a stop at his favorite lunch place, a clue for the bookstore that he frequents, a stop for ice cream, a clue card for a walk on our favorite trail, and a clue that took us back home again, so that the girls and I could make him a barbecue dinner feast. Honestly, I'm not sure who had more fun when we did it, but it's a Father's Day that we still talk about!
Father's Day doesn't have to be about ugly ties and electronics – as a matter of fact, it doesn't have to be about stuff at all. It can be full of Fun Father's Day Activities that make memories with the most important man in your children's lives.
So, go have fun! Celebrate your husband, their dad, in ways that build memories and show him how much he means to you all.