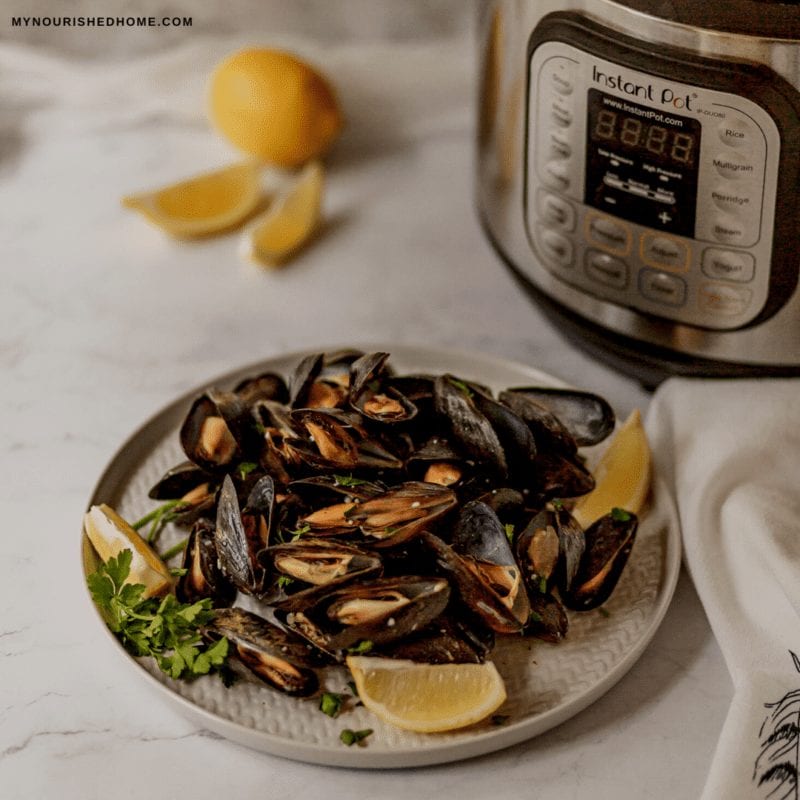 This easy mussels recipe is so simple to make, especially since it utilizes your instant pot to seal in tons of flavor.
Nothing has made me appreciate fresh seafood more than living near the coast. Fresh mussels are the most succulent, decadent, tasty things in the world. For the longest time, I only ate them in restaurants, not really knowing how simple they are to make.
My Favorite Mussels Recipe uses the Instant Pot
I had a friend share with me how simple they were to make using an instant pot and I haven't looked back since. It is literally a set it and forget it type of recipe. It also changed how I thought about mussels for dinner.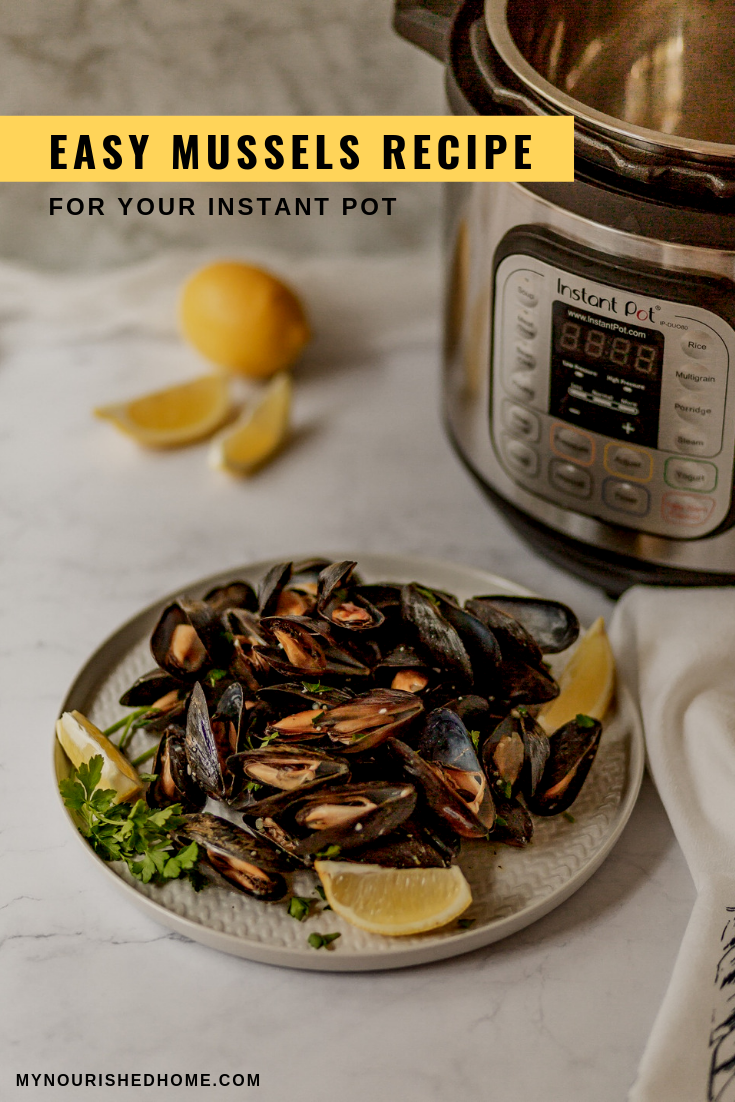 When I was a young professional traveling for work, mussels were something I ordered in restaurants occasionally because I loved them so much! They were… for lack of a better word… fancy. Elite. Expensive.
Mussels are a casual dinner with friends
Until I connected with a friend in New York on a work trip and we wanted somewhere local and low-key to catch up and talk. We drove out to the edge of the city and went to one of her favorite local dives. They serves mussels and French fries to every customer that walked in the door. Pommel Frites to be exact – long skinny fries that were fried crisp.
Since then, it has been mussels and fries have been one of my favorite meals. This mussels recipe is the perfect, low-key, easy-going dinner you want to serve for your family and your friends. The sauce is so simple and flavorful, you will be so excited to dip your crunchy fries in it!

When are mussels in season
Fresh mussels are generally in season from October to March. Though there are many varieties that are harvested in different places that don't necessarily follow that rule. Just make sure if you are eating off season, you know where your muscles are coming from.
You can even find mussels in your refrigerator or freezer section if you have a good fish department in your grocery store. Or find your local fish market and ask which mussels are in best at that time.

How to select mussels
I always make sure that my mussels are washed and beards removed when I buy them. I am lucky to have a great fish market that takes care of those things when I ask! You can spot a dead
mussel
if they are cracked and don't close their shells when you tap them. Those shouldn't be eaten. I usually check while picking them out at the market so I don't pay for mussels I don't eat.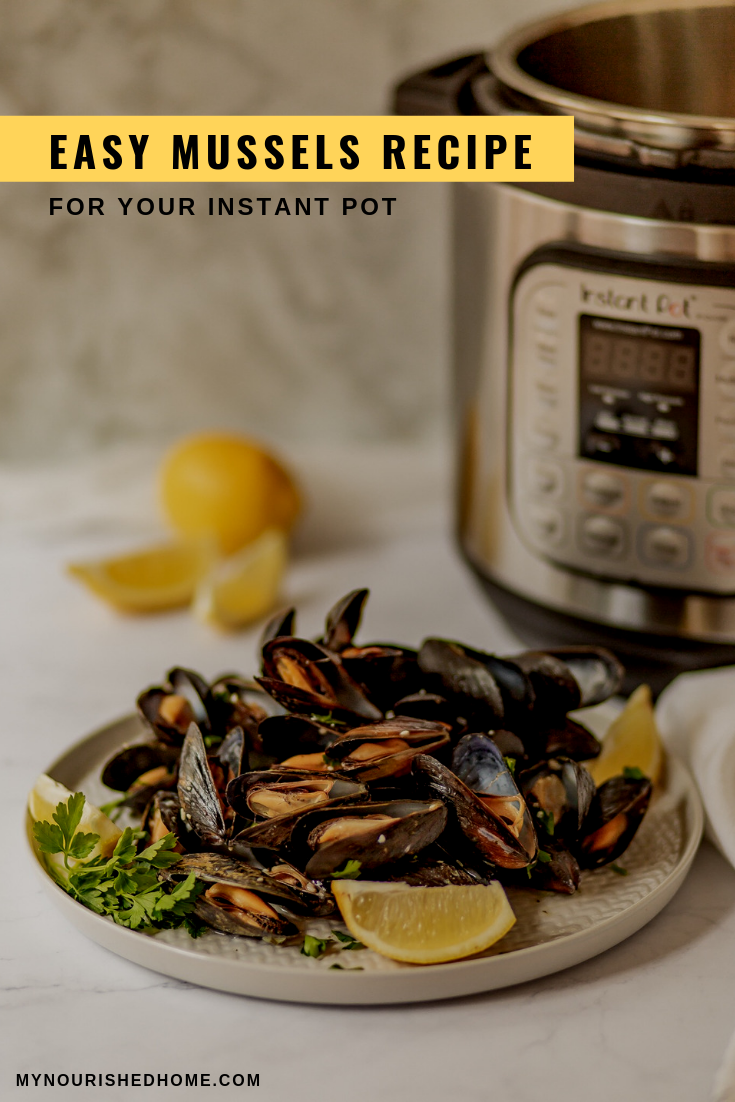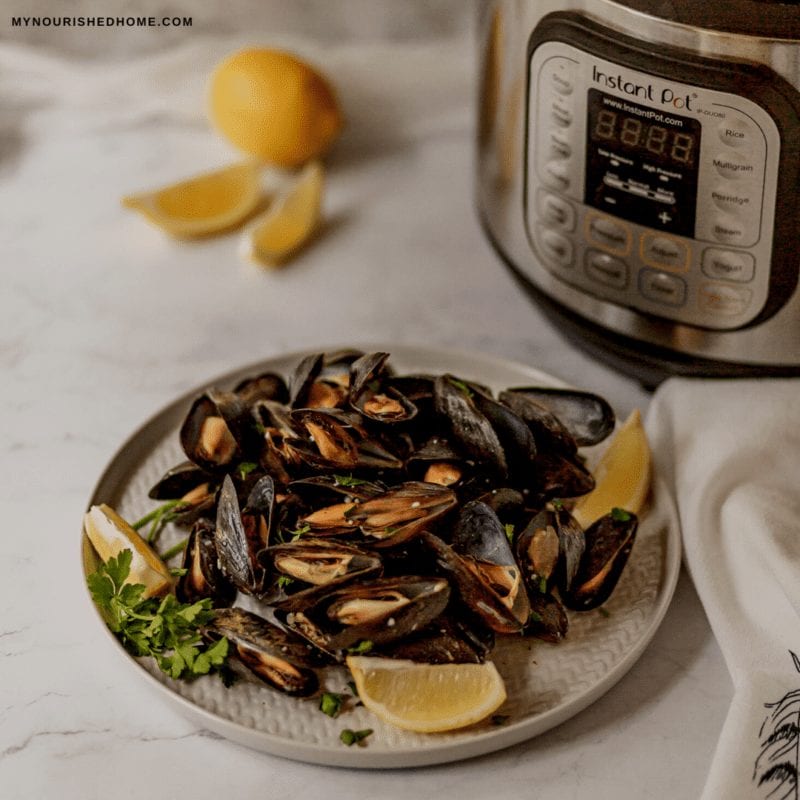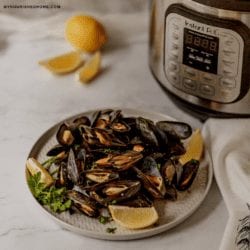 Easy Mussels Recipe
These market.
Keyword:
Instant Pot, mussels
Ingredients
2

TBSP

Butter

1

Shallot, diced

2

Garlic cloves, minced

1

Cup

Chicken stock or white wine

2

Lbs

Mussels

parsley

Lemons for squeezing

Optional
Instructions
In the sautee setting, sautee the shallot and garlic with the butter in the instant pot. Add the chicken stock (or white wine) and stir.

Turn off the saute setting and add the the mussels. Select Manual mode for 5 minutes. And Natural release.

Add salt/pepper if needed.

Serve on a platter and drizzle a bit of the juices over the mussels. And sprinkle some parsley if desired.

Also lemon juice makes it taste nice!
Nutrition Facts
Easy Mussels Recipe
Amount Per Serving
Calories 152
Calories from Fat 72
% Daily Value*
Fat 8g12%
Cholesterol 47mg16%
Sodium 381mg16%
Potassium 370mg11%
Carbohydrates 5g2%
Protein 14g28%
Vitamin A 360IU7%
Vitamin C 10mg12%
Calcium 33mg3%
Iron 5mg28%
* Percent Daily Values are based on a 2000 calorie diet.