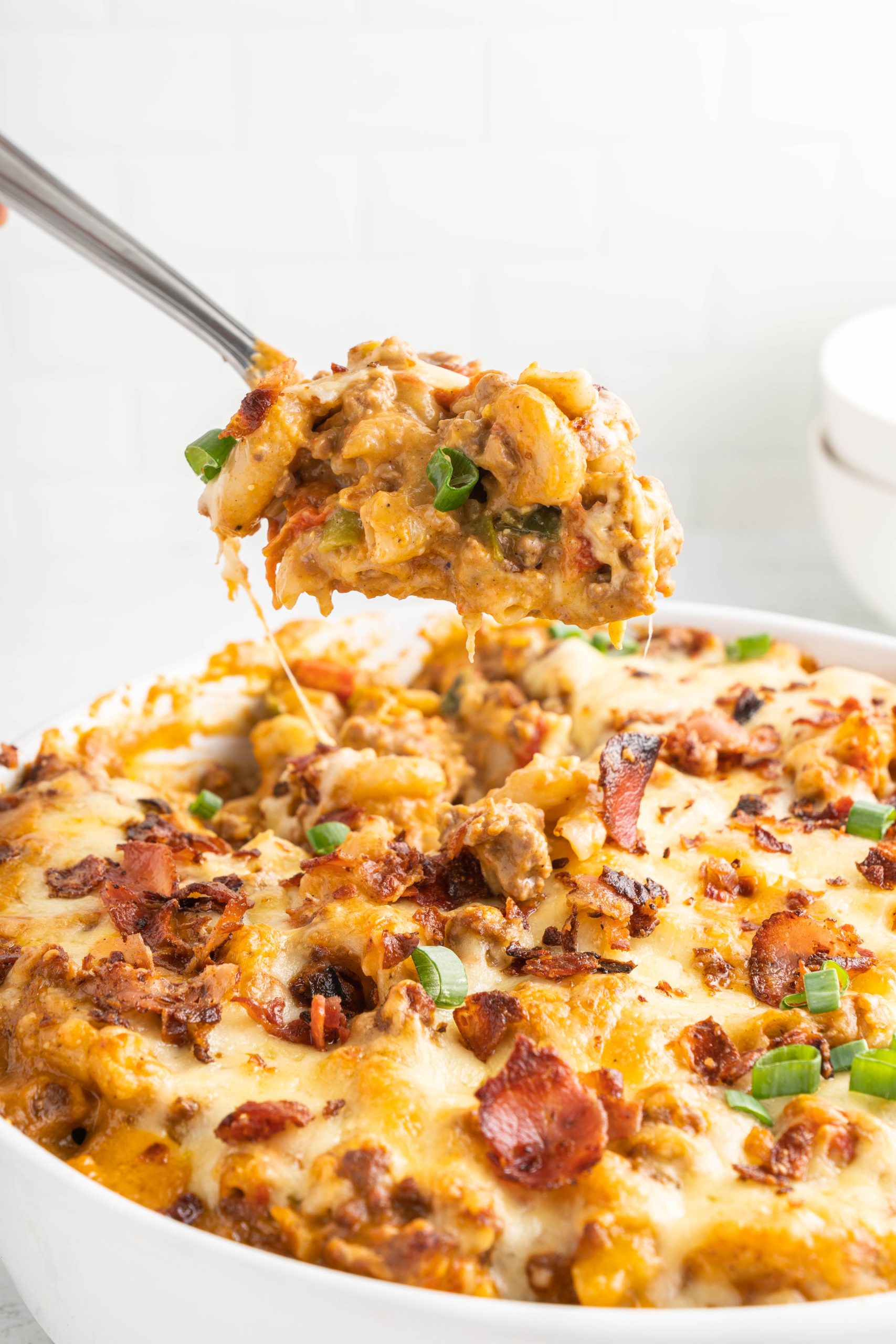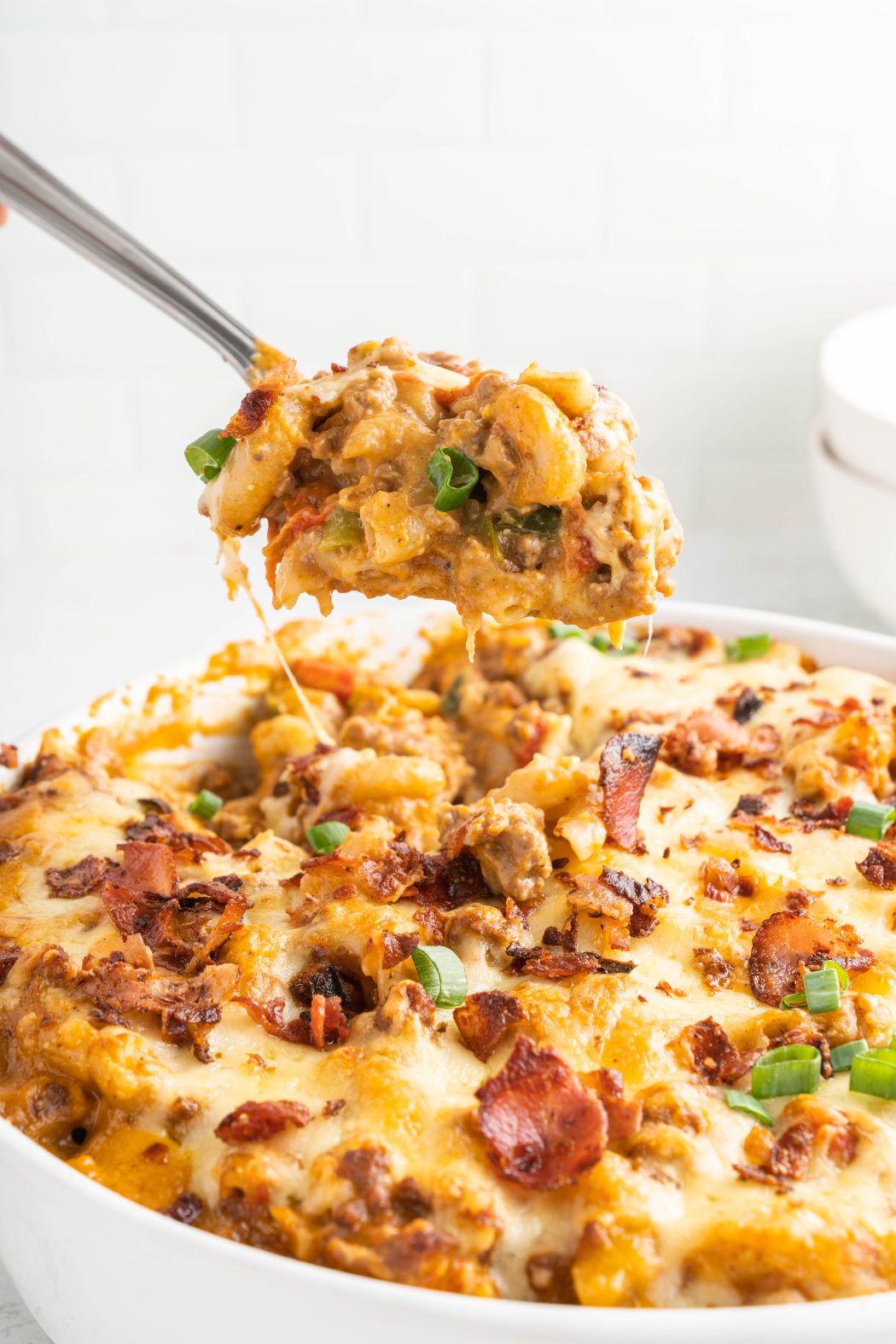 Ground beef, two types of cheese, and a creamy base baked into tender, bite-sized pasta create a hearty cheeseburger casserole that is quick and easy to prepare!
Cheeseburger Casserole
I don't know who first decided that beef, cheese, and pasta would work well as a casserole, but I am so glad they did! The classic flavors of a cheeseburger are an amazing combination any way you prepare them, but cheeseburger casserole is just so easy.
It's a great way to prepare one of my favorite meals, especially when grilling isn't an option. There are plenty of meal kits for this type of casserole, but the flavors and textures really don't compare to this homemade version — and it doesn't take any more time to complete.
A side of sauteed sugar snap peas and asparagus is a healthy and fresh addition to this main dish. Or if you love french fries with your burgers, try this fingerling potato medley with onions and peppers for a tasty changeup!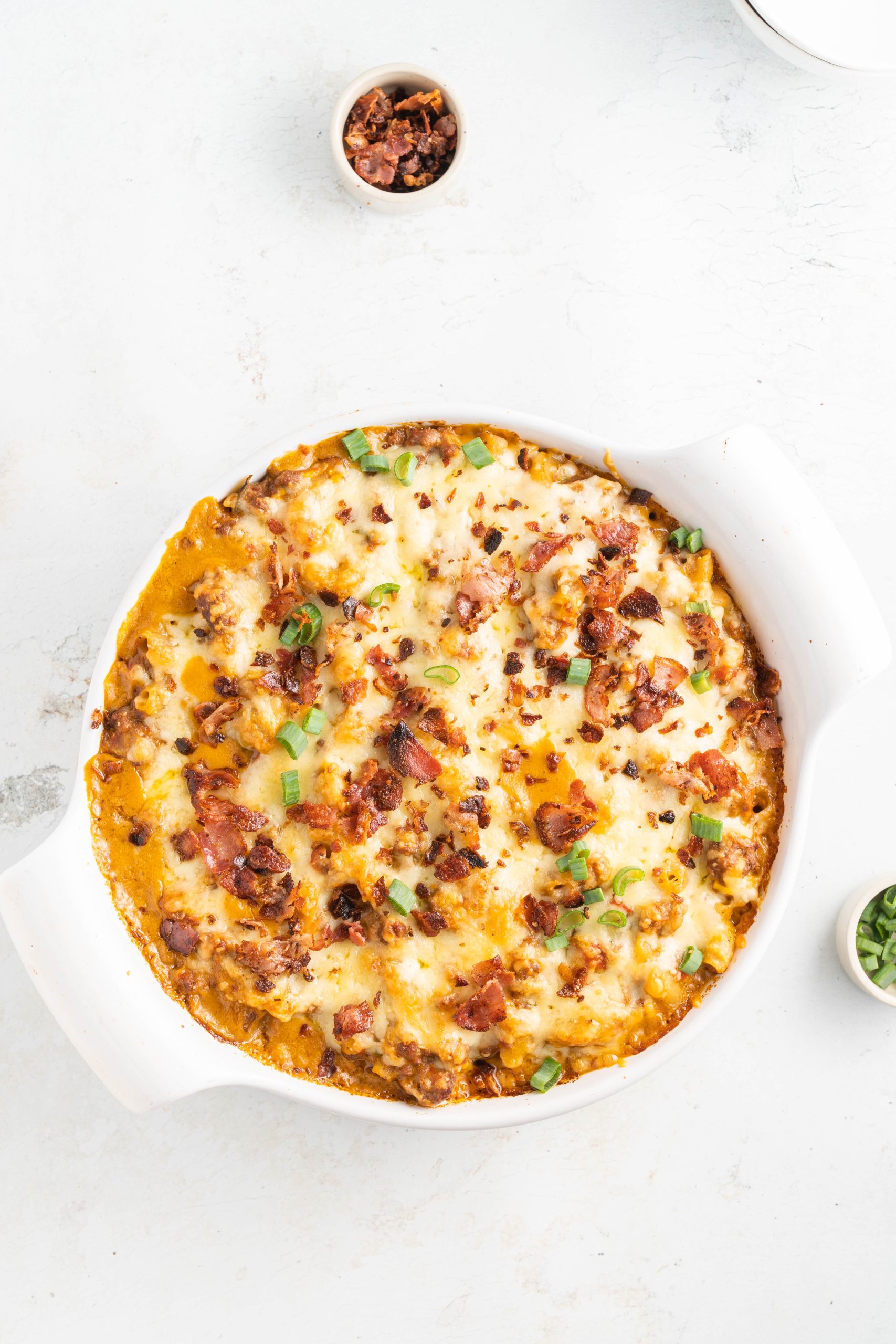 Why you will love this recipe
Everyday ingredients that you already have at home: beef, pasta, diced tomatoes, and just about everything else in this cheeseburger casserole recipe are kitchen staples. No need to make a special grocery store run to prepare this dish!
A crowd pleaser! Putting a spin on the classic cheeseburger meal is a no-brainer. All the major ingredients of a cheeseburger are in this dish, with pasta taking the place of your cheeseburger bun. If your family loves cheeseburgers, they will certainly love this casserole as well.
Easy to prepare and share! All of your cooktop prep is done in one skillet, then transferred to a baking dish. Your one-dish meal is a great addition to an office lunch or for a neighbor in need.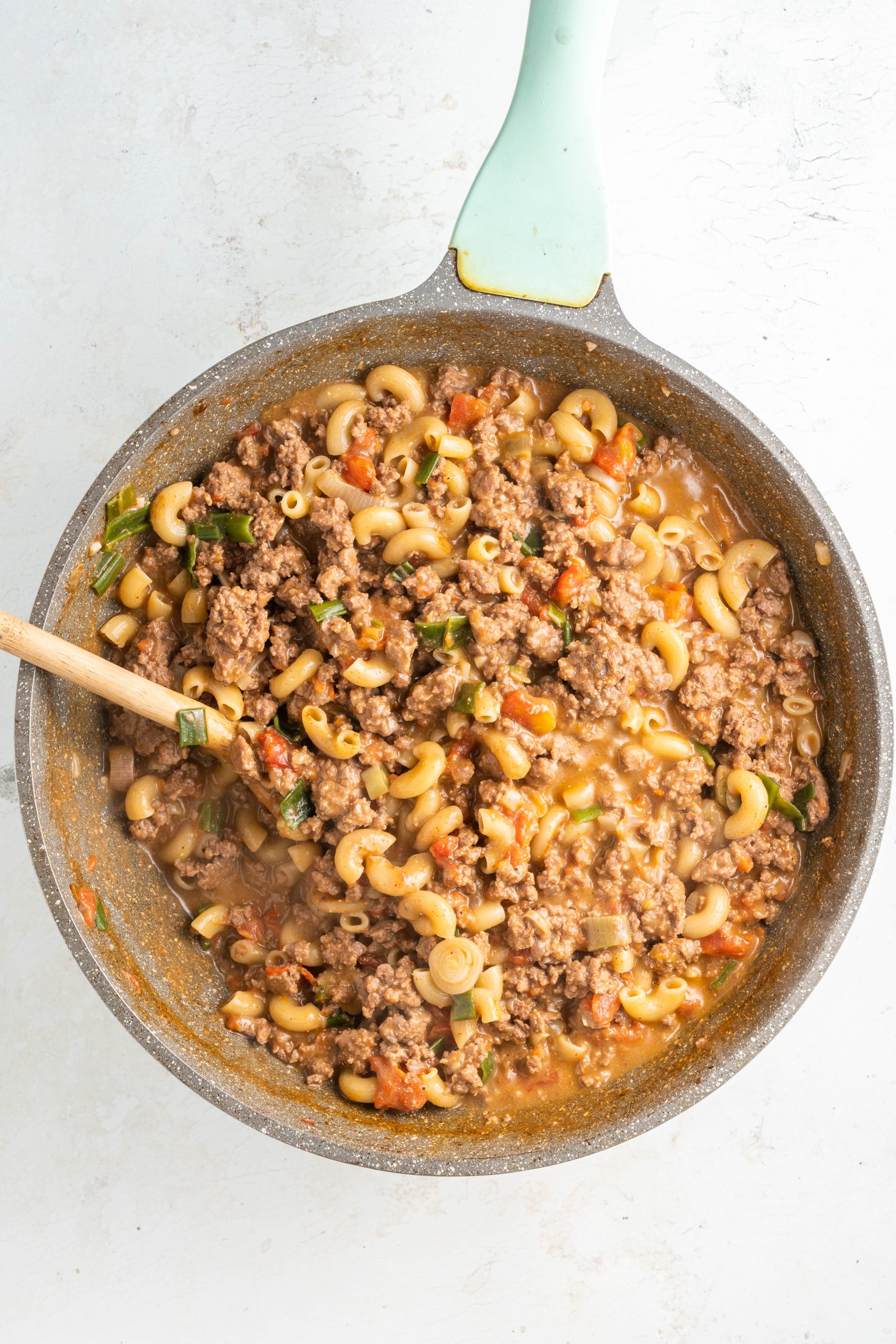 How to make perfect cheeseburger casserole
Saute and mix. Saute onions for several minutes until soft, then add garlic and cook for another minute or two, being careful not to overcook the garlic. Add ground beef and cook for another 10-12 minutes, breaking up and mixing in with onions and garlic.
Combine other ingredients. To the skillet, add worcestershire sauce, pasta, light cream, beef broth, tomatoes, green onions, salt, pepper, paprika, and mustard. Bring the ingredients to a simmer before covering. Let cook for 8 minutes, stirring occasionally to keep pasta from sticking.
Add cheese and bake. Fold in the cheddar cheese and transfer to an oven-safe baking dish. Top with mozzarella cheese and bake uncovered at 375F for 10-15 minutes. Serve immediately with bacon pieces on top.
Refrigerate leftovers. Cheeseburger casserole can be stored in the refrigerator for up to 5 days. You will notice the noodles becoming softer as each day passes so its best to eat it right away. Reheat leftovers in a 350F oven for 10 minutes.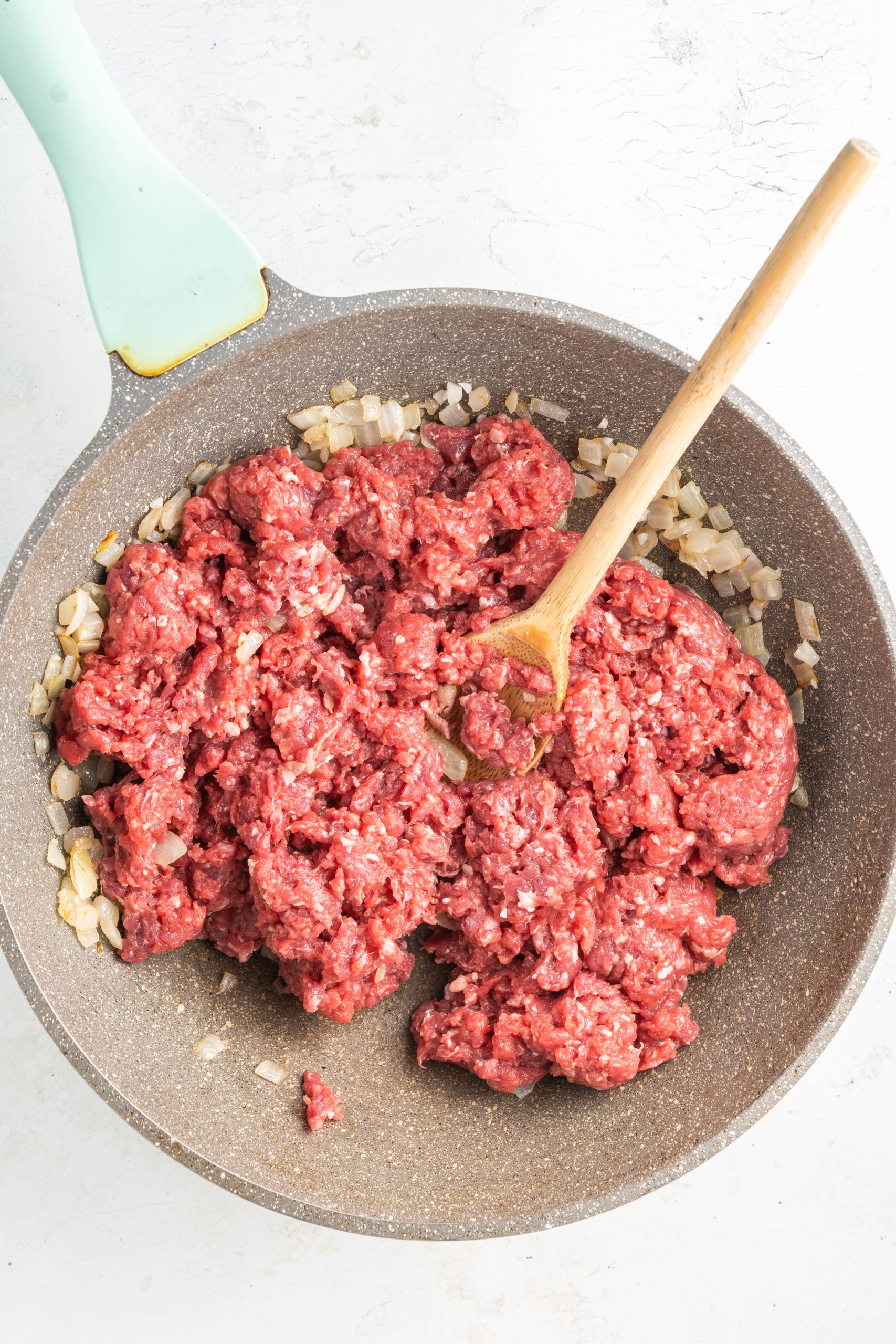 Key Ingredients and Substitutions for Cheeseburger Casserole
Ground Beef: Beef that has 20% fat content will provide more flavor than a leaner option. You can strain some of the grease off of the cooked beef before adding the pasta, broth, and other ingredients.
Short Pasta: Elbows are my preferred pasta to use in cheeseburger casserole, but rigatoni, penne, or your favorite bite-sized pasta will work just as well.
Cheddar Cheese: Sharp cheddar adds a good bite to this dish without overpowering any other flavors. I highly recommend you buy a block and shred it yourself!
Diced Tomatoes: Use a can of diced tomatoes that does not have additional seasonings, such as basil and garlic. Unsalted tomatoes or fire roasted tomatoes are good options, depending on what you like.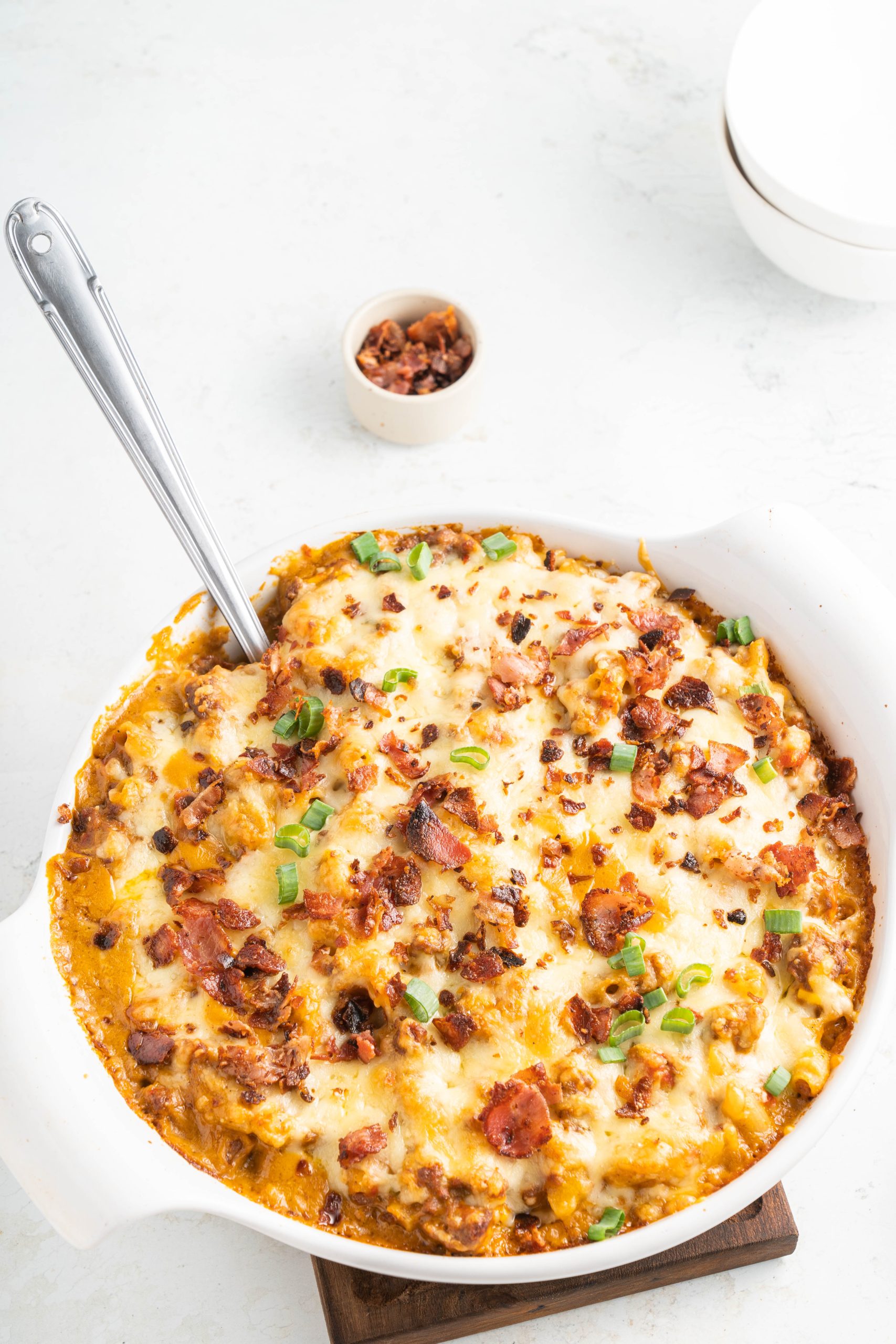 Frequently asked Questions about Cheeseburger Casserole Recipe
What Is Short Pasta?
Short pasta refers to the cut or length of pasta. Rotini, rigatoni, elbow, and farfalle are all short pastas whose shapes will hold onto the cheesy burger ingredients in this dish. Short pastas generally do not require less cooking time, so be sure to check for that perfect, al dente texture. These bite-sized pastas are easy to scoop up with no need for a knife!
Can I Use Half And Half Instead Of Light Cream?
If you're like me, you've got half and half on hand all the time — and it's a great substitution for light cream in my cheeseburger casserole recipe. Light cream has a slightly higher fat content, so it is thicker and creamier than half and half. However, the difference is not noticeable in the finished casserole. When cooked in with the cheddar cheese, tomatoes, and pasta, half and half is terrific in this recipe.
Is It Better To Shred Your Own Cheese?
Picking up a bag of shredded cheese from the grocery store is absolutely a time saver, but if you've got the time to shred it yourself, it will be worth it. Shredded cheese contains additives that keep it from clumping and prolong its shelf life. These additives also keep it from melting as well as freshly shredded cheese. Not only does block cheese eliminate the need for these additives, but its less expensive, too.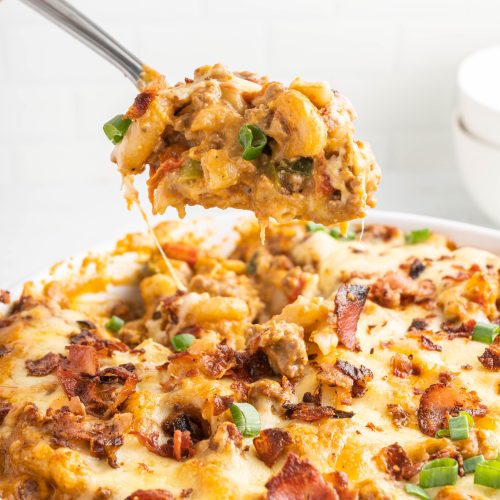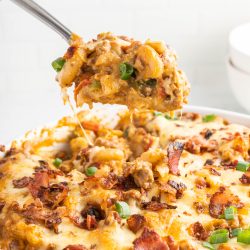 Cheeseburger Casserole
Ground beef, two types of cheese, and a creamy base baked into tender, bite-sized pasta create a hearty cheeseburger casserole that is quick and easy to prepare!
Course:
Main Course, Main Dishes
Keyword:
casserole, Cheeseburger, Cheeseburger Casserole, Cheesy
Ingredients
2

lb

ground beef

1

tbsp

Worcestershire sauce

2

cups

short dry pasta

1

medium

yellow onion

diced

2

clove

garlic cloves

minced

2 1/2

cups

cheddar cheese

shredded

1/2

cup

light cream

2

cup

beef broth

1

cup

shredded mozzarella cheese

1

can

14 oz diced tomato

2

medium

green onions

1/2

tsp

ground black pepper

1

tsp

paprika

1

tsp

powdered mustard

2

oz

bacon slices

cooked and chopped
Instructions
Sauté onion in a skillet until translucent, about 5-7 minutes. Then add minced garlic and stir for a minute until fragrant. Next, add ground beef and stir until cooked, about 10-12 minutes.

Preheat the oven to 375F.

Add canned tomato, green onion, dry pasta, light cream, powdered mustard, salt, pepper, paprika, and beef broth. Simmer, covered with a lid for 8 minutes or until pasta is al dente. Note: stir regularly so the pasta doesn't stick to the bottom of the skillet. Remove from heat.

Fold in shredded cheddar cheese and mix.

Transfer the mixture to a large oven-safe dish and top with shredded mozzarella cheese. Finally, bake for 10-15 minutes for the cheese to melt.

Serve warm with crispy bacon bites on top.
Recipe Notes
This Cheeseburger Casserole is packed with comforting flavors and satisfying ingredients. You'll taste a burger in every bite due to ground beef, cheddar cheese, and saucy tomato. Then, crispy bacon is the cherry on the pie as it provides texture and Big Mc's flavors!
Tips
This casserole is best when freshly made, as the pasta will be soggy once reheated, although it'll still be tasty.

Keep leftovers in the fridge, covered, for up to five days. Then, reheat it in the oven at 350F for 10 minutes.
Nutrition Facts
Cheeseburger Casserole
Amount Per Serving
Calories 864
Calories from Fat 522
% Daily Value*
Fat 58g89%
Cholesterol 187mg62%
Sodium 938mg39%
Potassium 817mg23%
Carbohydrates 34g11%
Protein 49g98%
Vitamin A 1001IU20%
Vitamin C 9mg11%
Calcium 510mg51%
Iron 5mg28%
* Percent Daily Values are based on a 2000 calorie diet.