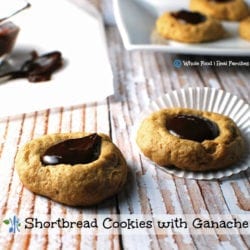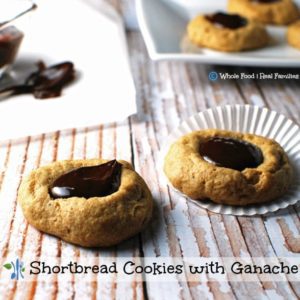 *this recipe does contain some processed sugar in the Chocolate Ganache**
Shortbread Cookies
8

oz

cream cheese, softened

1

cup

butter, softened

2 sticks

1

cup

coconut sugar

2

cups

white whole wheat flour

1/2

tsp

kosher salt

1

tbsp

pure vanilla extract
Whip cream cheese, butter, coconut sugar, salt and vanilla extract in your stand mixer until creamed. (You can also do this with a hand mixer.) Add flour slowly until all is incorporated and well combined. Cover and refrigerate mixture for at least 30 minutes.

Preheat oven to 350 degrees. Line cookie sheet with parchment paper.

Roll tablespoons of chilled cookie dough into balls with your hands and place them on the parchment paper two inches apart. Use your thumb or the back of your measuring spoon to indent cookies. Place them in the oven for 10 minutes.

Remove cookies from oven, re-apply indention with your measuring spoon to make sure it doesn't fill in as the cookies are baking. Place cookies back in the oven for 5-6 minutes, or until cookies are lightly browned on the outside edges. Remove from oven and let cookies cool.

While cookies are cooling, pour half and half into a large microwave safe container. I use a 2 cup capacity measuring cup. Put the half and half in the microwave on medium heat just until it starts to bubble up - about 2 minutes. You need to watch it because it will bubble over very quickly. Once it begins to bubble, remove from microwave and pour chocolate chips into the cream. Let it sit for 30 seconds, then whisk. You will see the Ganache begin for form. As the chocolate cools it will thicken and the more you whisk it, the glossier it will become. I usually, whisk a minute, then let it cool a few minutes, then whisk, then cool... until it reaches the texture and look I desire.

Once cookies are completely cool (or until you have waited as long as you can), fill the hollows with Ganache and enjoy!