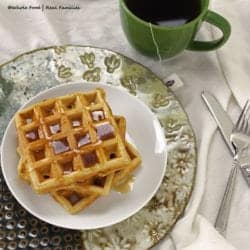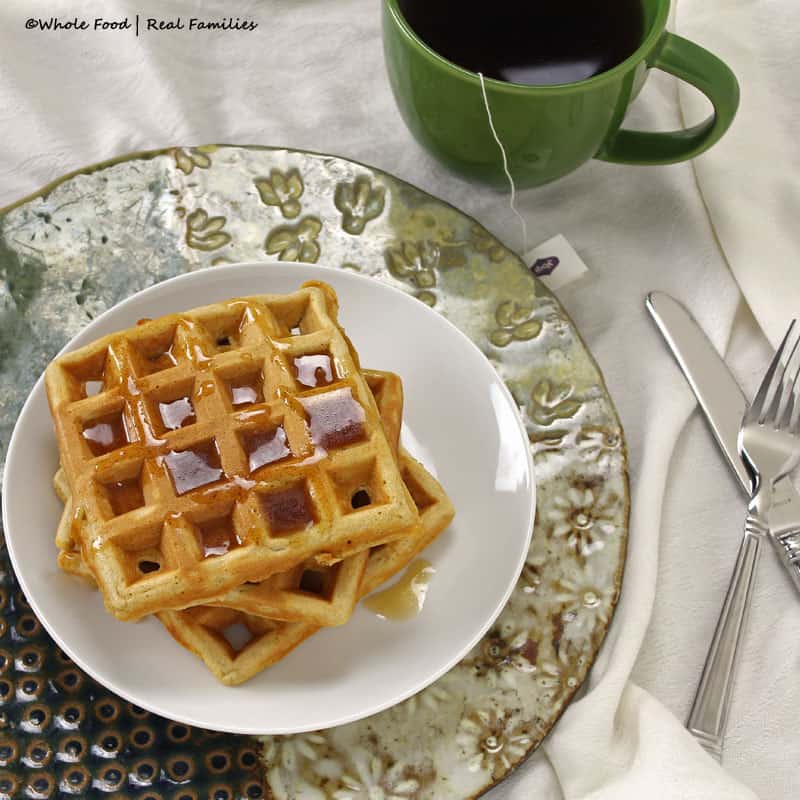 Double, triple, quadruple this recipe. Waffles warm great in the low setting on the toaster or a few seconds in the microwave. They also freeze very well! I make a ton and freeze them for weekday lunches (assuming everyone doesn't eat them all first!)
Whole Wheat Waffles
2

cup

white whole wheat flour

1/4

cup

coconut sugar

2

tsp

baking powder

1/2

tsp

kosher salt

3

eggs, lightly beaten

1/2

cup

Greek Yogurt, Plain

1 1/2

cup

milk

1

tbsp

vanilla extract

4

tbsp

butter, melted
Maple Waffle Syrup
3

tbsp

butter, melted

1/2

cup

100% pure maple syrup
In a large mixing bowl, combine white whole wheat flour, coconut sugar, baking powder, and salt. Whisk until well combined. In a second mixing bowl, combine eggs, plain Greek yogurt, milk, vanilla extract and melted butter. Whisk until uniform. Add wet ingredients to dry ingredients and mix just until combined. Do not overmix.

Pour waffle batter into your waffle iron based on your waffle iron's recommendations. We have used this recipe in our Belgian waffle maker and our regular waffle maker and it works beautifully in both.

For the Maple Waffle Syrup, melt butter in a small sauce pan. Add syrup and whisk until combined and syrup is warm. Pour into a serving dish. You may need to rewhisk if the syrup sits for a while. DELICIOUS!!!

Stack cooked waffles, pour over the Maple Waffle Syrup. Be happy!