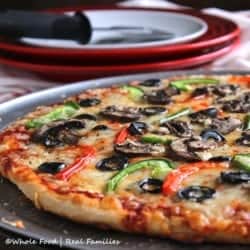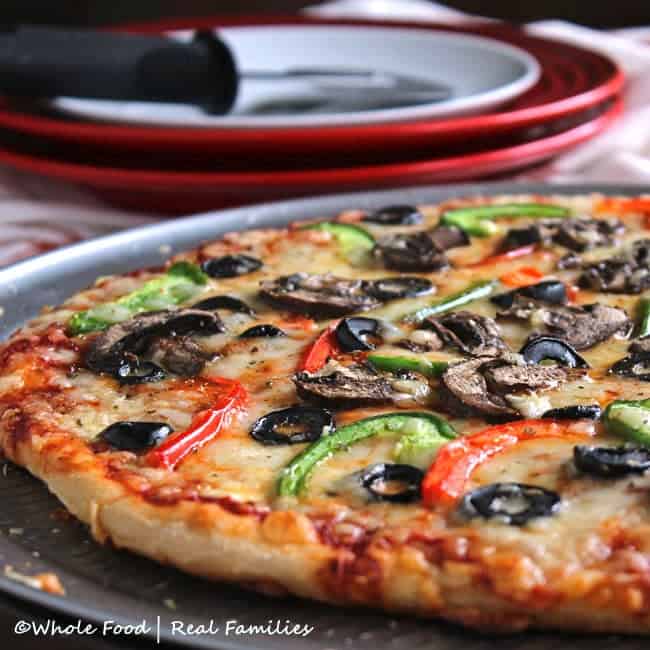 Grilled Vegetable Pizzas are delicious, family-friendly and fuss-free. With this method, you never have to clean pizza dough out of your grill grates!
1

Whole Wheat Pizza Crust or your favorite crust

1

Pizza Sauce from Whole Tomatoes or your favorite sauce

1

cup

Mozzarella Cheese

grated

2/3

cup

Parmesan Cheese

grated

1

tsp

dried Italian Seasoning or 2fresh basil

chopped

1

bell pepper

sliced into strips

1

cup

mushrooms

sliced

1/3

cup

black olives

sliced
Place baking stone in the center of the grill on the grates and close the grill. Preheat grill to 450 degrees.

Roll out pizza crust on a well floured surface and place on your pizza pan.

Top crust with Pizza Sauce, grated cheeses, pepper strips, olives. mushrooms and spices.

Open the grill and sit your pizza pan directly on the baking stone and close the grill. This will allow the crust to set before sliding it to the stone. In 8-10 minutes, open the grill and the pizza will easily slide to the baking stone. Allow the pizza to cook for an additional 16-20 minutes, or until the crust is golden, the bottom is crisp and the cheese is hot and bubbly. (Grills temperatures vary so watch the first one to see how long it takes on your grill.)

Using a large spatula lift the edge of the pizza and slide your pizza pan back under the pizza to remove. If you are cooking more than one pizza, you can place your next uncooked pizza and pan immediately on the stone in the grill.

Allow pizza to stand for 5 minutes before cutting.

Enjoy!!