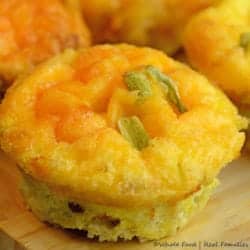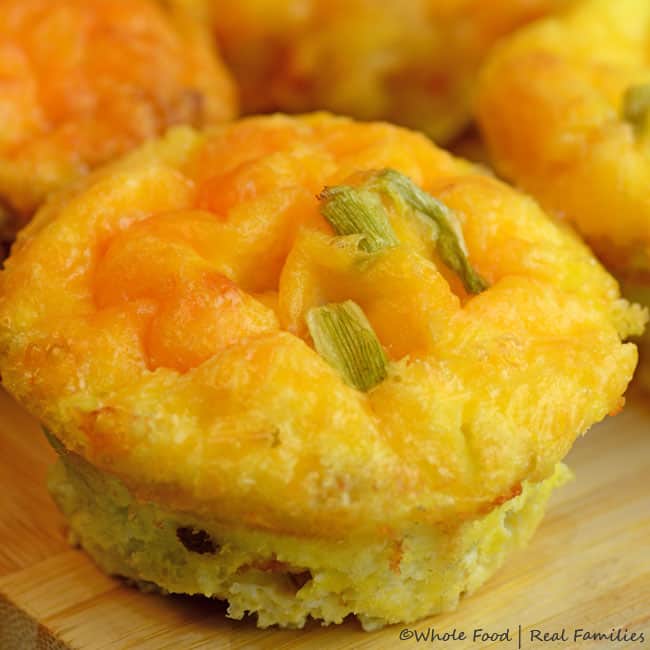 This makes 18 large muffins. Adjust cooking times if you are using a smaller muffin pan.
1

lb

high quality loose sausage

8

oz

sliced mushrooms

1

lb

hash brown potatoes

If you purchase these, there should be 1 ingredient on the label - potatoes!

kosher salt and ground black pepper to taste

18

eggs

1

cup

milk

1

cup

cheddar cheese, grated

6

tbsp

fresh chives, finely chopped
Preheat oven to 350 degrees. Brown sausage in a large pan until it is no longer pink. Drain all but 2 tbsp of the rendered sausage fat from the pan, add mushrooms and hash brown potatoes. Cook for 8-10 minutes until mushrooms have released all of their water and hashbrown potatoes are tender and browned in places.

Spoon sausage mixture into a well-oiled, large muffin pan, filling each muffin cup 1/3 full of the mixture. Be careful not to pack the mixture down into the cups. You want it to be somewhat loose so the eggs can flow over and around the mixture.

Prepare eggs and milk as you would for scrambled eggs - crack eggs into a large bowl, add milk, salt and pepper to taste, and whisk until uniform. Pour egg mixture over the sausage mixture that is already in the muffin pans. Sprinkle cheese and chives evenly over the tops of muffins and put the muffins into the preheated oven.

Cook egg muffins for 18-22 minutes or until the tops just begin to turn golden. Don't overcook or the muffins will be tough. You really just want the eggs to set. Remove from oven and allow to cool.

Loosen the muffins by running a butter knife around the edges before turning the pans over. Once you have removed the muffins from the pans, allow them to cool completely before putting them in an airtight container or freezer bags. Or do it the old fashioned way and enjoy them hot from the oven!