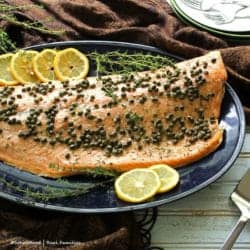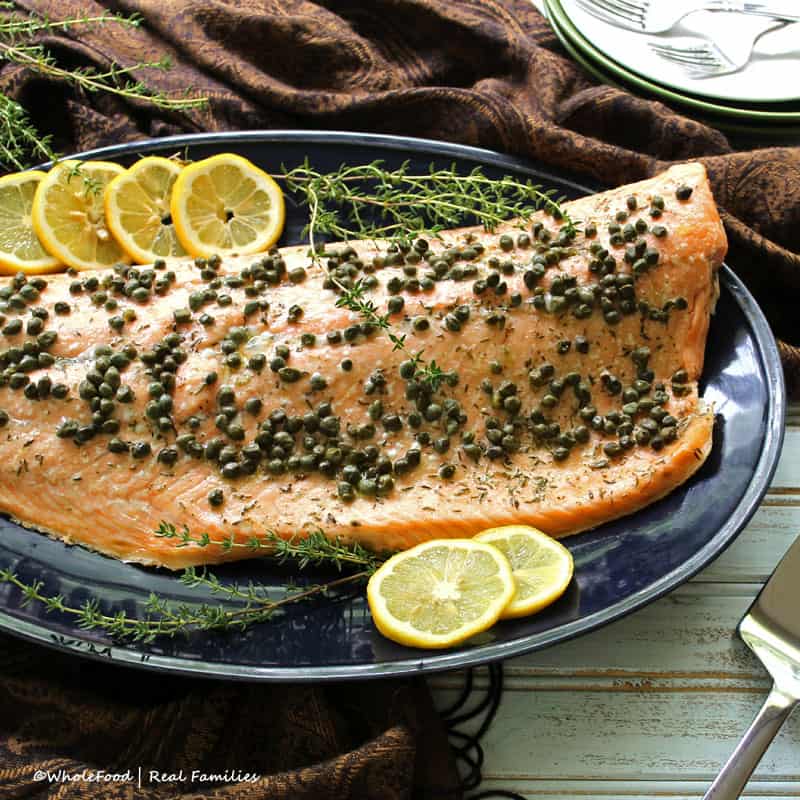 Roasting time will vary slightly based on the thickness of your filet. Slide a knife into the thickest part of the salmon to check if it is done. Cooked salmon will flake. Though many people prefer salmon to be medium rare, my kids freak out if they think it is rare in the middle so we cook it to medium.
1

whole filet of wild caught Salmon

3-4

tbsp

olive oil

1-2

tsp

kosher salt and black pepper to taste

1

tbsp

fresh chopped thyme

1

jar

capers

a jar of capers is 3.5 oz
Preheat oven to 425 degrees. Place your oven rack at the top third of the oven. Line your baking sheet with foil. Lay your filet of salmon on the baking sheet. If your salmon still has the skin, lay it skin side down.

Brush salmon filet with olive oil. Sprinkle with salt, pepper, and thyme. Drain capers and place them on top of the filet of salmon, some will roll off but stack them on top as well as you can. Loosely cover with a second piece of foil and place in the oven.

Roast salmon for 12-16 minutes (dependent on how well-done you like your salmon). Remove the top layer of foil from the salmon and continue roasting for 4-5 minutes so the edges get crispy. (That's my favorite part!)

Slice the salmon across to serve.