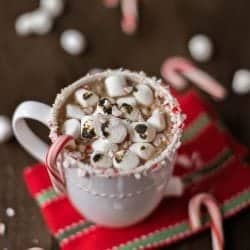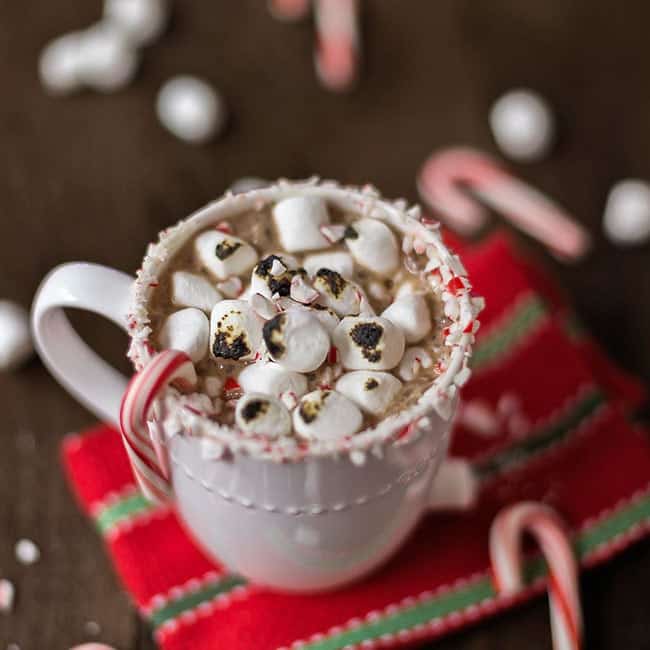 This hot chocolate is over the top with heavy cream and toasted marshmallows! It also makes a giant 10 oz mug!
8

oz

milk

2

oz

heavy cream

2

Tbsp cocoa powder

1

tsp

peppermint extract

2

mini candy canes + more for decorating

crushed

marshmallows

honey to coat the rim of the mug

water also works

honey or sugar to taste
In a small pan heat the milk, heavy cream, and the cocoa powder. Stirring constantly. Don't bring it to a boil. Add the candy canes and the peppermint extract, until the candy canes have melted. Add your desired amount of sweetener. (General rule of thumb for hot chocolate is 2:1, sugar to cocoa powder. But the candy canes add a lot of sugar, so start with 1:1 and sneak a taste and adjust to your preference.)

Remove from heat, and coat the rim of the mug with honey and dip it in a bowl with the small broken pieces of the candy canes. I just put some in a ziploc bag and crush it with the back of a wooden spoon.

Pour in the hot coco and top it with some marshmallows. Carefully 'burn" the marshmallows with a kitchen torch or lighter and serve.

Top with some extra crushed candy canes!