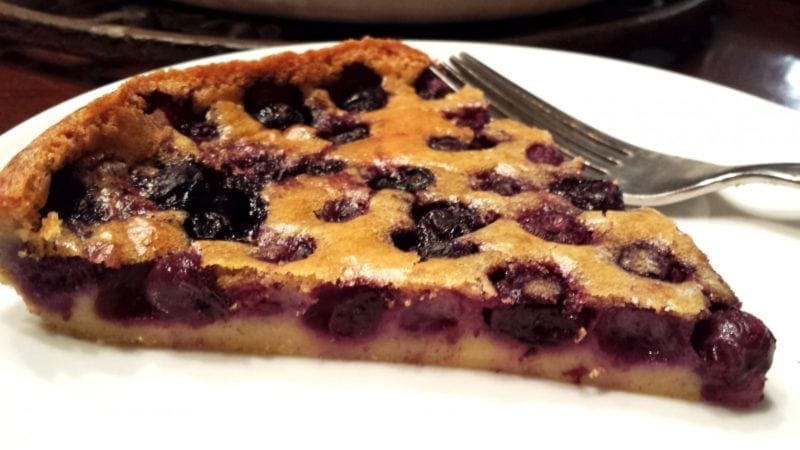 Blueberry Clafoutis is my go-to dessert (and sometimes breakfast with some scrambled eggs on the side). It comes together quickly, isn't overly sweet, and is made of things that I typically have in the kitchen already. If you are not familiar with clafoutis, it is traditionally made with black cherries – and is not traditionally made with whole wheat (surprise!) If the dessert is made with other fruit it is actually called a "flaugnarde" but I dare you to say that a few times in a row without laughing. Therefore, this recipe is a clafoutis. That is my story and I am sticking to it. The texture is somewhere between cake and custard – kind of like a gigantic pancake or crepe with fruit in it. My favorite part is watching it bake. It puffs up while cooking then settles back down after it cools.
This can be made with fresh or frozen blueberries. I always have frozen blueberries in my freezer. I freeze them when they are in season – and just in case I need them in a pinch, frozen organic blueberries are available at most markets all year round. This is also delicious with blackberries, cherries, pears, apples – and I have never tried it but I have a fantasy about peaches in my clafoutis. Because there is very little added sweetness to the batter, the flavor of the fruit is really what shines.
If you are really feeling decadent, top this with homemade whipped cream or coconut cream. To make whipped cream, just whip heavy cream and a little maple syrup until soft peaks form. To make coconut cream, put a can of organic coconut milk in the fridge overnight. The next day, open the can and scoop out the cream that has formed on top, leaving the coconut water at the bottom for some other use (like a smoothie!). Whip the coconut cream with a little maple syrup until soft peaks form. YUM!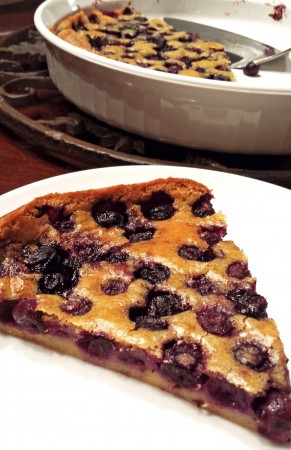 Blueberry Clafoutis. A whole food recipe, no processed ingredients.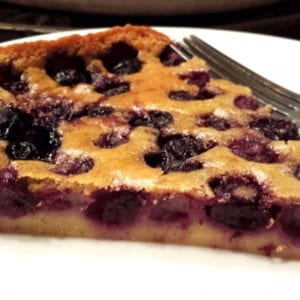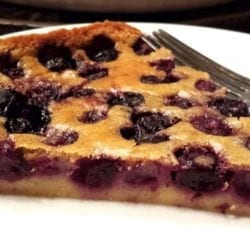 Whole Wheat Blueberry Clafoutis
Course:
Breakfast, Dessert
Ingredients
3/4

cup

white whole wheat flour

1/3

cup

100% pure maple syrup

pinch of salt

3

large

eggs

4

tbsp

butter, melted

1

lemon, for zesting and juicing

1/3

cup

milk

3

cups

blueberries, fresh or frozen
Instructions
Heat oven to 350 degrees. Butter or oil a 9-inch deep dish pie plate or tart pan.

In a bowl, mix flour and salt together. Add eggs, butter, lemon zest, the juice from 1/2 the lemon, and maple syrup. Whisk until smooth. Add the milk and whisk until very smooth. (This takes about 3 minutes. You can whisk by hand or use a mixer.)

Pour the batter in the prepared dish and top with blueberries.

Bake for 35-45 minutes. Clafoutis should be set and golden. We like ours cooked until the fruit really starts to caramelize so we lean towards the 45 minute mark. But we're a little weird, so check it at 35 minutes to determine when it is set and how golden you prefer it to be before pulling it from the oven.

Cut it into slices and serve warm! Enjoy! (By the way, we have been known to reheat leftovers and eat them for breakfast the next day.)