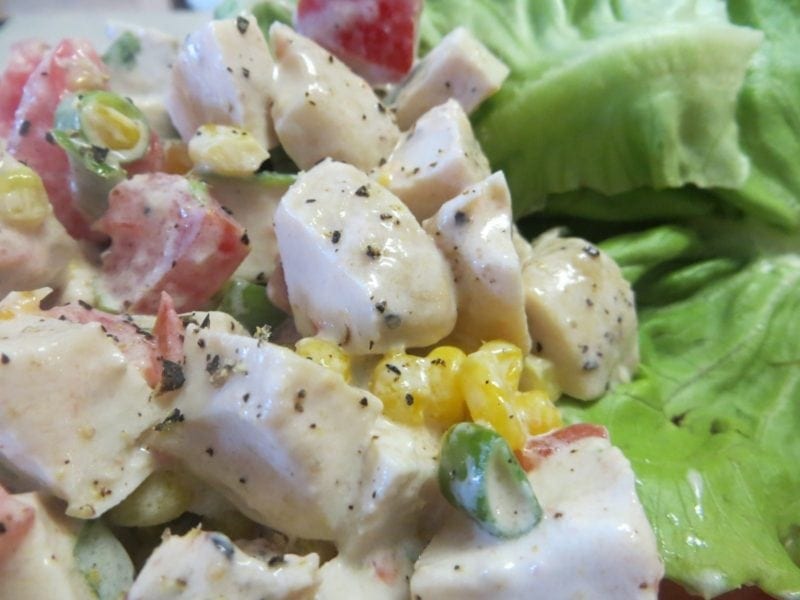 I first saw this recipe for Tex-Mex Chicken Salad in 2009 in Fine Cooking magazine. It is still around and I'm still cooking it because it is so very good! 
It is creamy with a little kick. My husband and I love spicy food but with little kids around we sometimes have to make concessions. Because we love this Tex-Mex Chicken Salad so much, instead of leaving the jalepenos out, we just dish out a jalepeno-free portion for the kids and then add their spicy into our bowl.
I do love that this is not a mayo based chicken salad – it uses sour cream as the base. This lime juice gives it all a nice zing. Everything about this recipe makes you come back to the bowl over and over again!
Fine Cooking suggested serving this chicken salad on corn chips, which is delicious. We also love it over a bed of lettuce or we omit the cherry tomatoes in the recipe and stuff large tomato halves with it. YUM!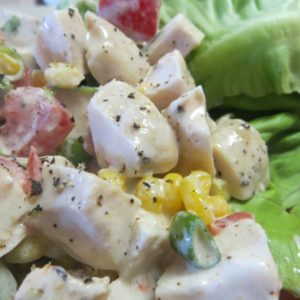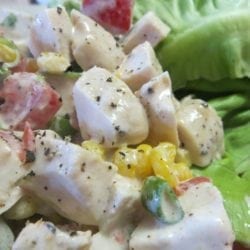 Tex-Mex Chicken Salad
Course:
Main Dishes, Soup, Salad & Sandwich
Ingredients
2

tbsp

sour cream

1 1/2

tbsp

fresh lime juice

pinch

cumin

1

cup

chicken

chopped or shredded

1/2

ear

fresh corn

browned under the broiler or on the grill

1/3

cup

cherry tomatoes

diced

1/3

cup

avacado

diced

2

tbsp

scallions

sliced

2

tbsp

fresh cilantro

chopped

1

tsp

jalepeno

minced

kosher salt and ground black pepper

tomatoes or lettuce for serving
Instructions
In a small bowl, combine the sour cream, 1-1/2 Tbs. lime juice, and cumin and mix well.

In a medium bowl, combine chicken, corn, tomatoes, avocado, scalllions, cilantro and jalapeño. Add dressing and gently fold all ingredients together. Season to taste with salt and pepper.

Refrigerate for at least 1 hour to allow the flavors to meld. Before serving, adjust the salt, pepper, and lime juice to taste.