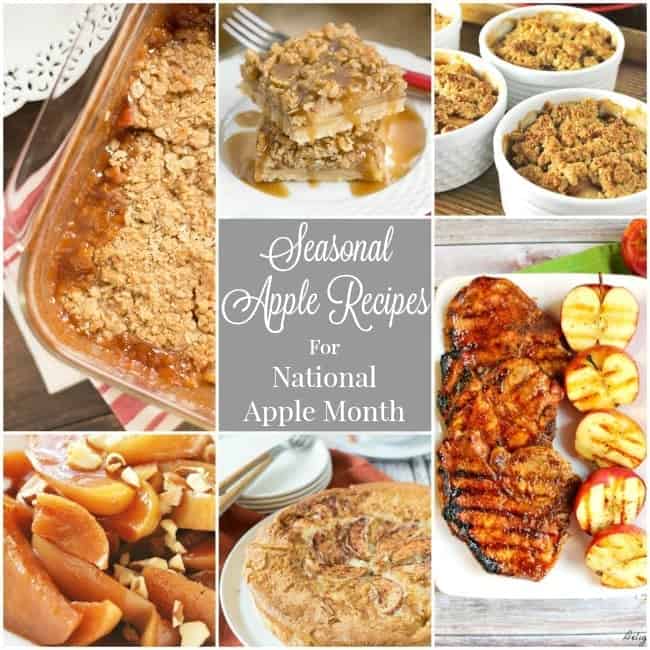 There is something really special about Seasonal Apple Recipes. Apples are certainly a year-round thing now thanks to efficient shipping and the global marketplace. But truly in-season apples are sweet and perfect, and a hint that fall is upon us.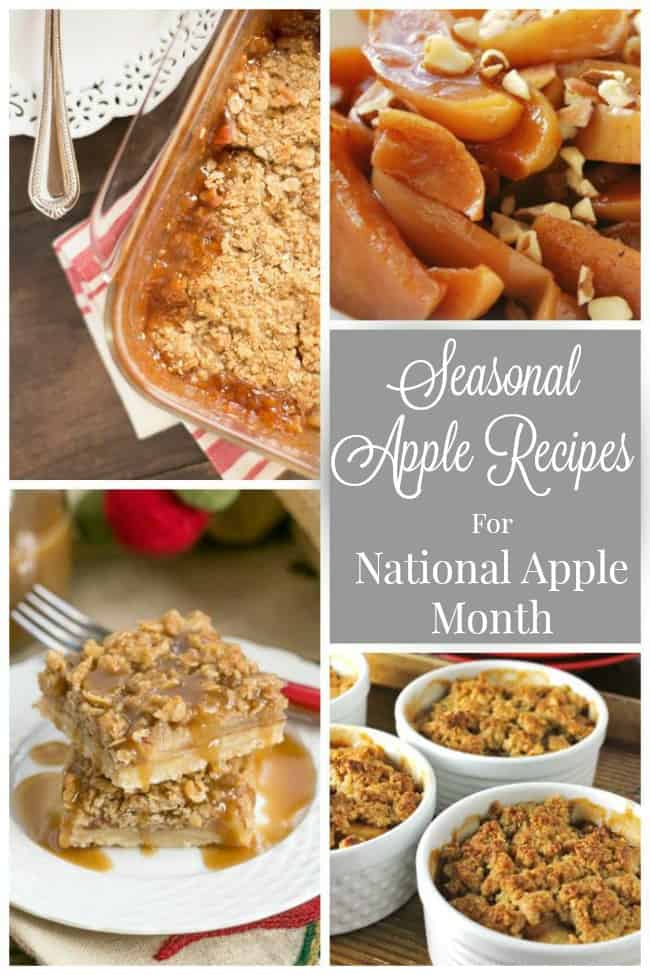 Apples Mark the Beginning of the Holiday Season
Every fall since I was a small kid, my grandfather would buy a case of apples when the weather turned cool and share them us when we came for a visit. It always marked the beginning of the holiday season in my mind as a kid.
It has been years since my grandfather passed and my mom carries on the tradition now. Every fall, she gets a case of apples and oranges and we split them up to share with our families. Though she had changed her order a little bit to accommodate my husband's favorite apple variety. I don't think she has ever told him that she gets his favorite apple now. It is such a small thing. But it means so much to me.
Seasonal Apple Recipes 
Wonder what to do with an entire case of apples? Aside from eating them as snacks at every turn, we cook with them regularly when they are in season. In addition to lots of apple pie, we also love Spiced Apples and Dates as a side dish to pork. We like acorn squash but it must be stuffed with apples and pancetta. We love my friend Kristine's apple sauce the cooks in the crockpot and makes enough to can or freeze. And this Apple Pecan Baked Oatmeal is a favorite when guests come for the holidays.
National Apple Month
I really love the October is National Apple Month. Apple season is such a part of our family holiday tradition. I hope you enjoy these Seasonal Apple Recipes from my blogger friends. First up is my Whole Grain Apple Crumble, which is both extremely delicious – and frankly, pretty healthy as desserts go! Enjoy!
Whole Grain Apple Crumble from Whole Food | Real Families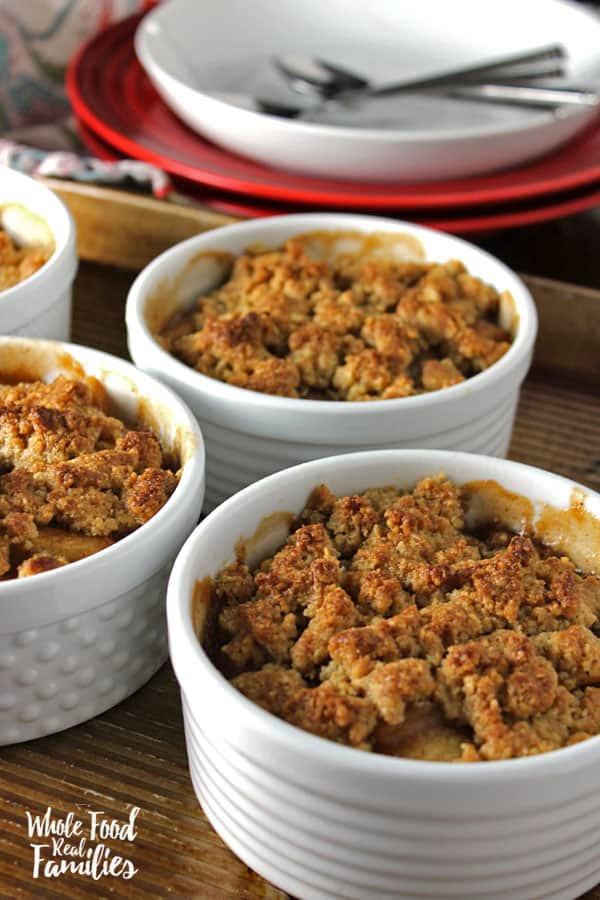 This individual serving Whole Grain Apple Crumble is always a good idea! Delicious and sweet, with yummy whole grain crumble top, this is as close to healthy that dessert is ever going to get.
InstaPot Apple Bread with Salted Caramel Icing from Adventures of a Nurse
Now that fall is here I love to break out those apple recipes. You know I had to try out Apple bread in my Instant pot. This is the moistest bread I have ever tasted. Now you can enjoy your favorite fall recipes and no need to turn on the oven.
Homemade Candy Apples (Any Color!) from Rose Bakes
This is a fantastic Fall recipe – you can make your own homemade candy apples any color you want!  Make them to match a party or a holiday.  They're easy and delicious!!
Boozy Apple Crisp from Creative Culinary
This is our family favorite with a filling of apples, bourbon and Grand Marnier topped with a nutty walnut crumble and served with a scoop of vanilla ice cream. The perfect fall treat for dessert or while watching your favorite team (Go Broncos!)
Apple Streusel Bars from That Skinny Chick Can Bake
When an apple pie is just too daunting, these easy apple streusel bars will hit the spot. A buttery shortbread crust is topped with cinnamon-spiced apples and an oatmeal streusel topping. A drizzle of caramel sauce pushes them over the top!
Baked Cinnamon Apples from Amee's Savory Dish
When you're craving apple pie and don't want to sabotage your healthy eating goals, these baked cinnamon apples are nutritious and delicious!  They're so easy to prepare, you'll want to make them all season!
Apple Cider Glazed Pork Chops with Grilled Apples from Delightful E Made
Perfectly seasoned, juicy, delicious and ready in under 30 minutes, these Apple Cider Glazed Pork Chops are the perfect dinner option any night of the week.  Coated with an apple cider glaze, and grilled to perfection, these sweet and savory chops are perfect any time you're in the mood for meat!
Anytime Apple Crisp from Kristine in between
This whole food, whole wheat Anytime Apple Crisp is quick to prepare and is ready in under 30 minutes!  Perfect for a sweet treat anytime!
Salted Caramel Apple Popcorn Cookies from It's Yummi
Salted caramel apple popcorn cookies are like no cookie you've ever tasted, but with the very first bite, you'll experience crunchy, sweet, salty, and chewy deliciousness. They're made from popped popcorn… SO much fun!
 Fool Proof Creamy Apple Cake from Fearless Dining
This delicious gluten free apple cake is food proof. Honestly, you can't mess this one up and it will taste as good as any bakery cake! This cake is fluffy, moist, and bursting with fresh apple flavors.
Are Seasonal Apple Recipes part of your holiday tradition? How do you celebrate National Apple Month? Tell me in the comments!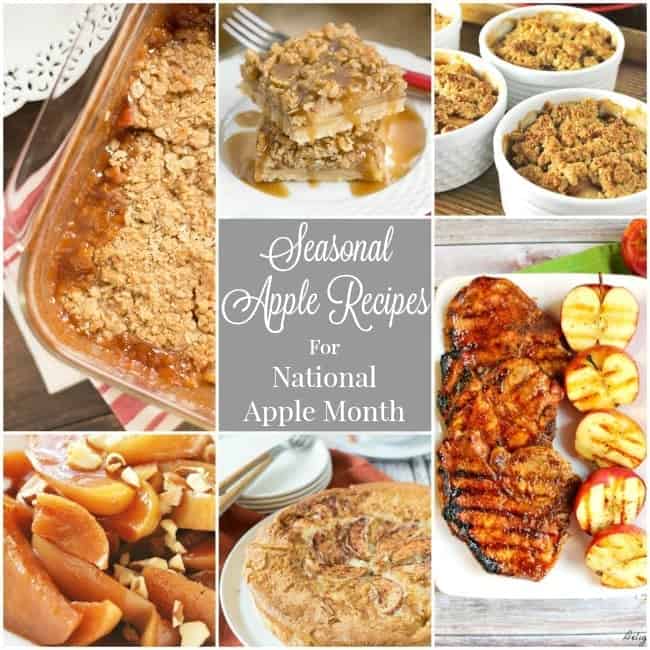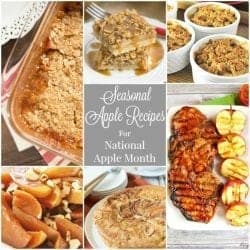 Seasonal Apple Recipes for National Apple Month