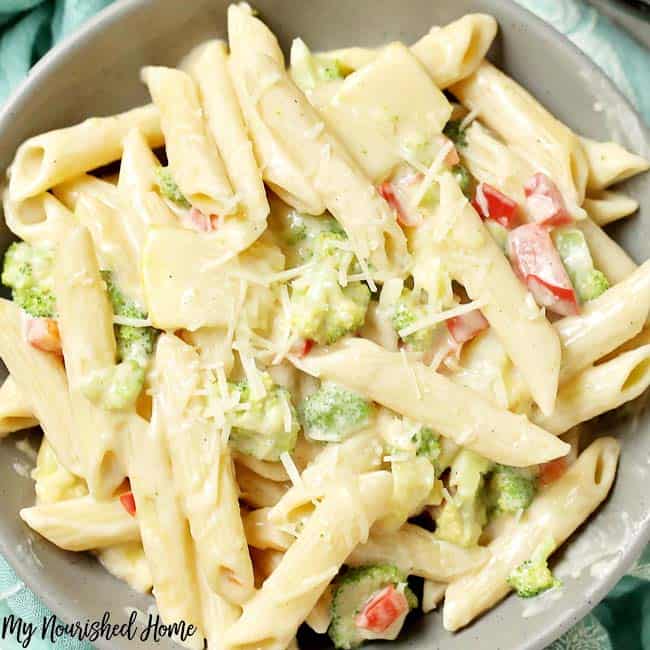 One of my favorite things about summer is the amazing selection of fresh vegetables at our local farmers' market.  From bright red peppers to rich green broccoli, it's like a rainbow of healthy foods on display every weekend.  It makes me hungry just thinking about it!  Since kids and veggies don't always go hand-in-hand, I've had to get creative with the ways that I present them to the girls.  Hence, the deliciousness of my Vegetable Alfredo recipe!
We also love to spend out summer outside as much as possible – you know, because the pool is calling… And when my husband gets home from work, we like to go swim in the evening at the community pool. This Vegetable Alfredo goes on the table in no time, getting our family back to the fun stuff sooner.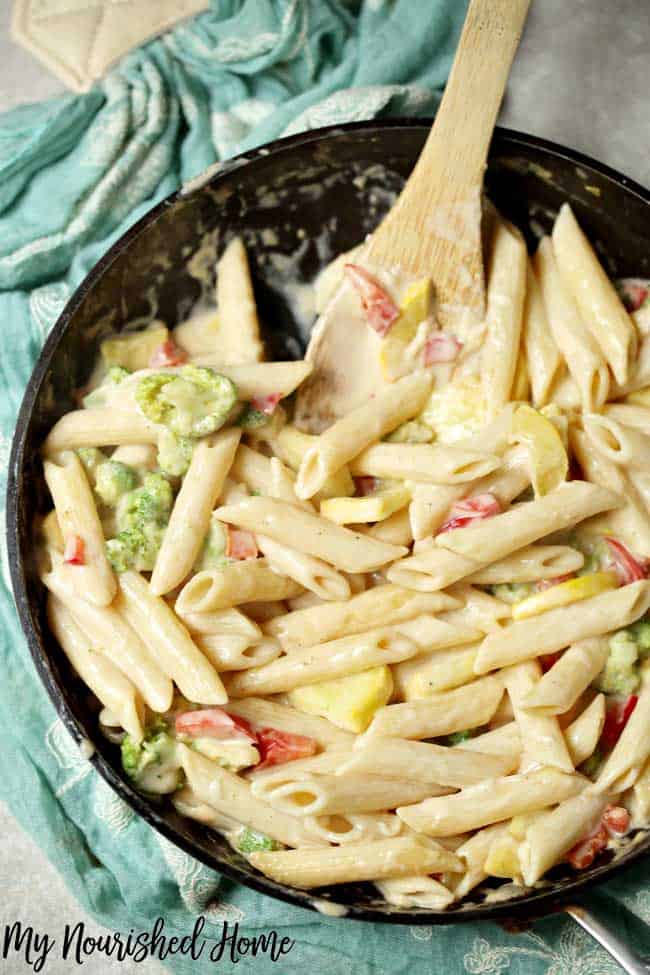 Vegetable Alfredo
Not only are the ingredients pretty to look at, they are, for the most part, full of nutritious goodness. Red peppers are high in vitamin C and beta-carotene.  Broccoli is filled with vitamins B6, E, B1, and A – not to mention being an excellent source of fiber.  And those bright yellow summer squash? They contain magnesium, fiber, potassium, and vitamins A, B6, and C just to name a few of their nutrients.  While the heavy cream isn't exactly a health-food, the Greek yogurt is high in protein and calcium.  It's a dish that's nutritious and delicious!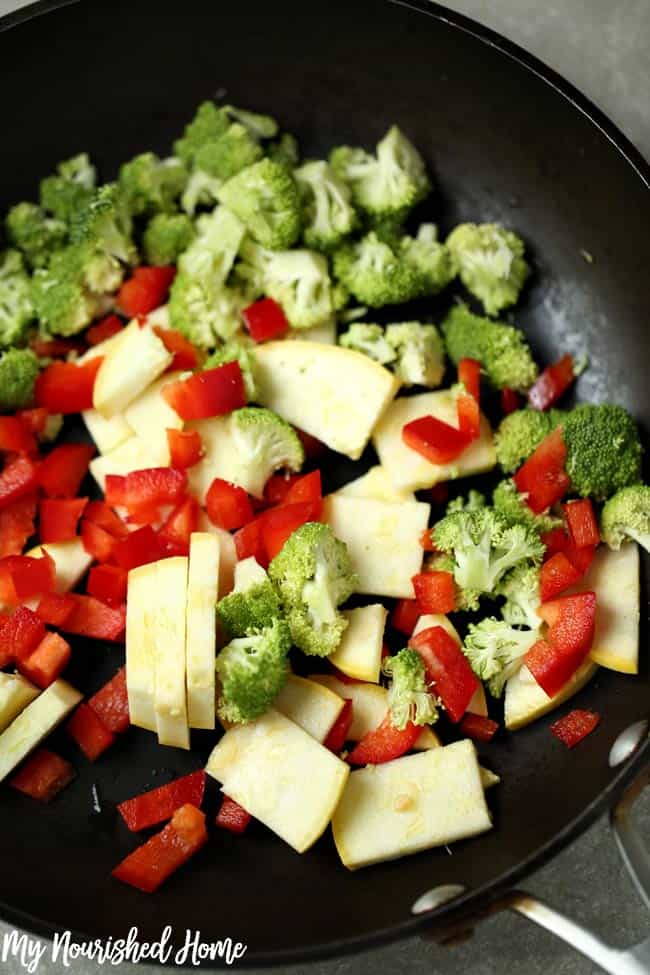 Smart Vegetable Alfredo
Start by cooking the penne and setting it off to the side. I try to make sure it doesn't get too soft or the dish kind of falls apart.  The next step involves dicing the vegetables and sautéing them over medium heat until soft.  You don't want to brown them, so stir frequently.
After that, a hearty whisk of the heavy cream, flour, vegetable stock and Greek yogurt is a necessity before you pour it into the sauté pan with the vegetables.  If you don't whisk it enough before you pour it into the saucepan, it gets lumpy – which is not a good look for sauce. After about 8-10 minutes, you have a delicious Vegetable Alfredo sauce that can be poured atop the cooked penne.  I like to use pasta dishes instead of regular dinner plates, because it's easier to keep the sauce on the dish vs. on my kids' laps.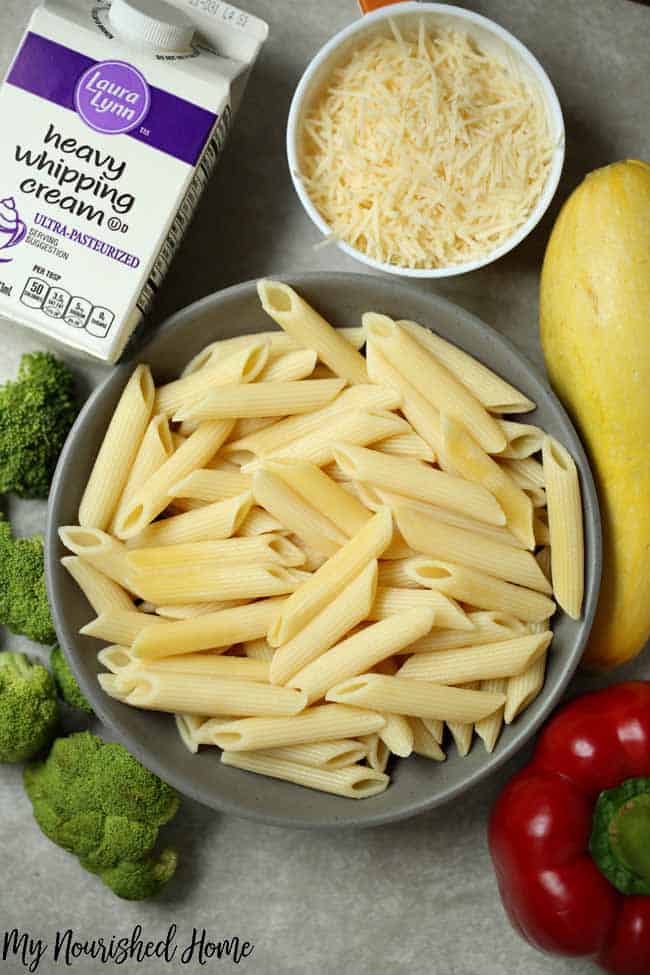 Vegetable Alfredo Shortcut
The hardest part of the recipe is really the prep work, but if you chop your vegetables and freeze them when you get home from the market, the entire meal can take under 15 minutes to prepare.  I've actually started keeping a pint-size bag of the diced veggie mix in my freezer for those nights when I'm running late and don't have a lot of time to make dinner.  It's saved us from a lot of unhealthy fast food meals!
So, the next time you're trying to find an excuse to buy all of the vegetables at the market, remember that this Vegetable Alfredo dish can be your reason.  Here's to healthy eating and summer vegetable goodness!
We also love this Garlicky Shrimp and Chard for a fast, vegetable-filled pasta dish in the summer.
Save
Save
Save

Servings

Prep Time

4

people

10

minutes
Servings

Prep Time

4

people

10

minutes
Servings

Prep Time

4

people

10

minutes

Servings

Prep Time

4

people

10

minutes
2

cups

cooked penne pasta

1

cup

broccoli

½

cup

sliced yellow squash

½

cup

diced red pepper

1

cup

heavy cream

⅓

cup

vegetable stock

⅓

cup

Greek yogurt

½

cup

Parmesan cheese

Pepper to taste
Cook pasta as directed to just soft.

Cut/dice broccoli, squash, and red pepper, and heat in a skillet on medium until soft.

In a bowl, whisk together heavy cream, flour, vegetable stock, and Greek yogurt. Pour into skillet with vegetables, and pasta.

Cook 8-10 minutes on medium, stirring occasionally.

Serve topped with extra parmesan cheese