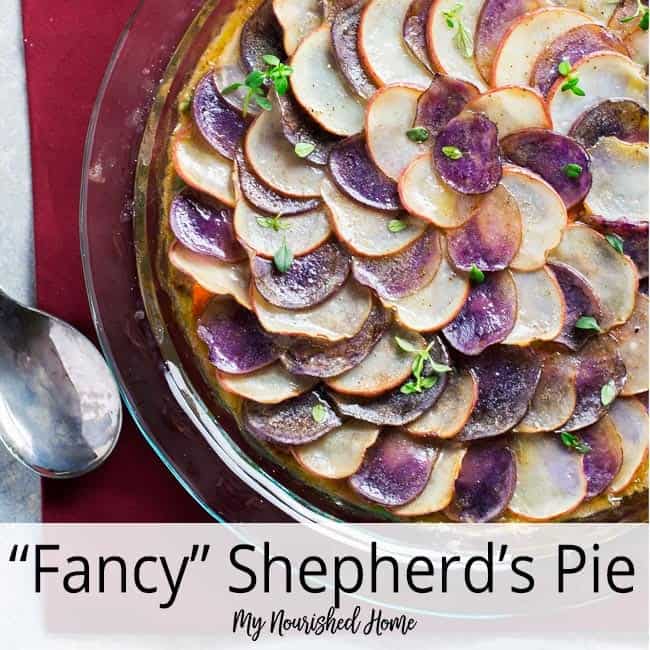 My husband and I met in Atlanta and often visited this hole in the wall Irish pub there that served the best Shepherd's Pie. I am of the belief that as long as you don't overcook the vegetables, Shepherd's Pie is one of the most hearty, comforting meals around. This Pie gets an upgrade that will make you proud to serve it to even your pickiest dinner guest.
Traditional Shepherd's Pie is thought to have originated in Ireland and the United Kingdom, but there have been variations of it throughout the world. It's a simple dish made of beef or lamb, potatoes, and carrots, onions, and other available vegetables. It is said to have been a staple of the lower class, as it was inexpensive to make and packed quite a hearty punch.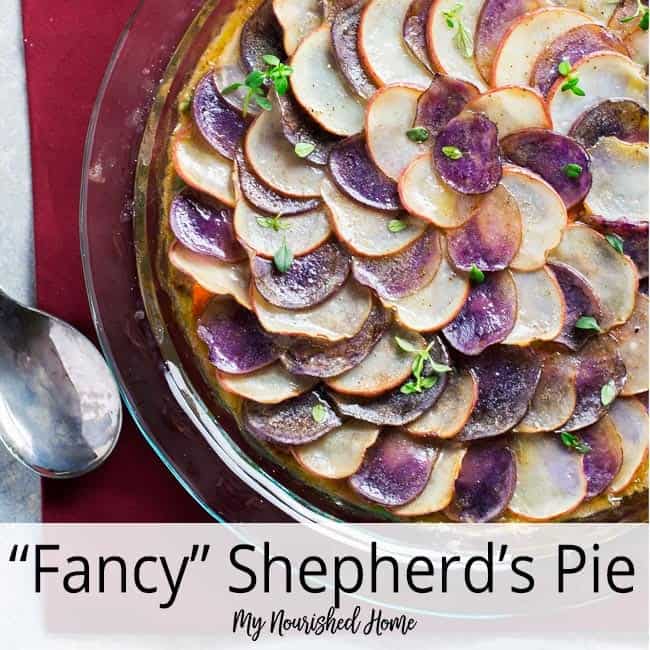 Fancy Shepherd's Pie Recipe
For us, Shepherd's Pie means only one thing – comfort. It's the epitome of comfort food dishes with its tender beef and savory vegetables in a rich broth, topped with scrumptious potatoes. For Fall comfort food, it doesn't get much better.
What makes this particular Shepherd's Pie recipe so "fancy" is the creative (not to mention mouth-watering!) use of sliced potatoes rather than mashed. Not only do they add a unique texture to the dish, they're so pretty that this simple meal becomes fit for even the fanciest of company. With a bake time of about 30-minutes, the dish can be on the table in under an hour.
While we've tried many different types of beef in our Shepherd's Pie, the organic beef that we buy from the farmer's market in town is always the most flavorful. The vegetables are also sourced from the market, as well as from our own garden. The girls love growing carrots, so we've tried many different varieties – including purple ones! No matter what color your carrots or where your beef is sourced from, the recipe is so easy that everything will turn out to be delicious.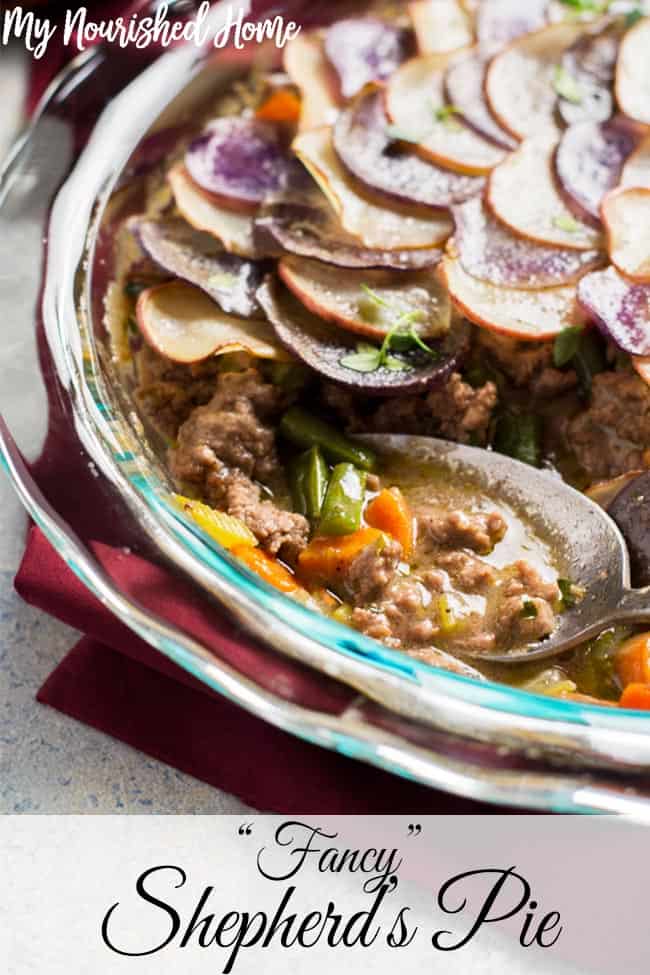 Tips for Perfect Shepherd's Pie
Since I've made this a few times, I've come up with some tips that make the preparation a lot easier. First, be sure you preheat the oven. It sounds simple enough, but I've forgotten on a couple of occasions as I've been focused on dicing the vegetables and browning the beef.
Next, be sure to cut the green beans into pieces no larger than 1/2″. I was in a hurry once and cut them a bit larger, but they weren't as tender as they usually are. Crispier green beans mean unhappy kids who won't eat them!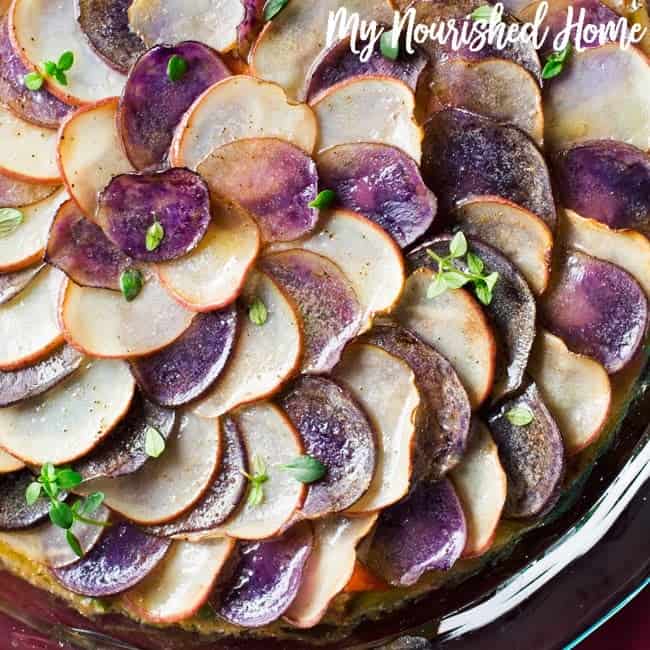 Beautiful but Simple Shepherd's Pie
However, the best tip I can offer is to be patient. It's tempting to turn the heat up and get the broth going, but it often results in a browned, lumped mess. Slow and steady definitely wins the broth race in this recipe!
No matter what you serve it with, the Fancy Shepherd's Pie is sure to be a Fall family favorite. You could even make a double batch of the beef and vegetables and freeze it together for a future meal. Happy eating, friends!
Save
Save
Save

A fancy take on the timeless classic, Shepherd's Pie.
Servings

Prep Time

4

15

minutes
Servings

Prep Time

4

15

minutes
A fancy take on the timeless classic, Shepherd's Pie.

Servings

Prep Time

4

15

minutes

Servings

Prep Time

4

15

minutes
1

lb

ground beef

1/2

cup

diced celery

1/2

yellow onion diced

1

cup

diced carrots

1

cup

chopped 1/2" pieces green beans

2

cloves

garlic, minced

1 1/2

cups

beef broth

3

tbsp

flour

4-5

baby new potatoes sliced into 1/8" slices

salt

pepper
In a pan over Medium High heat, add beef season with salt and pepper, crumble, and cook through.

Remove from pan, save in a bowl, and reserve 1 tbsp fat.

Add fat back to pan, add onion, celery, and carrots to pan and cook till onions are translucent, 5-7 minutes.

Add green bean pieces and garlic, salt and pepper to taste, cook 3-5 minutes.

Whisk flour into broth and add to pan, allow broth to come to a simmer and start to thicken, 3-5 minutes.

Transfer mixture to 9.5 deep dish pie pan, or 8x8 baking pan, place potatoes on top. Bake 25-30 minutes until potatoes are cooked through and filling is bubbling.