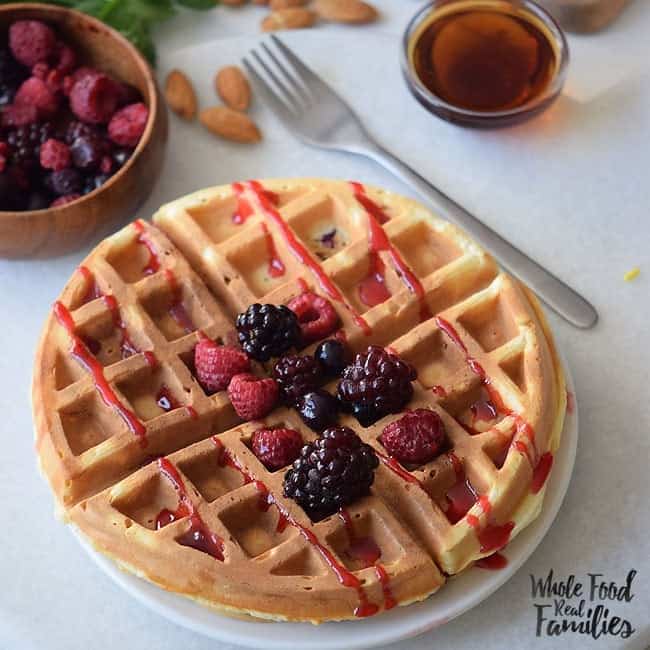 Berry Oat Waffles are a healthy and easy breakfast. Ground oatmeal and sweet berries make these waffles filling and super tasty. They also freeze great for a quick breakfast during the week!!
 
Berry Oat Waffles are Sweet and Wholesome
Whether it's busy school days, hectic weekends or leisurely summers my family wants a good breakfast.  I, on the other hand, need something that fits into my schedule and still gives my family the nutritious start to their day.  Berries and Oats are one of our favorite ways to sweeten things up in the morning.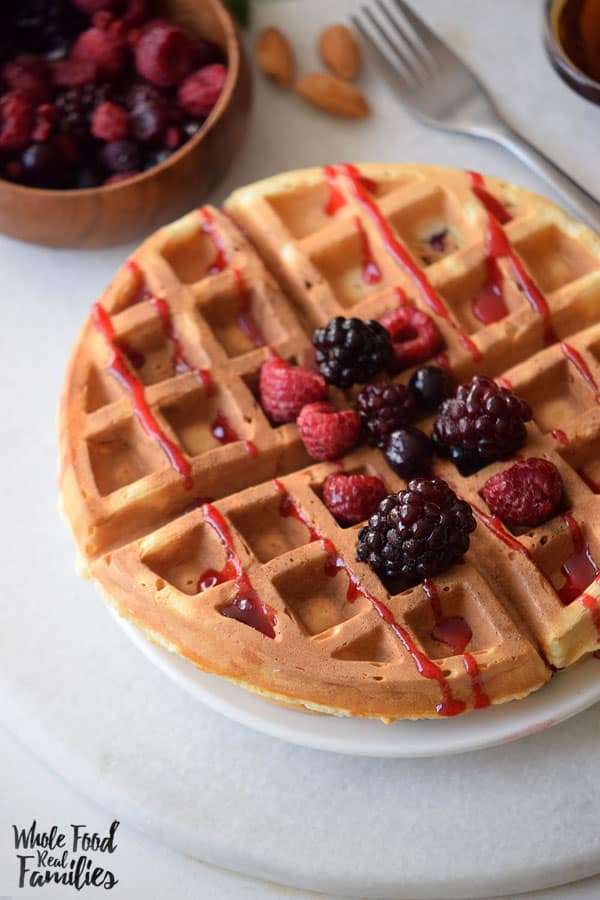 Berry Oat Waffles are a DELICIOUS way to start a busy morning!
Depending on how many are home and how hungry everyone is, I will either make 1 or 2 batches of the batter for the Berry Oat Waffles.  The kids just can't get enough (okay, hubby and I can't either).  What is really great, if you have extra batter you can make up extra Oat Waffles for later.  Let the waffles cool, put them on parchment paper and freeze.  After they are frozen put them in your favorite freezable containers or zip-lock bags.  When you're ready to eat them pop them in the toaster and voila, you've got a fast breakfast you know is healthy for your family.
My kids love cutting the Oat Waffles into different shapes and you can use any type of fruit to shake things up a little.  Our family just loves the succulent flavors of blackberries, raspberries, and strawberries together.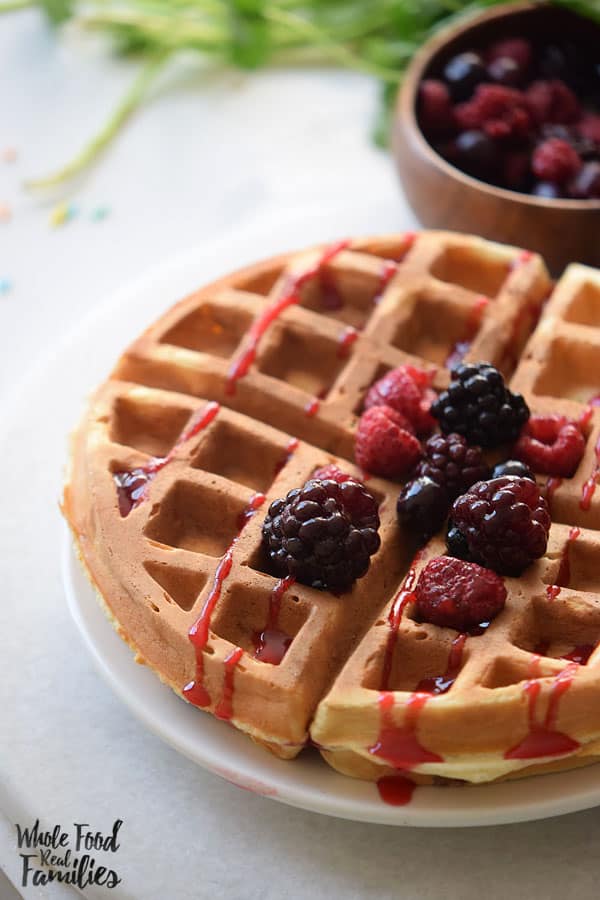 Healthy, Fun and Flavorful Waffles
Breakfast being the most important meal of the day doesn't mean it needs to be boring.  There are so many ways you can make these Oat Waffles to please everyone at the breakfast table.  You could even turn this into a yummy dessert by adding some frozen yogurt on top of the waffle and then smothering with your mixed berries.  Talk about the best of both worlds.
If you are looking to limit refined sugar you'll want to use a jam made with honey.  There are so many wonderful recipes out there.  My friend Kristine has a fantastic Raspberry Chia Seed Recipe that literally only takes 10 minutes to make.
More Healthy Breakfast Choices?
Looking for more ways to make a healthy breakfast when in a hurry?  These Healthy Breakfast Burritos are not only good you can make a bunch at a time and freeze.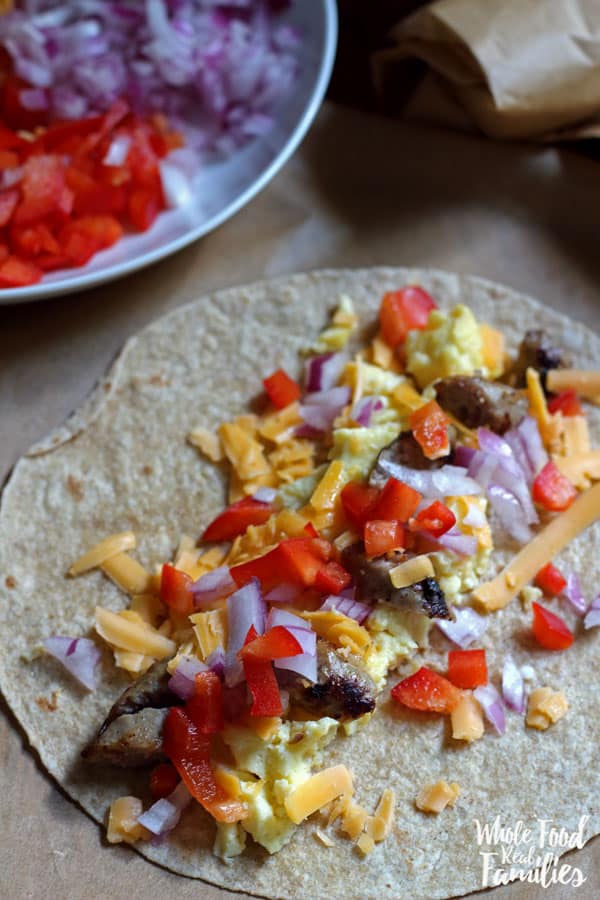 Could you imagine the words healthy, cookies and breakfast all in the same sentence?  Here you have it…. Healthy Breakfast Oatmeal Cookies are one of our favorite ways to start the day.  They are so easy to make and a wonderfully balanced breakfast.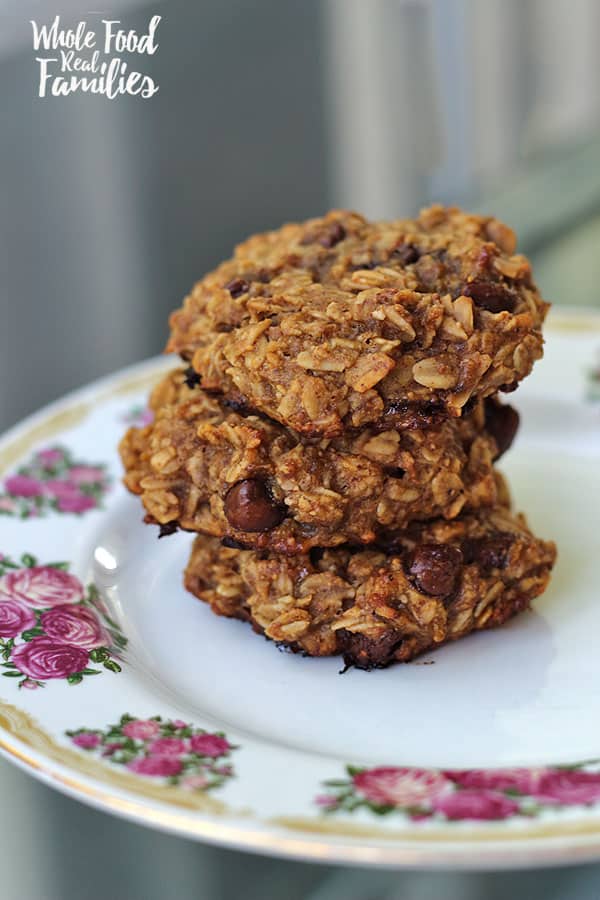 Do you find it hard to make sure your family eats a good breakfast in the morning?  What are some easy breakfast ideas you like to serve to your family?  Let me know in the comments so we can try them out!
Servings

Prep Time

4

servings

10

minutes
Servings

Prep Time

4

servings

10

minutes
2

cups

ground oatmeal

3/4

cup

milk

1

egg

1

Tbsp

honey

1

tsp

vanilla extract

2

Tbsp

coconut oil

1

tsp

baking powder

1/4

cup

Strawberries

chopped

3/4

cup

mixed berries

raspberries and blackberries

1

Tbsp

strawberry jam
In a large bowl combine the egg, honey, vanilla extract, and coconut oil.

Add the ground oatmeal, baking powder, chopped strawberries, milk, and stir for 1 minute.

Preheat the waffle maker and add a thin layer of coconut oil.

Pour the batter and cook for 5 minutes, or until golden brown.

Serve with mixed berries, strawberry jam, and enjoy.
Use a cookie cutter to get waffle bites with different shapes.