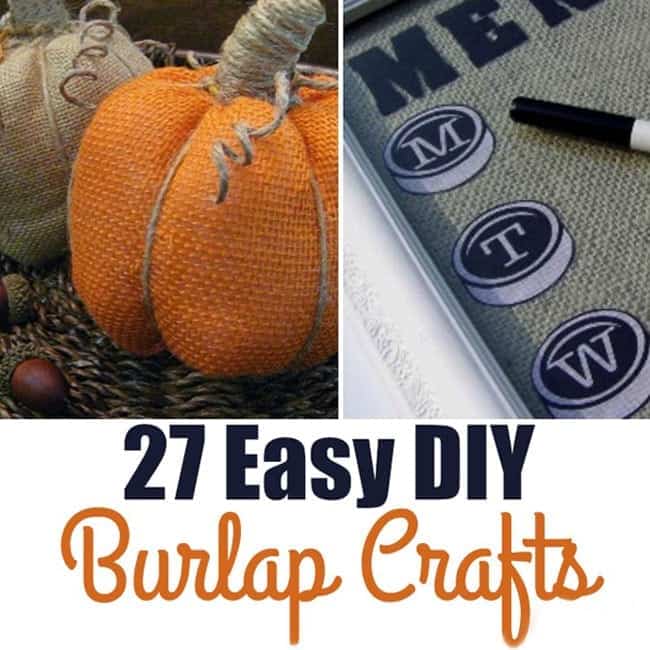 These DIY Easy Burlap Crafts are perfect for me! I really enjoy crafting and creating but am (a) sometimes time challenged and (b) sometimes skill challenged. (Don't laugh. It is not nice!)
I love the look of burlap – the down-home, rustic feel it creates, especially around Fall when everything is all pumpkins and falling leaves and fake scarecrows. I've been writing online for about a while now, but sometimes the creativity of the blogging community still shocks me. I love these ideas so much that it gives the creative side of my brain that tingly feeling – the feeling like I must drop everything and go to the craft store right now!
Let's Make some Easy Burlap Crafts!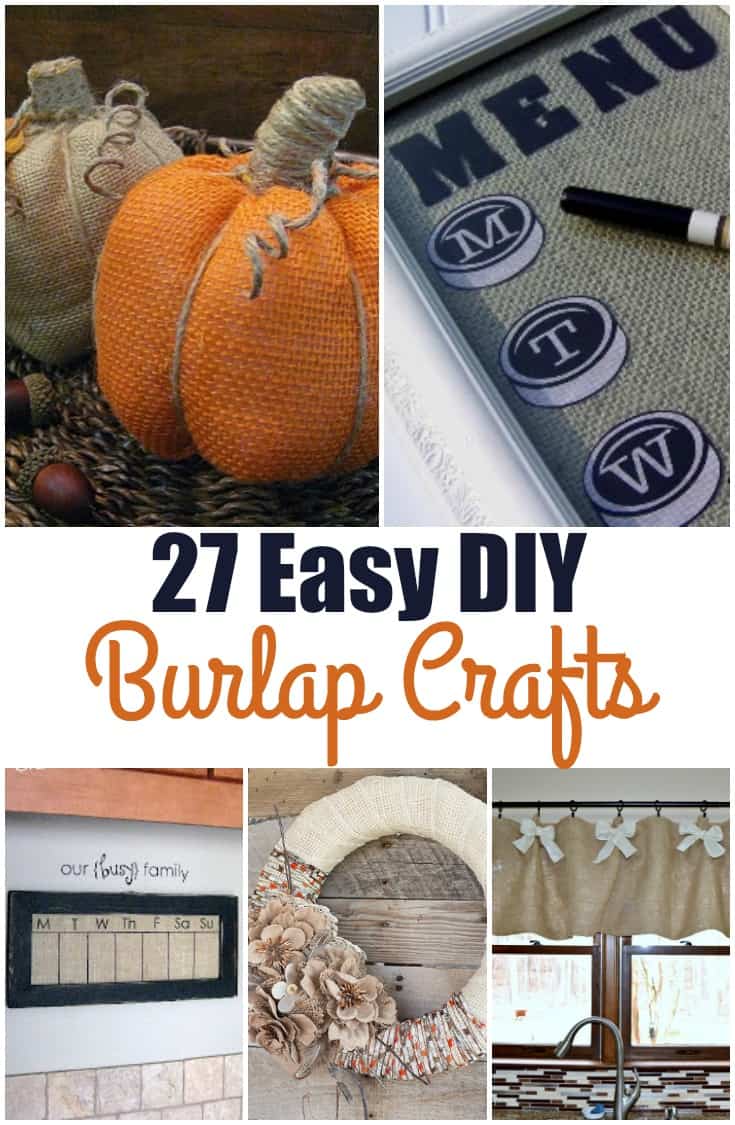 27 DIY Easy Burlap Crafts 
While searching for great crafts for the kids and I to make, it occurred to me we hadn't done much with burlap, which I had a HUGE pile of in my office closet. There were so many great ideas, I thought I should collect them so I could share these easy Burlap Crafts with you. You're welcome. 🙂
Having fabulous valances for your kitchen is a must.  These Easy Affordable DIY Kitchen Window Valances from Faithfully Free bring a lovely touch to any type of kitchen.  The ideas and options are endless.
If you have that lamp you want to get the perfect look for, this DIY Ruffled Burlap Shade  craft from Cottage at the Crossroads is very cute.
With fall just knocking at our door, there are going to be lots of opportunities to make lovely wreaths.  I can't get over this Rustic Fall Wreath from Consumer Crafts Blog.
When my family is looking to start getting organized, there's nothing more important than a family message board.  Making this Burlap Lover Message Board from Frantz Featherings would be fun and add a great look to our family command center.
I love Fall and everything pumpkin.  I can't wait for us to make these Easy Burlap Pumpkins brought to us from Confessions of a Plate Addict.
I love how easy it is to customize this Burlap Canvas Key Holder is from Lil Blue Boo.  It's cute and just right for anywhere in your home.
Talk about beauty, the deep colors of these DIY Burlap Roses are fab. Accents and Petals takes you step by step, so it's easy for even the non-crafty person to get the hang of them.
Do you love a family game that has nothing to do with electronics and screens?  Then you'll love making and using this Tic Tac Toe Rocks Activity we found at Balancing Home.  Be sure to let us know how much fun the kids and you have playing!!!!
Shabby is the new fun!  Try these Rustic Shabby Chic Burlap Flowers we love over at Live Randomly Simple.
With our busy schedule, we need a dry erase calendar.  Things change from minute to minute sometimes.  This Burlap Dry Erase Weekly Calendar from  Simply Kierste is the perfect touch.  It's cute and adorable to put just about anywhere.
We have so many pictures.  I love putting them in awesome frames like the DIY Burlap Canvas Frame, U Create Crafts shares how to make.
There are so many flower craft options out there but burlap just makes them have a unique look.  Check out the Burlap Rose DIY at Sand Dollar Lane.
There's nothing more fun than customization.  You'll have lots of ideas with the Custom Burlap Sign craft from Everyday Home Blog.
A gorgeous wreath to make with some fun fall colors in this DIY Fall Wreath  craft at Horseshoes 'N Hand Grenades.  This wreath is so sweet and easy.
Monogram can be a wonderful gift.  Find ideas with this DIY Burlap Monogram craft over at Love Of Family and Home.
I love just about anything Pottery Barn like these Pottery Barn-Inspired Burlap Placemats, Pickles and Cheese shows us how to make.
Wreaths are so much fun.  I can't wait to make this awesome Burlap Bubble Wreath I found over at Craftaholics Anonymous.  During holiday entertaining I know everyone will want to know where I got it from!!!!
If you want that real farmhouse look in your bedroom, it would be fun to give this DIY No Sew Burlap Bedskirt  from Lights, Camera, Ashli a try.
Perfect for the den is this DIY Burlap Ottoman I found at Liz Marie.  Looks like a nice touch to any room.
Do you have a bunch of earrings and nowhere to put them?  You can make this DIY Earring Holder from Ideas From Me to You.  Never lose an earring again.
I love stencil, this cute craft has so many ways you can use it.  Check out the DIY Stenciled Burlap Magnetic Board from Domestically Speaking.
You can never have enough storage places.  Find out how to make this Storage Fabric Box over at DIY Tutorial Ideas!
The kids like knowing what we will be having for dinner.  They even love getting in on things and helping me come up with a menu.  This Erasable Dinner Menu Frame from By Stephanie Lynn will be perfect for us when we're planning out our dinner ideas for the week.
I can't get enough of unique calendar ideas.  I love all the creative things we can do with this Dry Erase Calendar Wall Art from Cottage Hill.  My girls would love to decorate it and make it just how they want it.
When out shopping and running around you can never have enough bags.  These Personalized Burlap Bags from Lil Blue Boo are so cute I might want to make some for gifts this year.
When I saw this adorable Burlap Utensils Holder over at I Heart Naptime I couldn't get over how easy they are to make.  They will be sure to make any dinner table look fabulous.
Talk about cuteness.  This Burlap Door Hanger from Live a Little Wilder is just amazing.  There are so many different looks you can give it that will brighten up any door.  It's a great gift idea too.
Are you super crafty? Or are you skill challenged like me?!  Have you have any easy DIY Burlap Crafts you'd like to share with us? Tell us in the comments! Don't forget to send us a picture!