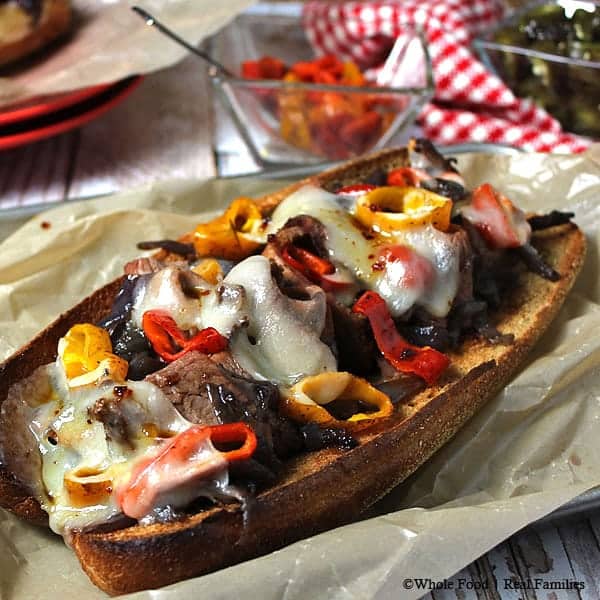 Brisket Grinders with Smoked Peppers and Caramelized Onions are the perfect reason to hang out by the grill! Delicious and spicy, with piles of meaty goodness!
There are perks to being a blogger, no doubt. Whole Food | Real Families has created many opportunities for me – it has challenged me as a business person and cook and allowed me to create a wonderful network of friends. It has also created opportunities to work with brands our family love and use in our own home –like Certified Angus Beef® brand.
But I never considered that being a blogger's husband had perks too until Certified Angus Beef® brand surprised us by delivering steaks to our door. My husband is generally a pretty even keeled guy. I would even venture to say he falls a little on the serious side of even. But when he answered the door and found a cooler of beautiful Filet of Sirloin and New York Strips, it was like the Sound of Music sound track was playing in our house. There might have been skipping and singing involved.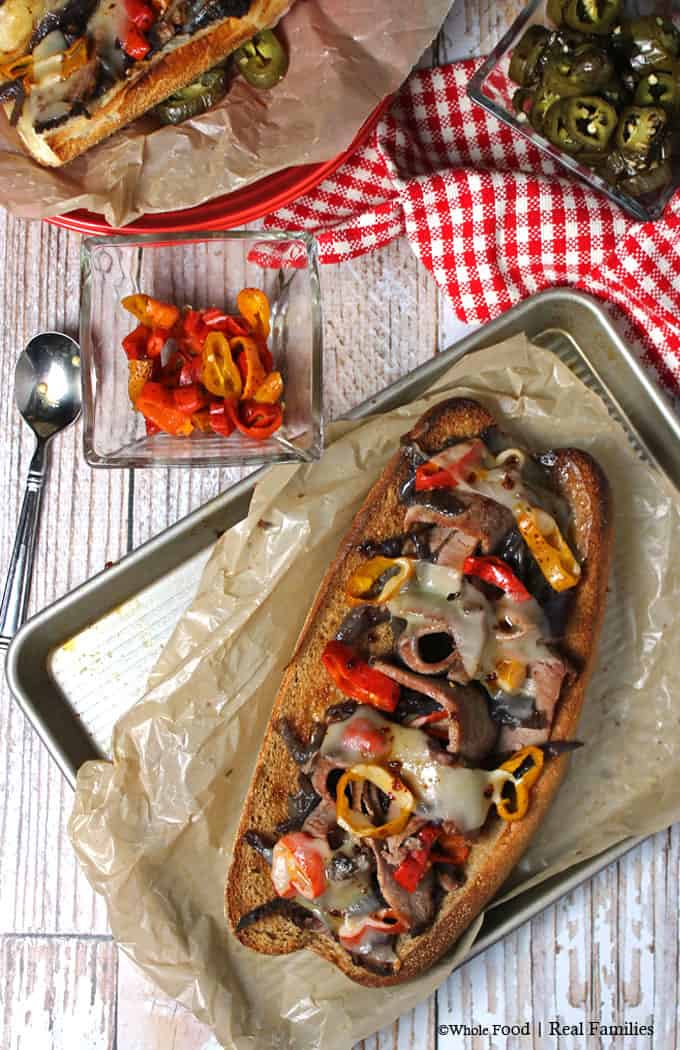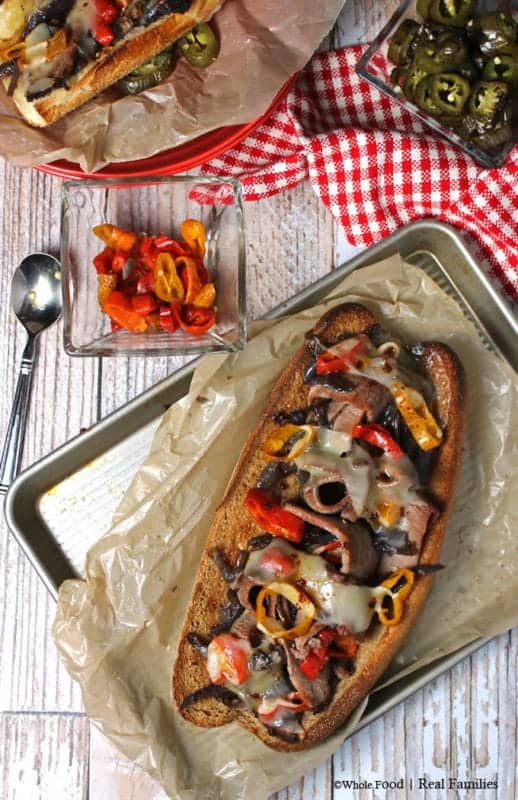 These Brisket Grinders with Smoked Peppers and Caramelized Onions were the main event in a recent visit with my husband's family. Like many people, life often gets in the way of visiting with the people we love as often as we would like. But this most recent visit reminded me why I love grilling outdoors so much. Lots of time spent in lawn chairs outside by the grill catching up and talking food! Nice weather and good food make everyone happy – and a brisket smoked until it is tender enough to pull apart with your fingers was icing on our summertime cake.
If you have never smoked or grilled a brisket before, it requires some patience. But it is totally worth it. Don't panic when the temperature of the beef stalls while cooking, and don't be tempted to pull it off early. It is normal for the temperature to stall. Leaving it on to continue cooking from that point forward is where the brisket becomes tender. Find out more about brisket here.
Smoked peppers are a secret ingredient in lots of the recipes around our house. We generally smoke them in batches and freeze them for easy cooking later on. In this recipes, we smoke sweet and hot peppers on the smoker with brisket then let everyone at the table choose which they prefer. Check out this Roasted Butternut and Cauliflower Soup, it uses smoked banana peppers to add a smoky flavor without any heat.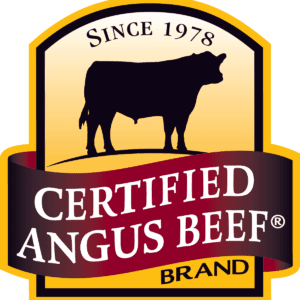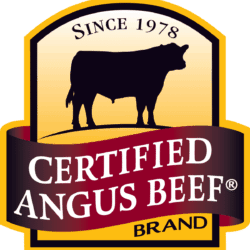 If you are looking for other beef recipes that make wonderful weeknight meals, this Beef and Mushroom Saute is one of our favorite. So is this Ginger Sirloin and Bok Choy. Better yet, follow the Certified Angus Beef® brand Pinterest Board for lots of great recipes.
Do you have questions about Certified Angus Beef® brand? Or are you looking for great recipes? Visit their website. Or follow them on Facebook, Twitter, Pinterest, Instagram or YouTube. Find out who sells Certified Angus Beef® brand in your area here.
This post is sponsored by Certified Angus Beef in conjunction with a social media campaign through Sunday Supper LLC.
Appealing Appetizers:
Marvelous Main Dishes:
Handy Information: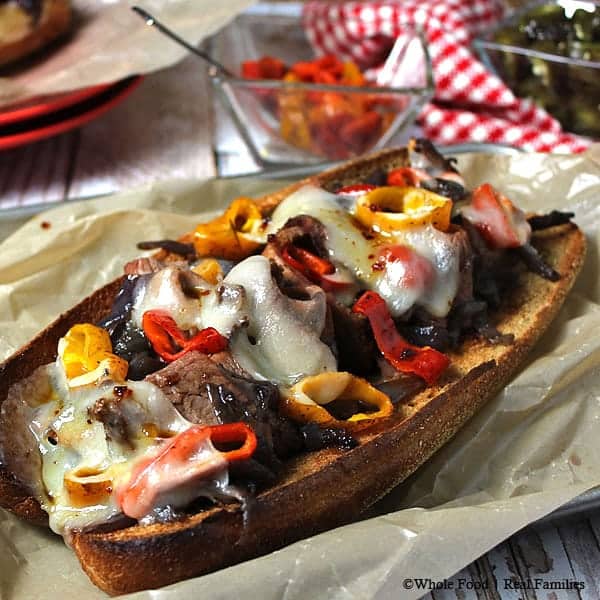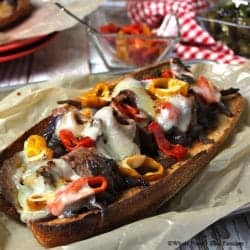 Brisket Grinder with Smoked Peppers and Caramelized Onions
Ingredients
5-6

lbs

Certified Angus Beef Brand Brisket

2

cans or bottles of beer

1

lb

sweet or jalapeno peppers

we like a combination of both! A pound of peppers is about 20 peppers but adjust the amount as desired.

4-6

red onions

16

slices

Provolone cheese

8

Grinder or Hoagie Rolls

3

tbsp

butter

3

tbsp

olive oil
Brisket Spice Rub
4

tbsp

paprika

3

tbsp

kosher salt

2

tbsp

garlic powder

2

tbsp

onion powder

1

tbsp

black pepper

2

tsp

ground cumin

1

tsp

ground coriander

2

tsp

chipotle chili powder
Instructions
Preheat smoker to 225 degrees. Place a shallow pan over soaked wood or coals and fill it with beer. (We use one of those disposable foil pans so there is no clean up.) Prepare brisket by trimming fat cap to 1/4 inch and patting dry.

Combine spice rub and apply a thorough coating to the outside of the meat. Store any leftover spice rub in an airtight container.

Place brisket on the smoker with the fat cap facing up. Smoke the meat for 1 1/2 hour per pound, maintaining the smoker at a temperature of 225 degrees. Rotate meat once during cooking to prevent any drying from hot spots in the smoker. Use a meat thermometer to determine when meat has reached 185 degrees. (Meat will stall at 165 degrees, have faith - 165 is technically "done" but the meat will be far to tough to eat. Leave it alone! The temperature will start moving again!)

After removing from the smoker, wrap in the brisket in foil and let it rest for at least half an hour but preferably 2 hours. When you carve the brisket, cut the fat cap off the top and remove the strip of fat that runs through the center. You may end up with two pieces of meat when you are done, that is okay! Just lay them back into place and thinly slice against the grain for serving.

While brisket is resting, place peppers on the smoker. You will want to smoke them for 45 minutes to an hour. They will begin to brown but you want to pull them before they char so that they will still be moist for building your sandwich.

While the peppers are smoking, add red onions to 3 tbsps of butter and 3 tbsps of olive oil and cook over medium low heat, stirring occasionally. Allow the onions to caramelize for 45 minutes to an hour while the peppers are smoking.

Using gloves, slice peppers into rings for servings. Toast your favorite grinder or hoagie rolls.

Pile the grinder rolls high with brisket, peppers, onions and lots of Provolone cheese! Enjoy!