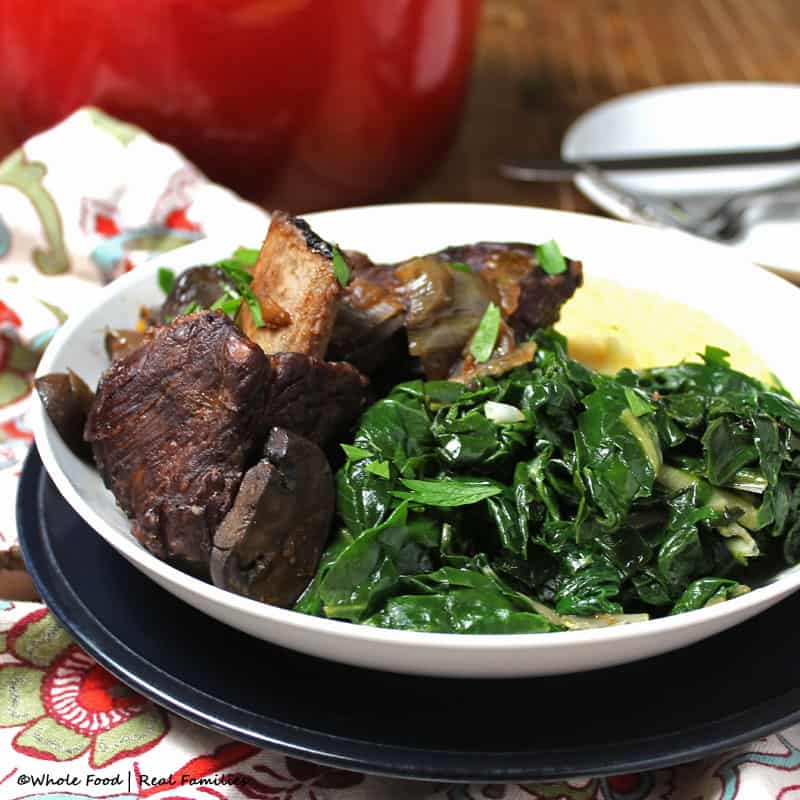 These Beef Short Ribs are fall-off-the-bone tender, flavorful, and have a rich pan sauce full of mushrooms, leeks and onions. Serve with creamy polenta and sauteed greens for a meal you are going to love!
Weekends are a time when I really enjoy slowing down in the kitchen. I would like to tell you it is because Fall is coming or because slow food is our thing – both of those are true. But the primary reason is that my husband and I are actually home at the same time so the adult to child ratio is more effectively distributed. I enjoy slowing down in the kitchen because I love to cook and can focus on the process more with an extra set of grownup hands to help with the juggling of our 3 kids.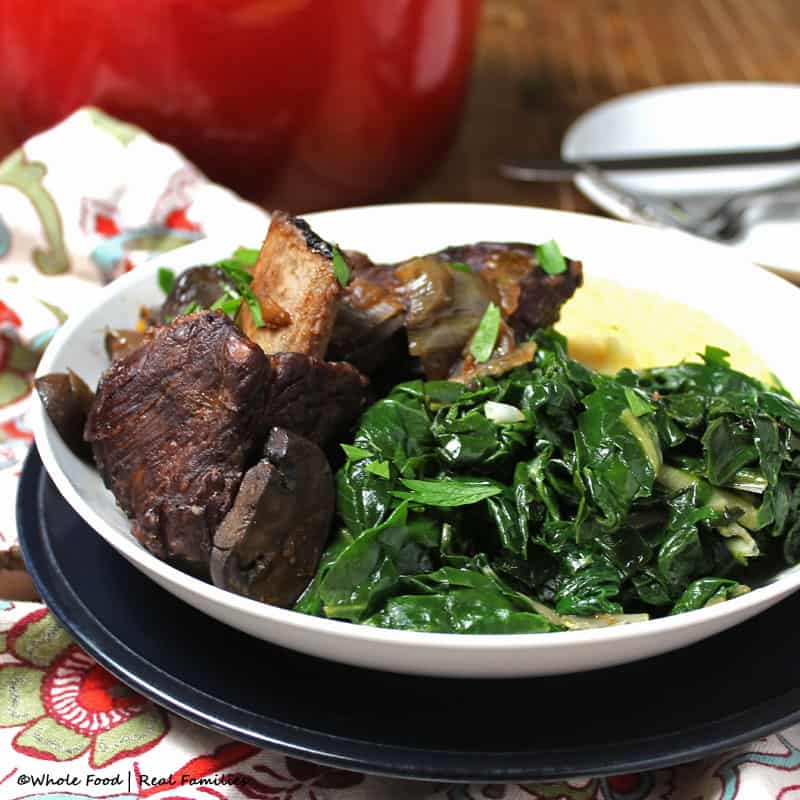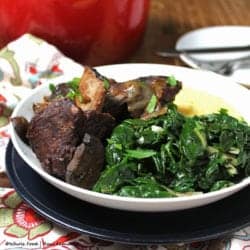 Beef Short Ribs with Polenta and Sauteed Greens #SundaySupper
Ingredients
For Short Ribs
3-4

lbs

beef short ribs, fat trimmed off

3

tbps

olive oil (enough to cover the bottom of your pot)

1

whole

onion, diced

4

cloves

garlic, minced

1

whole

leek, white and light green parts

1

cup

red wine, dry

6

cups

beef broth

3

tbsp

tomato paste

16

oz

mushrooms

1

tbsp

dried thyme

Kosher Salt and Fresh Black Pepper
For Polenta
2-3

cups

water

1

cup

polenta

2

cups

milk

3

tbsp

butter

Kosher Salt and Fresh Black Pepper
Sauteed Greens
2-3

whole

shallots, peeled and sliced into rings

1

bunch

greens, like kale or chard

rinsed with stems removed and cut into bite sized pieces

1

clove

garlic, minced

1/4

cup

chicken or vegetable broth

1/2

tsp

crushed red pepper flakes

2

tbsp

olive oil

Kosher Salt and Fresh Black Pepper
Instructions
Preheat oven to 400 degrees. Trim short ribs of any excess fat and sprinkle with salt and pepper. Lay them in a sheet pan and cook them in the oven for 15-20 minutes until brown on the outside and the fat has began to render from the beef. Remove from oven and reduce temperature to 300 degrees.

While the short ribs are in the oven, heat olive oil in a large dutch oven or heavy pot over medium heat. When oil is shimmering but not smoking, add onions. mushrooms and sliced leeks. Cook until the onions begin to turn transleucent, 4-5 minutes. Add 1 tbsp salt and black pepper to taste. Add minced garlic and cook for an additional minute, stirring often to prevent the garlic from burning.

Add beef broth and red wine to the onion mixture. Whisk in tomato paste until it is dissolved. Mix in thyme. Add short ribs to the mixture, cover and put back in the oven for 2 hours, or until meat is extremely tender.

About 30 minutes before ribs are done cooking. Heat 2 cups of water and 2 cups of milk and 3 tbsps of butter in a medium sized pot. Add 1 tsp salt and pepper to taste. When liquid is boiling, slowly whisk in 1 cup of polenta. Continue stirring until the mixture begins to thicken, 2-3 minutes. Reduce heat to low and cook for 30-40 minutes, until grains are swollen and taste cooked, not raw. If polenta starts to get too thick, add 1/2 cup of water at a time to keep it soft enough to stir.

When beef short ribs are done cooking, remove the dutch oven from the oven, uncover it, and sit it over medium heat on the stove. Remove short ribs to a plate. Skim any fat off the top of the sauce and then allow it to reduce by 1/3 on the stove while you finish cooking the polenta and greens.

Heat 2 tbsps olive oil in a sautee pan over medium heat. When oil it hot, add shallots and cook for 2-3 minutes stirring often. Add minced garlic and cook an additional minute, stirring often to prevent burning. Stir in red pepper flakes. Add greens and broth. Stir and cover the pot for 2 minutes to allow greens to soften. Remove lid, and use tongs to turn greens in the pan until all are wilted and the liquid has evaporated.

Add short ribs back to the pan sauce that has reduced on the stove.

Assemble each plate with polenta, top with short ribs, add mushroom and leeks from the pan sauce and spoon sauce over the ribs. Serve sauteed greens on the side. Enjoy!