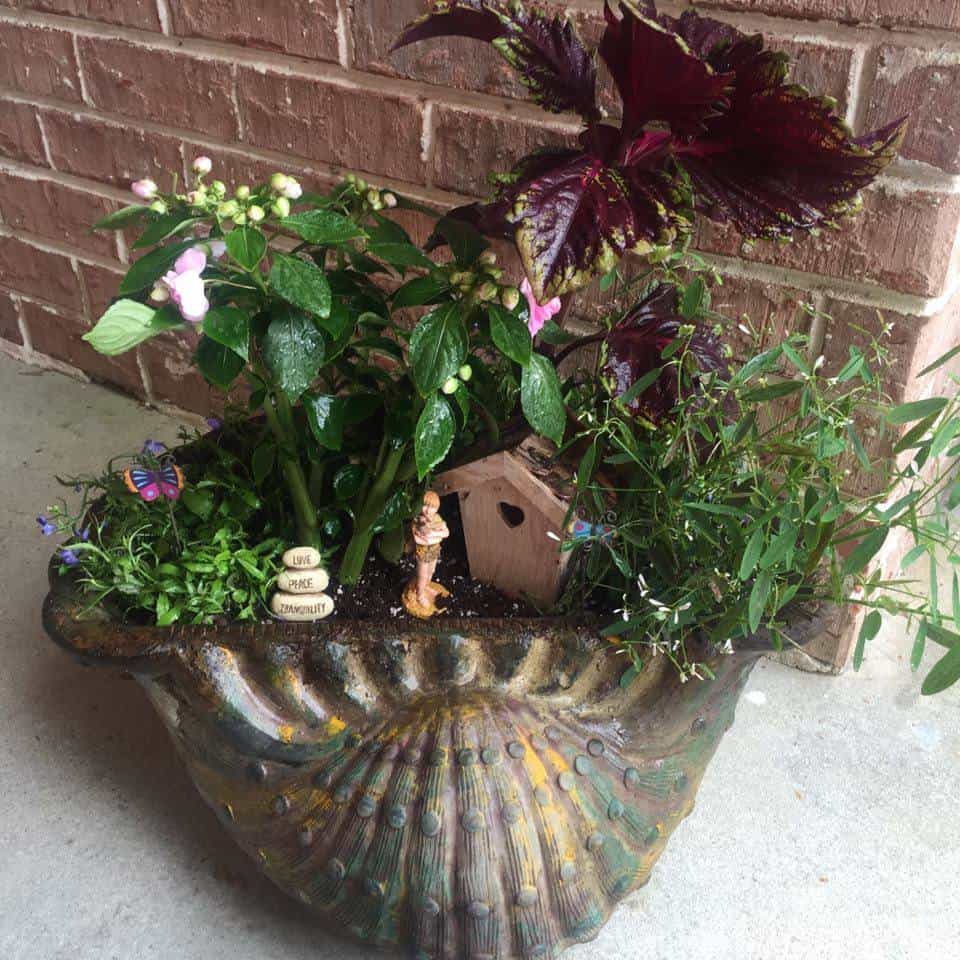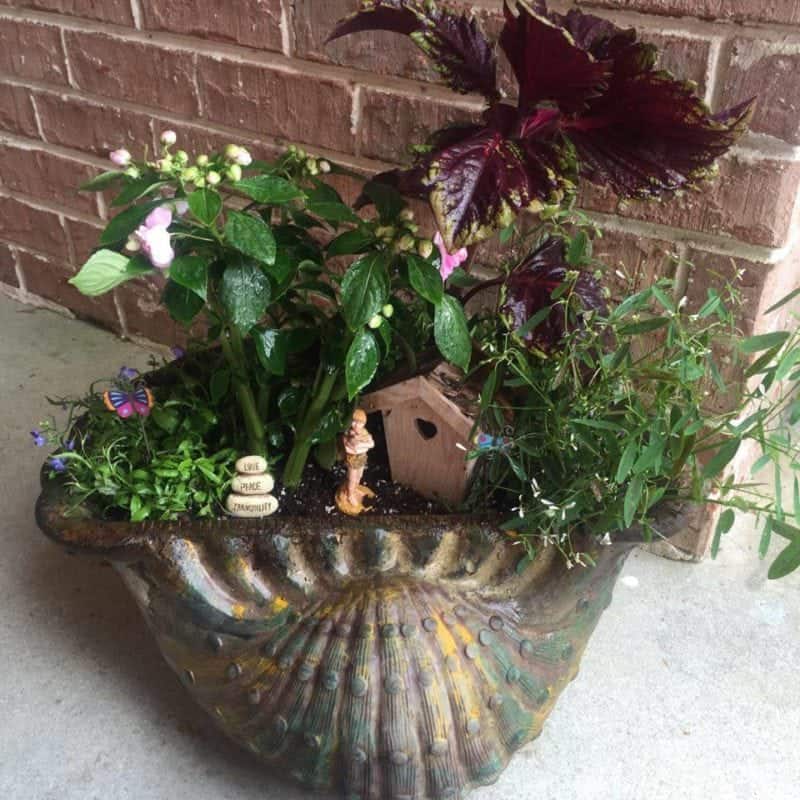 This Adorable Affordable Fairy Flower Garden was simple to bring to life, a ton of fun with my kids and gets lots of attention and love from visitors at my front door.


Our front door has always been a bit boring. I am notorious for starting a project to spruce it up only to give up before I actually accomplish anything. Plants bring life to any area – but the front door is about 6 feet from the front of the roofline. So the area where I wanted the plants would get very little direct sun. But it is HOT in Savannah. So picking plants that could tolerate the temperature without getting actual sunlight was going to be important.
For the longest time, my kids have been in love with the idea of planting a Fairy Flower Garden. I love to garden, so anything that gets them to come play in the dirt with me is just fine in my book. But being the person responsible for making sure they are fed and clothed, I kept getting stuck at how EXPENSIVE the accessories were in trendy fairy gardens. To be honest, given the age of my young children, I didn't want to plan (or spend!) something elaborate because I wasn't sure if they would stay with the idea for a minute or a year.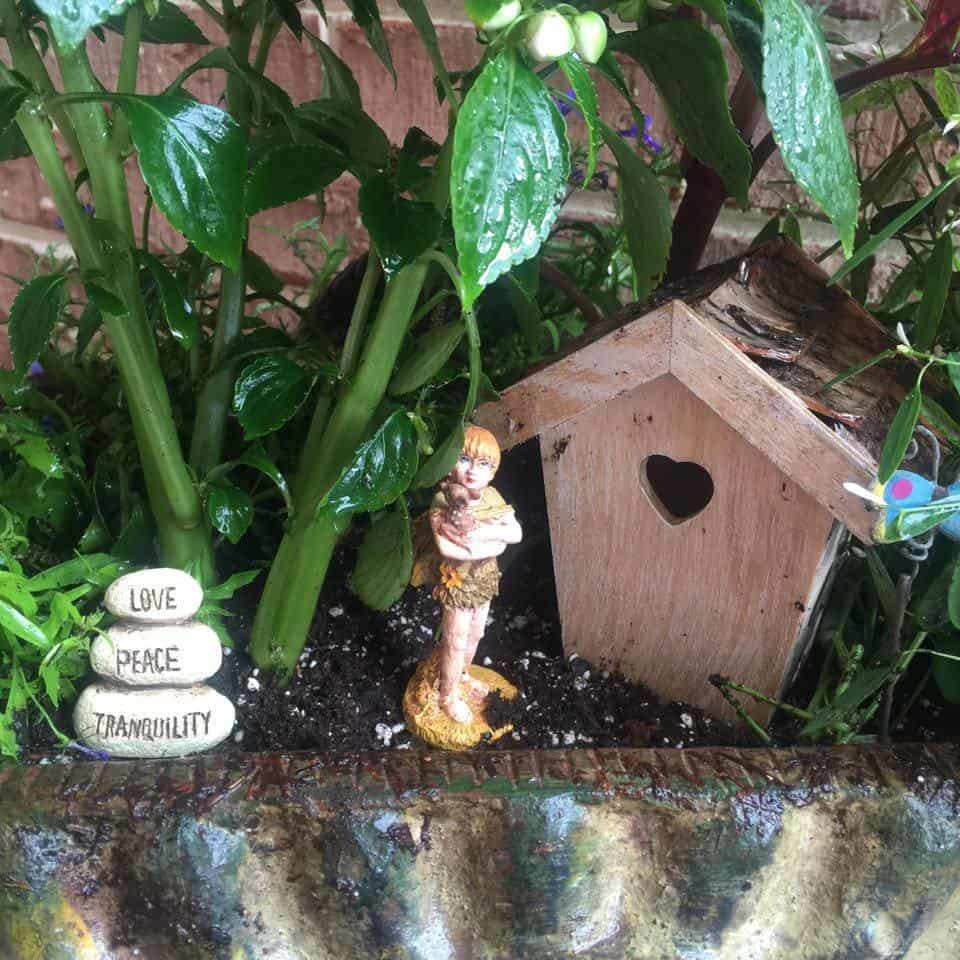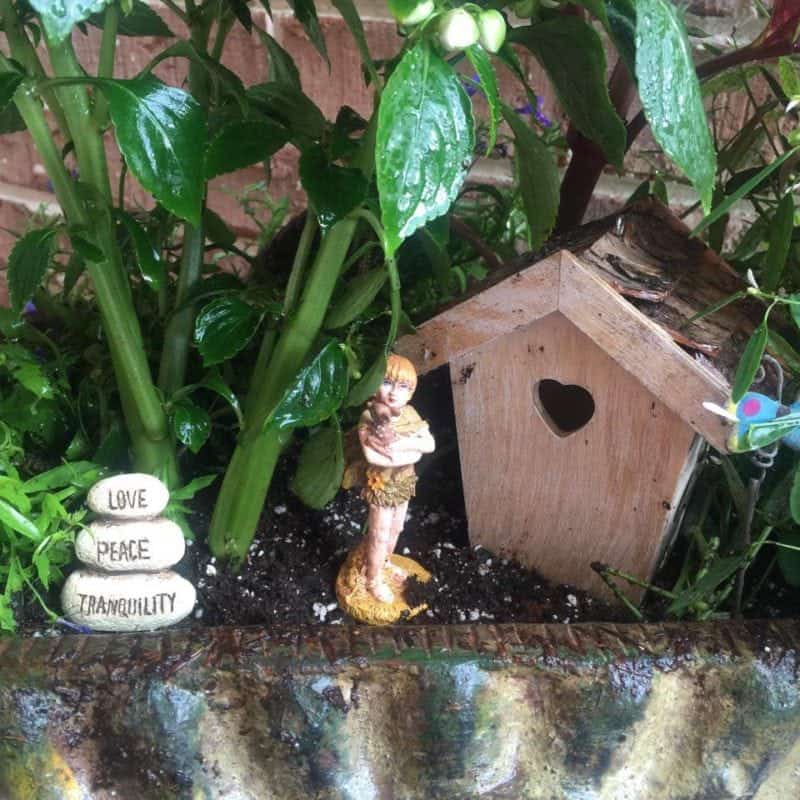 On a whim I walked through a local store looking to see if I could find alternative products that would bring our fairy garden to life without spending a fortune. I found a wooden house that was intended to be a Christmas ornament. I snipped the twine at the top so it no longer looked like it was supposed to hang and voila! I had a fairy house that cost $3 instead of $40. Since then, we've also figured out that looking through the areas where fish tank decorations, small bird houses, and kid crafting ideas are found are full of great, much less expensive ideas for a Fairy Flower Garden.
You can find little fairies of all shapes and sizes – doing all sorts of things, from getting into trouble to gently tending forest animals. We really enjoyed picking out the tiny knickknacks for the fairy garden. It made me happy we had preserved our budget on the fairy house so that we could spend a few dollars on the quirky things that make Fairy Gardens unique and fun. Amazon has a great selection with a range of prices.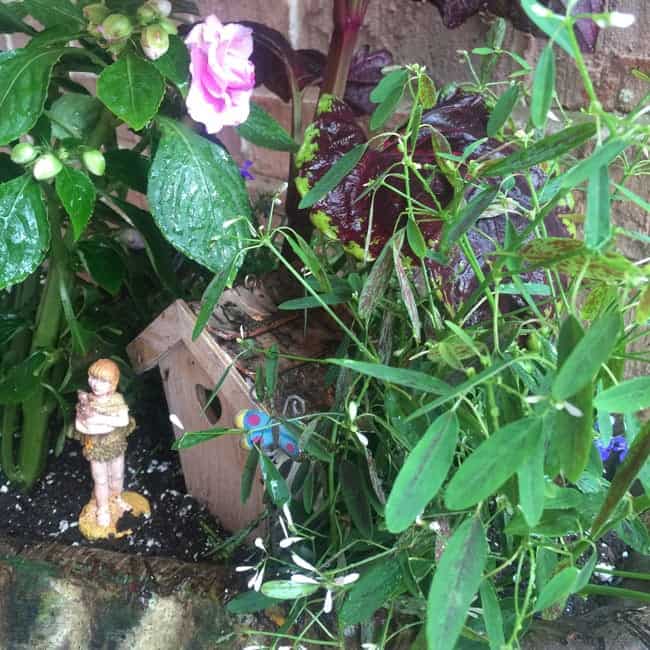 A Fairy Flower Garden would be nothing without the actual garden – this is where mom took over from the kids. You have to buy plants that will actually live where you plan on putting your fairy garden. We wanted ours sitting by the front door. It is completely covered by the roof for very little direct sun. But we live in Savannah so it is hot most of the year. With a little help from our local plant nursery, I settled on these: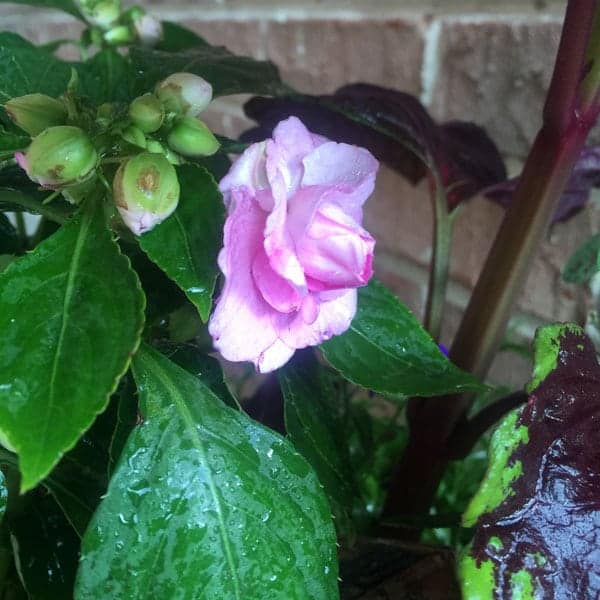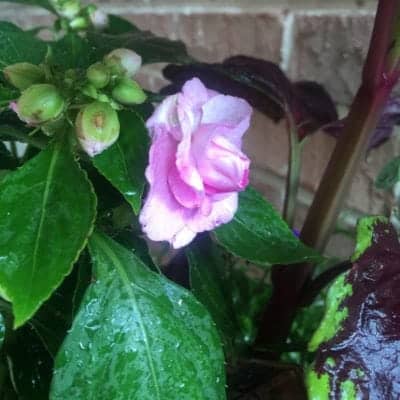 1 – Coleus in Kong Red
1 – Double Impatiens in Pink
6-pack – Lobelia in Riviera Marine Blue
1- Euphorbia hybrid "Diamond Frost" in White
All planted in Fafard Organic Potting Soil
I planted them in a winding pattern by height to create some visual interest in a large pot that looks like a seashell given to me by my mother several years ago. I had already drilled a couple of holes in the bottom so that there would be no standing water in the shallow pot.  My kids helped tuck our little Fairy House into the woods so it is visible but not right up front. And we added the quirky pieces and the fairy figurine together.
I expect that as the season progresses, I may have to relocate a few plants as they expand in the pot but that is part of the fun for me. I will enjoy keeping a seasonal garden created with my kids at our front door since it seems to be the first thing everyone wants to talk about when they come to visit. 🙂
Every person who has come through my front door since we added the Fairy Flower Garden by the entry has commented on it. A couple of folks have even put in orders. I would love to know what you think of our finished project!
Would this Fairy Flower Garden add interest to your front door? Or something fun you would do with your kids? What sort of plants will you choose? Tag your creations @wholefoodrealfa on Instagram so we can share your creations with our community!